As this global lifestyle and brand licensing company celebrates its 50th anniversary, it has ambitious growth plans to expand its characters worldwide and continue to stay true to its founder's timeless philosophy, "Small Gift, Big Smile."
It was a very simple and humble beginning five decades ago for a small Japanese silk-trading company founded by an entrepreneur with a big vision, as well as a true understanding of social communication and the desire to make people smile.
Shintaro Tsuji, who grew up during the era of the Great Depression, founded his company based on the long-standing Japanese tradition of gift giving as a symbol of a special and long-lasting relationship and he turned that custom into what is now one of the largest brand licensing businesses in the world that spans 109 countries, more than 1,700 licensees and more than 50,000 products available in almost 12,000 retail stores.
What Tsuji originally called the Yamanashi Silk Center Company was renamed Sanrio in 1973 and the lifestyle company is now celebrating its 50th anniversary and has perfected the art of gift giving, touching hundreds of millions of consumers while becoming the seventh largest brand licensor in the world with $5 billion in sales of
licensed merchandise at retail for 2009, according to the exclusive
License! Global
Top 125 Global Licensors report published in April.
The 82-year-old Tsuji, a.k.a. Mr. Cute, is also committed to the future of Sanrio. The company's five-year plan, called Project 2015, will further establish and strengthen Sanrio as a global character company by expanding brand licensing, maximizing existing European markets, penetrating new markets such as Russia and India, developing and implementing brand strategies for other characters in its portfolio, targeting new audiences, broadening the breadth of its merchandise assortment, leveraging its awareness through various promotional events, improving profitability and strengthening the business management system.
The financial plan calls for boosting sales and operating profit significantly by 2015 (fiscal year March 31) by 7.1 percent and 45.3 percent, respectively, to 79 billion JPY and 13.5 billion JPY, versus sales of 73.8 billion JPY and operating profit of 9.2 billion JPY for the fiscal year ended March 31, 2010.
Two years ago, Sanrio began to revamp its organizational structure forming the global consumer products division realizing the need to drive growth worldwide, expand other characters and create a consistent brand message. Janet Hsu was named president of global consumer products for the U.S. and Roberto Lanzi was named president of global consumer products for the EMEA market.
"Our philosophy of 'Small Gift, Big Smile' continues to be the foundation of Sanrio as we celebrate 50 years of friendship and fun," says Hsu. "We commemorate this milestone with fans from around the world that have grown up with our characters and built a long-lasting relationship with the brand. Our year-long celebration of events and product releases will be a special way for us to honor, thank and celebrate with fans of all ages."
For the 50th anniversary, Sanrio is planning a variety of special co-branded collections, including partnerships with Dr. Martens featuring 8-eye boots and Mary Jane strap shoes; a bowling ball from Brunswick; skateboards from Girl Skateboard, headphones from Aerial7, cameras from Lomography, fragrances from Demeter Fragrance, USB drives from Mimobots and plush from Build-A-Bear Workshop.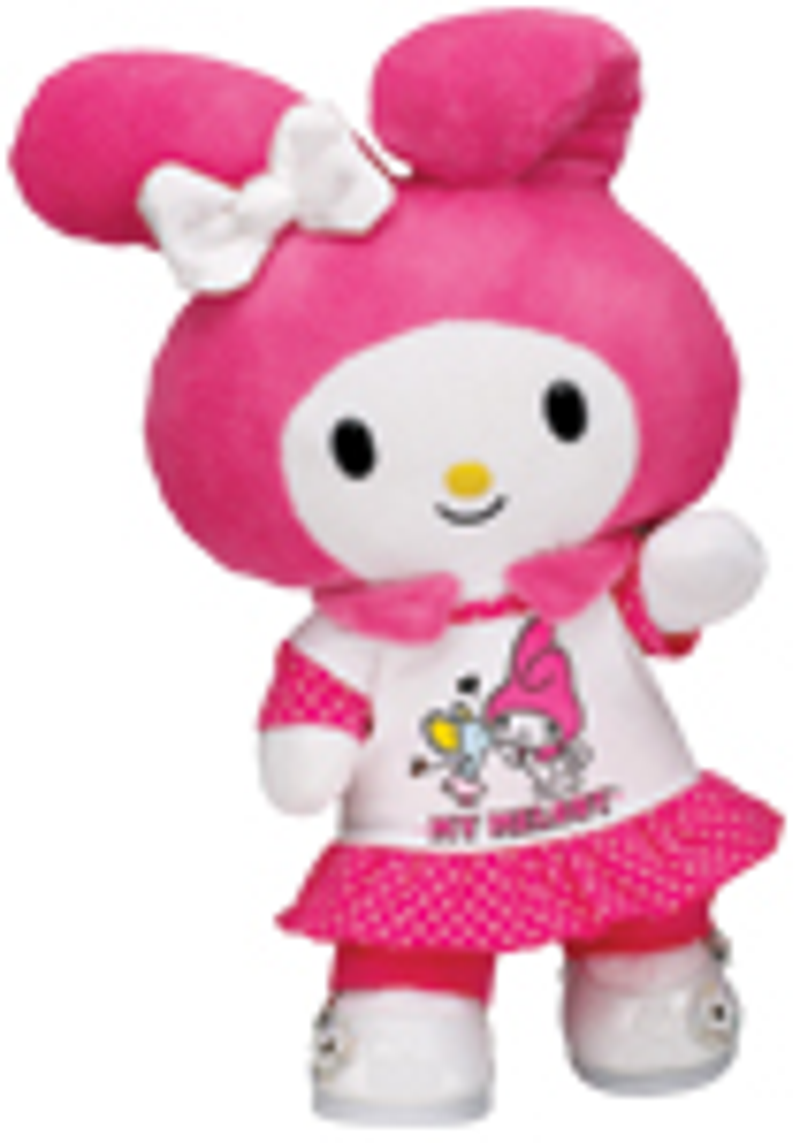 One of the most important aspects of Sanrio's 50th anniversary, and a key part of its business plan, is that several of the company's characters will appear together for the first time in its history (except for the company's Harmonyland and Puroland theme parks in Japan) on the 50th anniversary logo, as well as a variety of fashion, accessories and traditional gift products.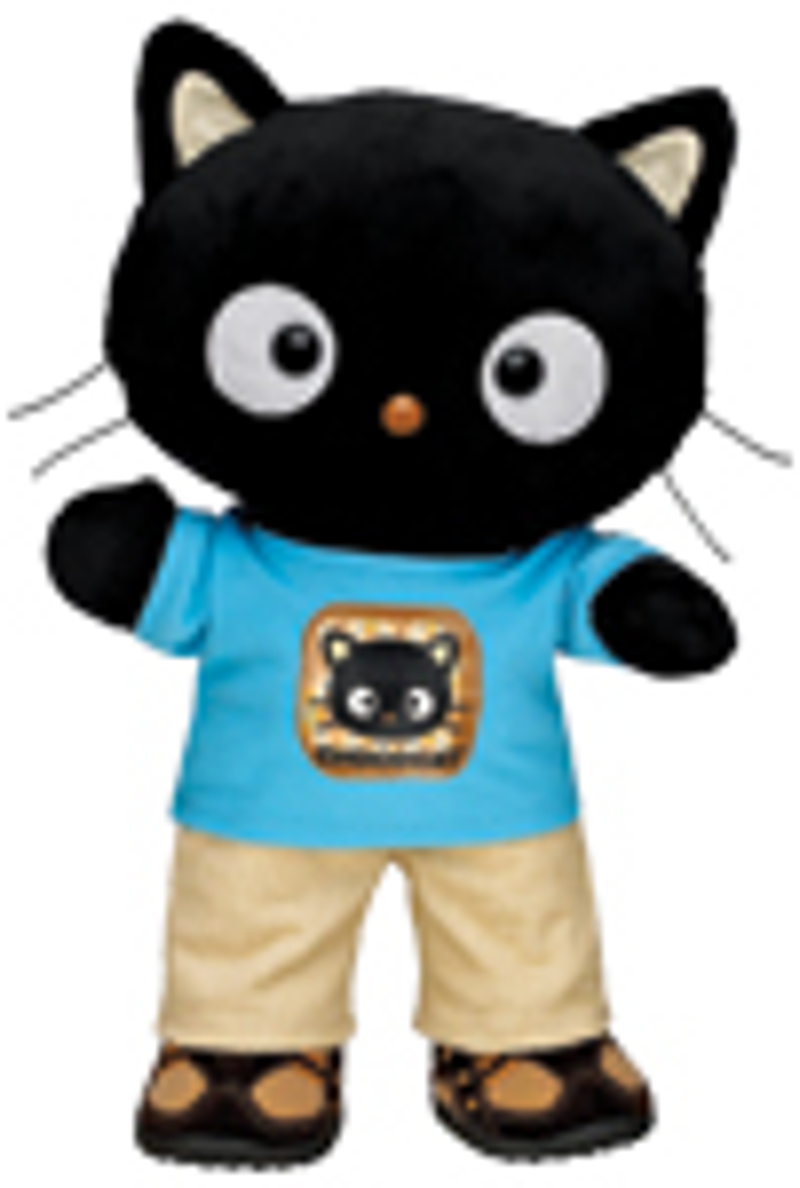 For most of its history, Sanrio's cute and lovable characters, which are part of a portfolio that includes about 400 characters and is best known for the Hello Kitty property, existed in their own separate worlds, but many are now being expanded worldwide across traditional and new audiences and across every product category imaginable.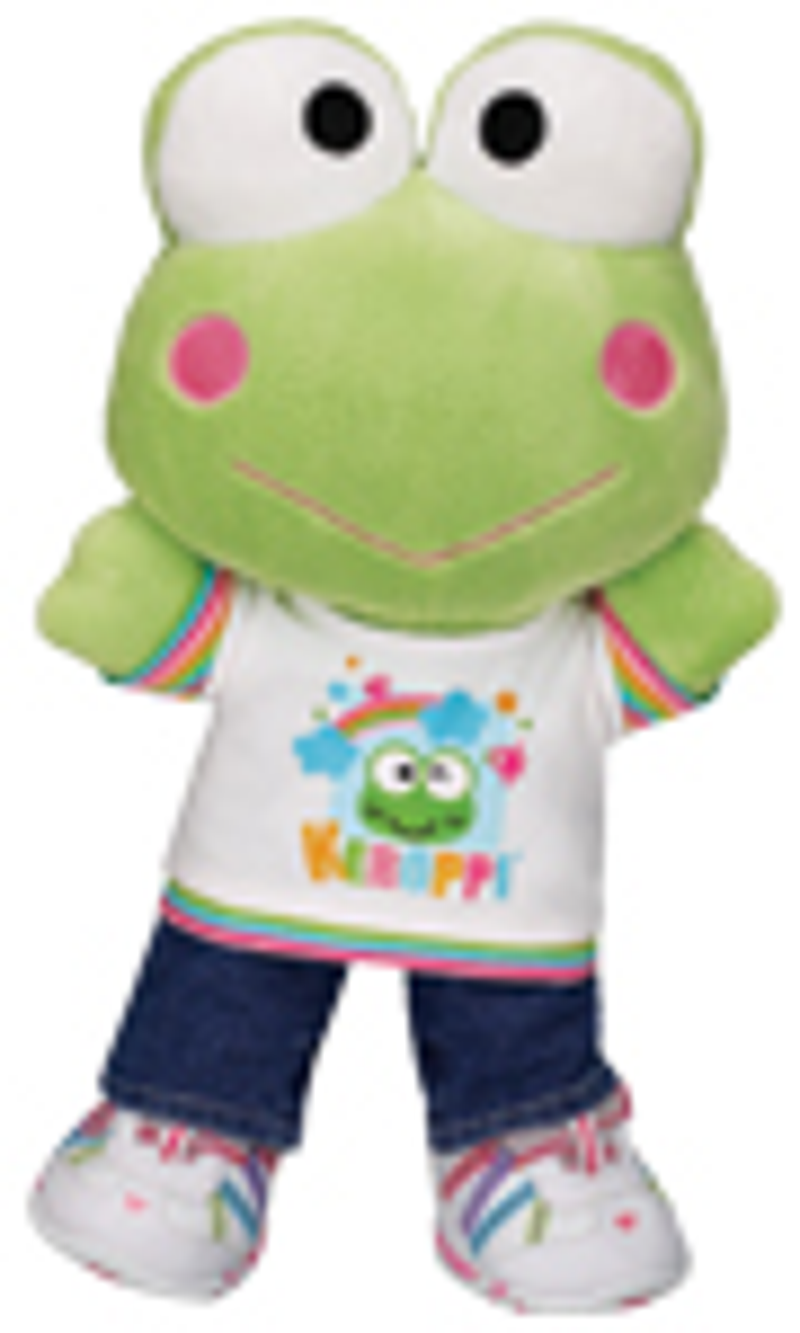 "We are developing separate programs for each character and the objective is to create a plan that is distinct and representative of that character's essence and being," explains Hsu.
While it is quite a heartwarming and endearing story, the growth and success of Sanrio is also quite a business story about a brand licensing powerhouse and a cultural phenomenon that has touched everyone from the typical 5-year-old girl looking for fun stuff to pop celebrities such as Lady Gaga, who recently adorned various Hello Kitty outfits in a fashion photo shoot.
Sanrio's properties, which are aspirational and fun, as well as trendy and chic, can be found in almost every major retailer worldwide, as well as thousands of small independent retailers and Sanrio's own separate boutiques of which there are now 95.
So regardless of the type of retailer, Hsu says that Sanrio has the ability to develop exclusive merchandise for different retailers that can be targeted to their core customer segment—women from 18 to 40. In fact, Hsu says several new initiatives are being developed to bring other characters to new customers such as young kids and young men.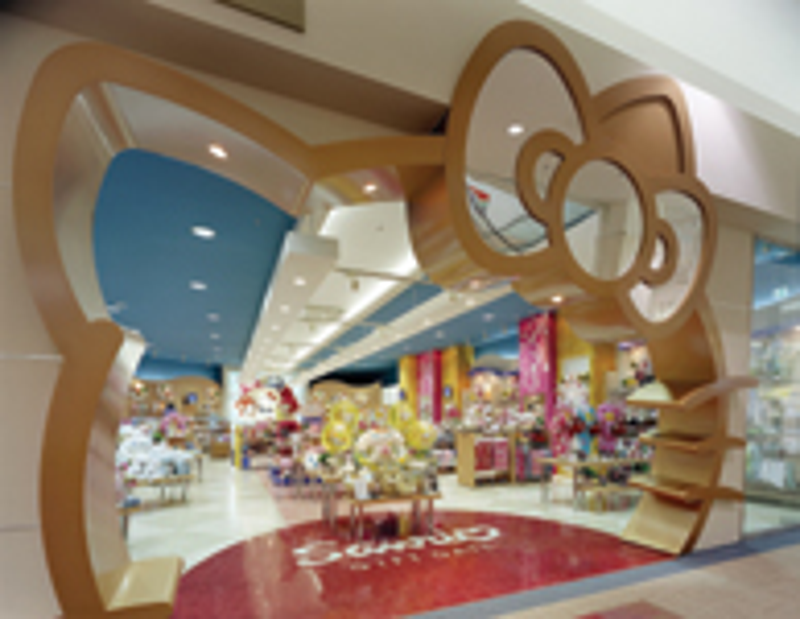 A partnership with Build-A-Bear will bring Keroppi, Chococat, Hello Kitty and My Melody characters to a younger audience and new fashion featuring Badtz-Maru with a darker and edgier execution will skew to 18-plus male consumers.
According to Hsu, apparel represents the largest merchandise category for Sanrio, followed by stationery and fashion accessories. Newer categories that are currently being developed, she says, include sporting goods, toys and publishing.
The Hello Kitty character boasts a diverse merchandise mix and its logo is emblazoned on just about everything imaginable from a commercial airplane, vintage wine and champagne, and even 5W-30 motor oil.
In some ways, Sanrio's approach defies conventional wisdom in the licensing business about logo slapping and brand dilution because it seems that whatever products its characters may appear on, consumers absolutely embrace them.
Furthermore, Sanrio has survived the test of time and is well positioned for continued growth in brand licensing, despite the lack of a major entertainment-driven strategy, which is certainly a key component in today's licensing business. Sanrio has no current plans for film development or a television series, which would certainly add an entirely new dimension to the lifestyle company's strong consumer presence.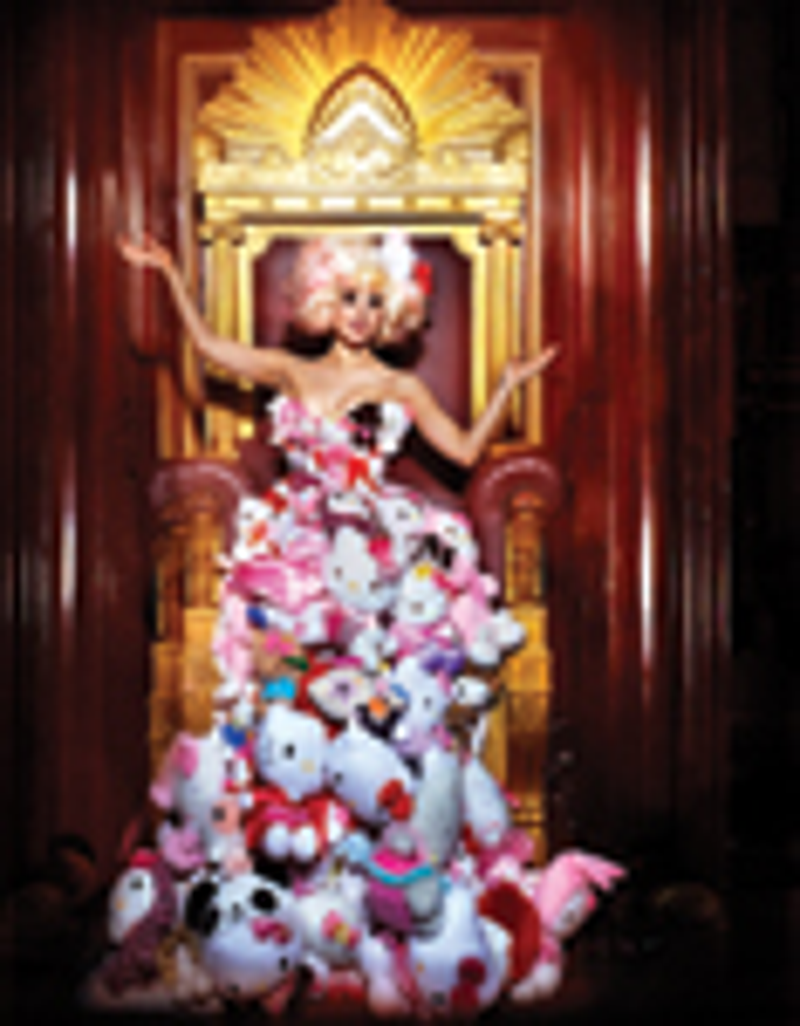 Says Hsu: "Characters have a point of difference because they weren't created from an entertainment initiative. Their essence doesn't rely on or need to be supported by entertainment. If there was an entertainment component Sanrio would evaluate it, but there are no immediate plans."
Yet, Sanrio isn't camera shy or reluctant about being part of the entertainment world. The company recently garnered huge publicity when Hello Kitty and Lady Gaga were featured on Bravo Network's "Double Exposure" show and "Life in the Fab Lane with Kimora Lee Simmons," for example.
The company does, however, according to Hsu, plan to be more aggressive in consumer related live events that engage its consumers, as well as various social networking efforts.
"These live events and social networking helps us to stay in touch with consumers," she says. "We will try to remain as relevant as possible with our products and the way we communicate to our fans."
One of the biggest opportunities for Sanrio is continued international expansion in existing and new emerging markets, which has grown significantly over the past few years and is a key part of the five-year plan to drive growth and profitability.
"Our growth in licensing will continue to focus on new characters, including Keroppi, Badtz-Maru, My Melody and Little Twin Stars, in the European community," Lanzi explains. "And we are strongly increasing our business with Hello Kitty, as well in Eastern Europe, Russia, the Middle East, India and Africa."
Lanzi says that a key merchandising initiative across all territories is the expansion of product mix for the 0 to 9 age group.
The international business is headquartered in Hamburg, with offices in Milan and Dubai, which will be responsible for operations in the Middle East, North Africa and India. According to Lanzi, 85 percent of the business is managed directly and 15 percent by agents (U.K., France, Germany, Spain, Portugal, Nordics, Russia, Turkey, Israel, Greece and South Africa). In addition, Lanzi will also be responsible for Australia and New Zealand beginning this month and will develop a new strategy for these countries.
Lanzi points out that key growth territories in Europe are in its biggest licensing markets—Germany and the U.K. and key new territories include Russia, Turkey, Emirates, India and North and South Africa.
While many factors have changed for Sanrio over the years, Hsu believes the future is all about remaining true to the original concept of Tsuji when he founded Sanrio five decades ago.
"We will stick with the philosophy upon which the company was built," she says, "that being timeless, 'Small Gift, Big Smile' philosophy and remaining very specific to what each character is and what that brand is all about. We need to stay relevant and listen to our customers."
Subscribe and receive the latest news from the industry.
Join 62,000+ members. Yes, it's completely free.
You May Also Like
Loading..