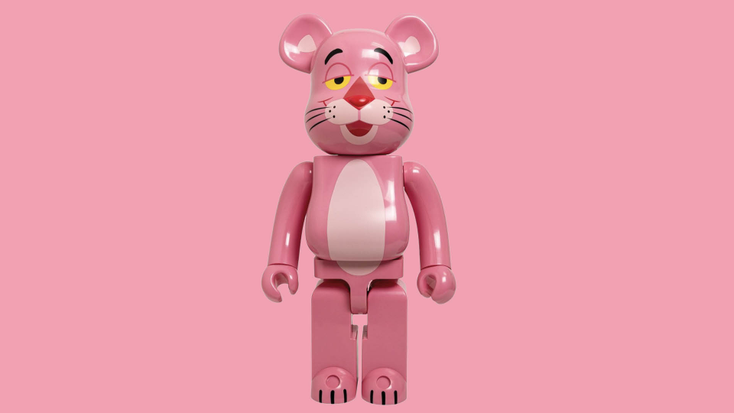 Pink Panther figure
Bearbrick
At A Glance
Managing a Feline Franchise

Getting in on the Big Cat Act

MGM's Cat is a Universal Brand
MGM's
Leo the roaring lion may have predated the
on the silver screen, but the cat nicknamed "Pinky" rules the realm of cool. It's an unusual start for a cultural icon – the Pink Panther we know and love began as an animation created for the opening credits of the eponymous 1963 ­ film, "The Pink Panther," starring Peter Sellers. The character came about simply because writer and director, Blake Edwards, felt the credits would bene­fit from some kind of cartoon character. The animated cool cat quickly became a popular ­film and television star in his own right, beginning with the cartoon short, "The Pink Phink," in 1964.
Pink Panther continues to attract new fans around the globe. He turns 60 in 2024, but MGM is kicking off a yearlong celebration this June. It's a big moment for the iconic character beloved by generations of fans and regarded as an emblem of style and coolness, spawning TV series, specials, comics, merchandise and, for obvious reasons, becoming associated with
the color pink worldwide. Robert Marick, head, MGM consumer products, MGM, spoke with License Global about all things pink.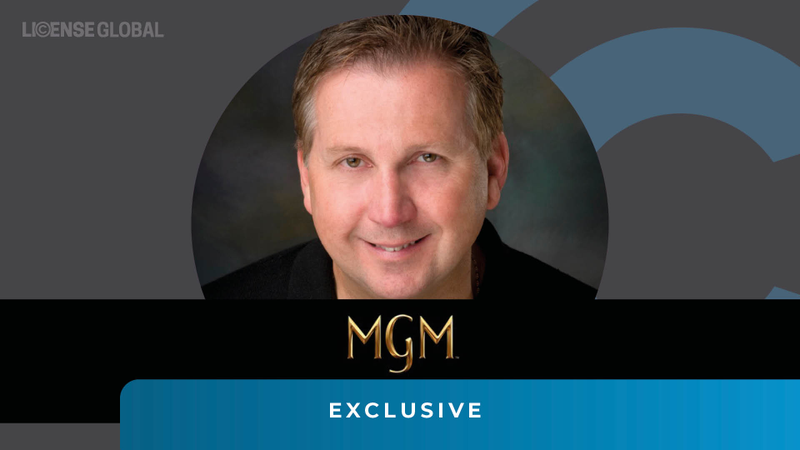 Managing a Feline Franchise
For a character to endure for 60 years, it must be doing something right. Marick explains why he believes the playful panther has remained popular for so many decades.
"What an impact the character has had on pop culture and certainly from a licensing perspective," says Marick. "First of all, he's lovable, playful, charismatic. He's timeless. And I think, in part, when you think back 60 years ago and look at the world, it was a very different place in terms of how consumers consumed content. Pink Panther was one of the very ­first characters that really didn't speak and used his gestures and his expressions to be able to communicate. And it was a great introduction to the world of this American character."
One challenge is introducing a 60-year-old character to new generations who didn't grow up with him. That doesn't seem to be a problem for the Pink Panther. "We're seeing that his popularity is consistent all over the world," adds Marick. "You don't have to go any farther than looking at YouTube, which is always a good indicator for me. The Pink Panther channel has almost 11 billion views and over 19 million subscribers. And if you look at where those subscribers are coming from, they're coming from the U.S., Brazil, Mexico, the U.K., Spain, France and Italy. And looking further at the analytics, it's equally split between males and females. Interestingly, it resonates very well with 25- to 44-year-olds. It's a character that continues to be expressed in many pop culture elements."
It also helps that Pink Panther content is available on many different channels. Marick shares that over 300 shorts and specials are currently on air someplace in the world. "And whether that's the episodes of cartoon shorts, there are also 11 feature ­films and four key television specials," says Marick. "You can see him globally, so the distribution is very broad in terms of the classics. And there's a feature ­film in development from Jeff Fowler, who did '
.'"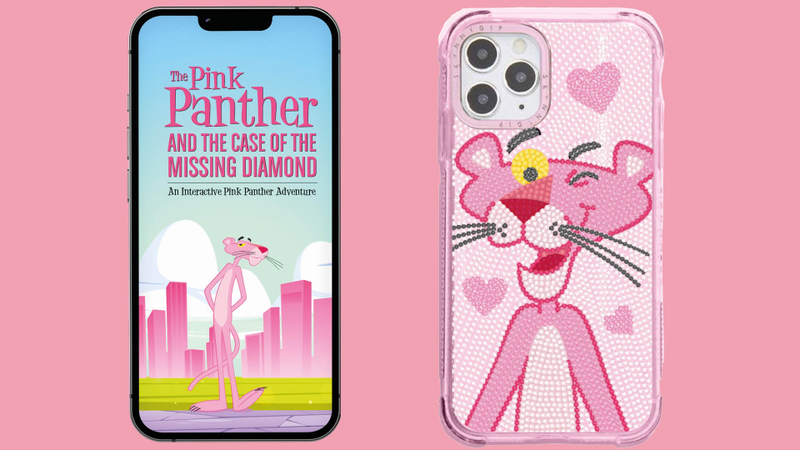 (l) "The Pink Panther and the Case of the Missing Diamond," (r) "Pink Panther" x Skinnydip Bling Shock Case
Getting in on the Big Cat Act
A 60-year-old franchise offers the opportunity for long-lived partnerships, and the Pink Panther has some that span several decades.
"We've had a promotional partnership with Owens Corning for over 40 years. So that is by far our longest licensed partnership, and it continues to resonate and has really influenced pop culture through different programs," says Marick.
One example of that was in 2019, when the late designer, Virgil Abloh, used Owens Corning PINK Fiberglas insulation to create his "Pink Panther: Scales of Justice" exhibit, which made its debut at the Museum of Contemporary Art in Chicago.
"Other partnerships, including the one with Zara, have been around for a long time. And what we're doing now is we're overlaying that with new partnerships. Sprayground, for instance, is one pop culture licensee that has done an amazing job in backpacks and accessories, and those products sold out so quickly that we're continuing that agreement again," says Marick.
Another way Pink Panther connects with audiences is through various media, depending on the age group. Marick explains that if you look at multiple generations, the older generation looks at film content, the youngest generation looks to see what is on YouTube, and the middle generation looks for new content, often through video games.
"We've got several video games in the marketplace," says Marick. "We're continuing to develop that area."
One game that is proving to be extremely popular is "Bounce," which launched in August of last year, giving users, known as "Bouncers," an interactive, app-navigated outdoor adventure, "The Pink Panther and the Case of the Missing Diamond." Players are led by Inspector Clouseau on an adventure through their city, stopping at various locations. Each location unlocks new parts of the story, with suspects to interrogate and clues to uncover.
"This is almost an immersive escape," explains Marick. "It's a scavenger hunt where players check out museums, stores, restaurants and other significant locations within the city, all within the context of the Pink Panther. It's a very innovative app; we can customize it at local markets. At ­first, it launched in Los Angeles, it's now in more than 60 U.S. markets and will launch outside the U.S. down the road."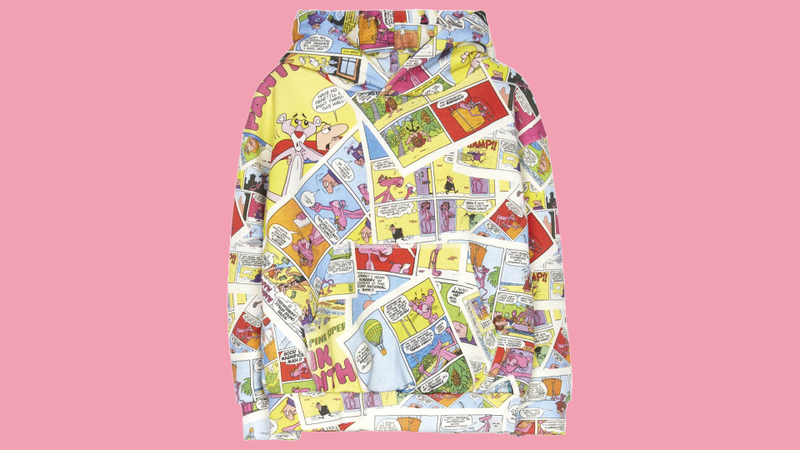 "Pink Panther" hoodie, H&M
MGM's Cat is a Universal Brand
In addition to appealing across generations, the Pink Panther resonates well worldwide. There are close to 150 Pink Panther licensees spanning the globe – Europe, Middle East, South Africa, North America, Latin America, Asia, South Asia (India) and Pac Asia (AUS/NZ) – covering all consumer product categories, including traditional categories, as well as fashion/streetwear collaborations, publishing, interactive, events and promotions.
Marick says the Pink Panther character is also popular in Brazil, Mexico and Europe. But he adds that MGM remains focused on the U.S. in terms of expanding and building on.
"You will certainly see through the 60th anniversary more and more products and programs here," he says. "Independent of that, looking outside the U.S., India certainly continues to be a growing market for us. Asia continues to be very strong, particularly in China, in terms of expanding the brand."
But perhaps one of the biggest Pink Panther anniversary events will be happening in Europe before the anniversary celebration officially kicks off.
"We opened a Pink Panther art exhibit in Spain at the end of May," says Marick. "It was a six-day art exhibition in Madrid with artwork done by 33 European artists, using the Pink Panther as their muse. Guests were able to speak to the artists and purchase the pieces during the 6-day event. Then we'll take some of that artwork and create merchandise programs around it," he says.
When a franchise has a color as part of its name, it's a no-brainer to bring color into your licensing plans. In 2020, MGM unveiled a new shade of pink with Pantone for the character, aptly named "Pink Panther Pink." Marick says that with all the efforts involved in that kind of initiative, MGM has developed an expansive and impressive lineup of partners who have featured the color in their products.
"We're seeing a lot of new products coming out that really express that new hue."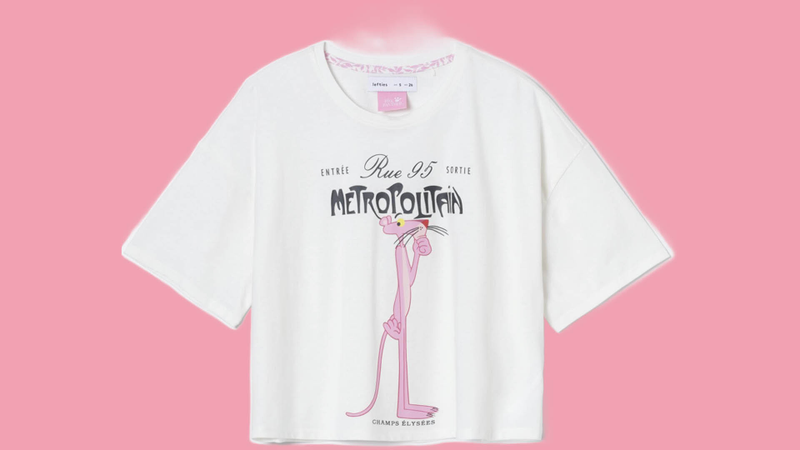 "Pink Panther" T-shirt, Nikole
In honor of the 60th anniversary, the MGM team continues expanding its lineup of merchandise featuring the signature Pantone Pink Panther Pink hue. Partners include kids' and adult apparel at ZARA; a range of clothing, accessories, stationery, housewares and novelties from LPP; women's apparel from Sugarbird; and purses, scarves, candles and sweats from Stuff Maker. Pink Panther has also recently teamed up with other top fashion brands for Pink Panther Pink designs, including Bershka, Santex Moden GMBH, Nikole, H&M, Pepco and others.
There are also plans to launch a dedicated shop for Pink Panther on Amazon.
Read more about:
Subscribe and receive the latest news from the industry.
Join 62,000+ members. Yes, it's completely free.
You May Also Like
Loading..