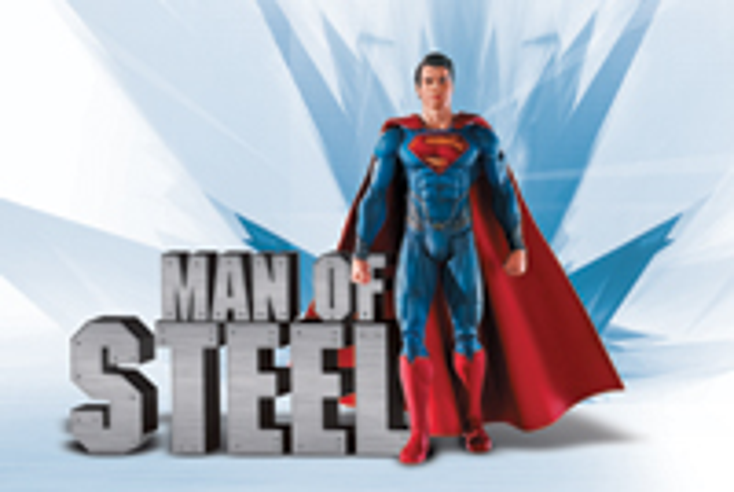 WBCP is flying high with its Superman property as it builds a major global consumer products program for summer's Man of Steel.
Warner Bros. Consumer Products is ramping up efforts in anticipation of director Zack Snyder's re-telling of arguably one of the most beloved film franchises of all time–Superman. As merchandise efforts swell and programs take shape, so does the central focus of the consumer products outlook for the June 14 theatrical release of 
Man of Steel
.
Traditionally the Superman program for WBCP has been anchored in apparel, with the iconic S-Shield graphic leading the charge. In support of the new film, which is rife with revamped artwork, new characters and a dynamic storyline well tailored to suit a product program, apparel will remain a focus, but other categories such as toys, led by global master toy partner Mattel, will feature strongly.
"This isn't your father's Superman, and we're taking full advantage of how the film will re-invent the franchise and the character,"
says Karen McTier, executive vice president, domestic licensing and worldwide marketing, WBCP. "This Superman is richer and more complex and gives us more opportunities for an even stronger apparel business and creative play patterns than in the past. Toys are a very important component this time around because the 
Man of Steel
 storyline and elements lend themselves perfectly to great toys–and retailers are taking notice."
In fact, according to WBCP, not since Superman's last theatrical outing, 2006's
Superman Returns
, has there been such a robust content-themed master toy line for the brand, thanks in part to a dynamic style guide created in collaboration between WBCP and the filmmakers.
"We were held to a very high standard to faithfully and authentically communicate Superman's true essence in our creative approach for the 
Man of Steel
 style guide," says Brian Deputy, vice president, worldwide creative, WBCP. "The approach was unique in that instead of starting out with the question, 'What does Superman look like?,' we had to ask, 'Who is he?' In this way, we were able to explore a broad variety of executions that speak to both kids and adults, while reflecting the essence of 
Man of Steel
."
And the product program is geared to reflect the same integrity that both the film and the central characters embody.
In addition to figures, play sets and vehicles from Mattel, licensees include (among others) LEGO for a line of construction toys that join with its LEGO DC Super Heroes range; Rubie's for costumes for male and female infants, children and adults; Sideshow for collectibles; The Noble Collection with prop replicas and bronze statues; NECA for articulated figures; and Gentle Giant for resin statues.
The program is truly global, as well.
"The Man of Steel global program will be the broadest and most robust Superman licensing program ever initiated from an international perspective," says Jordan Sollitto, executive vice president, international licensing, WBCP. "Mattel is creating a toy program that reaches beyond anything that's ever been developed for this category, leading the charge with all our toy partners. At the same time, we will have an incredible push of hard and soft lines that focuses on multiple demographics, while reaching more kids than the Superman brand has reached in the
The toy ranges specifically are geared to the film's re-imagined plotlines. Mattel, for example, will introduce a Movie Masters range that depicts with authenticity the film's lead characters and new villains such as Jor-El, Faora and General Zod.
"The film will allow fans to experience Superman's powers like never before, and 
Man of Steel
 gave us the opportunity to work with our toy partners to bring those powers to life in the toy lines in new ways," says McTier.
Perhaps it's the appeal of the good versus evil play pattern, the "cool" armor and new vehicles that will be introduced with the film or Superman's intrinsic qualities of strength and abilities that resonate with children and adults universally so strongly. While boys are the primary target demographic for 
Man of Steel
 toy lines, product is diverse enough to satisfy both male and female fans of all ages.
"One of the international strengths of the S-Shield is that it has the ability to connect with all regions," says Sollitto. "Across the board and throughout most regions, apparel continually resonates with teens and young adults of both genders. That said, we do see a difference with offerings in Asia Pacific, for example, such as China, where our DC Comics product ranges target mostly adults and are positioned primarily at the premium, exclusive tier."
Both domestically and abroad, the program will roll out just prior to the film's release. Key retailers on board in the U.S. are broader and include major mass retailers Walmart, Toys 'R' Us, Target, Kmart and 
, along with specialty outlets such as Hot Topic and costume stores. Internationally, the program will also expand with categories such as games, puzzles, creative play and outdoor tailored on a region-by-region basis to achieve the ideal and precise mix of product.
All major partners, in conjunction with WBCP, will execute fully integrated marketing plans, says McTier, with activity already underway during toy fair season. The program will also receive promotional support through television, print, online and joint PR efforts.
"Superman is such an enduring superhero because what he represents is universal and timeless," says Sollitto. "The notion of standing up for what's right crosses borders, and never goes out of style. The S-Shield is one of the most instantly recognizable and relatable icons around the world."
"We've put together a unique program based on 
Man of Steel
 that highlights and leverages all of the core attributes of Superman that make him one of the most popular superheroes of all time," says McTier.
Subscribe and receive the latest news from the industry.
Join 62,000+ members. Yes, it's completely free.
You May Also Like
Loading..