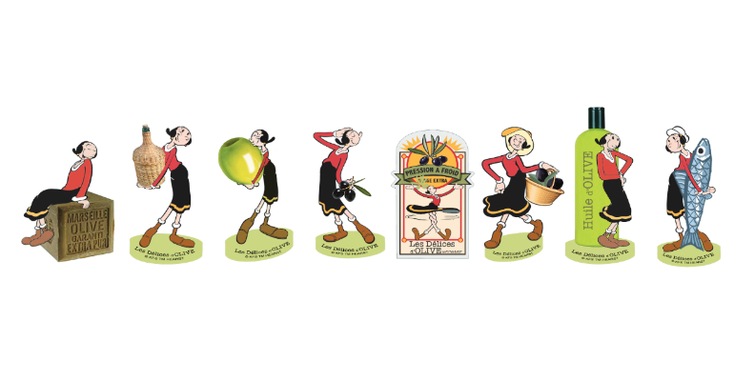 MANY PEOPLE MAY think of Olive Oyl simply as Popeye's girlfriend who regularly needs saving and occasional care-giver to toddler Swee'Pea. But the willowy, witty and non-assuming character predates her salty, spin-ach-loving paramour by about 10 years. Olive Oyl made her debut in 1919 in E.C. Segar's comic strip, Thimble Theatre.  
In those original cartoons, Olive was a groundbreaking female character who did not conform to traditional stereotypes. Tough and independent, Ms. Oyl never required support from a partner, providing for herself first as an entertainer and later through other careers. She's been in and out of the comics, TV and the movie screen almost continually ever since those early days, and although she's grown through the years, in many ways, she's remained a woman ahead of her time. Once Popeye appeared in Thimble Theatre in 1929, it wasn't long before the series evolved into "Popeye," due to his meteoric rise in popularity. The comic strip evolved into theatrical shorts and Olive Oyl evolved as well. Although still strong-willed, she found herself caught in a love triangle between Popeye and Bluto/Brutus and thrust into perilous situations where she'd inevitably cry out, "Help! Popeye!" or "Oh dear!"  
Popeye
and Olive Oyl hit the live-action big screen in 1980, portrayed by Robin Williams and Shelley Duvall respectively. In all her many incantations, Olive lived independently and although she enjoyed the company of men, often vacillating between Popeye and Bluto/Brutus, she never settled down to a traditional life. And while she had many interested suitors over the years, she chose never to marry or start a family. (With the exception of the short-lived 1987 animated series, "Popeye and Son," which found Popeye and Olive Oyl settling down and raising a son.)  
Through the years, Olive Oyl has enjoyed a successful history in licensed consumer products, having been depicted on thousands of items. Although Olive's cartoon persona never screamed high fashion – she is typically drawn as tall and rail-thin with oversized feet stuffed into large brown boots. Her short black hair is usually pulled into a bun and her wardrobe consisted of a long black skirt and an oversized red top. Yet, some of her more successful collaborations have been in the fashion world.  
The comic quality of Olive's signature lanky, almost boneless, bendy physique has transitioned to an image of flexibility, reminiscent of a fashion model's bold and dynamic poses. For more than 20 years, she has been protagonist of important high-end fashion collections and catwalks for Moschino, including scarves produced by Lario Seta. The Moschino CHEAPAND-CHIC fragrance is packaged in an Olive Oyl-shaped bottle and is now in its 7th iteration. The original bottle, launched in 1995, won the FIFI Award for Best Women's Packaging of the Year in 1996. Last year, fashion designer Monnalisa launched an entire kids' collection dedicated to Olive. But Olive Oyl hasn't left Popeye and her friends behind. She appeared along-side the sailor man and their friends in other recent fashion collaborations including Iceberg, Liu-Jo, Original Marines, United Colors of Benetton and DTRs with GAP, C&A and Zara. She's also the inspiration for Olive Oyl magazine in Japan and has starred in a variety of adverting campaigns and promotions around the world for water, milk, chocolates, olive oil, butter, tomato sauce, insurance and more. 
For many consumers and fans, Olive Oyl is more than just a character; her spunky attitude and lifestyle appeal to an audience that spans different ages, genders and backgrounds. But she resonates particularly strong with women ages 18-54 followed by girls 12-17.  
"Licensees are increasingly selecting Olive Oyl for their women's and girls' collections around the globe as they recognize her unique style and relatable attributes as something their consumers connect with," says Carla Silva, vice president and general manager, global head of licensing, King Features. 
Now King Features is ready to let Popeye's longtime lady love get some much-needed attention with a brand refresh that modernizes the classic 100-plus-year-old character and embraces the characteristics that make her unique, including her humor, self-confidence and relatability. The new Olive Oyl celebrates the freedom of being weird and beautiful at the same time.  
"After decades of living in Popeye's shadow, Olive Oyl's return to the spotlight is long overdue – it's time for the world to meet the true Olive," says Silva.  
Read more about:
Subscribe and receive the latest news from the industry.
Join 62,000+ members. Yes, it's completely free.
You May Also Like
Loading..