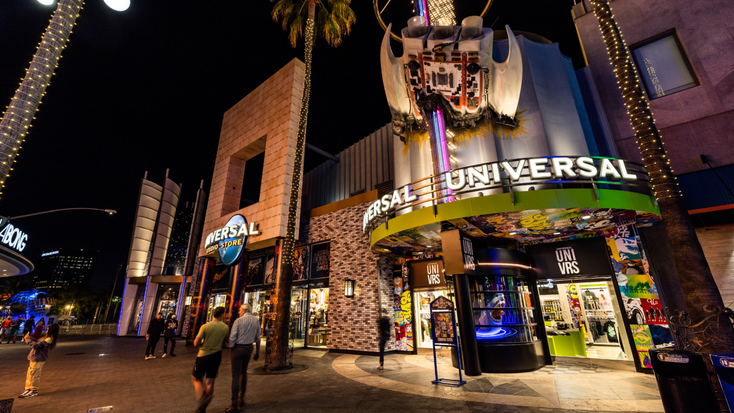 Universal City Walk.
Universal Products & Experiences
At A Glance
Universal Products & Experiences and how it came to be from a merger between two arms of the company.

An exclusive interview with Vince Klaseus, president, Universal Products & Experiences.

Licensed consumer products throughout its multiple verticals.
In September, Universal announced the merging of two of its businesses – Universal Brand Development and Universal Parks & Resorts Merchandise Group – to form one cohesive division,
Universal Products & Experiences
(UP&E).
This new venture, overseen by Vince Klaseus, president, unites the theme parks and traditional consumer products group, enabling a holistic view of the studio's retail and merchandise platforms inside and out of its theme parks, allowing partners to extend the studio's characters and stories more fully via immersive experiences across all major category lines, from toys and collectibles to books, apparel, video games,
s and more.
Before the merger, each business operated as its own unit, which allowed the Parks & Resorts Merchandise Group to create products and retail experiences inside its Universal Studios theme parks, while the Universal Brand Development Group oversaw licensed product extensions for the wider retail environment and general consumer. Both were operating
successfully, but synergies, as is the way, were always possible and, in this case, highly practical.
"[With this merger] we're now able to map [consumer product programs] so we can really think through brand initiatives and be very thoughtful about where they begin and end," says Klaseus.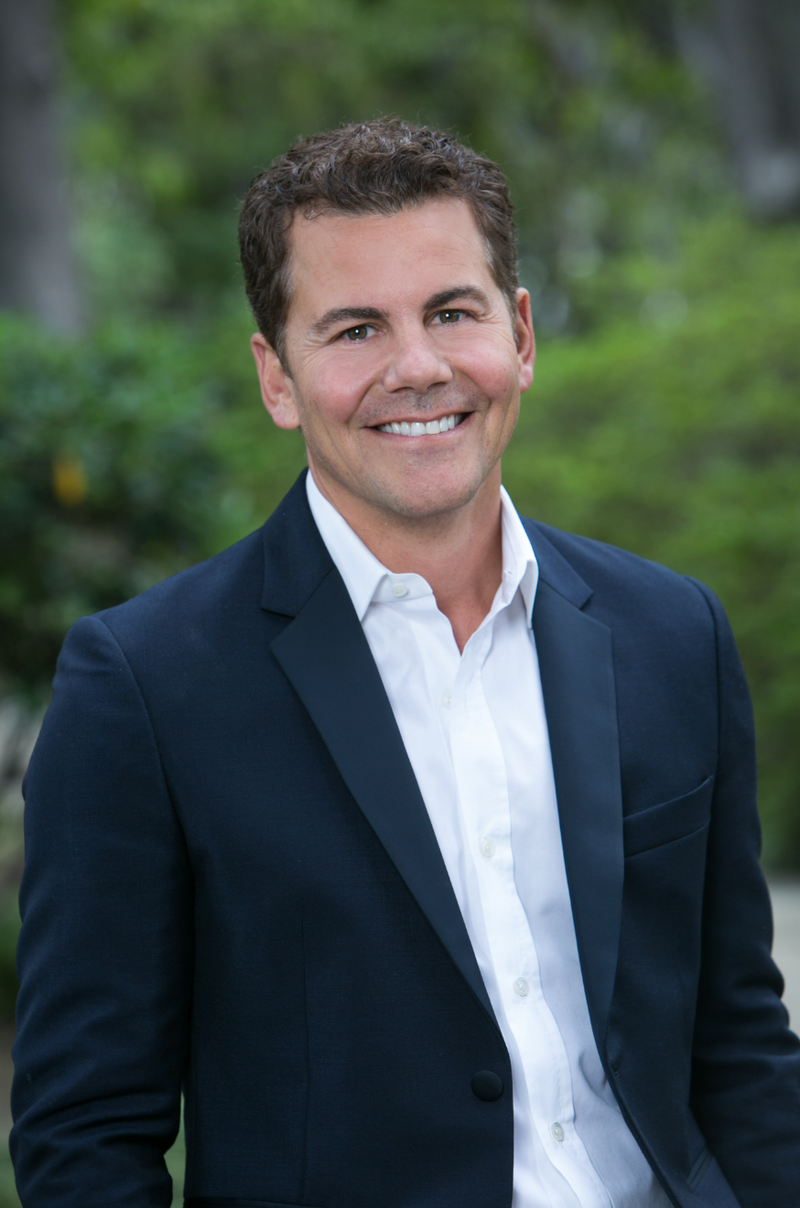 He continues: "It sounds kind of very fundamental, but it really is a game changer in terms of getting greater traction and performance out of whatever we're doing."
For Universal, this is a sea change, and one that will transform how the company looks at its consumer product business by providing the opportunity to amplify efforts and work in a much more coordinated fashion across its group, earlier in the process.
But why now? Why is it the right moment for Universal to revamp its way of working?
"It's really a combination of factors that are making this the right moment," says Klaseus. "First, the pandemic caused a lot of shifts and changes in the landscape, and as we all know, a lot of changes in consumer behavior. For us, that created a great opportunity to think a little differently and capitalize on some of the changes. And then secondly, Mark Woodbury, who's the chairman and CEO of Universal Parks & Resorts as of January, has an incredible vision for the next chapter for this broader parks and product business. So, it's a chance to think differently and capitalize on new opportunities [while bringing] two successful business units together."
Unlocking the Organization
Organizationally, the merger is coming into focus immediately, with effects being positive for those inside and outside of Universal.
By bringing together more unified muscle power internally, external partners that once worked independently with both arms of Universal will see quick and rapidfire change.
"The Parks Group … [was] a vertical operation, and so when it came to the products piece, there was a range of sourcing options – they were buying from our licensing partners, and, on the other end, directly sourcing with factories. And then in contrast, you had the consumer product business, which is focused outside the parks, and that's primarily a license business. Pulling it all together now creates one big powerhouse division," adds Klaseus.
For Universal's own team, development and growth is a motivation from the top, down.
"One of the things I was most excited about when we started talking about this merger was the ability to give people development opportunities," says Klaseus. "Now, not only do we have an organization that is bigger, but one that has different businesses within that allows people to move or expand roles, which is exciting. The other piece of this is we are migrating toward the creation of a centralized group of strategy and creative – let's call it a creative center of excellence – that's going to feed the three business units in my specific world, which are the consumer products group, the parks' merchandise and retail and gaming and digital products. This will further help create alignment."
For Licensees, One + One = Three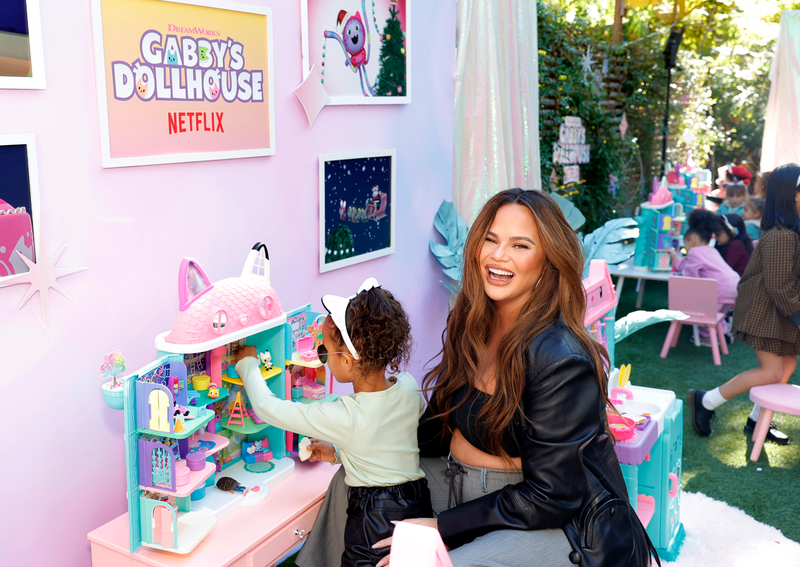 Bringing together theme parks and consumer products into one business unit seems like a no-brainer, but it's not traditional and it's not how business was formerly done. In fact, prior, the synergies between the businesses, while there, of course, were not always at the forefront. Now, doors are opening for partners that are new and interesting in ways that may not have been there before.
According to Klaseus, the merger is a "one plus one equals three" type deal that will allow Universal's partners to tap into the organization and its "collective horsepower," creating goods and retail experiences that are on par with the quality and breadth of its theme park attractions.
Further, the merger allows for a "one voice approach" across the organization that enables strategically managed programs to touch on all NBCUniversal platforms and all channels, and with shared IP and rights to consider, this becomes incredibly advantageous for partners in all segments.
Last, the new structural organization fosters leveraged learning and enablement, which create deeper, more meaningful programs in multiple different ways.
"[Licensing partners] can now leverage all of these pieces – whether physical product, digital product, gaming, retail or park attractions – and combine them to create connected experiences that provides a much deeper, richer experience for fans," says Klaseus.
A Focus on Experiences
By bringing together the classic licensed consumer products with the experiential theme park merchandise group, it is a fair guess that location-based experiences and retailtainment are yet another clear advantage and avenue for the joint group to leverage.
"Experience as a whole is becoming a key focus for consumers, whether they are a teen, a 20-something or a family with kids, and we're already doing a lot of that," says Klaseus. "On the live entertainment front, Universal Parks & Resorts has an incredibly successful business with touring shows and exhibitions like 'Jurassic World Live Tour' and 'Jurassic World: The Exhibition.' What we're focused on at UP&E is building out the consumer experience through immersive product and retail in a more meaningful way."
The fruits of this merger are already coming to light with the September launch of UNIVRS, a new, first-of-its-kind retail destination at California's Universal CityWalk Hollywood.
The brick-and-mortar store takes a fresh approach to "drop" culture by offering highly curated, limited-edition uber-current merchandise that is available at the singular location. Products will tap into Universal's most popular IP, such as "Minions," "Jurassic Park," "E.T. the Extra-Terrestrial," Felix the Cat, Universal Monsters, "Back to the Future" and more on everything from skateboard decks to unisex apparel, bucket hats, etc.
"It's a fun proposition that complements what we already have in our offering in the park," says Klaseus. "In this instance, it's taking our characters and IP and marrying that with popular brand designs and with a streetwear aesthetic."
The Power of the Universal Portfolio
This new structural organization is one thing, but leveraging the powerhouse IP is another, and Universal has it in spades in 2023 and beyond.
From mega-franchises like "Jurassic World" to newer hits like "Gabby's Dollhouse," Universal has something for everyone.
In 2023, Universal will celebrate 30 years of "Jurassic Park," a film that hit the scene in 1993 with a seismic "roar" and has not stopped since, yielding an entire world of dinosaur adventures, park experiences, exhibitions, products, video games, digital experiences and more. The strength of the franchise is one that just won't quit – its latest installment, this year's "Jurassic World Dominion," saw it achieve status as the No. 1 action figure property of the year, No. 2 entertainment property of the year and the creation of the world's largest global licensing program ever that includes more than 900 licensee partners, says Universal. Partners include some in brand-new categories such as make-up (Profusion Cosmetics), home appliances (Uncanny Brands), healthy snacking (Lesser Evil), cereal (General Mills) and mission-driven home items (Accompany).
"Gabby's Dollhouse" launched just two years ago, and since has only grown in popularity and potential. According to the company, new episode drops consistently make it onto the Netflix daily product Top 10 Kids' list in 89 countries, and in its short time in market, has become the No. 1 preschool toy license in the U.S., according to market research firm, NPD. Its toy ranges from licensee Spin Master have been featured everywhere, including Walmart's Top Toy List, Target's Bullseye's Top Toys and Amazon's Toys We Love list this year, as well.
Additional activity for the brand includes the Bakey with Cakey Tour in collaboration with Walmart, which took place last month; a "Gabby's Dollhouse" Cat-tastic Dance Party at Universal Studio's Orlando and the Gabby's Kid Power Challenge, in partnership with UNICEF USA.
An additional 20 episodes have been announced following its fourth season on Netflix, and the series continues to rack up YouTube views, recently topping 700 million.
Other major players in the Universal portfolio next year include the "Fast & the Furious" franchise, which will see a new installment, "Fast X," coming in spring and anniversary celebrations for vault IP including "Scarface" and "The Big Lebowski." "Trolls 3" will launch in Q4 with new master toy partner, Mattel, and collectibles partner, Moose Toys, and Welcome to the Universe Baby!, an infant and baby line that taps into trend-driven millennial parents, continues to expand into new categories and international territories.
The horror genre is also ramping up for Universal in terms of partnership and category expansion focus, remaining tightly tied to its Halloween Horror Nights park experiences and its Universal Monsters business, as well. For Universal Monsters, numerous licensees have come on board including Smiffys, which recently debuted a Halloween line featuring characters such from "Dracula," "Frankenstein," "The Creature from the Black Lagoon," "The Mummy" and more. This year, Universal Monsters saw launches with Smashbox cosmetics, Levi's and an eco-conscious apparel and digital fashion collection with Variant3D, Hypermint, Snap Inc. and ReadyPlayerMe. Other licensees on board include Kidrobot for Phunnys and Dunnys, and a Mattel "Monster High" mash-up for its collectible Skullector doll range featuring The Bride of Frankestein.
As Universal looks to next year and into the far future, it's clear it is setting up the organization for increased expansion and success as it proves it is bigger and stronger than ever.
Read more about:
Subscribe and receive the latest news from the industry.
Join 62,000+ members. Yes, it's completely free.
You May Also Like
Loading..