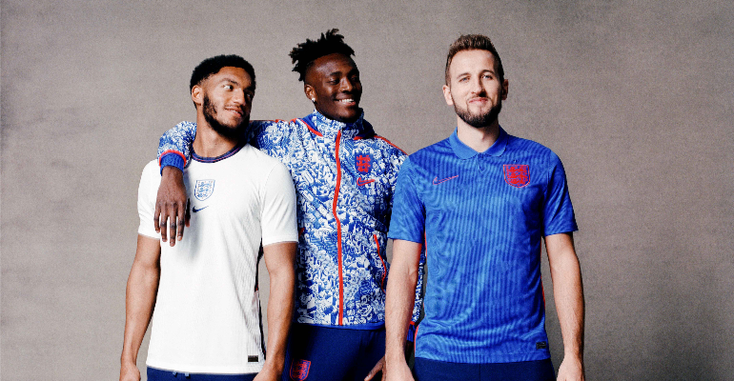 With little to no physical events or spectator sports taking place for the lion's share of the year, sport has been faced with a unique challenge. Yet, the industry that thrives on stadium buzz and live showcases has found new and interesting ways to bring fans the high-octane action from track to field. 
Speaking with the Football Association, one of the world's biggest names in football (or soccer for our American friends), one of the key shifts has been from live games, to nostalgia properties in order to keep the message alive. "Without having a European Championship tournament this year, we've adopted a shift in messaging and have been utilising nostalgic brand collateral during the summer period ('on this day in 1996' for example) looking back
at iconic moments from previous tournaments," says Nicola Thompson, licensing consultant, The FA. "This has helped Fanatics, our online and bricks and mortar retail partner, to drive sales towards retro kit, bolstered with a 25% off promotion of those lines. A significant success story has been delivering the new England X Nike kit range into the market during lock down. The strong promotional campaign behind this launch has provided fans with a way to connect with the team without matches to attend and sales have shown just how relevant the team is even in a non-tournament year." 
Leaning into collaborative partnerships to promote the brand and provide fans with quality, authentic connections with the sport is just one key engagement strategy, but the trends of 2020 and predictions of 2021 are also providing opportunity instead of purely uncertainty. 
"There's obviously been a huge shift towards focussing on online sales channels rather than bricks and mortar stores both from Fanatics who are responsible for the England Store (www.englandstore.com) and from the wider licensing programme. Key licensees such as FOCO have seen their own retail store business grow significantly and others are reporting a major shift in the % of sales done through online channels. We expect this trend of online shopping to continue going forward. We've seen a spike in demand for England product as, having been deprived of football for a lot of 2020, fans have been keen to still form a connection with the team via branded merchandise. We've been able to promote products in line with macro consumer trends during lock down such as loungewear / activewear, indoor / garden toys and games and more recently we have added facemasks to our licensed products." 
Even with a condensed tournament calendar, the FA is bringing the Euro Championship 2020 ranges to retail in 2021 via its own channels, looking for licensees to build on next year's Euro's as well as both the Women's and Men's World Cups in 2022. Even though sport was blindsided by the pandemic, the fans and the industry that keeps brands in the game are still closely connected. But what has the FA learned from meeting with licensees, taking in content and exhibiting at Festival of Licensing? "The licensing community remains positive and enthusiastic about the future despite these uncertain times! There's still opportunities out there for new business as well as for growth in existing licensing relationships. 
We are keen to activate and deliver the Euro Championship 2020 ranges in 2021 through our own retail channels as well as supporting licensees to maximise the opportunity through their retail accounts. There's still opportunities for licensees to get involved in certain categories in time to take advantage of the condensed tournament calendar with the Euro's next year and the Women's and the Men's World Cup taking place in 2022."
We also expect to continued see growth in the Lionesses licensing programme and hope to connect with new licensing partners of the brand during the FOL.
"Over the Atlantic, and with Week 3: The Americas in view, we spoke with OneTeam Partners, a group licensing representative for the players of US sporting mainstays NFLPA, MLBPA, USWNTPA, WNBPA, MLSPA, and USRPA. With such a wide variety of licenses to keep flexible during a pandemic, how has OneTeam built a kinetic licensing solution for the biggest names in the game? 
"The pandemic has presented a lot of challenges throughout the sports world,' says Jyoti Sardana, business development manager, OneTeam Partners, "but with those challenges has come the opportunity to innovate and make changes for the better. As things continue to shift more heavily to the virtual world, sports brands have found new and unique ways to engage fans. This includes rethinking what fan attendance looks like, embracing virtual platforms for athlete activations, and finding ways to reach consumers outside of live events." 
With athletes among some of the most trusted brand names in US consumer culture, what are the trends that OneTeam Partners are using to keep dynamic programming moving and overcome the challenges of coronavirus. 
"The value and voice of athletes continues to grow and will become even more of a driving force in the sports industry going forward," adds Sardana. "Athletes are more openly and purposefully leveraging their platforms to affect social change – championing inclusion, equal pay, and other social justice issues. Their leadership in this area continues to demonstrate the importance of sports in society. There has also been quite a bit of recent research and data indicating Gen Zers are more interested in individual athletes and their stories than a specific team.  The sports licensing industry has begun to recognize this, but there will be more changes in the way licensees approach product development and in the way retail buyers think about product assortment. We are fortunate to represent a large group of very powerful, influential athletes across football, baseball, basketball, soccer, and rugby. And we have seen many of them leverage their platforms for good.  As we close out this unique year and head into 2021, we are excited about continuing to find ways to support and elevate our athletes.  More specifically, we think that despite some progress, the women of the WNBPA and USWNTPA deserve to be better represented in the licensed product marketplace through both fan gear and meaningful evergreen programs.  We intend to aggressively pursue opportunities on behalf of those athletes." 
Subscribe and receive the latest news from the industry.
Join 62,000+ members. Yes, it's completely free.
You May Also Like
Loading..