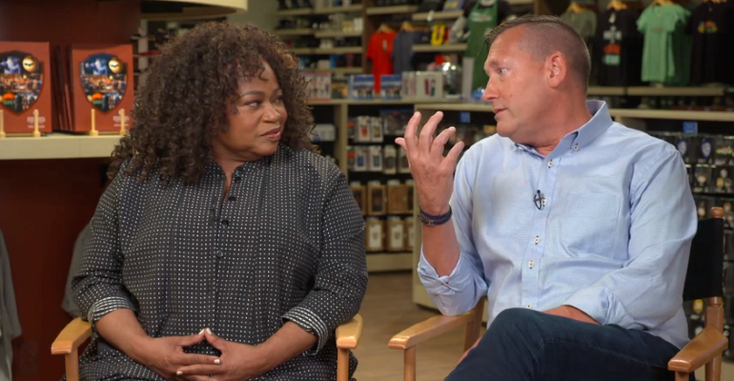 From the huge return of Looney Tunes in "Space Jam: A New Legacy" to upcoming 2022 DC releases like "The Batman," Warner Bros. is all about unleashing the power of content.
"Data has become so integral in how we think about super-serving our audience," says Pam Lifford, president, WarnerMedia Global Brands and Experiences. "It allows for us to not only understand what they want but also the right time. We, as a company, have such a treasure trove of great IP. Which leads to the question, 'how does it appeal to our fan base'. So, it's not just leveraging the data, the insights and the research, but also being good partners with your retailers. It's just not enough for us to understand who our customer is and who our fan is; it's important for us to understand who is walking into the Walmart environment or the Target environment, and what are their needs. So, bringing those two things together. Then, from a prioritization standpoint, we're always leaning into our big brands, but we also look at what is opportunistic, like 'Ted Lasso.' That's just launched and it's a phenomenon, so we want to make sure we show up for our fans, so they can have a broader experience."
With
collaboration, aligning values is key. But how does Warner Bros. ensure its fans are well-served, the values are kept in place and no wasted product is left on the shelf?
"We make sure that the brand alignment is there," says Robert Oberschelp, senior vice president, global franchise management, brand product, Warner Bros. Consumer Products. "So, does a brand align with the brands or IP that we're working on and where the consumer fan wants to show up. So, it has to be additive to what we're doing. We don't want to make 'stuff.' It really must have that reason to be. We always ask, 'What is going to surprise and delight?' or how is this a launch that makes people say, 'Why did I not think of that?'"
After seeing "Space Jam: A New Legacy" return to fans of all generations, and bringing a huge program of licensed products with big-name collaborators, the keynote speakers gave Licensing Expo Virtual a rare and exclusive insight into what's next for Warner Bros.
"It's a DC year," adds Lifford. "We're going to deliver more movies than we ever have. We're going to show up as a company, collectively, in ways that we've never done before."
Starting strong with "The Batman" at the start of 2022 and rounding off the year with an exclusive insight into a project called "Wayne Enterprises," the Warner Bros. Consumer Products and WarnerMedia experts delivered a keynote to inspire, educate and excite as we look forward to a huge year for content.
Read more about:
Subscribe and receive the latest news from the industry.
Join 62,000+ members. Yes, it's completely free.
You May Also Like
Loading..