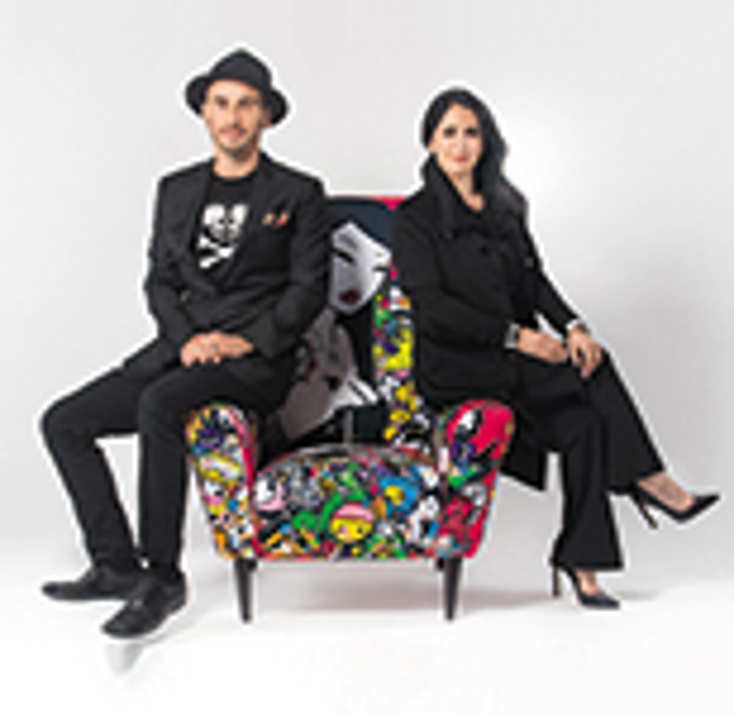 Known for its vibrant art and whimsical characters, tokidoki is a young brand that is hard at work establishing deep roots in the world of products and merchandising. With the world as its canvas, expect to see the globe become tokidoki-fied.
Simone Legno, chief creative officer and co-founder, tokidoki; and Pooneh Mohajer, chief executive officer and co-founder, tokidoki.
Although, at its root, tokidoki means "sometimes" in Japanese, there is nothing intermittent or occasional about the pop culture-entrenched brand that has exploded in its short 13 years. In just little more than a decade, tokidoki has evolved to be a 365-brand that touches nearly every product category imaginable, from hard goods to home décor, apparel, accessories, novelties and soon to be hotels and animated content.
Founded in 2005 by Pooneh Mohajer, Ivan Arnold and Simone Legno, the brand's creative visionary, tokidoki is now a machine unto itself, securing an enormous amount of business, partnerships and collaborations, all the while remaining an independent entity–a quality that, this writer suspects, is instrumental to its success. After all, the brand's bedrock is creative freedom.
tokidoki did not begin with the business partnership, but was born at the turn of the century from the mind of Legno, an Italy-based artist who was newly embarking on
a career in media and advertising, and armed with an affinity for Japanese culture.
The first tokidoki website (circa 2001) was a showcase for Legno's art and featured early iterations of now famous brand characters alongside flash-animated imagery and games. It drew more than 17,000 visitors per day, says Legno.
"The minute I saw Simone's artwork–www.tokidoki.it was his professional calling card, and he was one of the best flash animators at the time–I literally began jumping up and down, screaming, 'Who is this guy? We have got to sign this guy!,'" says Mohajer, now chief executive officer, tokidoki. "I had never seen anything like it. And from the get-go, I had a vision for a global brand that I could see very clearly–its future, its potential. We are far from what we are going to be, even still."
Read more about:
Subscribe and receive the latest news from the industry.
Join 62,000+ members. Yes, it's completely free.
You May Also Like
Loading..