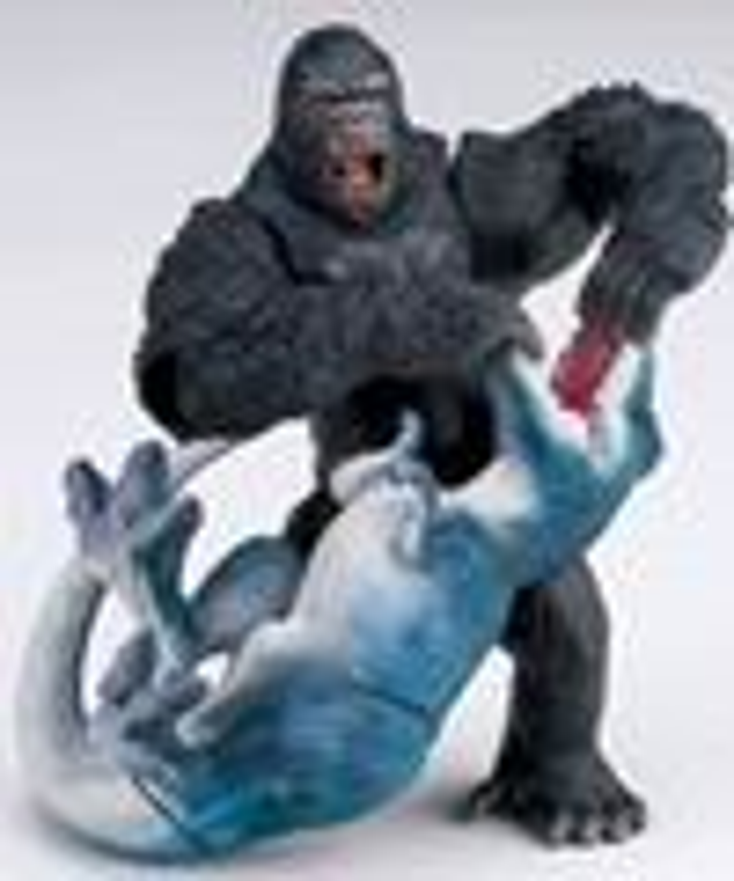 ]>
With the December 14, 2005, release of Peter Jackson's
King Kong
fast approaching, Universal Studios Consumer Products Group (USCPG) is gearing up with a monster consumer products lineup. Two months later, February 10, 2006,
Curious George
is scheduled to hit theaters, followed by its TV launch on PBS Kids in fall '06. Although both are being touted as event films, their corresponding licensing strategies differ in that
Curious George
has a three-pronged brand focus—classic, TV, and film—while
King Kong'
s program is more heavily movie oriented.
"Our strategy for
King Kong
takes advantage of the theatrical event as a marketing tool," says Beth Goss, executive vice president of Universal Studios Consumer Products Group. "The most important parameter is that we don't allow product on shelves before October 1. It's imperative that we lead with the movie, and that the look and feel of the film is defined by the filmmaker, rather than the licensees." As is typical for a blockbuster film, USCPG's
consumer products offerings will cover almost every category. In February, USCPG signed on Playmates Toys to act as master toy licensee with product ranging from 6-, 11-, and 14-inch action figures to a Skull Island playset and several role-play skus, as well as two plush skus. According to Playmates Toys' director of marketing for boys' toys, Michael Rinzler, "We also will offer a collector's line of action figures and PVC dioramas, which will be available in specialty and collector channels." Playmates began work on the toy line last June, along with Weta Workshop, best known for creating a wide range of props, creatures, and armaments for film productions such as
The Lord of the Rings
trilogy and now
King Kong.
As USCPG's interactive partner, Ubisoft will release a
King Kong
video game available worldwide on all platforms for holiday 2005. According to Goss, Ubisoft's development team also worked closely with Jackson on the creation of the game, which reflects the visual interpretation and dramatic narrative of the film. Capitalizing on wireless gaming, USCPG partnered with Gameloft on a multi-year licensing agreement for mobile games, as well as a variety of other mobile content. "Mobile is a big initiative for Universal, and it's a category we spend a good deal of time on," notes Goss. "Our deal with Gameloft is extensive, and we have solidified major carriers in every market." Franco American Novelty Company entered an agreement to produce
King Kong
Halloween costumes and masks, marking the company's first licensing deal in its 94-year history. Franco's products will target adult audiences and will debut in time for Halloween. USCPG also has programs lined up for apparel, accessories, home décor and bedding, party goods, and food and beverages. To sustain the brand beyond the theatrical release, Goss notes, it's important to recognize that retail is the linchpin to a great long-term consumer products program. "DVD/video also has become a huge market in helping extend the longevity of a brand, and marketing the videos from our home entertainment group will take us through the end of 2006." First published in 1941, "Curious George" titles have sold more than 27 million copies worldwide and have been published in 17 languages. USCPG inherited the brand eight years ago, but, explains Goss, "we wanted to keep it as a strong, upstairs literary brand until the company had an appropriate media outlet. We initially focused on higher-end toys and apparel that remained true to the classic George, but at the same time we have been diligent in our strategy to broaden the brand through media." The film launch is itself part of a brand strategy, she adds, "and
George
is just as much an event film as it is a marketing exercise." In addition to
George's
silver screen debut, USCPG also decided to pursue a younger-skewing TV show on PBS Kids, which will air 30 half-hour episodes of the animated preschool series. According to Goss, the show is based in science, math, and technology, and is meant to teach the basics of these areas. "So many preschool and primary TV programs focus on literacy and soft social learning, but very few focus on math and the sciences. The way in which kids learn these skills is not rote like literacy, it's about experiencing and experimenting." As far as USCPG's licensing program goes, says Goss, "We plan to start at the film level with certain types of product that are derived from the movie, including a focus on scene art. As we move toward the TV launch, we will introduce more learning-influenced product. At the same time, we still maintain our classic program with [higher- end] product launching in Kitson and Fred Segal." Toy Biz, a division of Marvel Enterprises, Inc., signed on as master toy licensee for both the movie and the TV series, with a product offering that appeals to boys and girls, and reflects the educational component of the TV series, as well as George's charm and curiosity. "The lineup will include action figures, playsets and vehicles, preschool matching/ memory games, and novelty figures, as well as beanbags and animatronics," says JoAnne Mclaughlin, co-COO at Toy Biz. "We're also introducing a themed plush line that will focus on bedtime and birthday, with about eight different themes in 2006." USCPG also is moving forward with a licensing program for children's classic "The Little Engine That Could," published by Penguin Young Readers Group. "The property's core message is motivation and courage, and retailers consistently have had success with products that are inspirational in nature," says Goss. At the same time, she notes, retailers may be anxious about where they go with a new train property. At present, Universal is focusing on social expressions, home furnishings, and toys. "We haven't gone into softlines yet," says Goss. "We want to let the property brew a bit in particular categories and see what catches, and then build the rest of the line around that." Universal also partnered with Rail Events on a 4-year national train tour with 12 stand-alone exhibits, including costume characters, reading events, interactive kids' adventures, and caboose and trolley rides. According to Goss, "We initially are focusing on a narrow, hands-on approach when it comes to managing the brand. Rail Events is our way of having some sort of media outlet for the property." Toy licensee Grand Toys/Asian World is developing a line of infant and preschool toys; role-play toys including dress-up sets and accessories; arts and crafts items such as silly string, dough playsets, colored pencils, and stickers; and wooden toys including train sets and puzzles. Grand Toys/Asian World also will serve as toy licensee for "Where the Wild Things Are," which USCPG plans to develop a long-term media strategy around. "Our strategy for 'Where the Wild Things Are' is going to be more film focused," says Goss. USCPG plans to utilize elements directly from the classic book and develop character art to match the unique illustration style.
Subscribe and receive the latest news from the industry.
Join 62,000+ members. Yes, it's completely free.
You May Also Like
Loading..