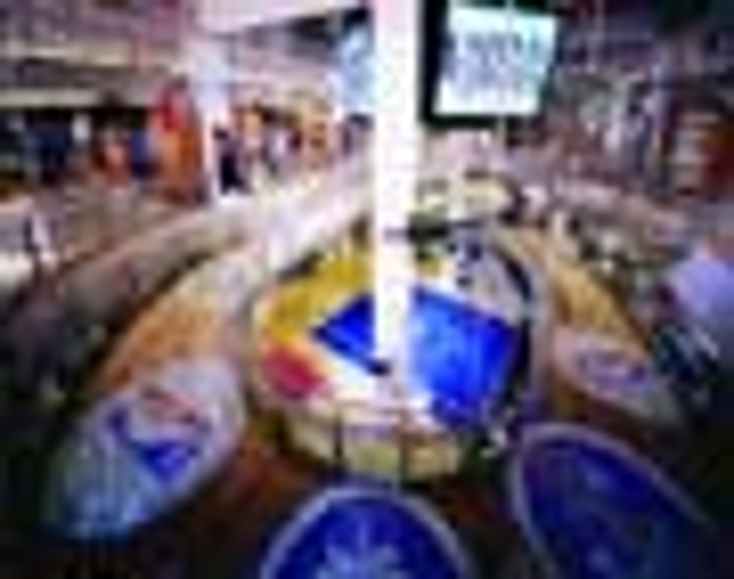 ]>Make-you-smile product has its season
Comfort food is something we look to devour when our spirits are low; comfort fashions are something Americans are seeking and buying post-9/11.
Comfort fashions, meaning apparel designed to make the wearer feel better, is taking many forms - and taking off at retail.Loungewear and pajamas were one of the few apparel categories to benefit in the last quarter as the emotionally bruised nation cocooned with zest. But that's not the only form "chicken soup apparel" has taken. Comfort-sought touches are appearing in other garment segments. On the fashion-forward fringes, soft and pretty feminine qualities have sprung into vogue. In the realm of young men's, cartoons and wit are stealing headlines. For kids, bright is right.In general, make-you-smile product is keeping marketers and cash registers humming.Soft and mystical for the juniors, flashy and fun for girlsSoft romantic fashions such as peasant blouses and velour sets were in the wings before the terrorist jolt in September, but today the force of fantasy in apparel is more apparent than ever.
Mall-based
chain Hot Topic, a home for shock-the-parents apparel and accessories for edgy youth, has experienced an uptick in soft and pretty merchandise.
"We've seen an impact in pretty designs, like fairies," says Cindy Levitt, VP, GMM for the 345-unit specialty retailer. Artists like Ruth Thompson and Amy Brown, appearing on apparel and accessories from Headline Entertainment (North Hollywood, Calif.) and Fine (Los Angeles) respectively, are among some of the most prominent mystical images hanging among Hot Topic's more signature gothic and harder edge, music-related merchandise. During the 2001 Halloween season, Hot Topic shoppers were drawn to fairy wings for their holiday costume ensembles. "The trend was that people wanted to be pretty and non-threatening," observes Levitt.
For Lark Clothing Stores (Chicago), a nine-unit chain targeting high-end, urban, club-going consumers, romance has taken over women's apparel.
"Women's is becoming very romantic and colorful - new trends we see include an interest in peasant tops, low rise jeans, crop top lace shirts and fantasy (sheer) shirts," says Lark president Len Rothschild.
Soft luxurious fabrics are paramount. Rocawear's fall '01 pastel color velour junior's activewear, made by Nesi Apparel (New York), "was phenomenal," says Rothschild. It also was Lark's top selling retail item during the holiday season. Rocawear CEO Damon Dash describes it as "sexy-cut relaxed wear for girls who want to look cute and like to have fun."
"We sold out of it three times and I'd take more if I could," says Rothschild. The spring '02 line has short sleeve velours, lower rise bottoms and is sexy and colorful with great graphics, he says. Lark also has had strong sales with Sean Jean's velour suit for ladies in jewel tones like burgundy, gray and khaki.
Rich fabrics like velveteen and bright colors have become increasingly more important for girlswear in the fourth quarter, notes Millennium Apparel executive director of marketing and licensing Charles Becker.
He notes that sales of velveteen items from the tween property Princess Collection (owned by A&N/Carter's Watch The Wear) shot up, as did suede product in some private label pieces. But color and glitter are dominating trends going forward.
"People are gravitating toward happy styles," says Becker. Bubble jackets featuring the cartoon images of Powerpuff Girls (Warner Bros. Consumer Products), with updated sparkle appeal and made with the metallic-like glittery fabric Lurex, soared for the third season in a row. Powerpuff Girls sales were better in 4Q 2001 than the time frame in the year prior. Dresses were added for spring 2002.
Millennium reports that as the first licensee for sportswear and outerwear for Lisa Frank (Tucson, Ariz.), - best known as a stationery brand - that happy colors, more than anything else, is driving the design of the license.
"Sherbets, rainbows, fuchsia, and bright and happy-go-lucky colors and styles are incredibly important going forward," opines Becker. Product begins shipping to the better mass in June. Accessory Network (New York) has the rights to make backpacks and accessories for Lisa Frank.
Childrenswear resource Happy Kids (New York) has taken playtime and fantasy to reality, by translating the tween-targeted dolls Bratz (MGA Entertainment) into girls apparel sizes 2-10. The "fashion passion" dolls (whose mini wardrobes are updated seasonally) are draped in threads like trendy bellbottoms, dew rags, sparkly peasant blouses and chunky sandals. The dolls first appeared at retail in June 2001.
Happy Kids intends to soft launch the multi-tier collection for spring 02; logos (such as the halo over the R in Bratz) and graphics will play a big role in the sassy collection. AME (New York) is supplying sleepwear and underwear. FAB (New York) has school supplies and accessories.
Men like cartoons
In the realm of men's threads, playful and colorful apparel has struck a responsive chord with serious fashion-following blokes.
Iceberg History (San Giovanni, Italy) is about to introduce men's spring apparel with two Warner Bros. Consumer Products' characters: Muttley, the canine companion of Dick Dasterdly in the cartoon series Wacky Races, and the cartoon cat Sylvester, foe of Tweety.
Iceberg History is an upscale sportswear label that co-brands with a new animated character every season. It placed Scooby-Doo in the spotlight at holiday, and product moved briskly, at least for Lark's customers. Iceberg's prices at Lark range from a $75 T-shirt to a $500 sweater.
Looney Tunes have popped up again on another streetwear label with a much more moderate pricing strategy: Southpole Clothing (Carlstadt, N.J.), a young men's resource to mid-tier, specialty and department stores, just launched an exclusive new collection of urban sportswear called Studio by Southpole, featuring Warner Bros. characters like Bugs Bunny, Daffy Duck, Sylvester and Wile E. Coyote. Novelty sweaters and core denim were first shipped in December to specialty chains like Against All Odds, Dr. Jays, and Up Against The Wall. Items like $26 T-shirts and $180 velour track suits will follow this spring.
Platinum FUBU (New York), the higher-priced collection from the streetwear brand that added Bill Cosby's Fat Albert characters about two years ago, launched Muhammad Ali inspired sportswear during the holiday season. Velour sweat suits, French terry sweat shirts and woven tops fill the line. Some of the goods carry Ali's signature self-complimentary phrases. Steep pricing marks this line as well: jeans start retailing at $90, and some jogging suits fetch as much as $275.
What's up with the cartoon craze?
"Men like to make statements and cartoons and characters are a way they can make a personal statement," suggests Lark's Rothschild. Says Southpole marketing director James Ling, "It all boils down to people wanting to wear clothes that get noticed. Our target market identifies with the attitudes and uncanny arrogance projected by Looney Tunes characters."
More cartoon images should flourish, especially with the upcoming Spider-Man movie from Sony/Marvel coming out May 3. Separately, the market got pretty saturated with tops and caps emblazoned with badges inspired by Superman and Supergirl, from Warner Bros'. DC Comics division, a trend that started about two years ago.
Other shield-carrying product that certainly caught on post-9/11: caps and tops with insignias and logos from the New York Police Department and New York Fire Department. Some product was officially licensed, a large amount was not.
NYPD hired The Joester Loria Group Inc. (New York) to broker deals for apparel and accessories, giftware, collectibles, publishing and toys. Product like adult T-shirts, caps and sweatshirts, both screen print and embroidery from SGI (Albuquerque, N.M.) shipped to the Federated Group in early December.
Other hero-related apparel offerings: Haddad Apparel (New York) started shipping in November boyswear inspired by this year's must have toy, Rescue Heroes from Fisher-Price (East Aurora, N.Y.). Goods shipped to chains like Kids "R" Us, Target and Sears; girls spring fashions are to follow shortly. Wormser (Northbrook, Ill.) is supplying sleepwear, High Point Knitting (New York) has underwear, and S. Goldberg (Hackensack, N.J.) is taking care of footwear. The toy maker promises more categories are to come.
Little luxuries mean a lot more
Comfort apparel - in the most straight forward sense, such as loungewear, robes and pajamas - also fared well post 9/11. America's new priorities for staying home with the family helped the softy-pants players match or even beat last year's wholesale numbers.
"Bookings were down, even before 9/11, but by the end sell-throughs were very good," says Linda Tepper, director of design and production, Nick and Nora (New York). "We ended up equal to last year's sales because of all the reorders through November and December. We are still shipping flannel pajamas (in mid-January)," she adds. Its best pajamas are licensed-in brands I Love Lucy (Unforgettable Licensing) and Milk Bones (Nabisco/Kraft).
The Goodnight Family, (Mamaroneck, N.Y.) says sales of ladies' robes and loungewear is up 25% over last year, and that half of the sales increase happened post 9/11. Sleepwear picked up less dramatically, by 5%, says Jason Dorf, president, Goodnight.
Karen Neuburger (San Francisco) reports that KN experienced minimal cancellation of orders, no postponement of its earlier-planned in-store pj party tour for December, and perhaps best of all, kept sales at regular price.
"Post 9/11, there were not as many customers in the stores as in previous seasons, but our business improved, supported by a strong brand message of comfort, nesting and nurturing," says Nancy Stone, senior VP sales.
Pure wit and whimsy
Purely funny stuff had a pretty good year as well. Blue Q (Pittsfield, Mass.), marketer of cosmetics and beauty items packaged under labels like Dirty Girl, Wash Away Your Sins, Virgin Slut and Tough Guy, outpaced last year's sales by a "smidge, but we had a smokin' year in 2000," says Mitch Nash, owner and co-creative director, Blue Q. "We had a tremendous slowdown starting 9/12, but the fourth quarter heated up after Thanksgiving. The holiday season bailed out the year for us."
The specialty store resource, about a $7 million (wholesale) concern, in August launched a new men's hand and body cream line dubbed Balls. Licensing is certainly on its radar, especially for Dirty Girl brand extensions.
"I can see Dirty Girl pajamas, killer camisoles, and undies in a men's cut, all with the right amount of sophistication and humor," says Nash.
Small, non-ostentatious luxuries are where it's at, opines Michelyn Camen, a brand marketing consultant formerly with Hearst Magazines and Steve Madden. "I think we'll see a surge in sales in product that makes you feel in control or that makes you feel better about yourself without screaming 'I'm indulging.' "
It takes less now to feel better, she says, and people will be seeking small pick-me-ups in fashion, entertainment, beauty and home.
Who loves New York more than ever?
New Yorkers from all over the globe turned out in force to support the city post-9/11, some by buying goods licensed by the city's Metropolitan Transportation Authority.
MTA licensees had a surprisingly robust year overall, despite challenges in tourism and retail distribution. One of three main MTA retail outlets, the N.Y. Transit Museum Store in Brooklyn Heights, closed in September for renovations. (The brand has no official e-commerce component.)
Consumers began buying licensed goods about six to eight weeks after the tragedy. Annual royalties from this merchandise (which directly support the Transit Museum) for 2001 were almost $92,000, up from $52,000 in 2000, says Amy Wanggaard Hausmann, retail operations manager for the Museum.
Domestic sales of T-shirts, by New York City Subway Line (www.nycsubwayline.com) were up 44% this December over last, says NYCSL president Lynne Lambert. The Japanese market, however, usually a hotbed for the tees, slowed its bookings this year. Lambert looks to extend the Subway line into outerwear, denim and stationery.
Post-9/11, specialty retailer Urban Outfitters expanded its placement of Subway map shower curtains from Straphanger Designs (Croton-on-Hudson, N.Y.) into regions like Indianapolis and Madison, Wis.
Tokens & Coins (Berkeley, Calif.), recyclers of nostalgic icons and MTA's supplier of the top selling sterling silver transit token charm bracelet, had a strong fourth quarter. "To those seeking comfort, our product offers an authentic piece of old New York," offers Ward Wallau, T&C founder.
Forest Savers (Hampton Bays, N.Y.), the licensee for rubber-backed, laminated subway map coasters (a pack of six costs $15) also reported brisk sales. All aboard.
Subscribe and receive the latest news from the industry.
Join 62,000+ members. Yes, it's completely free.
You May Also Like
Loading..