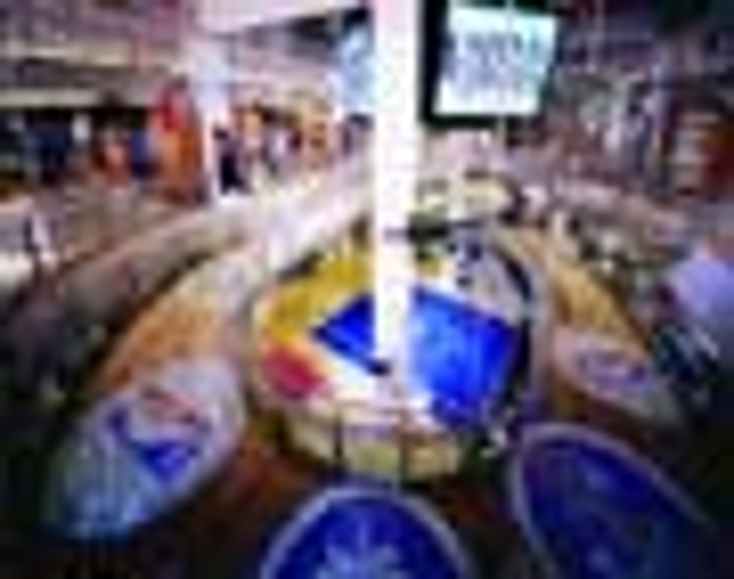 ]>Welcome to Licensing Hollywood 2002 in this guide to the latest studio strategies, retail promotions, and up-and-coming franchises.
A quarter-century ago in a marketplace far, far away, a cosmic force called Star Wars opened in theaters as a movie and went forth as a franchise. A dozen years later, another high-flying franchise was born in Batman. Today, in the glare of a new century, franchises are all the rage in Hollywood, and so are superheroes, animation, and flights of fantasy. Through the long-term licensing of apparel, publishing, games, toys, and even race cars-and the runaway success of DVD-sprawling conglomerates and smaller studios are more eager than ever to fashion enduring franchises because retailers are less eager than ever to stock merchandise based on movies that are gone with the wind.Studios are visiting their vaults to exploit evergreen entertainment. Retailers are asking for more points of difference in the products they carry and promotional programs they support.Meanwhile, as the big get bigger, they are learning to work in closer harmony with internal partners to achieve maximum exposure and sales. Boutique studios pride themselves on moving more nimbly and bringing licensees and partners closer to the production process.Welcome to Licensing Hollywood 2002 with this glimpse of strategies from Disney Consumer Products, DreamWorks, Fox Licensing & Merchandising, Lucas Licensing, MGM Consumer Products, Miramax, New Line Cinema, Sony Pictures Consumer Products, Universal Studios Consumer Products Group, Viacom Consumer Products, and Warner Bros. Consumer Products.Disney Consumer ProductsDisney Consumer Products operates as virtually a stand-alone unit within Walt Disney Co. "I don't really consider this the licensing arm of the studio," says Consumer Products President Andrew Mooney. "The programs we put together with retailers and licensees to promote the movie slate are important strategically, but are not really the primary focus of our business anymore."
Mooney,
who joined the Mouse House in December 1999 after 20 years at Nike, notes that merchandise tied to Disney's feature animation releases "has been a decreasingly small portion of our business since Lion King," released in June 1994.
"Films are one-off events," notes the Scotsman. He adds that his group focuses on partnerships with the company's television, publishing, and interactive units to "build sustainable properties, such as Princess, Winnie the Pooh, Toy Story, or Power Rangers."
Mooney says most studios' traditional approach to movie merchandise is "passive licensing, and I think it is a dying profession." He contrasts it with Disney's evolving style of "active licensing." That, explains Mooney, is where "we can add value to licensees where we design products alongside them, and stay engaged in the manufacturing and merchandising process. Historically, packaged goods companies have tapped into Disney equity to drive their brands."
In addition to Kellogg's cereal and Minute Maid juice products, says Mooney, Disney has taken an "active role in designing toys with Mattel and Hasbro, as well as stationery and soft goods lines."
Reporting to Mooney are hardlines, toys, apparel, publishing, interactive, and the Disney Stores.
There currently are nearly 447 Disney outlets in North America, with another 178 internationally. Headed by Peter Whitford, who ran Structure stores for The Limited, the Disney chain has been "right-sized," says Mooney, with store count stabilized.
When the stores were launched 13 years ago, Mooney observes, "they had multiple raisons d'etre, to let the community touch Disney at a local level and as a broad showcase for a range of products. We increasingly use them now as a laboratory to test ideas first, and if they succeed, we leverage and evangelize with other retailers."
One of those ideas, observes Mooney, is Disney Home, which he calls an "organizing device." At Kmart, for example, there's a kids' apparel collection that mothers can mix and match with or without Disney characters. There's also bedding and other home furnishings from Burlington and Westpoint Stevens.
There's a "retail need and desire to move into the non-character space," says Mooney. He points out that in softlines at retail, non-character space in apparel is seven times that of character space, and in Europe, non-character space is 20 times greater. In addition, Disney has announced direct-to-retail deals with 13 accounts worldwide "to create promotional and business activities that go across the entire span of Disney."
Princess is "a very explosive property for us right now," says Mooney of the multiple character collection aimed at girls 4- to 10-years-old. Also on tap at Licensing Show are Power Rangers, Disney Baby, Winnie the Pooh, and TV properties Kim Possible and Lizzie McGuire.
Due in theaters June 21 is Lilo and Stitch, with a program, says Mooney, "as strong as one can expect given the overall climate for theatrical licensing. There are so many competing demands for consumer attention, if you can retain a window four to six weeks beyond theatrical, you're doing remarkably well."
DreamWorks Consumer Products
DreamWorks SKG was touted as Hollywood's first new film studio in nearly 60 years when it was founded in 1995 by Steven Spielberg, Jeffrey Katzenberg, and David Geffen.
That status has presented opportunities and challenges in consumer products that are outside the norm for Hollywood.
Compared with the 30 to 40 features released annually by the long-standing majors, the young studio's yearly slate is under a dozen productions.
Brad Globe, head of consumer products, says the small slate helps keep the operation nimble: "There's no bureaucracy (and no formal executive titles), and we can make deals quickly. If we come up with a new idea, we just get Jeff [Katzenberg] to sign off on it, and we're off and running."
Promotions report to Globe, and it is headed by Anne Globe (Brad and Anne are Mr. and Mrs.). His staff coordinates with Terry Press and DreamWorks' theatrical marketing group to keep them aware of advertising and marketing plans for consumer product campaigns.
Brad Globe has been working with Steven Spielberg since 1983 at Amblin Entertainment. He was recruited to join DreamWorks at its birth to build its consumer products business. "The thing about Steven, Jeffrey, David is their passion for the product that comes through in movies such as American Beauty, Saving Private Ryan, and Gladiator," he says. "We're not a public company beholden to stockholders."
DreamWorks' average box office is "double the industry standard," reports Globe.
"A startup in any business is a challenge," he observes. "We don't have classics or a lot of TV. We're driven by the animated movie side of the business."
DreamWorks now can claim a contemporary classic in Shrek, which was crowned in March 2002 as the first winner of the new Oscar category for animated feature films.
"The Oscar psychologically builds brand and quality, and puts us on par with any other major studio," Globe says.
For Prince of Egypt, recalls Globe, his group was "challenged by Jeff to come up with a unique marketing program, so we came up with a ticket package sold through Wal-Mart to create a point of difference for the retailer. There was no fast-food tie-in or a lot of merchandising. Had it broken out at the box office (its ticket sales were more than $50 million), it could have become a franchise. It did $100 million at the toy level, and did well in home video. It's our largest property from a straight merchandising perspective."
Globe comments that retailers "don't want to stock a lot of high-end merchandise for a summer movie as much as holiday movies. For summer, you have to create more low-end price points. It's not how much you sell, it's about how much the retailer has left. They don't want markdowns because margins are slim to start with."
Merchandising windows for films have shrunk along with box-office staying power, he points out. You have to be on the shelf several weeks before it opens, then "it hopefully will sell well through the movie, and if the movie's big enough, you may get a retailer to come back with the video release. When I started, a blockbuster would play for months. Now, you do 50 percent to 80 percent of the total box office in the first two weeks."
For DreamWorks' newest release, Spirit-Stallion of the Cimarron, the company signed 25 licensees in seven categories: stationery, toys, candy, gifts, housewares, apparel, interactive, and publishing.
Globe says a big conversation piece for DreamWorks at Licensing Show is Cat in the Hat, starring Mike Myers, a joint production with Universal Studios for summer 2003.
The studio has classic rights as well as the movie rights to the Dr. Seuss evergreen, says Globe, and there will be "a huge opportunity just at Wal-Mart. We had a chance to get a classic property using the movie as a marketing venue."
Fox Licensing & Merchandising
20th Century Fox enjoyed immense box office success this past spring with Ice Age. The computer-generated animation feature is expected to reach $170 million in domestic and $300 million in international business by the time Licensing Show opens. Fox is talking sequel and anticipates new merchandise for the fourth quarter to ride on the video's coattails.
Minority Report is due in theaters June 21, with as much anticipation as you'd expect for a science-fiction film from Steven Spielberg that stars Tom Cruise.
Yet, for Fox Licensing & Merchandising, it's television series that are the driving force, delivering a treasure trove of opportunities and consumer awareness.
Spring 2002 was the last season for original airings of Fox TV franchise The X-Files, which will live on in syndication. Despite its demise, X-Files action collectibles and other merchandise will still infiltrate retail shelves, assures Fox Licensing & Merchandising Executive Vice President Peter Byrne. "There's so many different facets of the property and the equity that goes with it."
Other Fox TV series being supported with new merchandise into next year are Buffy the Vampire Slayer and its spin-off, Angel, as well as Dark Angel, which will have a fall 2002 book series and 2003 calendars.
"Sci-fi is a huge Fox heritage, something we do best," remarks Byrne. So it follows that two of the fall 2002 shows it has high hopes for are Firefly, an action-drama set 500 years hence, from Buffy the Vampire Slayer creator Joss Whedon, and Time Tunnel, a remake of the popular 1966 TV series about time travel.
There will be a prequel comic book series for Firefly, plus merchandise aimed at teen and adult audiences. For Time Tunnel, the licensing push is targeted to 'tweens, teens, and adults.
Fox is courting the male teen audience that made Comedy Central's South Park a phenomenon with new spring 2002 TV series Greg the Bunny, a quirky comedy mixing eccentric puppets and humans, starring Eugene Levy and Seth Green. Byrne calls the series "a great prerequisite for licensed product, tapping into that same South Park teen and adult core demo for comedy. Interest is huge with key manufacturers and retailers in the specialty channel. We're getting inundated with inquiries."
Among categories being prepared for fall 2002, the show's second season, are toy and gift, plush, talking dolls, keychains, apparel, publishing, and interactive.
Due for holiday 2002 is Fat Albert, a live-action feature with computer-generated scenes as well, based on the character originated by comedian Bill Cosby. Fox plans a major licensing program, looking for partners in toy, apparel, collectible, and novelty categories.
Fox's crown jewel is its 13-year-old annuity, The Simpsons. Valuing the property at $5 billion to $6 billion, Byrne says, "We're fortunate to have the premier licensee property. It is unique."
The Simpsons property has had double-digit growth in the last five years, says Byrne, noting, "Film franchises don't stay at retail very long. We're committed to the long-term brand development of The Simpsons." The Simpsons has 500 licensees, including new promotional partners in Burger King and Kellogg's, with the launch of a major cereal line, plus a new Bart Bar from Good Humor ice cream.
A "huge raft of Simpsons product across all categories" was launched at Toy Fair, says Byrne. At Licensing Show, Fox will introduce 100 characters to its Simpsons licensing program, supplementing the 30 it has marketed to date. According to Byrne, over the years, the show has had nearly 300 different characters in all.
Lucas Licensing
By the time Star Wars 2: Attack of the Clones opened around the world May 16, Lucas Licensing President Howard Roffman no doubt had heard enough comments questioning the size and sell-through of the merchandising program for Episode 1 three years ago. He was ready the second time around, for the prequel sequel.
Roffman, who's been with LucasFilm for two decades, is quick to note the amount of "misinformation on Star Wars 1 by the media. From a consumer point of view, the 1999 program was enormously successful with $2 billion worth of properties."
The bounty for Star Wars 2 is forecast at $1.7 billion, yet that is based on having one-third fewer licensees than for Phantom Menace, and half as many SKUs of merchandise in the marketplace.
"There's a lot of ancillary product that's distracting," explains Roffman, "and doesn't help the shopping experience. I'm the first to say Phantom Menace was overlicensed and overshipped.
"From a promotional point of view," he continues, "we also made a big change." Instead of going for the media tonnage that characterized SW 1, says Roffman, "we decided not to have Star Wars 2 feel overexploited and ubiquitous. Everything this time is kids-targeted, 8 to 12, and this film has the broadest potential of all."
Lucas Licensing is unique in the film industry, with a business pegged virtually to a single property-or, more precisely, phenomenon. Roffman carefully manages the 25-year-old Star Wars franchise, where the demographic range is "6 to 60."
There's also Indiana Jones merchandise, but Roffman says it is not a day-in, day-out fixture like Star Wars. It's most prominent with attractions at Disney theme parks, and some video games and limited apparel. "There's nothing in the league of Star Wars," Roffman declares. "That goes without saying."
The Star Wars property, Roffman says, "now transcends the film releases, but is also influenced by the film releases." He identified toys, video games, and publishing as "the tentpoles of Star Wars licensing. We look at it from a long-term point-of-view. It doesn't come and go with the theatrical release." Still, the film release, he continues, "causes a spike."
Leading up to Attack of the Clones, two Star Wars novels topped The New York Times best-seller list, with more than a dozen Star Wars books on the paper's various lists. The week before the film's opening, its soundtrack went to No. 1 on the Billboard charts.
"We stuck very closely to our strategy, and it's going very well," Roffman said 15 days before the film opened. "It doesn't feel overproliferated."
The licensing veteran says on an industrywide basis, "it's hard to get the retailer and licensee to buy into something with the brief release pattern of a movie. Everybody's hope is to create a franchise but that rarely happens. It's clear the last few years a lot of films have not been successful driving merchandise."
The lead retail partners for the new release are Wal-Mart and Toys "R" Us. For collectors earlier this year, there were sneak preview, limited-availability action figures from Hasbro that won't return to shelves. More Clones merchandise will be launched throughout the year. Part of the strategy, says Roffman, "is to focus on volume drivers and brand builders."
Star Wars releasing company 20th Century Fox handled the licensing on the 1977 Star Wars. The film's runaway success enabled LucasFilm to negotiate taking over the licensing for the sequel, The Empire Strikes Back. The licensing staff of 15 at LucasFilm in 1978 has grown to 40 under Roffman.
Along the way, Lucas Licensing briefly managed what Roffman calls "an eclectic mix of outside properties," from The Grateful Dead to Saturday Night Live. Like Star Wars, though, the success of those outside lines drove them back into the control of their licensors.
MGM Consumer Products
The lion's share of MGM's licensing opportunities stems from what is the film industry's largest library, at 4,100 titles. To take advantage of that distinction, the company is roaring ahead with aggressive programs targeting collectors, fashion-conscious consumers, and people for whom nostalgia never gets old.
At Licensing Show, says Lisa Westfield Avent, MGM Consumer Products vice president, worldwide licensing & retail development, the focus is on franchise properties from MGM's vaults, as well as two feature films set for 2003 release: Cody Banks, starring Frankie Muniz of TV's Malcolm in the Middle as a junior spy; and Bulletproof Monk, a martial-arts comic-book adaptation from John Woo that stars Chow Yun-Fat.
Bulletproof Monk's merchandise is aimed at males in the 13-to-17 and 18-to-43 age range, with categories including toys, action figures, watches, novelty, accessories, back-to-school, stationery, T-shirts, hats/caps, posters, and interactive games.
For Fox TV's new, fall animated series aimed at boys 6 to 11, Stargate Infinity, MGM will launch a toy line after the first airing, with the licensing program in full swing by the start of 2003.
MGM has formed a retail development group-with a staff of three-to work with licensees in managing customized promotions with retailers, says Westfield Avent. "Retailers are looking to have more of a point of difference," she says. "It's hard to give them exclusivity for every product category, but we can give them windows. You try to identify what works."
Westfield Avent says MGM is "going away from event marketing. We have enough content in our library to maximize, and retailers are looking to long, consistent revenue. Historically, MGM releases are targeted to adults, which are not the main audience for consumer products. With nostalgic value, you can sustain it longer than something tied to a movie."
Nostalgia is behind MGM's ambitious, new program for its Soul Cinema Collection, which it calls an "industry first." The concept uses '70s and '80s films such as Black Caesar, Cooley High, and Hell Up In Harlem to inspire an apparel line for men, women, and children from urban outfitter Willie Esco.
Future genre collections earmarked for similar licensing treatment are Western Legends, Midnight Movies-Horror, and MGM Gold Series.
Westfield Avent credits sister division MGM Home Entertainment with providing the template through its successful marketing of genre collections. "We have followed their strategies there," she says, "and have historical information on what videos are selling."
Other MGM franchise properties it is actively licensing include Pink Panther, which has 35 licensees and a live-action film in development. For Oliver Stone war classic Platoon, it is licensing action figures, metal tins, and posters. Westfield Avent says plans for Platoon originated a year ago, and were not a result of Americans' patriotic fervor since September 11, 2001.
Additional catalog tie-ins on tap at Licensing Show include Fame, Army of Darkness, Desperately Seeking Susan, Rocky, and Bill & Ted's Excellent Adventure.
The company also has entered into third-party licensing deals for properties it does not own. They include 'tween lifestyle line She's Charmed and Dangerous, with homes for apparel and accessories at Macy's and Bloomingdale's. Love Always, Magenta is a 'tween fashion design line, with Kmart committed to five feet of display space in cosmetics. Personalibees is an infant property MGM will have details on at Licensing Show.
Miramax
Miramax, the Disney-owned studio managed by brothers Bob and Harvey Weinstein, typically does not do things in a low-key way. That includes entering the licensing business.
The studio built its reputation on tony, adult-themed productions that perennially compete for prestigious film honors-Shakespeare in Love, The English Patient, Good Will Hunting. Its Dimension Films label, previously known for male-oriented action, sci-fi, and thriller movies, scored big in spring 2001 at the box office and at retail with its first family film, Spy Kids. Now, at least 10 family films are in development at the studio.
With a program featuring McDonald's premiums and toy and apparel merchandise, Spy Kids was the first time Miramax had licensees and a quick service restaurant partner, says Lori Sale, senior vice president, worldwide promotions. She adds it also was the first time automaker Isuzu teamed up with a movie studio.
Directed by hot young filmmaker Robert Rodriguez, the notable success of that film and its brand extensions has paved the way to this August's sequel, Spy Kids 2, and a new flurry of promotional and merchandise activity, again led by McDonald's, Isuzu, Payless ShoeSource, and book, game, and lunch box tie-ins, totaling 25 partners.
Sale and Michael Helfant, Miramax senior executive vice president of business affairs, work closely in managing all aspects of Miramax's consumer products and promotional activities. Drawing from a staff of under 20 people "who also have day jobs," quips Sale, "we really have to be effective and efficient. For Spy Kids 2, the team has partnerships with several retailers." She adds: "Retail exclusives is where it's going. We'd rather partner with retail direct and build licensing programs around them."
While retail exclusives are part of Miramax's strategy going forward, master licensees are not, says Sale. She explains, "If a master decides not to do plush, your category is tied up." She says part of the rationale also is to give Miramax retail partners more flexibility. In the case of Toys "R" Us, which has "a significant level of exclusive Spy Kids 2 product," it also can mean a retailer making its own licensed merchandise.
Both Helfant and Sale, in separate interviews, used the phrase "leaner and meaner" to characterize the Miramax method of operations. Sale says being a decision-maker for both licensing and promotion yields tangible benefits. "We went with one of our licensees, Buster Brown, to its biggest customer, Payless ShoeSource. Because I head promotion, Payless is now a promotional partner, and official headquarters of Spy Kids shoes."
The pair also sang the praises of working with Spy Kids Director Robert Rodriguez, emphasizing his marketing savvy and cooperative style. "You guys are like a real studio," is what partners will tell her, says Sale. She explains, "We are closer to the actual production than the consumer products groups at other studios." Adds Helfant, "This company is very entrepreneurial, without a lot of layers. It lets us be very responsive to licensees." One result, he says, is that Rodriguez was so impressed with a licensed shoe designed in advance of Spy Kids 2 that the director "cast" the shoes in the movie itself.
This December 20, Pinocchio from writer/director/star Roberto Benigni (of Oscar winner Life Is Beautiful) premieres in theaters. There are fewer than 10 licensees, and the only retailer with Pinocchio merchandise, such as Madame Alexander dolls, is FAO Schwarz, plus an expected tie-in to McDonald's, with bendable figures.
Other properties Helfant and Sale will be talking about at Licensing Show are The Green Hornet, summer 2004, with reintroduction of the comic book series in 2003; Artemis Fowl, a Harry Potter-like character published by sister units Talk Miramax and Hyperion Books, spring 2004; Ella Enchanted, 2003, a Cinderella-meets-Shrek story; Max Payne, 2004, based on the hot-selling video game; and for 2005, Miramax's first animated feature, Opus, from the Berkley Breathed comic strip about a "penguin with attitude."
New Line Cinema
At the end of the Academy Awards telecast, March 29- where New Line's The Lord of the Rings: The Fellowship of the Ring was jousting all night with Universal's A Beautiful Mind-New Line didn't waste a minute to start trumpeting The Lord of the Rings: The Two Towers, opening December 18.
There was a televised teaser spot for the second LOTR installment following the Oscars, with theatrical trailers kicking in next, and this August arrives the DVD and VHS versions, expected to sell 15 million to 20 million copies, followed by a more deluxe, director's cut from Peter Jackson in November.
For David Imhoff, New Line senior executive vice president, worldwide licensing & merchandising, The Lord of the Rings has become a full-time, multi-year job. Imhoff has been at New Line since 1990, when he was one of two people kick-starting its licensing business with A Nightmare on Elm Street, followed by Jim Carrey in The Mask. Now, he heads a staff of 10.
Planning for the filmization of J.R.R. Tolkien's classic literary trilogy began two years prior to launch, and the program could continue through 2005, says Imhoff. "The key," he says, "is don't flood the market because we learned there isn't going to be a significant period when a Lord of the Rings installment isn't highly visible."
The startling topicality of Part 2's title-The Two Towers-was "absolutely in our thoughts, and we're sensitive to it," notes Imhoff, "yet that is the title of a 50-year-old book."
The August home video release of Fellowship will be accompanied by a second wave of merchandise from Toy Biz, which Imhoff says "will carry through to Two Towers product in late October. The video will introduce Fellowship to a larger, and slightly younger audience, to age 6 or 7, who will then eagerly await Two Towers merchandise.
"The plan at retail is to have many pull-togethers of merchandise tied to home video," he adds, "which the mass market is behind." Barnes & Noble is the major retail partner for Lord of the Rings. There'll be new calendars, back-to-school apparel, and tie-in books.
Imhoff says that for Two Towers, "in terms of meeting with retail, it's like day and night. Eighteen months ago, we were saying, 'Trust us.' Now, we have proof, so the order levels are significantly higher because retailers know the films are successful. We've had spectacular sell-through numbers of 90 percent." Fellowship's box office receipts exceeded $800 million worldwide, with more than $300 million domestically.
The Fellowship of the Ring had 35 domestic licensees and more than 200 worldwide, in 43 countries. New Line is broadening the range of licenses for Two Towers, says Imhoff, to skew younger, but is being careful about sending mixed signals to the core audience. "We don't want to lose the 'tweens, teens, and young adults by transforming this into a juvenile program."
For example, there'll be smaller apparel sizes and more role-play elements in the toy line. The Two Towers also heralds the introduction of the first Lord of the Rings video games, from Electronic Arts.
New Line is shifting into full merchandise gear for the third installment of Austin Powers due July 26, provocatively titled Goldmember, the name of yet a fourth character portrayed by Austin mastermind Mike Myers. "People will be surprised how fresh the approach is," says Imhoff.
The goal for the third Powers, he says, "is to grow the brand internationally." There are two dozen licenses, including toys, games, apparel, stationery, publishing, and novelty, and retail partners including Spencer Gifts, Musicland, and Tower Records.
SONY PICTURES CONSUMER PRODUCTS
Spider-Man. Stuart Little 2. Men In Black 2. That's Sony Pictures' enviable box office trifecta for summer 2002. Asked if he's ever had this kind of summer in his long tenure, Al Ovadia says, "I've never had this kind of anything with three films like this."
Ten days before Spider-Man hit theaters, Ovadia, executive vice president of consumer products at Sony Pictures, says the "pull from consumers has far exceeded what our expectations were. In many categories, sell-through levels are quite substantial, and you can't find any product."
In an exclusive promotion for the film, supported by Kellogg's, Hershey, and Dr. Pepper, all 2,700 Wal-Marts have free-standing displays four-feet wide by seven-feet high. Each of the display's four sides offers customers a Spider-Man activity.
The consumer products group works closely with other company units, such as home entertainment. "Wal-Mart is their biggest customer and our big customer," Ovadia says, "so we'll all sit in one meeting that takes us from pre-theatrical to video. It's pretty convenient."
Ovadia explains that most domestic promotional partners do not have global reach, such as Cingular, and Hardy's quick service restaurants, for Spider-Man. "So we work with [Sony senior vice president, global promotions] George Leon to fill in the gaps."
As a result, there are seven fast-food partners around the world for Spidey, including McDonald's in Switzerland. Burger King is a global partner for Men In Black 2, says Ovadia, "so we would not go after a quick service restaurant for MIB2." On the Stuart Little sequel, Wendy's is the qsr partner in the U.S., with other qsr partners in South America. "It creates the opportunity for us to work together to find the best partner in each territory," he adds.
Leon adds it's a "very cyclical business. Last year it was all about Shrek or all about The Grinch. Nice to see it's finally Sony's turn. Stuart Little was a huge success for the studio. The promotions on the first movie helped Radio Shack get into a business it is not usually in."
Ovadia acknowledged that "shelf space is becoming more difficult to find" for movies such as Stuart Little 2, which is competing for the young moviegoer against event films such as Warner's Powerpuff Girls and Scooby Doo "that have come to the big screen from successful TV runs."
He continues, "It is easier for a retailer to simply replenish product it's already selling than to take a big position on Stuart Little. We can get a sampling, but it's a very risk-averse marketplace. I think people have forgotten the original was a $150 million motion picture that sold more than 12 million VHS and DVD copies.
"At this time in our country, it will do well, and the younger audience will gravitate to Stuart," Ovadia says. "Our licensees are poised to step up the pace for the video release."
Ovadia points out that for the multigenerational E.B. White mouse character, there are still "significant pieces of exposure we haven't announced yet that will help our licensees."
He applauds video game publisher Activision on Spider-Man for "one of the best jobs I've ever seen with an enormous array of promotional activity with every retailer on the planet, and they're all different. At Toys "R" Us, it's a free miniposter, at Best Buy, you get a gift certificate.
"Our staff is working on similar things to sell in to retailers all the time, and the challenge is not showing favoritism to one retailer over another. We've gone out of our way to create opportunities so retailers have a unique point of difference. Nobody has the same sort of look so they can own it.
"More challenging," Ovadia continues, "is how do you differentiate the promotional activity with this retailer versus that retailer? My charge to my folks here is to do whatever we can to help them."
Marvel Weaves Web of Franchisees
Marvel Comics is looking to its 40-year-young spokescharacter Spider-Man as the go-to guy for an ambitious push into a concept Russ Brown calls franchise licensing.
Brown, the comic-book publisher's executive vice president, consumer products, promotion, & media sales, points out that the Columbia Pictures release is the "largest movie we've licensed. The key driver going forward is to create licensee franchisees. Half of the licensees are classic and half are new to Spider-Man.
"We'd like to see licensees embrace classic, animation, the movie, the sequel. That's our strategy. I don't know that it's going to be that easy."
The character has several hundred licensees worldwide, says Brown, and "we've been at it a little less than two years. The first big shot they got was the movie. Wherever possible, we'll try to have the franchise licensee across the board, but there are no guarantees."
About the target demo, Brown says, "we wrestle with the same thing on the movie as we do with the property overall. It's a PG-13 film but the core demo is for a teen property. It trickles down to younger kids and it has tremendous following among the 21-plus crowd."
The licensing program for the film itself started about a year ago and runs through the November 2002 home video release, with new tie-ins that will occur around the video release.
Even when the licensing program was in its early stages, marvels Brown, "Spider-Man footwear for kids 0 to 8 was the best-selling shoe at Payless Stores. The only place they could have found out about him is the Spider-Man game from Activision."
In fact, Brown credits video games with creating the high awareness of Spider-Man among "kids who didn't grow up with the character. More kids are playing the Activision game than are watching the Spider-Man show on TV. If the time spent playing the game is 90 minutes, that's three times what they spend on the TV show."
Brown says that while X-Men's licensing program was much smaller, due in large part to the theatrical release date being moved up six months, that the film, which grossed $350 million in worldwide box office, "proved there is a large audience beyond the core comic book audience for these characters. If that film was a bomb, it would have tainted the entire superhero genre, but it really validated the Marvel franchise. It set up the expectation level for anybody doing another movie. Just ask [Spider-Man director] Sam Raimi."
Marvel's arrangement with Sony Pictures Consumer Products is a joint venture where it is "predetermined contractually who can do what categories. For example, we have greater strength in apparel; they do health and beauty aids. We just find the best partners for each category and share the best intelligence."
Universal Studios Consumer Products Group
It's a long way from E.T. to The Mummy, but for Universal Studios Consumer Products Group, those seemingly dissimilar properties are alike in their franchisability.
Now commemorating its 20th anniversary, the recently reissued Extra-Terrestrial speaks for himself. Universal has signed an exclusive three-year deal with Toys "R" Us in more than 20 countries for the retailer to develop a full range of product for the Steven Spielberg creation.
The studio is loving its Mummy more than ever, with wrestling sensation The Rock flexing big box office muscle as star of spring 2002 release The Scorpion King, the series' third episode. For holiday 2003, in a joint production with DreamWorks Pictures and Imagine Entertainment, Universal brings Dr. Seuss' The Cat in the Hat, starring Mike Myers, to the big screen and to retail shelves.
Universal has teamed up with Marvel-flying high from Sony Pictures' record-breaking Spider-Man movie-and director Ang Lee to produce the film version of comic book superhero The Hulk for June 2003.
To better manage all that activity, while building business around many other properties, the company has attached the Consumer Products Group-plus two production units, for TV and home video-to the newly formed Universal Pictures Franchise Development, under President Louis Feola, a Universal veteran of 20 years.
Explains Tim Rothwell, senior vice president, merchandising, licensing & retail development, Universal Studios Consumer Products Group, "The key strategic purpose is for Lou and his managers of content to identify a franchise and put the power of TV, video, and consumer products together to extend and build those franchises.
"A franchise doesn't mean a six-week merchandising window," says Rothwell. "It means year-to-year. It used to be you put out a theatrical brand and could get 12 months. But competition is fierce. Some turn into lifestyle brands, but the window of opportunity is shorter for that, too."
In addition to supporting the theatrical release of The Scorpion King, the Franchise Development unit, including USCPG-which handles global licensing, interactive, promotional, and retail programs-has turned The Mummy into an animated TV series, The Mummy: Secrets of the Medjai, picked up for a second season by The Kids' WB! network. There also are theme park attractions and interactive games. For the latter, Universal signed Ubi Soft, which in fall 2002 will market The Mummy for Game Boy Advance.
Rothwell says The Mummy's theatrical licensing program was focused more on collectors, while the animated series tie-ins "extend more into the mass market." Of The Rock, Rothwell remarks, "He's a superstar, merchandising friendly, and makes a great action figure."
With the sequel to box office hit The Fast & The Furious due in summer 2003, Universal is revving up that budding film franchise through a partnership with the NOPI Drag Racing Association. "It's another great example of turning a property into a lifestyle brand," says Rothwell. Known for the next three years as The Fast & The Furious Racing Series, the tour also is sponsored by Microsoft, with the winner's trophy dubbed The Xbox Cup. Rothwell says more major partners will be announced for the racing series "that will knock your socks off."
To support 40 new TV episodes of cartoon legend Woody Woodpecker, USCPG has entered into several co-branded relationships, including Honda motocross. Woody will be the Honda mascot appearing on jerseys and cycles.
Other Universal properties on view at Licensing Show include urban apparel inspired by martial arts legend Bruce Lee from Regal Wear, launched late last year; JumpStart educational software from Knowledge Adventure for children 9 months to 12 years; Curious George; Universal Monster; and Butt-Ugly Martians.
Viacom Consumer Products
With $3.5 billion in retail sales, Star Trek is an enterprise that Viacom Consumer Products is eager to relaunch this year, this time leveraging its licensing efforts with new TV series Enterprise, starting its second season this fall, and the film series' 10th release, Nemesis, in theaters this December. The movie will be the center of a commemorative and collectible program, according to the company.
Division President Andrea Hein says new long-term deals with Art Asylum, Disguise, and Rittenhouse "will be the foundation of our franchise for 2002 and beyond." That trio joins Viacom's previous long-term Star Trek partners Activision, Franklin Mint, Hallmark, MBNA, and Simon and Schuster/Pocket Books.
This summer, there will be 7-inch Enterprise character action figures from Art Asylum, with designs supervised by company President and action figure sculptor Digger. For costumes, Disguise Inc., which also is a licensee for Sabrina the Teenage Witch, is making Enterprise Halloween costumes and, for collectors, multi-use, high-end alien and uniform replicas. The worldwide trading-card partner for Enterprise is Rittenhouse Archives, which also is card licensee for previous Star Trek series and for Twilight Zone.
Viacom claims a 98 percent consumer awareness for the brand, based on the long legacy of the Star Trek TV series, now in its fifth decade. Star Trek also is a cosmic publishing enterprise, says Viacom: It's the "most successful, ongoing licensed publishing program," with 10 books sold every minute and 500 titles published in 12 languages; 40 new titles are published annually by Pocket Books.
At Licensing Show, the Viacom team also will be spotlighting Timeline, a 2003 feature film based on a Michael Crichton novel, as well as new CBS TV comedy series, Baby Bob and The Core.
Viacom's "niche classic program" also will be a focus of discussions, including Audrey Hepburn classics Breakfast at Tiffany's, Sabrina, and the 50th anniversary of Roman Holiday; holiday evergreen It's A Wonderful Life; and vintage TV product Andy Griffith, The Brady Bunch, and Mighty Mouse.
Paramount Home Video is releasing in 2003 a direct-to-video sequel of E.B. White children's favorite Charlotte's Web titled Wilbur's Great Adventure.
Hein says her group considers itself "non-traditional licensors, as we have taken our licenses into new areas such as restaurants, touring exhibits, and stage plays."
For marketing power, Viacom Consumer Products has strong sister brands to work with, including Blockbuster, Nickelodeon's TV Land, Paramount Parks, and online, TV, and theatrical platforms.
Among the company's signature licensing programs in recent years has been Tomb Raider, the Lara Croft video game-based feature film starring Angelina Jolie; South Park, featuring new character Timmy; and in the United Kingdom, Sabrina the Animated Series.
The Paramount Pictures library has been mined by Consumer Products for Cheech & Chong's Up in Smoke, and TV series The Andy Griffith Show and The Brady Bunch.
Warner Bros. Consumer Products
Those who think size doesn't matter obviously don't work at AOL Time Warner. This year, small is in, at least in terms of target demographics. Starting mid-June with feature-film Scooby Doo, the sprawling entertainment conglomerate is courting the juvenile, 'tween, and teen markets big time with three event movies, including Fourth of July's Powerpuff Girls and Harry Potter and The Chamber of Secrets in November.
The myriad divisions within the company work closely with each other on these and other major programs, says Karen McTier, executive vice president, domestic licensing. "We attend each other's strategy meetings and go on joint retail presentations together. We want to make it easy for retailers to work with us, so we internally coordinate timing and launch strategies to have it all on paper for them.
"There's so much cross promotion throughout the whole company," McTier continues. "The Cartoon Network is a very important partner to us, not only in terms of creating great properties such as Powerpuff Girls, but exposing those properties to millions of households. We work with them hand in glove on licensing, marketing, and retail strategies."
McTier says Powerpuff Girls' products are making "amazing headway in girls' categories. We tend to have properties more focused on boys with our Batman and Superman franchises. It's a great message of empowerment for girls."
She says that working with Warner Home Video on four Scooby Doo direct-to-videos "helped propel the licensing program, and helped keep something fresh before we thought about a movie."
McTier adds that "since the merger with AOL, we've really built awareness and been able to put all our tentacles out there and have enormous reach. There's a lot of stakeholders in Scooby Doo in the company, which gave it a strong incentive to do a feature film.
"The message we bring to retailers is that when they partner with us, they have access to all these other divisions of the company."
McTier, who started with Warner in 1989 by working on Batman-"the biggest phenomenon I've ever seen"-says the company prides itself on program support. "We know every single sku, how much they're planning to ship and sales projections, and we monitor sell-throughs closely, so retail will have a positive experience."
The company conducts extensive research, such as focus groups. For Harry Potter, different age groups were asked about the types of products they'd like to see.
"If we don't keep in touch with the consumer, it's difficult to direct licensees," says McTier. "We feed them information on what's trending and whatever market research we do."
The Harry Potter licensing program is identical for movies 1 and 2, notes McTier, with The Chamber of Secrets due this November. The DVD of Sorcerer's Stone was released May 28, giving licensees another opportunity to re-promote merchandise. Among unique features on the DVD, according to Ewa Martinoff, vice president of family entertainment marketing, Warner Home Video, are online trading cards, an exclusive game demo from EA, and the first industry use of One Voice technology, which lets the viewer navigate DVD-ROM portions by speaking commands into a PC microphone.
"We tend to be conservative in product we're shipping," says McTier. "You can do focus groups but product performance helps you refine it. We trimmed down some of the product assortments based on sales." She also says the Potter color motif was changed during the campaign to make it less muted and more appealing to girls.
A major initiative, according to McTier, is the 2002 Taz Atti-Tour, setting up shop in 18 cities from April to September at Wal-Mart and weekend hot spots. Skateboarders, BMX bikers, and inline skaters demonstrate stunts and hold local clinics. An open skatepark will let local kids skate with pros, play video games, get autographs, and other activities.
At Licensing Show, Looney Tunes is being relaunched as an urban fashion brand from South Pole. There's talk of a Looney Tunes movie being set for 2003 or 2004 in the mold of Space Jam, combining live-action with animation. September 9, the Looney Tunes Monte Carlo 400 will be run, with backing from AOL and Turner Networks.
In 2003, there will be a double dose of film phenomenon The Matrix, with two sequels scheduled for summer and holiday release: Reloaded and Revolutions, both starring Keanu Reeves and the original cast.
Subscribe and receive the latest news from the industry.
Join 62,000+ members. Yes, it's completely free.
You May Also Like
Loading..