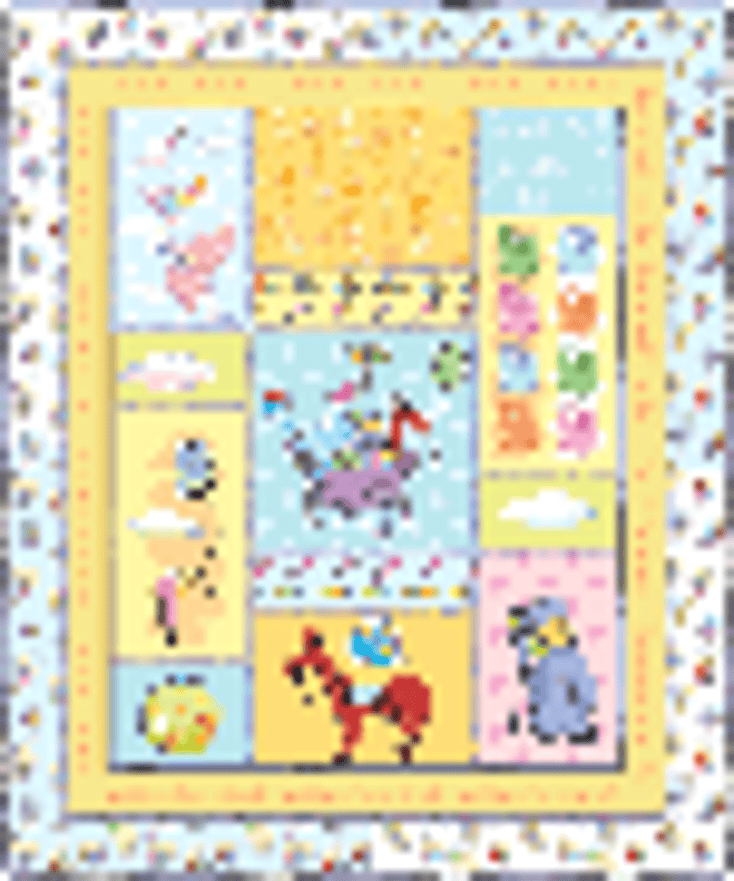 ]>
It would be nice to see some more big names at the show in 2006. How will you attract them?
The nature of the exhibition business is that companies do sometimes miss a show, and there are many different reasons for that. Beanstalk, for example, has been away for a while, but returned this year and had a great experience. We are in continuous discussion with all players, big and small, to see what they want from the show. As a result of these meetings there will be new initiatives for 2006-for example, the Film Showcase, introduced specifically in response to the needs of the studios.
How will this film showcase work?
It will be a purpose built cinema, inside Brand Licensing so no-one will have to leave the site. It will be free to attend. The finer details very much depend on the individual needs of each studio and will be confirmed after our second round of meetings with them.
If a studio takes part in the Film Showcase, will it also have a stand?
They will also have either a stand or
a meeting room.
Can any exhibitor book a meeting room?
Yes. Exhibitors can have a meeting room or a stand or both. The rooms will be specially built on site and can be set up to the exhibitor's individual requirements, for presentations or for meetings, for example. Meeting rooms are a standard build and attendence is by prior invitation only.
Is this going to end up being an invitation-only show?
No! The point is we're trying not to be prescriptive; we're delivering the format that exhibitors find most effective. A stand and a meeting room are two very different ways of participating. With a stand you can be more creative, showcase your properties and products to the whole Brand Licensing audience and meet with everyone coming to the show. A meeting room is a private space for invited guests.
Will BL ever have a policy banning licensors that aren't exhibiting from visiting the show?
We have to be very careful, particularly in the licensing business, where some-one can be a supplier to one person and a client to another. Standing in the way of people doing business is not a good way to build a show.
But isn't it unfair that some people who should exhibit, don't exhibit and then come and hold meetings all day at the show?
Yes of course it's unfair. Companies should respect the fact that exhibitors have invested in their space and it is "their show". We tackle the issue on a case by case basis-we did speak to various people about it on site this year and will take a very tough line on it in future.
What are you doing to attract more retailers?
The number of retail visitors went up this year, a sign that our investment is working. This year, for example, we telephoned every single pre-registered retail visitor before the show to remind them of the benefits of attending. We also sent transport for some retailers. And we did a lot of telemarketing to build our lists. And it goes without saying that we had an advertising, insert and PR campaign running in the retail press.
What more will you do for next year?
These things all worked well, so we'll be doing more of them. We'll also be hosting more retailers, doing more marketing into Europe, and continuing to work with The British Retail Consortium. A special breakfast presentation this year, in association with NPD, for example, drew senior retail executives from the BRC. The seminar created specifically to attract retailers was a sell-out, so we'll build on that for next year, too.
Is this truly a European show?
The number of European visitors is up again this year (the sixth year in a row). A fifth of visitors were from overseas and 15% were from mainland Europe. And we know this is a different audience from the New York show because the visitor data from 2004 shows that only nine of the retailer visitors that attended the Brand Licensing show had also attended the US show. There were seven new exhibitors from Europe this year, in the International Pavilion, and they all reported a good show. So yes, this is truly a European event.
How do you attract European retailers to come?
We made good headway this year, translating our marketing materials and press releases into French, German and Spanish. But the most successful initiative was the hosted retailer scheme. We brought two groups of retailers from Europe to the show, paid for their flights, for dinner, etc and organised a full itinerary that included a reception, seminar and time on the show floor. With the help of Kazachok and Licencias we were able to be selective about which retailers came. The buyers from E.Leclerc, for example, had never been to Brand Licensing before and will now be recommending it to their colleagues. So we'll continue to build this programme for 2006.
Does Brand Licensing have serious competition from the local shows in France, Germany and Poland?
It's hard to say how much. Each local show performs a function for its own market. But it is proven that there is a place for a pan-European event that straddles the local events. Brand Licensing is the biggest and the best attended, which speaks for itself.
Is it true that the show is moving because it's shrinking?
No! In 2004 there were four large licensing lounges, accounting for almost 500m2. This was reduced to one lounge, a quarter of the size for 2005. We occupied about 7000m2 in Earls Court 2 this year. But Olympia's National Hall (our new venue) offers us almost 9000m2! So in fact, the move is an opportunity to grow. More importantly, Olympia gives us facilities we don't have at Earls Court, like the opportunity to build a cinema. And it was a priority to move the date out of half term week.
What impact will moving the date away from half term have on the number of visitors?
Let's see! It will certainly benefit people who go away for half term and will hopefully make it easier for every-one else who has to look after children, too.
So what else is new for next year's show?
We have created an exhibitor focus group, which will be involved in planning and development for 2006. We will also set up the equivalent focus group for visitors. I see all sectors of the show growing. We had more new exhibitors this year than ever before, for example. Also the exhibitors of brands had a very strong show, so we expect this sector to grow again for 2006.
What do you feel are the most pressing issues for the European licensing industry?
When I meet exhibitors or potential exhibitors the challenge they always highlight is how to secure shelf space in a tough retail environment. They want the chance to pitch their properties and products to the right people from the right retailers. So we will stay focused on delivering that opportunity.
Why is it important to have an industry show?
Exhibitions put groups of people together to do business. As the organisers we facilitate that by delivering the right audience into an exciting and stimulating environment. We can't force the visitors onto particular stands once they are inside! And we can't follow up on the leads exhibitors get (one told me he got 450 this year). But we can deliver a compelling marketplace and the right people to do business with. And driving the right people into Olympia to meet exhibitors is our top priority.
Do you have a message for the licensing industry?
I know how much everyone wants to see the biggest industry names supporting Brand Licensing and we are doing our best to get them there. I also know that we're in a challenging retail environment which means that every-one needs to get the most from their investment in an event like this. And I believe passionately that Brand Licensing can drive business for its participants, whether they are the brand new companies, the life blood of this ideas-based industry, or the established names with mature brands and properties.
Subscribe and receive the latest news from the industry.
Join 62,000+ members. Yes, it's completely free.
You May Also Like
Loading..