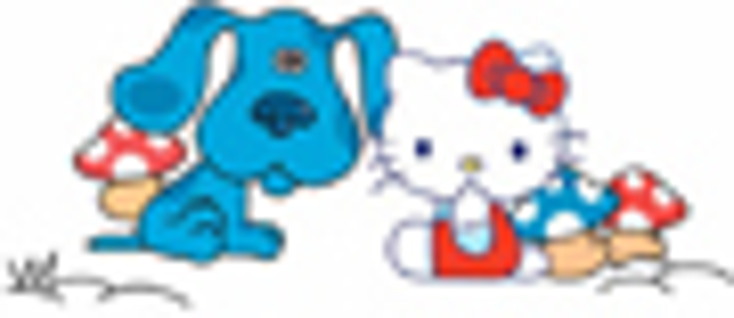 "Blue's Clues" meets Hello Kitty—and a unique, transnational venture is born. Here, License! Global offers an exclusive peak at some of the art concepts for this upcoming launch in Japan.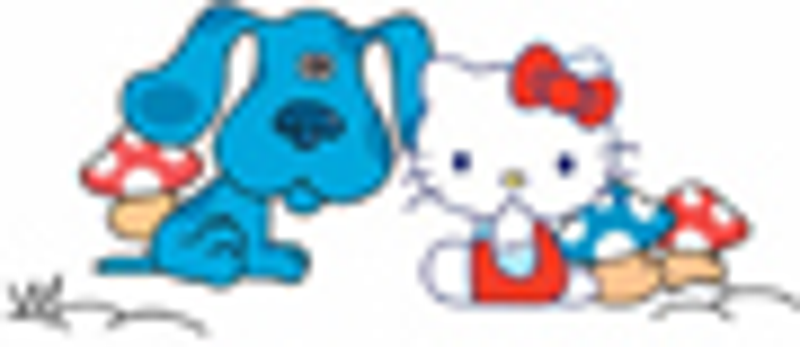 In October last year Nickelodeon and Viacom Consumer Products (NVCP) announced it had reached an agreement with Japanese character licensing group Sanrio, creating a co-licensing joint venture and master license agreement to develop Nickelodeon's hit property "Blue's Clues" in Japan.
The deal, a creative and business first for any Nickelodeon property, saw the two companies bringing together their famous characters, Blue the beloved puppy from the hit Nick preschool series "Blue's Clues" and global super-property Hello Kitty in a specially designed product line created specifically for tweens and young adults.
This unique collaboration will bear fruit in September with the launch of the first range of products—and here, for the first time, are samples of some of the conceptual art that has been created.
The central motivation for this move on the part of NVCP was lack of television exposure in Japan. "While I am personally a strong believer in television as a means of supporting a character,"
admits Tanya Haider, senior vice president, NVCP International, "it has to be acknowledged that we do not have huge television exposure in Japan and—apart from some old classics such as Winnie the Pooh and Snoopy—not many Western characters work there."
After some internal discussion, NVCP decided on "Blue's Clues" as the property for Japan, partly because of the huge success it had already enjoyed internationally—it is currently syndicated in 120 markets, supporting a global total of 103 licenses-and also because the soft, gentle nature of the character and the design seemed to lend itself to Japanese aesthetics. But there was another, just as powerful reason.
NVCP already had a relationship with Sanrio Far East, which acts as agent for SpongeBob SquarePants in Japan, where the company had turned the character into a cult, spawning 35 licenses, and the potential synergies with Hello Kitty were obvious.
"They are very similar characters," says Traci Paige Johnson, "Blue's Clues" co-creator, executive producer, and director of design. "They are both very loving, kind, playful, and full of friendship. It is a match made in heaven." The extent of Johnson's enthusiasm for the arrangement is underlined by her tribute to Hello Kitty. "When I was nine years old," she recalls, " I fell in love with Hello Kitty, and the series was very much an inspiration for me when I was creating 'Blue's Clues.' So, when I was asked if I would consider working on this collaboration with Kitty, I thought all my Christmases had come at once!"
Johnson thinks that the synergies between the characters derive not just from what they have in common, but are also rooted in their differences. "Blue is from the West and is a dog, while Kitty is from the East and is a cat, and they are both global phenomena. I think this is a powerful statement of how the world could so easily come together."
The genesis of this collaboration was last year's Tokyo Licensing Show where Johnson and Nickelodeon executives met with Hello Kitty creative artist Yuko Sakiyama to explore the possibility and, as Haider puts it, "to overcome cultural, background, and language barriers." Despite Johnson speaking no Japanese and Sakiyama no English, the rapport was instant and a good working relationship was quickly formed.
"We sent them the 'Blue's Clues' design book ahead of the Fair," recalls Johnson, "and connecting with the Sanrio people was very straightforward and a real pleasure. Initially, there was some discussion about possibly making Blue into a character that was visually a bit more like those in Kitty's world. But it didn't really work, and in the end we decided that keeping both characters exactly as they had been was a truer statement of friendship. After all, a true friend loves you for who you are and not who they can turn you into."
Making It in Japan
Whether or not the Japanese public will love the collaboration for what it is remains the core challenge, says Haider. The launch demographic will be slightly older women, and, says Haider, "this is very much reflected in the products we have licensed, which include, gift, novelty, plush, accessories, and stationery." Although she concedes, "based on the reaction we get, we might consider taking the range to a lower age, and I would never completely rule out television. If the right broadcast opportunity came along, we would definitely look at it."
However, that is by no means an objective. "We believe Blue has the right qualities to establish himself in his own right as an iconic figure in Japan," insists Haider. "If we can succeed in this, which would be another first for us, then, ultimately, we would like to 'do a Snoopy' and take our time to establish Blue as a major character without the need of television support."
If this collaboration does succeed in the way Haider anticipates, it could come to be seen as the launch of an important new marketing route. "It is a new model of licensing that we're exploring," she says, "and if we find other markets where we have limited access to television, and there is an appropriate, well-established local character, then we would definitely look at it again.
"After all," she adds, "given the way terrestrial slots are shrinking, this sort of model might become increasingly important."
If Japan takes to the two new best friends as well as they have taken to each other, then this could be the start of a major new trend.
Subscribe and receive the latest news from the industry.
Join 62,000+ members. Yes, it's completely free.
You May Also Like
Loading..