The sequel film,
The Empire Strikes Back
, and Lucas Licensing president Howard Roffman are both celebrating their 30th anniversary as the Star Wars franchise continues to be as strong and popular as ever with retailer and consumers worldwide.
Lucasfilm, which celebrated the 30th anniversary of the epic Star Wars franchise's first film three years ago, is now celebrating another milestone and reaffirming that after more than three decades the iconic brand is still just as relevant and popular as ever.
Furthermore, the aspiring attorney who took a position with Lucasfilm in 1980 and had no idea back then that his decision to hook up with creative guru George Lucas and company would define his career and his legacy among entertainment companies, brand marketers, and licensing and retail executives, is also celebrating a milestone.
The Empire Strikes Back
, the second film released and otherwise known as Episode V, and Howard Roffman, president of Lucas Licensing, the lawyer turned licensing and
merchandising executive who has commandeered the Star Wars branded empire, are both celebrating their 30th anniversary as part of the franchise that has found a myriad of new ways to keep the force fresh and meaningful with consumers worldwide.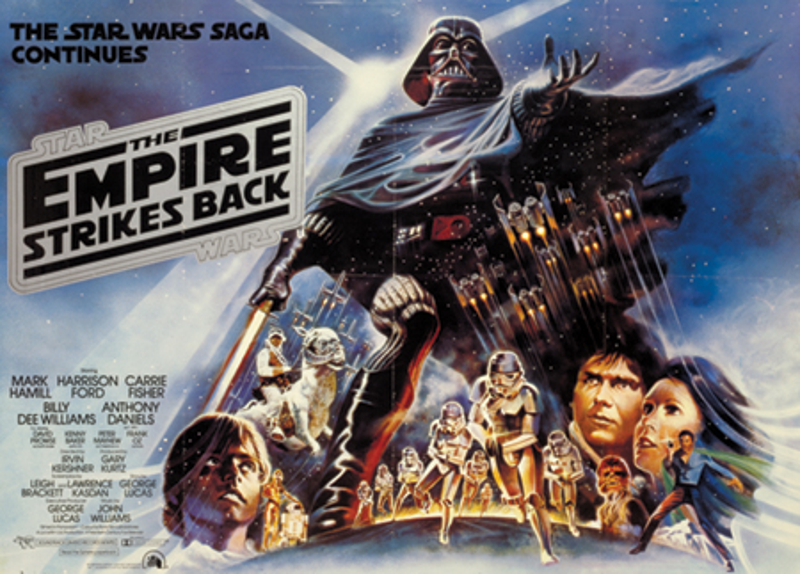 "We adopted a philosophy early on that we have stuck with to this day," explains Roffman. "Star Wars is one saga, one brand, and we have never tried to slice and dice it and create a lot of subsegments that would make it very confusing. We wanted consumers to look at it as one seamless story and we manage the brand from that point of view."
In fact, the Star Wars brand, without any new theatrical releases since 2005, began to redefine its future three years ago with several new initiatives including the animated television series, "Star Wars: The Clone Wars," now in production for a third season (fall 2010) on Cartoon Network, video games, live events, novels and comic books. And there is more new content and brand extensions on the horizon, including a revamped Disney theme park attraction and an animated comedy series, among other initiatives, that will not only satisfy venerable followers' thirst for new stories and entertainment, but also introduce new age groups to the Empire and enhance the family experience.
The popular Star Wars franchise has generated more than $15 billion in sales of licensed merchandise at retail cumulatively. Lucasfilms ranked No. 14 in the latest
License! Global
Top 125 Global Licensors exclusive research, reporting $3 billion in retail sales for 2009. According to NPD research, Star Wars maintained its position in 2009 as the No. 1 licensed toy franchise and the No. 1 boys' toy property in the U.S. Another accolade is that Star Wars is the largest grossing film franchise in history with $2.2 billion in total box office sales worldwide, according to
.
In conjunction with the 30th anniversary of
The Empire Strikes Back
, perhaps the most popular film of the two trilogies, several major initiatives are being planned for the first sequel that debuted in theaters on May 21, 1980, and was the largest-grossing film that year with $538 million in box office sales worldwide, according to
.
Key events, which will appeal to fans worldwide, garner widespread media coverage and create new interest and excitement in the Star Wars empire, include a major licensing push with new products from Hasbro, LEGO and other licensees, a new hardcover book, charity screenings, Star Wars in Concert and Celebration V, a four-day fan fest in Orlando, Fla.
The popularity of Star Wars, which has been passed on to generations, is now as widely appealing as ever and is in many ways a business school thesis on how to develop and nurture a brand.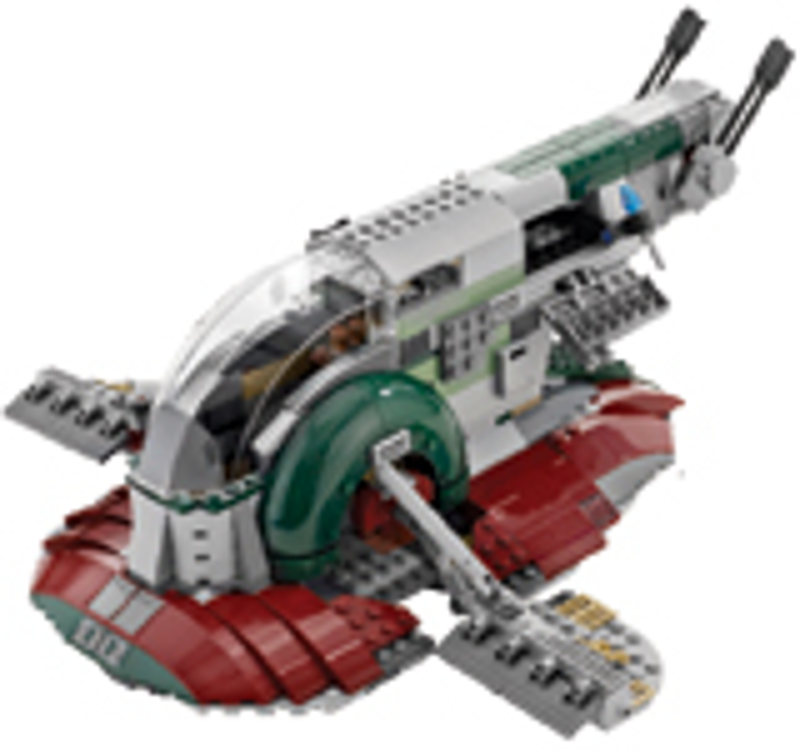 Lucas Licensing president and licensing industry veteran Roffman recalls that when he joined the Lucas team, he admittedly wasn't a super fan and friends questioned his leaving a good job to become part of
The Empire
.
"At the time I started working here, I was not quite a fan and didn't understand the brilliance of what George Lucas had created," recalls Roffman, who quickly became enveloped in the Star Wars saga.
The fact is that no one, except for George Lucas himself, would have ever predicted the popularity and longevity of a franchise that has made such characters as Luke Skywalker, Darth Vader and Yoda part of commonplace vernacular and established it as one of the perennial top licensed boys' toy brand worldwide.
However, Roffman quickly became a true believer and super fan after the successful premiere of
The Empire Strikes Back
.
"There was a little bit of cynicism about the
Empire
film because sequels were perceived as just a way of exploiting the original," Roffman recalls, adding that there was a lot riding on the film, including the fact Lucas had invested his own money to make
Empire
.
"The movie came out and surprised everyone that it was such a good film," says Roffman, "and it pushed the story far forward and pulled everyone into this great galactic soap opera. The beauty of
Empire
was that it added so much richness to the story of Star Wars and took it to such a different place.
"This is what actually forever changed what Star Wars would be," explains Roffman. "
Empire
moved it from being a single movie phenomenon into a true saga that had so much more depth than anyone expected from the first film."
For the licensing and merchandising business, with the original movie it was a complete catch up program, according to Roffman, who recalls that master toy licensee, Kenner (now Hasbro), signed its deal only one month prior to the release of the movie, so obviously there were no toys waiting on the shelves when the movie debuted.
But for
Empire
, Roffman says, "People were more prepared and there was an expectation that the sequel was going to drive merchandise and it did."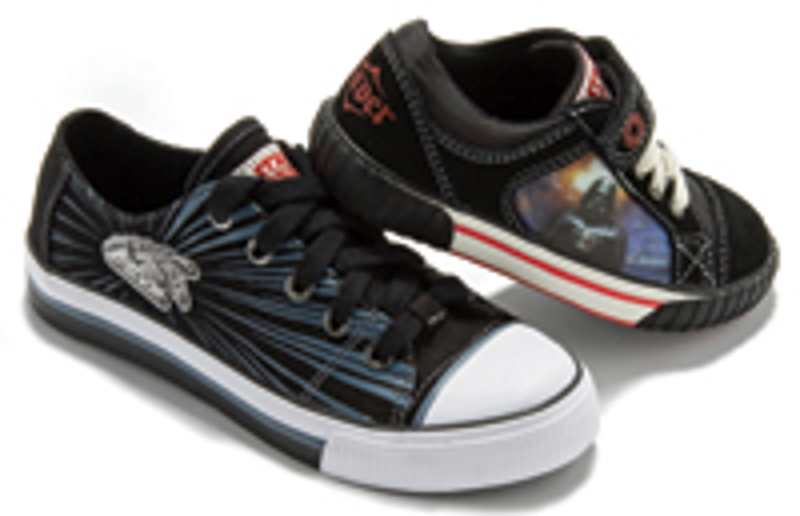 In fact, in the early days boys' toys dominated the licensing program, as there was no such thing as the adult collector back in 1980 when
Empire
came out. "Frankly at that point in our history," Roffman admits, "Lucasfilm was not even completely clear on what it had in terms of its longevity and its status as a brand. What
Empire
did a really great job of, in retrospect, was being the ultimate cliff-hanger and perfectly set up
Return of Jedi
in 1983."
But then the future quickly became uncertain for this fledgling brand. Roffman recalls, "George was exhausted from making the trilogy and spent 10 years of his life doing it and he was ready to take a rest. The first thing he said after Jedi came out was, 'I'm not going to do any more
Star Wars
movies.'"

For Roffman, it became a somber time for licensing, coincidentally, at the same time he actually became vice president of licensing, but it also was the decision that ironically saved the franchise.
"What we realized, and Lucas realized it more clearly than anyone else," Roffman explains, "was that it was just appropriate for Star Wars to take a rest at that point. George knew the audience was going to age and grow up, and he saw that phenomenon happen with Disney, so he was intent on waiting for that to happen with Star Wars, and once that happened in the early 1990s, we started to see a whole new dimension kick into play around the franchise."
Says Roffman, "We then realized we could make products that were of interest to an older audience which is what gave birth to a whole line of novels, comic books, video games and, eventually, as that group of young adults began getting married and having their own children, it became very important for them to share Star Wars with their children."
Thus a new generation of fans, licensing and content, including the re-released trilogy in 1997 followed by the prequel trilogy, reignited the brand's popularity and represented the critical juncture of growth that enabled the Star Wars franchise to become the worldwide leader that it is today.
The philosophy for the 30th anniversary of
The Empire Strikes Back
, says Roffman, "is not to look at it as one event, but a year-long celebration with various different touch points to allow people to celebrate this milestone."
Charity screenings.

As part of its "Empire Gives Back" campaign, Lucasfilm will hold several events including red carpet screenings of the film in Los Angles and Chicago.

Disney Star Wars weekends.

Beginning May 21 to 23 and continuing for four weekends, Walt Disney World's Hollywood Studios in Orlando will host four Star Wars-themed events featuring entertainment, parades, various guest hosts and celebrities.

Celebration V.

Expected to attract 40,000 fans, this four-day event, featuring a special digital screening of

Empire

, seminars, exhibits and commemorative merchandise, will be held at the Orange County Convention Center in Orlando from Aug. 12 to 15.

Commemorative book.

Entitled "The Making of Star Wars: The Empire Strikes Back" by J.W. Rinzler, (Del Rey/Lucas Books), this book will examine every aspect of the film and present dozens of unpublished photos and artwork. It will be released in October.

New toys.

Hasbro will celebrate the 30th anniversary of

Empire

with several new toys, including the Boba Fett Helmet and AT-AT (All Terrain Armored Transport). LEGO will feature a Hoth Wampa set and "Slave 1." The toys will hit retail shelves in August.
Roffman believes the key to the future of the Star Wars brand "is in our ability to tell the story in a variety of new ways that include new episodes of 'The Clone Wars,' the animated comedy series and other new stories through video games, novels, comics."
In addition, Lucas Licensing will continue to explore live events that include:
New theme park attraction.

The Star Tours ride and attraction, which originally opened in 1987, will be redesigned and relaunched in 3-D in 2011 at Disney's parks in California and Orlando.

Concert series.

This arena show, which debuted last October, will continue to be held in cities worldwide throughout the year. It features a live orchestra, choir and narration experience that re-tells the stories from the Star Wars movies. Accompanying the concert is an exclusive exhibit of Star Wars costumes, props, artifacts, production artwork and specially created behind-the-scenes videos from the Lucasfilms archives.

Celebration.

This semi-annual convention and fan fest will continue to be held in future years.
The buzz of the
Empire's
30th anniversary, along with various new content initiatives, will definitely give the franchise a strong presence and publicity worldwide for the next several years, or at least until the next 30th anniversary celebration—Episode VI,
Return of the Jedi
, May 25, 2013.
Super Fan Sansweet Lives for the Celebration
Imagine being able to combine your personal passion with your professional career.
That's exactly what happened to Star Wars super fan Stephen Sansweet, a 26-year veteran journalist of
The
Wall Street Journal.
He switched careers in 1996 when he was the
Journal's
Los Angeles bureau chief, joining the marketing division of Lucasfilm as director of content management and head of fan relations.
Sansweet first discovered Star Wars at a press screening in 1977 and realized that the brand had a major impact on his life. "Star Wars got to me in a way few other things ever had," he recalls, "and I started collecting the toys. Then,
Empire
came out and I was hooked."
Today, Sansweet boasts the largest private collection of Star Wars memorabilia in the world. His collection, featuring more than 100,000 items, is housed in a former chicken barn on his home property in Sonoma County, called Rancho Obi-Wan, named, of course, after Star Wars character Obi-Wan Kenobi, one of four characters to appear in all six films. While he can't open the museum to the public, he does conduct private tours for fans and charitable organizations and last year raised almost $20,000 for local charities.
His amazing collection began with a spiral-bound promotional piece sent to the media and theater owners by Fox before the first movie. "A movie reporter at The
Wall Street Journal
read it and threw it in a trash can," recalls Sansweet. "When he left for the day, I nonchalantly walked over to that trash can, picked it out and it became my first Star Wars collectible. I have been hooked ever since."
Another special piece, which came from a Star Wars convention in Mexico City, had won first prize in the piñata category. Sansweet bought the piñata made out of crepe paper by a fan for $100.
Sansweet believes that it's the characters and underlying storytelling, as well as the feeling of ownership fans have with the brand that has kept the Star Wars franchise going over the years.
Celebration V
One of the most important and impressive fan events, which Sansweet is involved in planning every few years, is Star Wars Celebration, which began in 1999.
This year's event, scheduled for Aug. 12 to 15 at the Orange County Convention Center in Orlando, Fla., will commemorate the 30th anniversary of
The Empire Strikes Back.
"Fans demand it and look forward to it as much as anything we do," says Sansweet, who describes it as the least corporate-type show in the marketplace today. "Fans love to get together with each other, they love the camaraderie and the opportunity to share experiences, meet the actors and the people behind the scenes." He adds that Celebration V has become more of a family event and the company solicits programming ideas from fans.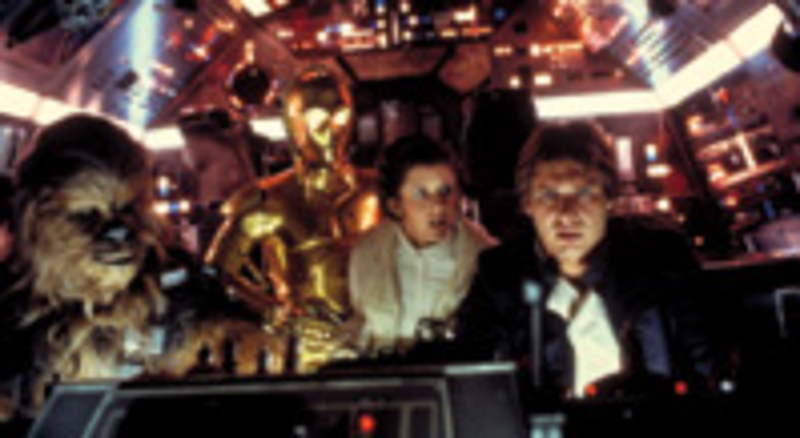 This year's Celebration V will feature digital screenings of
The Empire Strikes Back
, cast and crew celebrities, fan-run events, costumes, live entertainment, autographs, merchandise and collectibles, and sneak peaks into the future of Star Wars.
Super fan Sansweet is also the author of 13 Star Wars books including his most recent book, "Star Wars: 1,000 Collectibles: Memorabilia and Stories from a Galaxy Far, Far Away," (Abrams), which came out last October.
"Lucasfilm listens to its fans, reacts to its fans and responds to its fans," says Sansweet, "and the fans know they are being heard."
The Empire Gives Back
In conjunction with the year-long celebration of the 30th anniversary of
The Empire Strikes Back
, Lucasfilm has also developed a charitable campaign called "Empire Gives Back."
According to Howard Roffman, president of Lucas Licensing, the multi-faceted program will leverage the popularity of the Stars Wars franchise and the anniversary celebration of the second movie, benefitting various organizations, including the St. Jude's Children's Research Hospital, Education Outreach at Chicago's Field Museum and the Make-A-Wish Foundation.
A red carpet digital screening in Los Angeles will benefit St. Jude's Children's Research Hospital. The event, presented by Junk Food Clothing, will also feature an exclusive Q&A with Harrison Ford.

Four film screenings in Chicago will benefit education outreach programs at The Field Museum.

The 501st Legion's TK Project will benefit the Make-A-Wish Foundation. More than 50 contributing artists, including Star Wars actors, underground artists, celebrities and fans, will design classic Star Wars storm trooper helmets, which will be auctioned during Star Wars Celebration V from Aug. 12 to 15.

"The Empire Skates Back" will benefit the Make-A-Wish Foundation. More than 30 artists will design skateboard decks to reflect themes of

The Empire Strikes Back

, which will be auctioned during Celebration V.
The Making of Empire
The commemorative hardcover book celebrating
The Empire Strikes Back
could certainly be considered for a documentary film of its own and Star Wars fans would likely love it.
Written by
New York Times
bestselling author J. W. Rinzler, the new book, "The Making of Star Wars: The Empire Strikes Back" (Del Rey/LucasBooks) is scheduled for release in October. It will explore every facet of the film and present hundreds of unpublished photos and artwork.
Rinzler, executive editor at Lucasfilm, is also the author of "The Making of Star Wars" (2007), and "The Complete Making of Indiana Jones" (2008).
Following his "The Making of Star Wars," Rinzler once again had unlimited access to the Lucasfilm archives and previously unpublished interviews, photos, artwork and production mementos of more than 1,200 images.
"The result is a comprehensive behind-the-scenes, up-close-and-personal look at the trials and triumphs, risks and close calls, inspiration, perspiration and imagination that went into every facet of this cinematic masterpiece," according to Lucasfilm.
The 372-page book will include the following:
the evolution of the script, from story conference and treatment to fifth draft, as conceived, written and rewritten by George Lucas, science-fiction author Leigh Brackett and screenwriter Lawrence Kasdan;

the development of new key characters including roguish hero Lando Calrissian, sinister bounty hunter Boba Fett and iconic Jedi Master Yoda;

the challenges of shooting the epic ice planet battle;

the construction of a life-size Millennium Falcon and the swamp planet Dagobah inside a specially built soundstage in Elstree Studios;

the technique behind master muppeteer Frank Oz's breathing life into the character Yoda.
Subscribe and receive the latest news from the industry.
Join 62,000+ members. Yes, it's completely free.
You May Also Like
Loading..