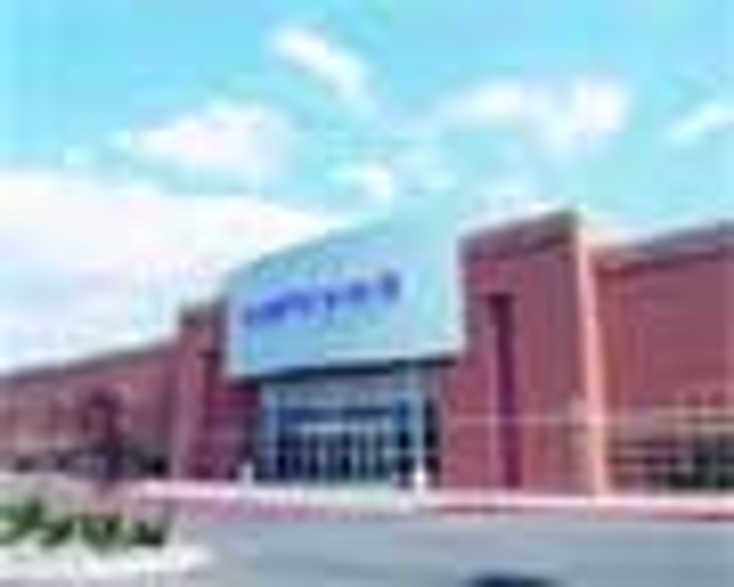 ]>
Honored yet humbled to be chosen as License!'s Retailer of the Year 2002, members of Mervyn's licensing and merchandising teams are congenial and thankful for the interview opportunity but request that their individual photos do not run with this story. Curious, License! must ask, "Why?" The answer doubles as Mervyn's mantra: License! would have had to run photos of every team member (read: 32,000 employees at all levels from its 264 stores in 14 states), because as they relate, "teamwork" is what makes Mervyn's a "family friendly neighborhood department store."
With two employees and 2,800 square feet, Mervin G. Morris founded the first Mervyn's store in San Lorenzo, CA, in 1949. Today, the San Francisco Bay area-based Mervyn's is part of Minneapolis-based Target Corporation, one of the largest retailers in the country with revenues of $39.8 billion. Mervyn's adds up to more than $4 billion in revenues with approximately 21.4 million square feet overall. Indeed, Mervyn's has come a long
way in its 52-year history from its small yet aspirational beginnings. Mervyn's strategy is simple: "big brands at small prices," with a commitment to fashion, service, and value for time-pressed, price-conscious consumers. Beyond more than 500 national brands carried by the retailer, Mervyn's offers more than 350 of its own private-label brands. But delivering that brand and consumer commitment is no easy feat…it does take teamwork.
It's evident Mervyn's welcomes the challenge, much in the same way it welcomes its "guests"customers, that is. A standing invitation is always extended to all "guests," as Mervyn's team prefers to call them. That guest base consists primarily of moms ages 25 to 49 with children. Within that mix, Mervyn's caters to a growing Hispanic population (approximately 30 percent of overall guests), specifically in the California and Texas regions. The Mervyn's guest is shopping for her family first and herself second, says Mark Nawrocki, senior manager, events planning and licensing, Mervyn's. With that in mind, Mervyn's upped its ante more than two years ago in the children's sector, with character and entertainment licensing taking the lead. The retailer designated a team of licensing, merchandising, and marketing professionals, 16 in total, to spearhead the initiative. License! got the chance to talk with some of these key team players about Mervyn's many recent dedicated shop-in-shop environments, marketing and merchandising strategies, POS materials, partnerships with licensors and their respective licensees, and future licensed opportunities.Listening and LicensingIt all starts with the art of listening. Mervyn's regularly conducts guest research surveys to learn what they want and need from this neighborhood mid-tier department store, so it can deliver trend-right, quality, well-priced product much in the same way its parent company does. In addition, Mervyn's marketing, trend, merchandising, and merchant teams work hand in hand to bring fresh, new ideas to the retail floors. "It's truly a collaborative effort," says Judy Howard, vice president, merchandise manager, kids, Mervyn's. "Each of our teams touches base with each other on a consistent basis."
While these initiatives set Mervyn's apart from some of its competitors, the retailer opted for yet another way to differentiate itself. With its children's category among its strongest, Mervyn's turned to licensing in the children's character and entertainment arena. "Licensing is a dedicated business strategy and needed a dedicated team and real estate," says Nawrocki. That's why the retailer turned up the heat to "take ownership in a license even with a small window-six to nine weeks-for product in stores." Further, Mervyn's puts money behind a license, relates Nawrocki, with in-store displays and merchandising, and TV, radio, and print advertising spots. "As a retailer, we are always seeking new and unique opportunities not only in merchandising areas, but in product styling and fabrications, and we are willing to test new concepts," says Nawrocki. In most cases, licensees gain great exposure, not only at Mervyn's, but with Target's "Power of One" philosophy to have open lines of communication internally with Target, Mervyn's, and Marshall Field's, in other doors beyond Mervyn's. Nawrocki explains that licensees often will have a presence in all three tiers of distribution.
"Licensing at retail had softened with the lackluster results in movie licensing. We have secured some great licenses such as that of Nickelodeon and Cartoon Network," says Howard. "When this licensing initiative first began, the question was, 'Can we create an entire shop environment around some of these characters?' That's what has really elevated our success. With the shops changing every six to nine weeks, it makes it more exciting for our guests. Plus, the shops offer a lifestyle environment, everything from toys to apparel, footwear, and accessories." However, Howard asserts that Mervyn's is not a destination toy store, but toys clearly act as an enhancement.
That test in licensing has proven a smash hit for Mervyn's and its licensing partners. Nawrocki points to the success of Nickelodeon's Dora the Explorer as one such example. Although not exclusive to Mervyn's, Dora the Explorer was supported by the retailer from a strategic marketing standpoint, including the development of an animated Dora TV spot in collaboration with Nickelodeon, according to Nawrocki. In-store, Nawrocki says, "an over-the-top shop-in-shop environment with back wall display" was created for the character, and plush gifts with purchase and a variety of different products from apparel to accessories and toys lured guests to the spot. "It's a function of merchandising elevation. A 'wow' factor for guests that is unexpected," says Nawrocki. Such a success it was, Dora the Explorer merchandise will remain in stores through spring 2003, and a special Dora holiday shop launched in time for holiday 2002.
Not looking to segregate its guest base by ethnicity or to market products in that way, Nawrocki explains that Dora the Explorer was one such example of a property with crossover appeal. He cites Lil' Romeo/P. Miller Shorties, which had a shop-in-shop at Mervyn's in August 2002, and Hello Kitty (a popular Asia-rooted gift brand), also in August 2002, as other such properties. Mervyn's upcoming shop-in-shop initiative with Sagwa, The Chinese Siamese Cat from Sesame Workshop will strike the same chord. From January through March 2003, parents and children will celebrate Chinese New Year in Mervyn's 264 stores via an exclusive agreement to bring merchandise such as bedding, clothing, plush, and watches. "This is our first opportunity to work closely with Mervyn's, and it has proven to be an outstanding partner," says Lisa Appleby, Sesame Workshop's vice president, business development, products and international television distribution. "Mervyn's has gotten behind Sagwa with in-store activities, a GWP, and a Sagwa float in San Francisco's Chinese New Year parade. When Mervyn's commits, it pulls together an experienced team to create a cohesive brand message."
Standing Commitment
Year-round, says Howard, guests are shopping for entertainment and a fun factor. Add to that great quality product at great value. "In any retail environment, customers want to be entertained," she says, drawing on her experience at a variety of channels. Particularly in the kids sector, Howard believes the experience must be fun for the children, but "mom-approved." In addition, Mervyn's must deliver on quality product for children, the "wear and wash, again and again" philosophy. Nawrocki says of the success with children's characters and entertainment, that the shop-in-shops create additional foot traffic next to the children's department, especially with in-store appearances. "It's retail as theater," he says.
While shop-in-shop environments are not necessarily the wave of the future for all departments within retail, Howard believes they foster an "easy-to-shop atmosphere, and create some 'exclusivity' for Mervyn's."
Going forward, both Nawrocki and Howard say they are constantly looking for innovative ways to present products and concepts. "We must first learn our merchant's needs in individual product categories. Next is timing, figuring out what our window of opportunity is. What movies are breaking…then establish the relationship with licensees," says Nawrocki of the process. Mervyn's stays atop the industry by visiting shows such as MAGIC Marketplace and Licensing International Show; however, Nawrocki admits that many licensees approach the retailer with many of these initiatives. Asked what vendors can do to aid in the partnership with retailers, Nawrocki says vendors need to be "good listeners" to the needs of the retailer, just as retailers need to listen to customers and merchants.
While its dedication to licensing in the children's area shows no signs of abating, both Nawrocki and Howard believe there are key growth opportunities. Initial licensing moves were targeted at 4- to 10-year-olds; moving into 2003 and beyond, the 'tween and teen sectors (boys and girls) and infants/toddlers also will take center stage. "'Tweens and teens are the trickiest and most fun. They are willing to take a fashion risk, but, at the same time, our offerings must be mom- and parentfriendly," says Howard.
With an ear to its guests and merchant teams, a commitment to its core guests and their retail experience, and its simple strategy of "big brands at small prices," it seems Mervyn's has all the familiar ingredients of a success story.
Subscribe and receive the latest news from the industry.
Join 62,000+ members. Yes, it's completely free.
You May Also Like
Loading..