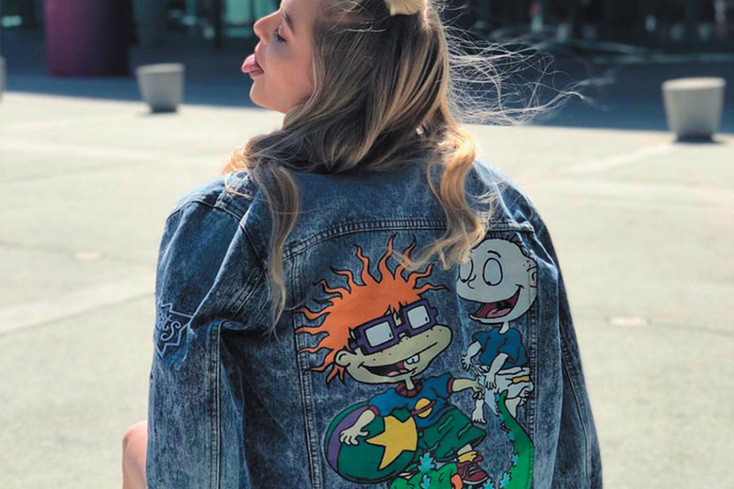 Take a look at any young person today, and chances are you'll recognize something they are wearing as a piece you probably once wore decades ago. Everywhere you turn, be it on television or in film with its years-long spate of remakes, to toys, games and apparel, we are reminded that the infamous last decades of the 20th century are back with a vengeance.
From festivalgoers donning waist-high denim shorts, crop tops and yes, even fanny packs, to the resurgence of chokers, overalls, stirrup pants, skinny ties, flannel and track suits, beloved late century brands are back on shelf and ready to grow again.
The truth is, trends are recurrent, and the best–or at least that which invokes warm and fuzzy feelings for good times gone by–will always find its way back. Now, we're seeing apparel that once seemed dated made fresh again for a new generation of trend-hungry consumers.
"Fashion is cyclical. With fashion, it's what goes around, comes around, and that is really what's helping brands that were
super popular in the 1980s and 1990s right now," says Chelsea Tirone, digital marketing manager, Members Only. "Of course there are timeless trends–look at the skinny jeans trend that was widely popular a few years ago... now what's in is the boyfriend, relaxed and even bell-bottom style jeans that were once popular years ago."
Did you have a Members Only jacket? Every cool kid in the 1980s did, and probably in an array of colors.
Originated in 1975 and cemented into the fashion annals of history thanks to '80s entertainment and media exposure, Members Only was founded on the back of its recognizable Iconic Racer jacket that featured unforgettable shoulder epaulettes, a throat latch and of course, its subdued logo.
"Since the '80s and '90s, Members Only has kept the one jacket that everyone has come to know and love," says Ron Malhotra, managing partner, Members Only. "While the materials, fit and hardware get better, the overall look and feel of the Iconic has remained the same. We hear so many great stories from people who remember the brand from 80s and those who know the brand now. We even received an e-mail one time that someone's grandfather requested to be buried in his Members Only jacket! It's truly an iconic piece."
Today, Members Only is eyeing a future beyond its signature jacket and aspiring to become a true lifestyle brand, expanding into new categories via licensing. The brand is further gaining support with consumers via influencer marketing programs, which began organically but are quickly becoming its most effective campaign, says Members Only.
Probably as synonymous with '80s and '90s fashion as the Members Only jacket is Le Tigre and its tiger-emblazoned polo.
"Le Tigre has a special place in the market because it has always been cutting edge, even when it first appeared in the late '80s. It had a different approach to the fundamental polo–it brought a fresh, new, young approach that rejuvenated that business and took the market by storm," says Ike Franco, managing director, Infinity Lifestyle Brands, which, in connection with Hilco Global, acquired the Le Tigre brand in 2015.
Launched in 1977, Le Tigre truly hit its stride in the '80s when it cracked the code for cool kids everywhere. Over the years, Le Tigre has dipped back into popularity–there was a peak in the early 2000s thanks to re-entry at retailers like Urban Outfitters, but it's only now, in 2018, that the brand is ready for a proper re-launch. Le Tigre has been using the past three years to set up a global program that will roll out across multiple categories including apparel, footwear, accessories, outerwear, headwear, fragrance and more. Franco says product will hit specialty retail in not only North America, but Europe and Asia as well, and is already getting a lot of interest from licensees.
The brand rollout will also have coordinated marketing efforts that are supported by influencer campaigns, social and retail activations that illustrate "how the brand can cross over into various categories." 
"The consumer today is looking for a reason to re-engage with brands that have a strong history," says Franco. "However, there is a definite movement for authenticity. They want the brands that were the original and which set the tone."
Arguably most iconic of all is the infamous dance brand, Capezio.
Born in the late 1800s, Capezio was created by Italian immigrant Salvatore Capezio, who created a small shoe repair shop near New York City's Metropolitan Opera. By the 1930s, Capezio had grown to become a family operation that supplied highly specialized footwear to Broadway productions, eventually finding a place in department stores in the 1950s. By the '90s, Capezio, through its partnership with United States Shoe Corporation, evolved to become a fashion and dance brand known and used the world over.
And no matter what, all roads lead back to the classic.
"There is a natural trend curve in fashion and branding which generally points back to the previous generation's hey-day," says Mark Prospero, licensing manager, international, Capezio. "That, coupled with the speed at which the market changes, emphasize the importance of a brand like Capezio which has the ability to really transcend generations because of our prominence in an omni-present category such as dance which has the ability to bring generations together."
Today, Capezio will again tap into the brand's dance and performance heritage that has resonated not only over the past century, but particularly in the 1980s and 1990s when the brand's strategy, beyond dance, reflected an active lifestyle through casual footwear, handbags, hosiery and other accessories, says Paul Terlizzi, executive vice president, licensing, and member of the board of directors, Capezio.
Now the brand could even further extend into secondary categories such as hard goods like fitness equipment and accessories and consumables.
"We hope to re-create the best of the past successes with women's, men's and children's footwear; hosiery, undergarments and loungewear; accessories; and enter a few new categories that are very closely aligned and/or compatible with dance and will become obvious once they are secured," says Terlizzi.
And hand-in-hand with fashion is music, which has heavily influenced trends in fashion since time immemorial.
So then, it's no wonder that beloved bands from the '80s and '90s are sparking a renewed interest in fans and igniting retro-themed apparel collections.
"We identified a while ago that there was a trend happening in retro apparel and that's why our '70s and '80s rock artists have performed so well over the last several years. Now we are finding that the '90s has infiltrated this important retro space because of the Millennial generation. These were the artists they grew up with. That's why at the end of last year we signed *NSYNC and this year we partnered with Britney Spears," says Lisa Streff, executive vice president, global licensing, Epic Rights, a music branding and merchandising company.
For boy band extraordinaire *NSYNC in particular, Epic Rights is making a big push, using imagery from the late '90s such as logos, album covers and photos and translating that to new apparel that is on-trend.
Most recently, Epic Rights launched a limited run pop-up experience in Hollywood, Calif., to commemorate the band's Hollywood Walk of Fame celebration that was chalk full of limited edition apparel and merchandise leaning heavily on the '90s aesthetic.
"Apparel, and especially t-shirts, are the biggest category in the retro space, followed by headwear, bags, calendars, wall art, gifts and collectible figures such as Funko Pop! vinyl," says Streff. "We're finding that all channels of distribution want to be a part of this trend with specialty retailers really leading the charge, including Urban Outfitters, Forever 21, Rue 21, Spencer's and Hot Topic, as well as mass market, mid-tier department stores, off-price retailers and e-commerce."
The thing is, retro and nostalgia are always in fashion–it's just a matter of what decade you're re-imagining that resonates. For Millenials, Gen Z and those that listened to their mom sing along to *NSYNC, borrowed their dad's Members Only jacket or grew up dancing in Capezio shoes, the memories and histories of the brands are strong, and that heritage is one worth investing in again.
"I don't foresee the retro trend going away anytime soon. There are endless opportunities available for the right brand," says Streff. "If the program is developed and executed strategically and in a way that stays true to the brand then the fans will support it. We see it having a significant lifespan."
Subscribe and receive the latest news from the industry.
Join 62,000+ members. Yes, it's completely free.
You May Also Like
Loading..