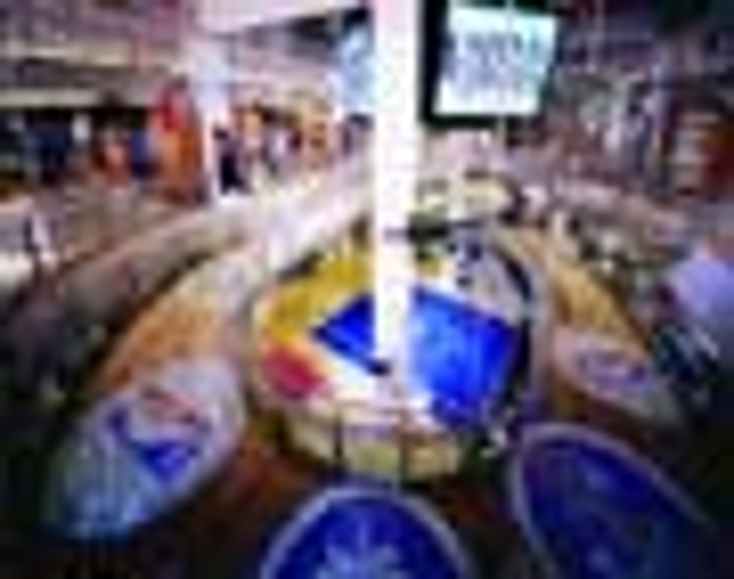 ]>Bill Blass Ltd. President and CEO Michael Groveman offers his vision of the company's future without its legendary designer founder.
Bill Blass was, in the words of Patrick McCarthy, editorial director of W, as classy as a "Cole Porter lyric-witty and urbane." But he was also as democratic as Ellis Island. He began his career in Fort Wayne, IN, at age 15 by selling his sketches through the mail at $15 a piece to a company called Kalmore in New York and became the first designer in the U.S. to brand his name. By the early '80s, practically everything-pens, chocolates, home furnishings, jeans, luggage, and automobiles out of Detroit-bore the famous double Bs. According to Cathy Horn, editor of "Bare Blass" by Bill Blass: "-The Hanes men's underwear people did a survey in which they asked average Joes in bars and factories what Blass' name meant to them. The answer was, 'Oh, he's the fellow who does the car.' Bill always loved telling that." Sadly, the fashion world and other industries
mourn the loss of this famous American designer. He died peacefully at his Connecticut home, June 12. Seeking to discover Bill Blass Ltd.'s future without its fearless founder, License! spoke with company President and CEO Michael Groveman, who offered his vision for the next chapters of this classic Horatio Alger tale. >
License!:
What has been the key to the Bill Blass success story?
Michael Groveman:
Name recognition, growth, and continuity are all vital elements. One of the wonderful things about the Blass name for our company is that if you ask 50 people on the street who Bill Blass was, you will probably get full recognition, but 50 different definitions. It's one of the reasons we have been able to maintain such good partnerships at so many levels. Our average license has been with us for 10 to 12 years. We have a lot of success stories. Our menswear license with PBM (Philadelphia) is one of our most successful businesses. Our first license, it has been with us since 1967. Another major long-lived license is denim for men and women at $32 to $36 price points. Sales are more than $100 million dollars in chains such as Federated. As a matter of fact, our partner owns our jeans business. So he certainly has a vested interest in continuing to grow that business. But all our businesses continue to grow. Continuity is certainly a major key. I have been involved with the Blass company for more than 17 years and running things day to day for the last 12, so there was no change of management. Our core group of employees remains, and we have what we believe to be the best workrooms in the world. We make everything by hand, except for our knitwear, which is made in Italy. Fabrics come from Italy and France. The factories are the same ones we have used for the last 40 years in many cases. We supply a majority of their work. So that part has not changed. The workers are the same. The factories are the same. The pattern makers are the same. Our sales staff is the same. That is a great part of the continuity. Bill Blass essentially retired from day-to-day operations many years ago. And he retired from designing three years ago. We have terrific innovative designers such as Lars Neilson from Lacroix, Balmain, and Christian Dior, who give us a much younger flavor, so we continue to keep our core group of customers, as well as attract a new younger group. At the same time, most of the design team that works with our licensing partners has been with us for years. Our longtime customers and business associates expect a certain quality, and we will continue to give them the very best product we can make.
L!:
How else will you help build the businesses?
Groveman:
The name "Blass" means taste and style. That is forever. Blass is American, too, and that is never going to change. And certainly in the times we are in, I think it is very patriotic for us to remember that. To support the memory, we are spending more millions on advertising than ever before. Five percent of revenues, if not more, is allocated to both national and point-of-purchase advertising-an important part of continuing to market the name Bill Blass.Our advertising campaign is inspirational for most of our products. We have found it is most effective to advertise the most expensive things. We continue to produce spectacular New York fashion shows. The shows are de facto advertising because they are broadcast worldwide on the air, via satellite, and through the Web. We also sponsor fashion shows around the country-a tremendous marketing tool. We continue our approximately 100 trunk shows a year. In conjunction with some of these shows, we throw ladies' lunches. We just came back from one at Saks Fifth Avenue in San Francisco. Eight hundred women nibbled tea sandwiches and wound up spending $800,000 on our clothes. Not bad because we also got all the local press over the Bay area.Growth is very important, too. We are expanding our list of licensees. I now am negotiating sportswear for men and women in China-you are the first to know. We should be done this fall. We also are working on a worldwide handbag and small leather goods license for the fall. We are going to introduce for fall a much higher priced men's collection than we have currently. The suits will retail for more than $1,000. There are many exciting venues we are exploring to grow this business. We have a new company, partially owned by Haresch Tharani and me. Our third partner is Brad Saltzman. It is a bridge sportswear company called "Bill" and will debut this fall to supply a piece we were missing between couture and denim at less than $40. We wanted something of substance in the middle, so we decided to open up our own bridge collection. The base of the business will be knitwear because that classification is missing in the marketplace. We geared the collection to the age 30-plus customer and have made it a bit more modern than the collections it will retail with while keeping the Blass taste. Response has been excellent. Stores such as Saks Fifth Avenue, Nordstrom, and Neiman Marcus have bought in depth. Nordstrom is not one of our largest couture customers, but I think it is going to be one of our largest bridge customers. So we also are supplying a whole group of retailers we haven't fully worked with until now.
L!:
What, in your view, are the chief obstacles to expansion today?
Groveman:
A chief problem in the current marketplace is that everybody wants everything cheaper. We don't want to give everything cheaper. Lower the price and eventually you are not going to give good quality product. So that is the balance. It can be a moderately priced product but of great quality. I don't want to ever hear from somebody that they bought a Blass product and it was poor quality.
L!:
Where do you see fashion trending in the next five years?
Groveman:
The future of style is simple but not minimal. People don't want to work too hard to put an outfit together. They want to be "simply chic"-as Mr. Blass used to say. You can't teach style. It is something you are born with or something you acquire over time. It is about having confidence. American women want to be individual, or so they tell me, within that framework of easy elegance.
L!:
On the subject of Bill Blass, himself, is there anything you would like to say?
Groveman:
We were privileged to have the opportunity to work with Mr. Blass. None of us who worked with Bill Blass for so many years can ever repay him for the wealth of knowledge he provided us. The best we can do is to use his gifts to continue his legacy.
Subscribe and receive the latest news from the industry.
Join 62,000+ members. Yes, it's completely free.
You May Also Like
Loading..