Tot Spots
Tot Spots
]> Despite uncertainty as to the fate of the February American International Toy Fair next year, exhibitors are set to showcase a range of new products focused heavily on licensed charact

]>Despite uncertainty as to the fate of the February American International Toy Fair next year, exhibitors are set to showcase a range of new products focused heavily on licensed characters and technology.
The halls of the Toy Buildings will be somewhat quieter this year as some manufacturers have chosen to concentrate their American International Toy Fair efforts on exhibiting at the Jacob Javits Convention Center, where the majority of specialty store buyers will be hunting for new and innovative products."We were 25 percent behind in directory listings as of mid- December, which is pretty significant," says Marian Bossard, director of event operations at TIA. "Interestingly, while the listings are down, our activity at Javits is 3 percent ahead, which is encouraging." The shift is due primarily to the significant impact played by the Fall Mass Market Toy Expo, which attracted a who's who of mass-market buyers eager to discuss next year's hot and innovative new products.Now in its second year, the show has surpassed everyone's expectations and has provided mass-market retailers with an early product preview to get a jump on plan-o-grams for the following year. While rumors circulate regarding the fate of the Toy Buildings and the viability of the February 20 to 23 show, Bossard is quick to point out that the association currently is conducting "an analysis of whether or not New York is still the best city and venue for the event."To provide attendees with another reason to attend the show, the association created two new destination stops: Sweet Spot (level one), featuring candy-themed products and candy-related novelty items, and Reading, Writing, and Rhythm (level three), featuring children's books and music, instruments, and recordings. Expanded educational programs with the theme, "Play Meets Profit," also are on tap with seminars "reflecting timely, market-driven insights that can be applied to real-world challenges, highlighting business strategies that can be accomplished in a cost-wise manner," explains Tom Conley, president of TIA.
Working more efficiently and economically is paramount today as the retail climate becomes even more competitive. Consolidation has taken its toll on the industry both from a retail and licensee perspective. Encouraging news is the proposed merger between Kmart and Sears, which many believe could positively impact the toy industry. "The Kmart/Sears merger is great from a retailing and licensing perspective because together they are powerful and can provide another venue for us to work on exclusives as others such as Kohl's and Mervyn's have done," says Joy Tashjian, president of JTMG LLC (Joy Tashjian Marketing Group). "But the question remains: Will it be a discount store or more brand oriented?" Josh Kislevitz, senior vice president of domestic licensing at United Media, agrees. "The merger makes a lot of sense because they are stronger together than they were separate. Sears has a lot of brand equity, and Kmart was struggling to compete with Wal-Mart and Target. Sears also has a historic connection with consumers and can stake out a hard goods position that is a bit more like that of a department store and less of a discount store orientation." Manufacturers also rallied behind ailing Toys "R" Us in the fourth quarter, creating exclusive merchandise to drive foot traffic into its doors. Even the reopening of FAO Schwarz' Manhattan and Las Vegas locations was encouraging for the industry as no one wanted to see the venerable retailer disappear from the landscape. A question, however, is the health of K•B Toys. "We need something hot to rejuvenate the industry," says Jim Engle, president of Little Kids. "For the last three or four years, retail consolidation has been a negative trend. The Kmart/Sears news is encouraging because we hope one plus one equals a very strong two. The key to success for the chains is to come up with a retail concept and find their niche." Like retailers, licensors and licensees are eager to find their niches and constantly are on the hunt for new theatrical, TV, publishing, and interactive properties. Some of the hottest ones forecasted for 2005 include the Batman Begins theatrical release, Star Wars: Episode III Revenge of the Sith, and Madagascar from DreamWorks. TV also won't disappoint as a new Yu-Gi-Oh! GX series (to run concurrently with existing series) is on tap for fall; Bandai's D.I.C.E. (DNA Integrated Cybernetic Enterprises) series hit the airwaves on Cartoon Network last month; and The Batman animated series and Maya & Miguel already have a strong following. Publishing property Olivia is coming on strong as is Miss Spider with exposure in many new categories.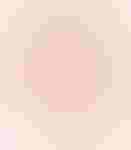 Licensed characters play a starring role in new product introductions particularly in the preschool market with first products due for Maya & Miguel, Shushybye, Bob the Builder: Project Build It, and LazyTown. HIT Entertainment recently signed a multi-brand deal with Hasbro to bring the Wiggles, Thomas the Tank Engine, Bob the Builder, and Barney to its Video Now Jr. platform. A similar deal was struck with VTech for its V-Smile product. "We see a continuing focus on preschool as kids continue to get older at a younger age," says Jim Davey, vice president of toys at Nickelodeon. "Furthermore, the category is becoming attractive to more companies because it is perceived to be one of the most stable." Technology continues to play a major part in most introductions. Hot categories from 2004 carry over with early learning toys; plug 'n' play systems; DVD-based games; and other interactive products such as V-Smile, Video Now and Video Now Jr., InteractTV, Color Pixter, ETO, Leapster, and IQuest Handheld. Manufacturers also are creating products that encourage physical activity. Hasbro will use a recently acquired patent from GestureTek Inc. to develop a line of toys and children's products in 2005. The patent encompasses a video image base control system that uses cameras to capture people's images, allowing them to control a video game using gestures. Toy Quest developed Go Go TV, its new interactive console-based gaming system. Wild Planet's Tek Tag is a modern take on traditional tag and is played using sensors that intensify the game with sound effects, warning sirens, and a digital display. Finally, the popularity of poker will be seen throughout many showrooms as will princesses, fairies, and, of course, superheroes. There will be something for everyone at this year's International Toy Fair. Here, a sampling of some items to be seen at the show. LICENSEESART ASYLUM: New introductions in its C3 construction system line include the Batmobile with Batcave Diagnostic Center. The Diagnostic Center features a rotating vehicular turntable platform, Batcomputer robot arm, and diagnostic tubes that connect to the Batmobile.
BANDAI INC.: The Power Rangers are back now as Power Rangers Space Patrol Delta complete with new action figures, megazords, vehicles, playsets, and role play. Homegrown property D.I.C.E. from Bandai Entertainment joined the Cartoon Network lineup last month and is supported by action figures and toys. A video game is due in fall 2005. Other news: expanded line of Teen Titans figures and deluxe vehicles, as well as new plush, fashion, and hair play for Strawberry Shortcake. For Tamagotchi Connection, kids can earn "Gotchi" points to shop for special treats.
BASIC FUN: As new master licensee for Jim Benton's Franny K. Stein book series, the company plans a plush doll featuring Franny's pet snake, Franny's Oozy Goo, bookmarks, door placards, stickers, flashlight key chain, and Franny Pontiki. Future products: magnetic playsets, freaky food and drink labs, water wigglers, and magnetic bookmarks. New licenses for holiday ornaments include Fisher-Price toys (such as Candy Cane Corn Popper, Snoop 'n Sniff Reindeer, and Rock-A-Stack Snowman). Six new Hasbro styles include Mr. & Mrs. Potato Head, Candy Land, Operation, and Mr. Monopoly. For Pokémon, Squirtle, Plusle, Minun, Pikachu, Skitty, and Charmander are each in their own holiday Poké Ball. Build-A-Bear, Cranium, Naughty Naughty Pets, Pokémon series 10 and 11, and Poker join the key chain lineup.

BLUE BOX TOYS: The company takes on new Shushybye property as master toy licensee. First products for the infant through preschool property will include playsets, plush, the Shushybye King's Castle, the Shushybye Train, and a Snoozles' musical Dream Wand in May/June. The company also will extend its Hello Kitty and Veggie Tales lines with new products.
CARDINAL INDUSTRIES: New licenses help expand the company's portfolio with games based on Law & Order, Poker Superstars Invitational Tournament, Maya & Miguel (dominoes, bingo, and hide-and-seek games), and Batman (trivia game based on 65 years of Batman history, as well as puzzles and card games). The Poker Superstars brand will be seen on products including Texas Hold 'Em, aluminum carrying cases, deluxe revolving poker racks, and felt poker tabletops featuring autographs of the poker superstars.
DELTA ENTERPRISE CORP.: Musical rocking chairs are set for Dora the Explorer and SpongeBob SquarePants, as well as table and chair sets, toddler beds, chair/desk, toy organizers, tabletop mirrors, tabletop easels, wall mirrors, height charts, hangers, and umbrella strollers. A line of Cinderella toddler furniture including a musical rocking chair and a new Winnie the Pooh musical rocker also are on tap.
ENDLESS GAMES: Three new games debut with The Price Is Right DVD Edition; The Velveteen Rabbit board game; and LINQ, a party game of strategy, bluffing, and word play targeted at the mass-market in early '05.
FIBRE-CRAFT: Armed with new license The Koala Brothers, the company creates craft foam products such as Cool Foam Art Kits, Mini Cool Foam Art Kits, Foam Sticker Buckets, Suncatcher Kits, Wood Chime Kits, and 3-D Foam Door Hangers. Also new are Deluxe Activity Kits, Picture Frame Kits, and Notebook Kits for existing licenses such as Scooby-Doo, SpongeBob SquarePants, Dora the Explorer, Fairly OddParents, and Blue's Clues.
FISHER-PRICE: As new master toy licensee for Nickelodeon, the company launches products for five brands including SpongeBob SquarePants, All Grown Up, Miss Spider Sunny Patch Kids, LazyTown, and The Koala Brothers with first merchandise due third quarter 2005. "Our goal is to encourage retailers to create Nickelodeon shops with the new brands, as well as Dora the Explorer and Blue's Clues," says Kevin Curran, general manager at Fisher-Price. Toys "R" Us already tested a promotional shop in fourth quarter 2004 at the front of its stores. New wireless platform Read With Me DVD (a joint effort with Scholastic) features classic books such as "Where the Wild Things Are," "Cat in the Hat," and "Corduroy" on DVD that reinforce story comprehension and vocabulary. ESPN and Cadillac are key to the company's licensing-in strategy with a new ESPN Shot Block Basketball featuring the voice of Dick Vitale, and a Cadillac Escalade for Power Wheels.
FRONT PORCH CLASSICS: A new partnership with MLB gives its Old Century Baseball pinball-style coffee table game a licensed tilt. Front Porch Classics also acquired the rights for the Cooperstown Collection from MLB with the retro logo also appearing on Old Century Baseball skus. Target.com and MLB.com had a soft launch for holiday 2004; much larger penetration is due in 2005. A new format is set for its most popular games in The Bookshelf Edition Series; distribution will go beyond Barnes & Noble and into all channels in 2005. For April comes Raceway 57 (suggested retail, $75), the company's first auto racing game.
GAMES FOR ALL REASONS: A new licensing deal with Warner Bros. Consumer Products sets the stage for a Charlie and the Chocolate Factory board game. The game (suggested retail, $14.95) is based on the upcoming feature film due in July and will be available in May at select department and specialty store retailers, bookstores, and online at www.game-board.com.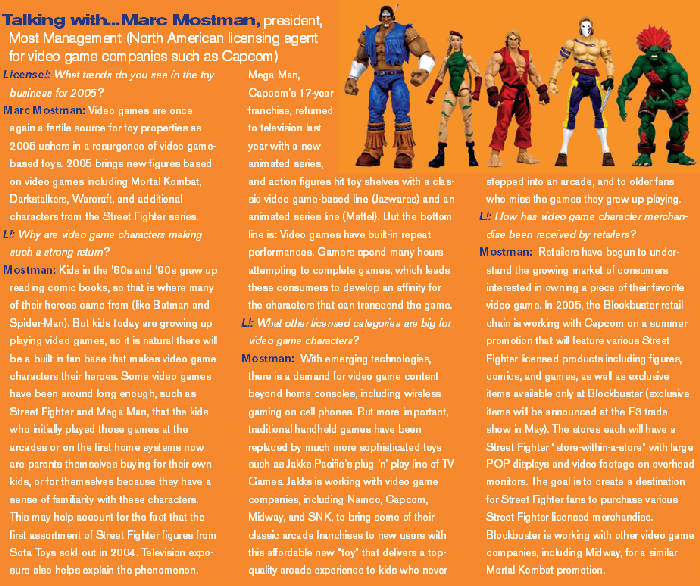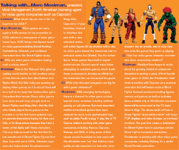 HASBRO: Star Wars: Episode III Revenge of the Sith action figures land on shelves this month. Anakin's Jedi Starfighter vehicle also is on tap. For My Little Pony, the company creates the Rainbow Wishes Amusement Park playset. A new electronic battle game, Pokémon Battle Trainer with ThinkChip+ Technology, is due for summer as is the Electronic Pikachu with Thundershock Attack. The company supports Walt Disney Pictures' Chicken Little animated movie next holiday with a plush Singing Chicken Little and mini and basic plush.
HOORAY: A first-ever license with UPS generates a Huggy Buggy UPS Package Car and miniature clip-on. Also new are a UPS Cargo Jet, UPS Cargo Ship, and UPS Tractor Trailer (suggested retails, $15.99 to $20.99) in specialty stores. Huggy Smart marks the company's foray into the educational arena with chunky magnetic letters and numbers. Also new are Ts under the Huggy Wear moniker.
ITOYS: Following the success of i-Top, the company adds i-Top Accessories with a carrying case that doubles as a play arena and a spin-enhancer ring and a clip. Also new is the Sports Trivia i-Top where players can spin to answer hundreds of sports-related trivia questions.
K'NEX: The company marks its first major push into licensing with a new deal with Orange County Choppers for Paul Sr.'s Old-School Bike and Paulie's Super-Stretch Bike (suggested retail, $19.99). Each set allows kids and collectors (ages 8 and up) to fabricate a frame, fit the pipes, and fasten the fenders. "Last year licensing didn't play much of a role in our business, but that will shift to somewhat important in 2005 to very important in 2006," says Joe Smith, vice president of design. The company also plans to focus on its core K'NEX business and step up its international efforts in Germany, Europe, the Middle East, Australia, and Japan.
LEGO: The company debuts more than 10 sets for Star Wars: Episode III Revenge of the Sith. A new DUPLO Thomas the Tank Engine collection ships in August as does Lego DUPLO Bob the Builder construction sets. Also on tap in October are four Harry Potter construction sets based on Harry Potter and the Order of the Phoenix.
LITTLE KIDS: The Olivia license helps expand the company's reach into the specialty store segment with a line of mini-figures with a take-along playset. Fairly OddParents kids' magic tricks in individual blister packs also are on tap. New items are planned for SpongeBob SquarePants and Dora the Explorer, plus a Blue's Clues Talking Bubble Wand. This Easter, the company will roll out its first TV-promoted product in nearly 10 years: Vapo-Blaster, a device that blows bubbles filled with vapor.
MARTIN YAFFE: The company will create a line of toys for Jakers! The Adventures of Piggley Winks under its "Born to Play" banner. The initial product rollout will focus on the three main characters—Piggley, Ferny, and Dannan—with plush and beanies of each, and additional feature plush. Going forward, the product mix will expand to an interactive farm set with sound features, articulated figurines and vehicles, bath and outdoor toys, and role-play sets.
MATTEL: The company supports the upcoming Batman Begins movie with a Batman Begins Deluxe Batmobile that includes electronics that bring key movie scenes to life and a Batman Begins Gotham Glider Figure complete with a launcher.
MEGA BLOKS: An expanded line of Disney Princess construction toys including Ariel and Friends Building Bucket (suggested retail, $9.99) and Winnie the Pooh Boat (suggested retail, $14.99) enhance fairy tale play for girls. Preschool boys pioneer time in space with the new Buzz Lightyear Buildable Spaceship (suggested retail, $19.99). The new Block Buddies Stories and Rhymes product line (suggested retail, $12.99) lets children build the scenes of their favorite classic stories such as "Little Red Riding Hood." Mega Bloks recently signed a licensing agreement for preschool construction toys for Marvel's Spider-Man, Spidey and Friends, X-Men, and Fantastic Four.
MGA ENTERTAINMENT: Bratz Babyz is the biggest brand extension for Bratz in 2005. The dolls (suggested retail, $7.99 each) ship in spring as do a motorbike, Chill-Out Lounge, and 8-Ball Blitz playsets. For Bratz, new lines for spring include Bratz Pretty 'n Punk, Bratz Fabulous, Bratz Treasures, and Bratz Sportz. Alien Racers airs on 4Kids TV April 2 with three concurrent Saturday morning episodes. The series resumes in September along with new action figures and vehicles.
MIGGLE TOYS: New Electronic Football products boast licenses such as NFL, ABC Sports, and the Collegiate Licensing Association. Also debuting: portable battery-operated NFL and "generic" Electric Football games, the Speedway Portable Electric Car Racing Game, and the Sweepstakes Derby Portable Electric Horse Racing Game.
OREGON SCIENTIFIC: With new licenses in the electronic learning products category from Warner Bros. Consumer Products, the company comes to market with two products based on The Batman animated TV series. In spring, the company will ship the Batman Cuff, a Batman logo-shaped unit with adjustable wrist-wrap (suggested retail, $29.99). In summer comes the Batman Laptop (suggested retail, $49.99).
OVERBREAK, LLC: In a new deal with Hasbro and Lucasfilm Ltd., the company will develop HoverDiscs in 36-inch and 26-inch versions and the new HoverSphere featuring imagery from Star Wars: Episode III Revenge of the Sith. Other new products: The HoverBlimp, an inflatable radio-controlled blimp, and a 26-inch Trick HoverDisc.
PLAY ALONG: The nostalgia trend is still in full force as Sky Dancers and Doodle Bears appear on shelves in spring 2005. Line extensions are planned for Cabbage Patch with fashion accessories, role-play items, and Cabbage Patch Ponies. By year-end, the company plans to bring back Trolls targeted at the specialty and gift markets.
PUBLICATIONS INTERNATIONAL: Hot licenses form the foundation of new titles including Scooby-Doo! Cash Register and SpongeBob SquarePants Cash Register due in fall. Disney Princess and Dora the Explorer star in the Let the Show—and Fun—Begin With Puppet Theater series for fall. In summer, three Sight and Sound: Math titles and three Sight and Sound: Words titles feature Dora the Explorer, Disney, and Disney Princess characters; plus three Magic Wand books featuring Disney Princess, Dora the Explorer, and Barbie; three Magic Screen/Surprise Sing-Along titles featuring Winnie the Pooh, Disney Princess, and Thomas the Tank Engine; and three Sing-Along Microphone Books with Barney, Elmo, and Winnie the Pooh.
RADICA GAMES: A handheld version of the World Poker Tour: No Limit Texas Hold 'Em is planned. The company reintroduces Cupcakes, a line of dolls that transform from cupcakes and other desserts into playsets. Also new are Street Muttz, a line of interactive dogs with a portion of the proceeds going to an animal charity; Big Trouble, an R/C vehicle; and two redesigned versions of handheld game 20Q.
R&R GAMES: The company departs from its card and board game roots to create Hide & Seek Safari (suggested retail, $29.99). As players close in on the hiding Tiger, a wand lights up to show them the way, and the Seeker sounds an alarm when the Tiger is near. Plans are in the works for additional Hiding Animals in 2005.
RC2: Key initiatives for the company include the launch of the New Adventures of Bob the Builder product line (the show moved from Nick Jr. to PBS in January); die-cast and preschool toys for John Deere, plus the rollout of a gardening line in April. Thomas the Tank Engine celebrates its 60th anniversary with new and commemorative products to ship to specialty stores.
SNAP TV GAMES: The first-time exhibitor will showcase its line of DVD trivia games in three categories: sports, kids, and general entertainment. For 2005 comes NCAA Basketball and Trivideo: 20th Century in a deal that secured footage of world events and U.S. history from the Associated Press.
SOFTPLAY INC.: Sesame Workshop and Fisher-Price are key licenses with Sesame Beginnings and Little People properties being incorporated into the SoftSounds Books series. Little People also will be featured in SoftPlay's My Very Own Playsets, while Elmo will be part of its Display & Play 3-D Felt Playset Books. Winnie the Pooh also is key with introductions in the SoftPlay Cloth Books and Block Books collections.
SPECIALTY BOARD GAMES: The CSI franchise grows with the introduction of four new products: CSI: Miami The Board Game, CSI: Crime Scene Investigation The Board Game 2nd edition, CSI: Crime Scene Investigation The Crime Game, and Booster Pack #1.
TEK NEK TOYS INTERNATIONAL: With its new management team in place, the company adds the Batmobile Pedal Car and The Magical Adventure Ride-On to its line of ride-on kids' vehicles. The Batmobile Pedal Car is based on the animated series, The Batman, and features an electronic dashboard, talking Batman phrases, and lights. The Magical Adventure Ride-On is a plush dragon that features six talking buttons.
THE OHIO ART CO.: Due in fall, Etch A Sketch Crazy Finger Painter (suggested retail, $19.99) features a crazy finger stylus with a foam tip, four brightly colored paints, and a supply of drawing paper. Also new is the Mini Etch A Sketch in an Easter Egg and the Pocket Etch A Sketch, with retails of $2.99 and $4.99, respectively.
THINKWAY TOYS: Kids can dress their Batman best with a Batman Begins Dress Up Set (suggested retail, $14.99) featuring a cowl, sculpted chest plate, cape, and play utility belt. The Batman Begins Power Gauntlet is a disc launcher that shoots soft darts.
TOMY: A new introduction in the company's Thomas the Tank Engine line includes the Thomas Big Loader Mail Delivery Set featuring one mechanized chassis that maneuvers around a set track and Thomas, Percy, and Harold.
TOY BIZ WORLDWIDE: Action figures and role-play products are major categories for Fantastic Four with marquee items such as Electronic Thing Hands and Super Stretch Mr. Fantastic. The Thing joins the Spider-Man & Friends lineup, and Activision will create the first computer game based on the property. New 6-inch figures in the Marvel Legends line are packaged with a full-page comic or poster book. Toy Biz, Marvel's internal toy division, offers a collection of Lord of the Rings items including action figures and collectible gift packs with exclusive figures. Toy Biz also will launch products based on the National Wrestling Alliance's new wrestling alternative, Total Non-Stop Action, with action figures, accessories, and role-play toys.
TOYPRESIDENTS INC.: Six limited-edition "talking" presidential action figures of Presidents Jimmy Carter, Richard Nixon, George H.W. Bush, Thomas Jefferson, George Washington, and Franklin Roosevelt join the company's lineup. A second edition of Ronald Reagan also is being added to the line. Each of the 12 11/42-inch-tall presidential action figures features hand-stitched, "era-specific" presidential wardrobes made of actual suit fabric.
TOY PLAY LLC: Maya & Miguel figures prominently in the company's lineup with collectible figurines of Maya and friends and a poseable talking fashion doll, as well as slumber bags, bed tents, play tents, and tunnels. Bed tents also are on tap for SpongeBob SquarePants, Dora the Explorer, and Blue's Clues, as well as play tents and bed tents for The Batman, Batman Begins, classic Batman, and Strawberry Shortcake. Sister companies Baby Boom and Interior Consumer Products will come to market with licensed cuddle pillows and room décor.
TOY QUEST: Go Go TV is a new console-based gaming system (suggested retail, $19.99) that includes camera recognition technology with games that encourage kids to engage in physical activities. The main unit is unlicensed, but the company has created licensed accessories that can be used to play the games for Disney Princess and Power Rangers. Disney Princess Music & Magic Instruments feature instruments such as a flute, percussion set, two keyboards, guitar, harp, violin, and special Cinderella grand piano. New for children ages 18 months and up are Sesame Street Wood Toys with retails from $9.99 to $39.99. Kids and adults can participate in the scrapbooking trend with Trading Spaces, My First Scrapbook Kits and Trading Spaces, Scrapbook Kits for kids and adults, respectively.
UNCLE MILTON: Series 2 of P-Brains (3-inch characters with interchangeable brains) hits shelves after the initial introduction for holiday '04. The live Habitat Series expands with Hermit Crab Cove complete with a decoration kit that allows kids to personalize their crab's shells. An order form is included, which allows consumers to receive live hermit crabs by mail.
UNIVERSITY GAMES: "We are doing less character licensing and more book licensing and actively seeking the rights to successful books," says Bob Moog, president and co-founder. To that end, the company adds "Worst-Case Scenario, 1,000 Places to See Before You Die" (based on The New York Times' best-seller) and CSI: Miami puzzles to its Bepuzzled line. In its University Games division, the company introduces Can You Bet Ken (based on Jeopardy's recent winner), Antimonopoly, Charlie and the Chocolate Factory game and playing cards, and 1,000 Places to See Before You Die Game. Madagascar, Strawberry Shortcake, Care Bears, and Dora the Explorer join the Colorforms lineup. One of University Games' biggest introductions is FlipFaze, a color and shape-changing toy line. Toy Creator is the company's first release and allows kids to customize their own action heroes. Other FlipFaze-based products include color and shape-changing ColorTwists magic noodles and Hatchers mystery animals.
UPPER DECK: New technology called Chamber Cards is on tap for the February release of the Shaman King trading card game. The starter deck comes with a first-ever DVD with two Shaman King episodes. In spring, the company launches a Winx Club trading card game. A new deal with ESPN creates a line of branded baseball, basketball, football, and hockey trading card collections due in spring.
USAOPOLY: A new relationship with ESPN nets the ESPN Trivia Challenge board game. John Deere is another first-time license with a line of games including Monopoly and Dominoes. The company celebrates anniversaries with the Rocky Horror trivia game, a Thunderbirds Monopoly game, and puzzles for A Charlie Brown Christmas and James Dean. A classic Batman Monopoly game is on tap as is a Mickey's Cribbage game. For kids, there is the Winnie the Pooh Tic-Tac-Toe and Checkers combination game and a Three-in-One Card Game Set for The Princess with Crazy 8s, Go Fish, and Old Maid. Rudolph the Red-Nosed Reindeer Monopoly ships in fall.
V-TECH ELECTRONICS: Building a software library for V-Smile is a focus with Smartridges from new partners Nickelodeon (Dora the Explorer, SpongeBob SquarePants, and Blue's Clues), HIT Entertainment (Bob the Builder, The Wiggles, Barney, and Thomas the Tank Engine), and Sesame Workshop (Elmo's World and Little Sesame Street Gang). Additional Smartridges from Disney are for Cinderella, Aladdin, Finding Nemo, and Toy Story 2; Warner Bros. Consumer Products with The Batman; and Marvel with Spider-Man 2. V-Smile Pocket (suggested retail, $89.99), a handheld version of V-Smile, comes to market in fall and uses the same software library.
WIGGLES 3D: As part of a new partnership with TIME For Kids, the company releases the Don't Quote Me. TIME For Kids Edition board game. The game (suggested retail, $19.95) features quotes and general knowledge questions for kids ages 10 and up exploring five categories: Human Hands, What On Earth, Action, Faces & Places, Books/Arts/Music.
WILD PLANET: Aquapets boasts its first license in the U.S. with Madagascar. The Madagascar Aquapets (suggested retails, $9.99 to $14.99) feature five different animals from the movie that react to sounds made by their movie co-stars, as well as by their owners and fellow Aquapet friends. In fall, Spy Gear expands with five new products including Lazer Tripwire, Spy Seeker, Spy Pen, Spy Night-Writer, and a modernized Light Hand. For bug lovers comes Battle Crawlers, bugs that are half insect and half machine.
LICENSORS AND LICENSING AGENTS:
BIG TENT ENTERTAINMENT: Fisher-Price takes the lead in toys for preschool property The Koala Brothers. A key item for Fisher-Price in July is the Talking Frank & Buster Assortment with DVD and the Help 'n Fly Plane Set. Other licensees include Mattel Games, Fibre-Craft, University Games, Disguise, and Meredith Books, with each shipping products in the fall. Galison will release a dominoes game set, two-in-one puzzle, and a cube puzzle to the specialty sector for spring 2005. An in-school program featuring The Koala Brothers launched to preschool teachers earlier this month.
BINNEY & SMITH: A three-pronged strategy for growing the core Crayola brand is underway. New brand Girlfitti is a collection of creative activities for 6- to 9-year-old girls. The second generation of Gadget Headz products comes to market with the Robot Lab wax platform (due November 2005) where kids can make robots from crayons, and Tube Tech, which allows kids to create their own building blocks. The company also will build its Crayola brand with licensed products including art and stationery products for The Batman animated series and Batman Begins movie.
BRAND CENTRAL: Retro band DEVO and NECA will show a full line of DEVO toys and collectibles including action figures, gifts, stationery, paper products, and other classic DEVO-branded products. DEVO also partnered with Disguise Costumes to create a full line of DEVO costumes. Napster will unveil a collection of Napster collectibles of the Napster "kitty" from Art Asylum including mini-mates, plush, and PVC figures. The Apprentice will unveil a line of branded toy and interactive merchandise, including board and card games (Hasbro), interactive kiosks in bars and restaurants (MJM Sports), lottery tickets (MDI, Inc.), slot machines (IGT), bobbleheads (Funko), TV plug 'n' play games (Scenario), and an interactive Trump figure (Stevenson Group).
BREAKTHROUGH ENTERTAINMENT: Toys and publishing are the initial focus for Atomic Betty with first products from Playmates and books from Penguin Putnam on shelves in March/April. The bulk of consumer products presence is due in fall 2005 with apparel from Happy Kids, pajamas from Kids Headquarters, and videos from Warner Home Video.
CLASSIC MEDIA: A multimedia music promotion is planned for Santa Claus Is Comin' to Town, and Playing Mantis creates new poseable action figures featuring voices and music from the show. Playing Mantis also debuts Little Drummer Boy playsets, nativity scenes, and action figures. Omni Glow creates Casper-themed merchandise as do Coynes and Co. with animatronics plush and décor and IBooks with Casper comic books. A new 3-D animated movie, Peter Cottontail: The Movie, is due in early 2006; seasonal puzzles from Imagination Entertainment, collectible figures from Diamond Select Toys, color and activity books from Random House, and novelty candy from Brach's are planned. The Gerald McBoing Boing animated series is due on Cartoon Network this fall. Lassie feature film opens in March; an animated preschool series is in development, plus a new online site at Lassie.tv in spring and a pet-care line. Licensing programs are planned for Little Golden Books and pat the bunny in conjunction with Evergreen Concepts.
DIC ENTERTAINMENT: A new Princess theme is on tap for Strawberry Shortcake and Friends with products from Bandai due in July and a direct-to-video from Fox in August. DIC lays the groundwork for a baby program in conjunction with American Greetings for Strawberry Shortcake with a launch date in 2006. For Trollz, the Web community hits March 31 with toys from Hasbro in August and books and videos from Scholastic and Warner Home Video, respectively, in September.
DISNEY CONSUMER PRODUCTS: "Three P's are critical priorities for Disney in 2005: Princess, Winnie the Pooh, and Power Rangers," says Suzanne Schlundt, vice president of toys. The company ties into the rerelease of Cinderella in October (first time on DVD) with a range of products led by Mattel. A key driver for Mattel is the Twinkle Light Cinderella. Other licensees include Toy Quest (grand piano), Playmates (dolls), Tara Toys (activity toys), Spin Master (Cinderella version of Bella Dancerella), and Disguise (costumes); most products have an illumination theme. Fisher-Price creates Tumble Time Tigger. Bandai offers a line of figures and vehicles for the new Power Rangers SPD-themed series for fall 2005. Interactive entertainment for The Chronicles of Narnia: The Lion, the Witch and the Wardrobe (due December 2005) is under development. Hasbro signed on as master toy licensee; WETA and Master Replicas will handle collectibles.
4KIDS ENTERTAINMENT: Video games and trading cards for One Piece are headed to market in fall; toys and other categories will follow in spring 2006. MewMew Power is due on 4Kids TV in 2005 with products expected in late 2005/early 2006. Magical DoReMi is due on air in September with products expected in spring 2006. Konami shipped PS2 and GBA Shaman King video games last fall; trading cards from Upper Deck are due this month. New products are due for the Yu-Gi-Oh! GX series in fall.
FOX CONSUMER PRODUCTS: Robots will be the biggest theatrical merchandise rollout in the company's history supported by licensees such as Mattel and at retail outlets such as Wal-Mart and Toys "R" Us. The relaunch of Family Guy on Fox network in May piggybacks on the success of the DVD and consumer products in specialty stores. Two additional waves of action figures from Mezco Toyz are planned. In June, Hasbro releases the Simpsons Operation Game, while McFarlane Toys debuts a line of Simpsons action figures in fall.
HIT ENTERTAINMENT: Thomas the Tank Engine's 60th anniversary is a key milestone for HIT with support from companies such as RC2 and commemorative storybooks from Random House. The first feature-length video, Calling All Engines, is due in fall '05. RC2 and Lego offer construction playsets for the new Bob the Builder: Project Build It. Barney remains strong with the purple dinosaur's biggest production ever, The Land of Make Believe, filmed at Universal Studios in Orlando, FL. A new live show for TheWiggles takes to the road in August; Spin Master creates new toys and instrument lines.
MARVEL ENTERPRISES: The company supports its everyday Spider-Man business with a new movie in 2007; interactive games, comics, and books; a refresh of Toy Biz' line; and global expansion. Fantastic Four will be released next summer in conjunction with Twentieth Century Fox (the licensing program already has more than 60 licensees). Marvel Heroes gives licensees the ability to combine (within established limits) its universe of 5,000 characters on a variety of merchandise. Marvel also moves into the wireless arena early next year with new partner MFORMA with plans to create everything from dot.comics Marvel trivia, and ringtones to screensavers and games.
NEW LINE CINEMA: Lord of the Rings is a key focus with about a dozen new licensees creating merchandise tied to a new program, "The Art of the Lord of the Rings," for specialty distribution. New action figures are on tap from Play Along and Toy Biz, as well as a collectible card game from Decipher and table battle game from Games Workshop. The merchandising program for Son of the Mask hit earlier this month with plush toys from NECA, doodles posters from Trends International, mobile games from India Games, and Halloween costumes planned from Disguise. A merchandising program is planned for This Is Spinal Tap in late fourth quarter. New toys from NECA and Mezco Toyz are planned for Freddie, Jason, and Leatherface.
NICKELODEON: New products for Blue's Clues and Dora the Explorer include an expanded line that piggybacks on the success of the Talking Dora House from Fisher-Price. The relaunch of SpongeBob SquarePants toys includes products based on kids' favorite individual episodes. A big launch is planned for new properties such as LazyTown with Fisher-Price and Jakks Pacific taking a lead role. First products also are headed to shelves for All Grown Up with a line of fashion dolls from Fisher-Price. First 'tween-directed brand everGirl gears up for toy introduction with Playmates creating a range of higher-end fashion dolls for 8- to 12-year-old girls.
RAGDOLL: For Boohbah, Hasbro creates the Get Up and Giggle game. Scholastic will come to market with five titles in March. Tara Toy is creating travel activity sets and figural crayons and pens. The Boohbahs debuted at preschools and daycare centers in December with a "Look What I Can Do!" curriculum developed in conjunction with Young Minds Inspired (YMI). Playmates launches Teletubbies Water Babies. A consumer outreach campaign is underway with a first-ever character, a radio-controlled Noo-Noo, making appearances. An infant consumer products campaign is in the works with licensees being sought for apparel, developmental toys, and accessories to launch late 2005.
SCHOLASTIC ENTERTAINMENT: The bulk of the Maya & Miguel product mix heads to shelves during summer and fall with toys (Toy Play), games and puzzles (Briarpatch and Cardinal), and activity sets (Rose Art). Support also will be provided for "Clifford The Big Red Dog" with oral-care products, pet products (debuting this month), and a look into early learning toys. I Spy gains exposure through additional home video and DVDs from HBO Video, CD-ROMs from Scholastic Media, and puzzles from Briarpatch.
SESAME WORKSHOP: The Workshop's youngest viewers (ages 0 to 2) are the target for the new Sesame Beginnings brand. Infant products hit the market in spring 2005 with Fisher-Price as master toy licensee. Check Up Time With Elmo aims to ease children's fears about the doctor. A packaging revamp rolls out in spring 2005, giving more prominence to the Workshop's overall mission of helping children. In spring, mini Hokey Pokey Ernie, Cookie Monster, and Elmo hit shelves.
SHOPRO ENTERTAINMENT: MegaMan NT Warrior remains strong with Mattel on board as master toy licensee. New figures and a new undisclosed toy concept will be key drivers next year as will the third season of MegaMan Access in February/March. Sears took a leadership position in categories such as apparel with a fourth-quarter "buy a T-shirt and get a battle chip free" promotion. Sonic and Sonic X products from Accessory Network, Happy Kids, and AME are due for back-to-school 2005. Hot Topic expands its T-shirt presence into accessories. Zatch Bell airs on Cartoon Network in April. Bandai is on board as trading card and video game partner. First product for Deko Boko Friends is due for holiday '05 with Spin Master as master toy licensee, Simon & Schuster (publishing), and Baby Boom (cuddle pillows).
THE BABY EINSTEIN CO.: A first-ever apparel line, new bath toys, and Read-A-Long Books mark key initiatives for the company. A new preschool franchise, Little Einsteins, will launch on direct-to-video in summer and on the Disney Channel in fall. Also new is the 17th video/DVD title, Baby Monet Discovering the Seasons.
THE BEANSTALK GROUP: Polyconcept USA creates Little Tikes arts & crafts activity sets and light and peg activity toys. Planet Toys International is on board with ethylene vinyl acetate (EVA) trucks, plastic housekeeping role-play toys, and jet stream water packs; and Danara International, Ltd., is creating soft developmental toys and bibs. Imperial Toy Corp. signed on for role-play bubble toys, while Genius Products, Inc., will produce DVDs. For Snapple, a new agreement with Spin Master extends the brand with hand-powered and battery-powered Slurpee makers.
THE BRAINY BABY CO.: Demographics for the brand widen with the introduction of three Brainy Kids videos aimed at children ages 3 to 7. Also new is Sporty Baby, a line of three videos to be complemented by consumer products. The core Brainy Baby portfolio grows with the addition of 10 new titles and launches internationally into 15 different countries. The licensee base will be expanded in 2005 with nursery décor, food, feeding, accessories, and apparel. A two-part, faith-based series called Mustard Seeds is due in July and will include a DVD/VHS component called Growing in Faith that focuses on aspects of childhood based on biblical principles, and Growing in Knowledge, which offers preschool academic basics.
THE JOESTER LORIA GROUP: Play Along will offer a much broader range of Care Bears developmental toys. Care Bear Cubs will make their first appearance in the second Care Bears direct-to-video movie due in September 2005. Jakks Pacific creates a new line of arts & crafts for both the mass and specialty store channels for fall 2005. New products from Spin Master and Baby Boom deepen the property's presence in room décor and furniture. Additional exposure will be provided by a preschool curriculum at 35,000 preschools.
UNITED MEDIA: As licensing agent for Bandai, the company is building a licensing program for Tamagotchi and D.I.C.E. An expanded product selection is on tap for Tamagotchi with apparel, accessories, party goods, and other 'tween-targeted categories. For D.I.C.E., a program featuring apparel, accessories, social expressions, and publishing will complement categories already secured by Bandai. Planet Toys, Inc., will debut several Food Network-branded items in spring 2005, including Kids BBQ Spice Rack and Kids Plan Your Own Dinner Party.
UNIVERSAL STUDIOS: More than 60 licensees already have signed on worldwide for King Kong (due December '05) including Playmates as master toy licensee and UBISoft for video games. An urban apparel program and 2006 theatrical release is set for Miami Vice. Programs are in place for Curious George with a movie and animated TV series due in '06, Little Engine That Could, and Where the Wild Things Are.
WARNER BROS. CONSUMER PRODUCTS: The Batman Begins theatrical release has a growing list of licensees on board. Retailers, too, will lend support with retailtainment events on tap at Kmart, Wal-Mart, and Toys "R" Us in the second quarter, reports Kelly Gilmore, senior vice president, global toys & themed entertainment, Warner Bros. Consumer Products. New deals were signed with Cartoon Network for Hi Hi Puffy AmiYumi. Funrise Toy Corp. was tapped as global master toy licensee for theatrical release Charlie and the Chocolate Factory with playsets, action figures, activities, puzzles, pinball, and games due in summer 2005. Corpse Bride is on the radar with several licensees such as Rubie's Costume Co. on board.
Subscribe and receive the latest news from the industry Article
Join 62,000+ members. Yes, it's completely free.
You May Also Like
---