Spotlight: Mighty Fine
Spotlight: Mighty Fine
]> Australian-born Mighty Fine Marketing Director Justin Watson came on board in January 2005 to oversee strategic marketing and brand management for the p

]>Australian-born Mighty Fine Marketing Director Justin Watson came on board in January 2005 to oversee strategic marketing and brand management for the portfolio of Mighty Fine brands, including Topless California, Doe, Mighty Fine, Disney Couture, and Disney Couture Baby, as well as to head up worldwide licensing for French Kitty, Ruby Gloom, and Bad Cat. Prior to Mighty Fine, Watson was senior brand manager at Gaffney International Licensing, where he was in charge of developing Gaffney's fashion, design, and corporate divisions and spearheading the development of brands—including Playboy, French Kitty, Jack Daniel's, and Foster's—for the Australian and New Zealand territories. A highlight, says Watson, "was negotiating the first freestanding Playboy store in Australia with local designer Christopher Chronis." Q: Describe Mighty Fine's organizational structure, including the initial business model and corporate mission and how they have changed over the years.A: Mighty Fine was founded in 1992 as a knit top manufacturer by three young entrepreneurs: Guy Brand, Stacy Kitchin, and Patty Timsawat. Since then, the company has grown to become a fashion force and brand innovator. Mighty Fine's company structure is very fluid, which allows us to react faster to market demands. This is a necessary factor if a company wants to compete in the fashion industry. Our business model today is very similar to when the company started 14 years ago. Of course, we have grown since then, but the basic model is the same. First and foremost, we are a design studio focused on creating innovative and quality knit tops. Secondly, we continue to develop long-term relationships with our retailers, licensors, and other vendors.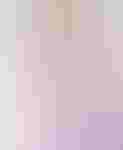 On one side of the business we have the manufacturing arm, where we license-in famous icons under the Mighty Fine and Doe brands. Mighty Fine has both a men's and women's division and generally has a more flexible price point. Our Doe brand targets fashion-savvy females ages 18 to 24, who shop boutiques and better department stores. On the licensing-in side, which is headed by Morgan Ward-Bettis, we are focused on building long-term partnerships with licensors, and continually search for new ways to launch, refresh, and maximize the potential of their properties. On the other side of the business we have our licensing-out arm, where we license French Kitty, Ruby Gloom, and Bad Cat. With licensing-out, our goal is to continue having steady growth with our agents, licensees, and fans in all markets including international.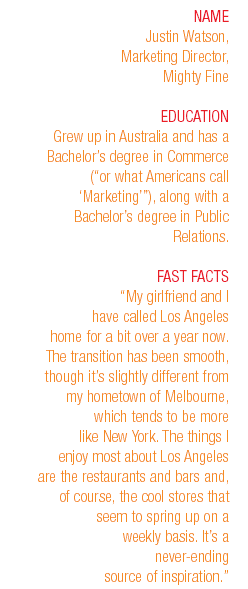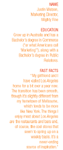 Q: How old is the licensing-out arm of Mighty Fine and what are the key areas of business and strongest programs?A: About six years ago, Mighty Fine took several original designs and expanded the artwork into products such as bags, loungewear, stationery, and even books. The retailers were asking for various products and Mighty Fine was quick to respond, but when the demand became too overwhelming, we turned to licensing. Mighty Fine is focused on its core product—knit tops—while licensing enables experts in other markets to focus on the product they know best. Our strongest programs include French Kitty—our premier fashion brand targeting females ages 18 to 24. French Kitty is a stylish Manhattan feline, with her own sense of style and superb taste in fashion. She is enamored with the French lifestyle, and often travels to Paris to indulge in the culture, cuisine, and, of course, haute couture. The French Kitty business has found its home in women's fashion collections and accessories. We have programs in the U.S., Japan, Australia, and New Zealand, with new programs starting this year in the UK, China, Hong Kong, Thailand, Malaysia, Taiwan, and Singapore. Ruby Gloom is an ironic comedy with an emphasis on the importance of friendship. While some kids might be afraid of the dark, eccentric neighbors, and unknown creatures that dwell in the closet, Ruby is different, befriending these strange and sometimes scary creatures. Ruby Gloom appeals to both 'tweens and teens alike, and currently has programs in the U.S. and Europe. Over the last six months we've been finalizing a partnership with Nelvana Limited to produce an animated series based on Ruby. Production of the series is well underway, and we anticipate 40 episodes to be ready sometime in 2007. We currently are working on our global consumer products strategy, with Nelvana set to spearhead all international markets, excluding domestic, which will be managed directly by Mighty Fine. The plan is to include a soft launch of select fashion categories before broadcast, with a further rollout of other product categories once broadcast commences. Our ultimate goal is to position Ruby Gloom as a brand for 'tweens and teens in her own right prior to the broadcast launch. This strategy has been successful for us domestically, so we'd like to follow suit in all other markets. Q: What are some recent licensing/merchandising successes?A: With our Doe brand, we recently launched a line of nostalgic Ts with McDonald's that included everyone's favorites—Ronald McDonald, Hamburglar, and Grimace. The response to the collection of men's and women's Ts has been amazing, including a piece in the Wall Street Journal and a playful, fashionable window display at Lisa Kline on Robertson Boulevard in West Hollywood. Our partnership with Disney Consumer Products has produced the Disney Couture brand, which launched in 2003. Our knit top collection has been well received, and we continually work with Disney on expanding the collection with the addition of Disney Couture Baby. Disney Couture also will be growing with additional partners for intimates, jewelry, and accessories. On the licensing-out side of the business, jet-setting French Kitty has been busy with retail fashion stores in Japan. In addition to working closely with Australian apparel licensee Austin Group, French Kitty has her own real estate in Australia's largest department store and has found a home in hundreds of trendy boutiques. In the U.S., French Kitty also has enjoyed success with her intimates collection at Victoria's Secret, as well as Bloomingdale's and Macy's. This spring, a new line of knit tops is selling in boutique stores such as H Lorenzo in West Hollywood. Besides upcoming animation for Ruby Gloom, we want to continue growing her success with supporters such as Hot Topic and Virgin Mega Stores. We plan to layer on additional categories in the immediate future and are working on a larger program to coincide with the domestic broadcast. Throughout, the focus will remain on building Ruby Gloom as a brand. Bad Cat expanded into Wal-Mart via a watch program with MZBerger for holiday 2005. This year, MZBerger was joined by Mead (stationery) and Trends International (calendars and posters). American Greetings will launch a line of greeting cards this Halloween. Internationally, Bad Cat has been enjoying success, especially with knit tops in the UK. Q: How do you work with your licensees to maximize business potential, create a comprehensive licensing process, and preserve the integrity of the brand?A: Establishing good communication with licensees or agents is key. We speak with all of our partners on a weekly basis, updating each other on new activities and ideas. We also spend time educating our partners on our brands, and, if possible, we like them to join us for workshops in our L.A. office. We recently had our consultant from the UK visit us for a two-day workshop on marketing and product development for our French Kitty brand. By spending time with our partners, showing samples, and outlining our expectations, we can ensure that the potential licensee, or the products it submits, will be in line with our vision. We also encourage all of our licensees to talk to each other and share ideas, successes, and failures. For our French Kitty brand, we organize seasonal creative workshops where licensees gather to learn about new themes and trend directions. It creates a forum for licensees to share their ideas and success stories. It also allows for licensees to discuss opportunities to share production costs on fabrics or finished goods. We encourage our international consultants to do the same. Q: Detail licensing strategies implemented to support your brands' retail presence. A: The McDonald's window display at Lisa Kline is the most recent retail initiative. It was simple but effective. The plan was to establish that emotional connection between the consumer and McDonald's in a non-restaurant environment. Using Ronald McDonald combined with the Golden Arches and the message, "Billions and Billions Styled," across the windows of Lisa Kline's Robertson Boulevard store was a perfect balance of nostalgia meets fashion. We always have been in the junior, young men's, and adult markets, and we recently expanded our knit top category to include the infant through 'tween age groups. We launched Disney Couture Baby at Children's Club New York in March, which was well received. We felt there was a gap in the kids' market for some fun and innovative product, so we took our adult designs for Disney Couture and shrunk them. The collection is in stores this summer with suggested retail prices ranging from $40 to $80. Another focus is our French Kitty launch in Asia, via Authorized Licensed Retail agreements, which will allow French Kitty to have her own stores throughout Asia. It's very common for brands such as Guess, Zara, and Mango to use this strategy. It allows us to control the distribution and ensure the consumer is getting the full experience of the brand. Q: How have your properties performed in the domestic market as compared to international territories? A: Our brands have performed well in both the domestic and international markets. We feel that internationally there is huge potential for all of our brands. In 2006, we will open between 10 and 20 concessions and freestanding French Kitty boutiques across Asia, with up to 30 more planned for next year. The domestic market is extremely competitive, as there are so many licenses and fewer retailers in which to place product. We have had good success, and we continue to design, produce, and sell knit tops for French Kitty, Ruby Gloom, and Bad Cat. As a result, we have first-hand knowledge of what is working, which we then can pass on to our partners. Q: What are Mighty Fine's immediate and long-term growth areas?A: On both sides of the business, we seek relationships with partners that are like-minded and share the same vision and standards we do. We feel fashion and accessory categories are immediate growth areas for all brands, both domestically and internationally. We also feel the retail services category possesses good long-term growth opportunities.
Subscribe and receive the latest news from the industry Article
Join 62,000+ members. Yes, it's completely free.
You May Also Like
---