Industry Annual Report 2003
Industry Annual Report 2003
]> Licensing business captures a fair sales increase at worldwide retail in 2002. Coming off a down 2001, the licensing business fared well in 2002. Of course, some of

]>Licensing business captures a fair sales increase at worldwide retail in 2002.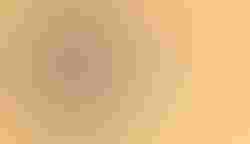 Coming off a down 2001, the licensing business fared well in 2002. Of course, some of that fortune will roll over to 2003. All categories, with the exception of fashion, were positive. Although year-over-year estimated worldwide retail sales charts can be found by category, here's a quick synopsis: The overall industry was up 4.3 percent or $7.2 billion over the same period last year. Art and Publishing experienced a $1 billion increase (nearly 70 percent of that number can be attributed to the art business). Brands and Trademarks recorded a 5 percent increase or $1.6 billion. Data for Brands and Trademarks include sales in collegiate licensing and non-profit; Brands and Trademarks accounts for roughly 65 percent of that number. Character and Entertainment, very much intertwined, captured 4.4 percent increases (or $1.7 billion for Character and $2.6 billion for Entertainment), with the success of Spider-Man and the superhero genre leading the way. Online and Interactive continues to gain ground with a 9.2 percent increase or $.8 billion, even though the category was slightly down last year. The Sports increase over the same period last year was 8.4 percent or $1.3 billion. If separated, estimated retail sales for the U.S. amount to approximately $112 billion.The negative in fashion amounted to 5 percent or $2 billion. That comes as no surprise considering that post-9/11, the U.S. and international territories experienced a stock market decline, ultimately leading to a recession. Trends during such a time period tended toward well-recognized, dependable brands and necessities; entertainment, which includes TV, movies, sports, and online/interactive; and publishing. As unemployment boomed, people turned their attention home (call it nesting or cocooning), and "comfort" and "security" in their surroundings was the urgency.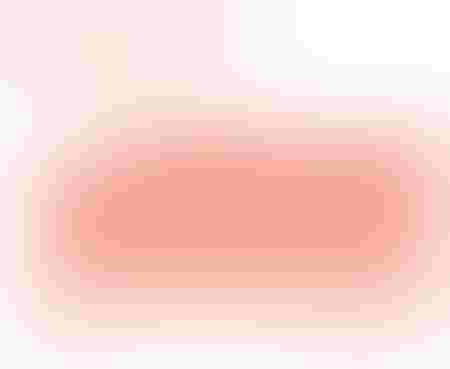 License!'s Industry Annual Report 2003, compiled by License!'s editorial team, aims to serve as a statistical benchmark for the licensing business. On the pages to follow, editors detail 2002/03 licensing industry happenings and statistical data in all categories covered on a monthly basis by License!. In addition, License! looks at category/property predictions and licensing initiatives set to debut in 2004. Retail initiatives, mergers, acquisitions, and store closings from 2002/03 also are included for reference.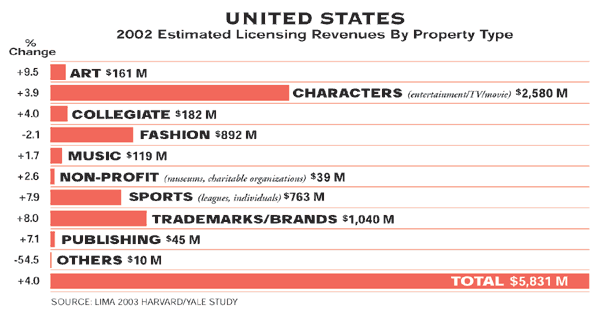 The information contained in this year's License! Industry Annual Report is based upon estimated worldwide retail sales of licensed products, period ending December 31, 2002, with all channels of distribution reporting in the U.S., Canada, United Kingdom, Europe, Latin America, and Asia/Pacific Rim. The figures were amassed through statistical and analytical research firms-incorporating retail and consumer data-as well as License! research conducted throughout 2002 through discussions with licensors, licensees, licensing consultants, and agents. Retail channels of distribution include domestic retail chains and international counterparts: department stores (i.e., Federated Department Stores and Saks Inc.), mid-tier stores (i.e., JCPenney, Kohl's, Mervyn's), specialty/niche stores (i.e., Toys "R" Us, FAO Schwarz, Lowe's Home Center), mass merchants (i.e., Kmart, Wal-Mart, Target Stores), drug and supermarket independents and chains, and Internet and TV shopping.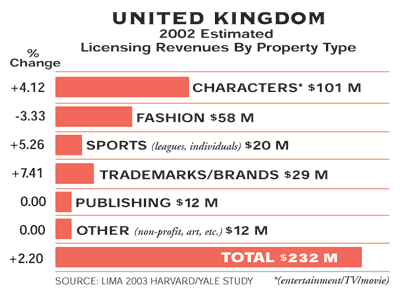 2002 data detail estimated worldwide retail sales in the following licensed categories: Art & Publishing, Brands & Trademarks (including non-profit and collegiate licensing), Character, Entertainment, Fashion (including licensed luxury goods), Online & Interactive, and Sports. Within each category, worldwide retail sales were measured in the following product classifications: apparel, accessories, automotive, electronics, food and beverages, footwear, furniture, health and beauty aids, home decor, housewares, infant and juvenile products, music and video, online/interactive software and hardware, stationery and other paper products, sporting goods, and toys and games.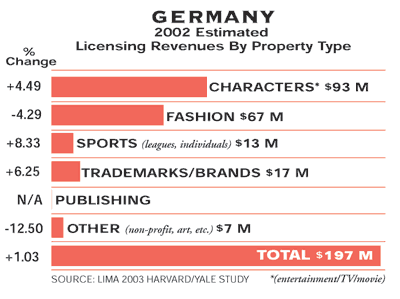 Following License!'s collection of data, numbers were compared with The International Licensing Industry Merchandisers' Association (LIMA) Licensing Industry Survey 2003, which was conducted by research teams from the Yale School of Management and Harvard Business School. That report detailed 2002 Estimated Licensing Royalty Revenues for U.S., United Kingdom, and Germany in the areas of Characters (entertainment/TV/movies), Trademarks/Brands, Sports (leagues/individuals), Fashion, Collegiate, Art, Publishing, Music, and Non-Profit.ArtArtist celebrities: Television may be the latest new medium for artists-for marketing purposes at least. Environmentalist/marine life artist Wyland, as part of his new agreement with art supplies maker Martin F. Weber Company, signed on to star in 52 half-hour episodes of painting demonstrations on PBS. Wildlife artist and sculptor Dick Idol landed an outdoor lifestyle series on OLN to launch in January '04. In the realm of home shopping programs, Debbie Mumm just hosted a two-hour QVC show, peddling new quilts from Peking Handicraft Inc. (PHI) and about a dozen other licensees' wares. Amy Hautman, another artistically inclined sibling of the famed Hautman family (a sister to the wildlife-loving trio of painterly brothers), appeared on QVC a few times this year in conjunction with throws and blankets licensee Biederlack of America. Amy and her brothers are represented by MHS Licensing. To date, camera-shy Mary Engelbreit has resisted the lure of hosting a home shopping show, despite QVC's clamoring for the on-screen presence of The Queen of Everything.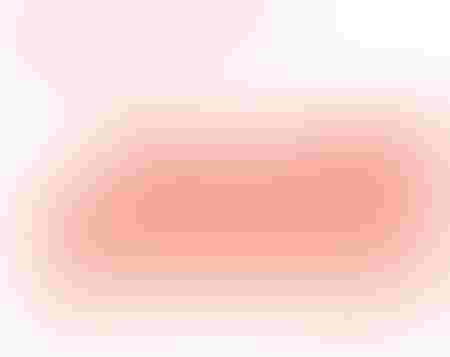 Retail placements: Mary Engelbreit Studios began a direct-to-retail partnership with Mervyn's for Mary Engelbreit Baby, a collection of infant and toddler skus (also sold via the ME Website), and the Studios also launched a redesign of Mervyn's baby departments throughout the 265-unit chain. Dinnerware maker Certified International took artist Jennifer Brinley (handled by Ruth Levison Design) to Stein Mart, Costco, Target, JCPenney, Bed Bath & Beyond, and artist Susan Winget into JCPenney, Dillard's, and Saks. Manual Woodworkers & Weavers now offers a collection of seasonal Susan Winget rugs to Stein Mart. Cracker Barrel is working on a multi-category Warren Kimble program. Linens 'n Things recently picked up Gracey Knight Ltd. kitchen textiles designs from Kay Dee Designs. Counter Art placed artists such as Susan Winget, Gracey Knight, and Warren Kimble at Bed Bath & Beyond (each of whom is represented by agency Courtney Davis). Bath decor manufacturer Allure Home Creations landed Challis & Roos product in Kohl's; rubber stamps maker Inkadinkado and crafts supplier Image Hill have placed the brand in Jo-Ann Stores and Michaels.
Literary lunges: HarperCollins (HC) has had success with a few children's books from Mary Engelbreit Studios, including "The Night Before Christmas" (11 weeks on The New York Times best-seller list), and "Baby Booky" and "Ann Estelle" (both just debuting. "Mother Goose" comes in 2005. HC also recently took on artist Susan Winget. Photographer Rachel Hale (handled by Creative Brands Group) just debuted dog book "101 Salivations" from Bulfinch Press. Flavia has written an autobiography and seeks a publisher; separately, via Cedco, she debuted a poetry book and companion journal entitled "Because of You," an open letter of gratitude from Flavia to the legendary poets who inspired her to write. Barnes & Noble just picked up "Ordinary Heroes," the coffee-table book written by Flavia and her daughter, Lisa. Artist Wyland-with the help of Steve Creech, who handles most of the communications affairs at Wyland Galleries-co-authored "Chicken Soup for the Ocean Lover's Soul," along with Chicken Soup founders and co-authors Jack Canfield and Mark Victor Hansen. Publishing-related categories, such as books, calendars, stationery, and greeting cards, have been strong categories for artists such as Thomas Kinkade and Rachel Hale, according to agency Creative Brands Group.
Additions, deletions, and moves: Creative Brands Group just signed on Wyland for categories such as home decor and accessories, furniture, apparel, stationery, books, and collectibles. CBG also took on multimedia artist Chayan Khoi. Artist Christian Riese Lassen brought licensing back in-house after a brief alliance with CBG. Jona-Marie Price, formerly the president of Lassen International, returned to the firm after an eight-year hiatus. She now serves as CEO. MHS Licensing took on folk artist Kathy Hatch and oil painter Theresa Kasun. Paul Brent signed on for licensing photographer Karen Weidert. Flavia acquired ownership rights to nostalgia-rich artist Bessie Pease. Courtney Davis' new clients include Kim Poloson and Susie Muise. The Buffalo Works signed on Sue Zipkin, while Applejack took on floral artist Nel Whatmore and scrapbook artist Pat Yuell.
Apparel entries: Bob Timberlake landed men's and women's apparel (items include a "bio-washed" men's T-shirt and a ladies' stretch denim jean jacket with suggested retails ranging from $18 to $65) at Bass Pro Shops. Home products are available via Bass Pro's catalog and online, but expect more lamps, pillows, throws, and home accessories in the brick-and-mortar stores this fall. Some of the skus are exclusive to the retailer. Debbie Mumm aligned with embroidered tops maker TR McTaggert, and her bug design has since become the shirtmaker's best-seller. TR also created Mumm tops specifically for the quilt/craft industry. Paul Brent teamed with Soft As A Grape for resortwear to bow next year.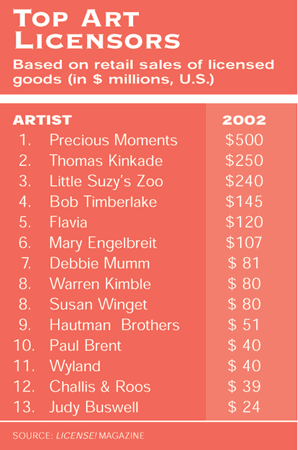 Crafty trends: For almost all art licensors, scrapbooking still rages. Leisure Arts signed on Anne Ormsby and Jenna DeAngeles (handled by MHS). Debuting at the January 2004 Hobby Industry Association show: Susan Winget scrapbooking products from Paper Adventures and Daisy D's debut of goods inspired by Kim Poloson and Susie Muise. Suzy's Zoo, which self-manufactures scrapbooking products, reports a 28 percent gain in the category in 2003 so far. Craft chain Michaels, which launched a scrapbook-only division called Recollections this year, has helped guide some craft-related extensions for Mary Engelbreit, such as an alliance with Colorbýor journals and note papers sold through the craft channels, and with Leisure Arts for crafting booklets. Separately, Engelbreit also launched crochet, knitting, hook and rug kits with Spinrite, marketed under the Bernat name. Also in the craft arena, Benartex, known as the quality producer of fabrics for the specialty quilting market, will preview Susan Winget's holiday collection at the International Quilt Market in Houston in October. This year, Image Hill Productions introduced Challis & Roos craft products and hooked rug kits.
Still homebound: The Andy Warhol Foundation (represented by The Beanstalk Group) finally is supplying U.S. retailers with Andy-inspired home products; Jay Franco & Sons and Barth & Dreyfuss are the heavy-weight licensees. Quilting queen Debbie Mumm permitted PHI to produce quilts and accessories that bowed at market last month. Meanwhile, in Mary Engelbreit's world, Distinctions (a division of Cranston Print Works) introduced a small collection of quilted throws, pillows, and wall hangings. Kittrich picked up two major artists for drawer liners, decorative coverings, borders, and more: Debbie Mumm and Mary Engelbreit. Challis & Roos predicts the majority of its growth in 2003 will come from home and bath decor.
Forecasts
Expect a rush for infant and juvenile products as Mary Engelbreit and Flavia further explore kiddy goods.
Also expect to see a lot more of the creative types on TV, as artists become more comfortable in marketing roles.
Home will continue to lure artists-Flavia Home keeps on its search for tabletop, kitchen, bed, and bath linen partners.
Beware of flattening of the market-although most say they haven't felt a plateau yet, one major art licensing agent reports a softness in soft home goods. Look to crafting goods, not just scrapbooking, to be the next frontier.
Get used to seeing more agents working the art beat, from all walks of licensing life. Whereoware, the Web-based giftware marketplace, is launching a program made specifically to help new-to-licensing artists market themselves; a new company called transForms is developing a system designed to give artists more control in the merchandising and distribution process.
Artwork of girls-such as The Girls (MHS), Girlfriends (Levison), and So Girly (Art Impressions)-continues to thrive, but over-saturation of cutesy chicks bodes ominously. Dogs may be the next Girls, based on the popularity increase in, and proliferation of, several properties such as Wags and Whiskers (from Suzy's Zoo); Crazy Dog; Jazzie (owned by gossip columnist Cindy Adams); Zsa Zsa Zspeaks; Schmitty the Real New Yorkie; and Carole Wallace's illustration of Hank-in-couture (an illustration of a fashionable dog that inadvertently was featured in an unrelated article in a gift trade magazine).
Brands
Trends afoot: Georgia Boot took on footwear initiatives for Hummer and John Deere. Ducks Unlimited renewed for men's casual footwear with Phoenix Footwear (which acquired DU's existing licensee, H.S. Trask & Co.); DU women's footwear is on the horizon. Rugged footwear brand Red Wing chose LMCA as agent to expand the brand into apparel.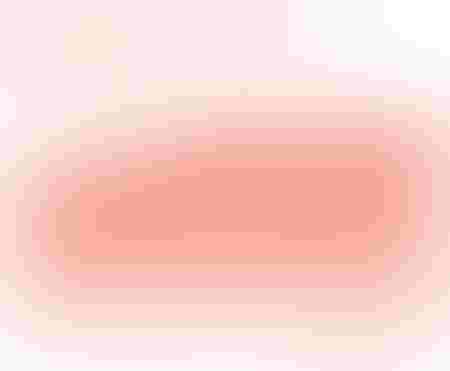 Apparel actions: T-shirts, more than ever before, became an OK category for corporate brands to enter. Though some P&G trademarks still forbid it, other household brands are going into casual apparel in a big way. Masterfoods USA characters and General Mills' icons such as the Pillsbury Doughboy, Green Giant, and Sprout joined forces with T-shirt maker Logotel; Dubble Bubble (handled by Licensing Link) signed Trau & Loevner for tops and Self Esteem Clothing for apparel; Popsicle (Broad Street Licensing Group) also teamed with T&L for tops and other firms for teen and 'tween fashion and accessories. Tabasco entered the ever popular-for-food-brands category of boxer and lounge pants via MJC. Kellogg's took its Special K trademark into activewear via Bruce Brown Fashions.
Motor news: HumVee signed with Global Icons; Nissan/Infiniti signed EMI; Volvo signed The Beanstalk Group; Toyota Racing signed TRD. Ford (The Beanstalk Group), Dodge (Brand Sense Marketing), and Chevy (EMI), partnered with apparel and caps maker Next, Inc. Italian scooter brand Vespa (handled by Brand Sense Marketing) seeks apparel and accessories partners. Cadillac (EMI) has set its sights on an urbanwear line. Dodge Ram work and ranchwear bowed via Old Toledo.
Personal-care alliances: Lycra teamed with Coty for branded cosmetics (via Moda International); Cover Girl launched colored eye contacts through Ocular Science, and Olay ventured into cosmeceuticals (a.k.a. supplements that help enhance skin and health) with licensee Pharmavite (both brokered by Nancy Bailey & Associates). P&G brands Old Spice and Noxzema licensed personal-care supplier Universal Group for razors and shaving accessories. General Mills signed with Ecolab for Doughboy-shaped dispensers of foaming hand soap.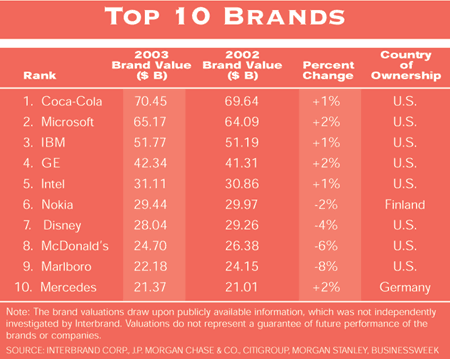 Secure home and health: Handgun brand Smith & Wesson, handled by LMCA, seeks to branch into the home security category, plus brand safety equipment such as goggles. Samsonite carries on a search for a licensee for lawn/garden/garage organization. John Deere joins the hunt. Motorola seeks partners via LMCA for home environment products, such as indoor ionizers, air treatment products, and thermostats. DuPont also is interested in the home environment category. Westinghouse (LMCA) teams with Salton for an uber-powered, battery-operated vacuum cleaner. For the Timex health-care division, the brand launched a medicinal thermometer with a patent-pending hook design, Indiglo technology, and a memory device via licensee Medport.
Kitchen goods: General Mills introduced four new Betty Crocker-branded small appliance skus by Franklin Industries, including a coffee maker, and its Pillsbury brand extended into cookware via Creative Chefs. Betty Crocker also moved into furniture, with Home Styles, a division of DMI Furniture, for ready-to-assemble kitchen carts, kitchen islands, and butcher blocks. Mr. Coffee, owned by American Household/Sunbeam, debuted consumable coffee product; Sunbeam itself is about to announce a deal in cookware; and Sunbeam and sister brand Grillmaster are seeking licensing partners in the grill category. Dixie, the convenience serveware brand repped by Nancy Bailey, extended into soft-sided meal carriers and insulated coolers via InGear Corp., paper and vinyl tablecloths through Best Brands, and kitchen accessories such as baking cups, bag clips, and toothpicks with Navajo.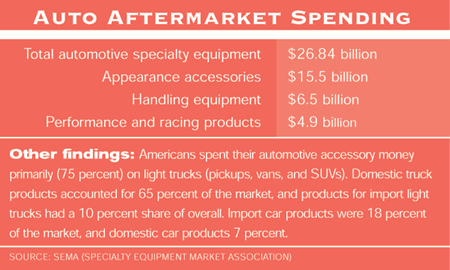 People and trends: Lynne Chappel left Campbell's Soup to expand Dupont's licensing program, while David Oates, formerly of Equity Management Inc., joined the soup-famous firm. Four Beanstalkers left to start their own shop-Brandgenuity-and landed Snapple and also two Time Inc. titles, Sports Illustrated and Field and Stream. SloaneVision Unlimited, Global Icons, and Licensing Link delved into brokering art brands.
Toys, games, and hobbies: Masterfoods USA partnered with sporting goods products maker GameMaster and with scrapbooking supplies firm EK Success. General Mills moved its cereal brand characters into scrapbooking via Paper Adventures, and Eastman Kodak got into the scrapping category via RoseArt (in conjunction with Kodak's Picture Maker kiosks). Pillsbury Doughboy teamed with Applause for plush and gift. Yamaha launched into video game consoles with Gemini. John Deere launched its first battery-operated toy via Peg Perego.
Forecasts
More high-quality corporate brands and manufacturers, hitherto shy about licensing, will lose their inhibitions. Corporate brand agencies report a record number of inquiries in the last 12 months.
As the country's fixation on the national "obesity crisis" takes shape, expect changes on how food and beverage brands market their core and licensed product to youthful consumers. From serving sizes to in-school vending machine content, a shakedown is on the way. It will be interesting to see what difference, if any, this trend makes for the branded snack-making toy category and co-branded foods sporting kids' characters, and if exercise brands rev up their licensing programs.
Women will be the next frontier for car brands, if and when the love affair between vehicles and young tuner market kids starts to mellow. Auto/moto model making is on the uptake-expect more vehicle brands to develop this category.
Character
Retail hits: Nostalgic superhero icons such as Spider-Man (Sony Pictures Consumer Products and Marvel Enterprises, Inc.) were best-sellers in 2002 and paved the way for a re-awakened interest in comic book heroes and larger licensing programs for subsequent films including the Hulk. Hasbro's Transformers was the No.1 selling comic book in the U.S. in 2002, with more than 200,000 copies sold. Retro property American Greetings' Care Bears generated $70 million in sales during 2002 by targeting multiple demographics from edgy juniors to new moms.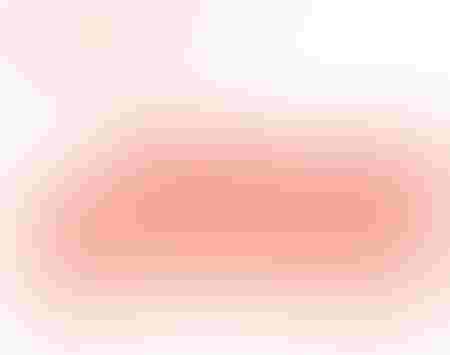 Star appeal: Movie properties such as Harry Potter, Star Wars, and Spider-Man were among the leading toy licenses. Footwear and collectible cards were among the growing categories. Yu-Gi-Oh! collectible cards and booster packs (Konami) led the card category, while Nickelodeon's Dora the Explorer, Sesame Workshop's Dragon Tales, and MGA's Bratz were among the thriving juvenile footwear licenses in 2002. Among the emerging product categories: karaoke-themed products, character-branded confectionery, recreational board games, and water-based toys.
Retail mainstays: Properties that maintained their retail momentum in 2002-2003 via creative new product categories and skus included Nickelodeon's SpongeBob SquarePants and Dora the Explorer, Scholastic's Clifford the Big Red Dog, Sanrio's Hello Kitty, and Warner Bros.' Scooby-Doo. Among book-based properties with merchandising appeal were Harry Potter (Warner Bros. Consumer Products) and Lord of the Rings (New Line Cinema). Format changes at Sesame Street led to updated themes in Elmo toys from Fisher-Price-including Chicken Dance Elmo-while HIT's recasting of Barney also saw new themes in products from Fisher-Price. Coming up in 2003: Mattel and Fisher-Price's new Looney Tunes and Baby Looney Tunes toys to hit this year after a long absence from retail shelves.
Super cels: Animated superheroes were strong for boys in 2002. Among them: Nelvana's Beyblade, 4Kids' Yu-Gi-Oh!, FUNimation's Dragon Ball Z, and WB's Superman and Justice League characters. MGA Entertainment's Bratz, Nickelodeon's Dora the Explorer, and Mattel's Barbie were among girls' favorites.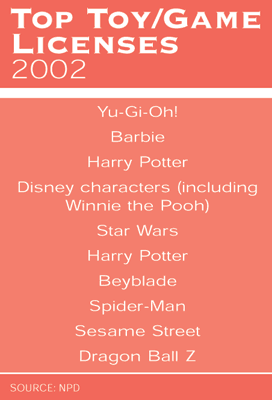 Baby boom: Licensed collections were a mainstay in the baby departments of major retailers in every tier. Among the winners in 2002: Little Suzy's Zoo (Moon Mesa Media), Care Bears (American Greetings/The Joester Loria Group), Disney Baby (Walt Disney Co.), Blue's Clues (Nickelodeon), and Snoopy (United Media). Watch for more book-based properties in the category-including Carter's Eric Carle and "All About A Bear" brands, and "Guess How Much I Love You" (RJM Licensing).
Forecasts
Expect more science-based/exploration-type toys in the early learning category. Products will continue to increase in sophistication-integrating light, music, electronically assisted interactive elements, and role-play. Among those to watch: DIC Entertainment's Mommy & Me, Discovery Kids, and newly launched PBS Kids. Increased content differentiation in the preschool category may bode well for consumer products. Among the key properties to watch for 2003/2004: Boohbah (Ragdoll), The Koala Brothers (Spellbound Entertainment, handled by Big Tent Entertainment in the U.S.), and Caillou (Cinar). A new children's boutique fashion program for Caillou with licensee Romeo and Juliette will debut in early 2004 in upscale specialty stores.
Successful boy properties will combine on-screen appeal with offscreen exploration via consumer products. Among those to watch: Astro Boy (Sony Pictures Consumer Products), Dragon Booster (Alliance Atlantis), MegaMan:NT Warrior (ShoPro Entertainment), Yu Yu Hakusho (FUNimation Productions), He-Man (Mattel), Teenage Mutant Ninja Turtles (4Kids Entertainment), G. I. Joe and Transformers (Hasbro), and Knights of the Zodiac (DIC Entertainment). Other kids' TV properties with licensing potential include The Future Is Wild (The Future Is Wild/Nelvana/Corus Entertainment), Franklin (Nelvana/ Corus Entertainment), Miss Spider's Sunny Patch Kids (Nelvana/Corus Entertainment), itty bitty HeartBeats (LevyMann Entertainment), Silverwing (Bardel Entertainment), and Connie the Cow (Alliance Atlantis).
Vintage/nostalgia will continue as children's brands celebrate important milestones in 2004-among them Sesame Street's 35th anniversary and Disney's Mickey Mouse, who will celebrate his 75th birthday.
Licensing programs that span multiple product categories will prove more alluring for retailers looking for comprehensive retail statements and using a less-is-more approach to selecting licenses due to shrinking retail shelf space. Exclusives will take on life in multiple tiers of distribution with an increased need for faster approval processes on styling and packaging.
Alignment with quick-service restaurants will continue to prove beneficial to licensors. 2002 saw partnerships ranging from Madame Alexander dolls at McDonald's to Justice League superheroes at Subway, and Sagwa at Applebee's.
Growth areas include use of characters in wireless for domestic markets and home decor-including infant and juvenile bedding and furniture.
Entertainment
Cinema power: The top-grossing movies for 2002 with comprehensive licensing programs were Spider-Man, The Lord of the Rings: The Two Towers, Star Wars: Episode II-Attack of the Clones, and Harry Potter and the Chamber of Secrets. Net sales at Marvel Enterprises (which handled Spider-Man movie licensing initiatives in partnership with Sony Pictures Consumer Products) increased 99 percent to $79.6 million, up from $40 million in 2001. Lucas Licensing estimated its Star Wars: Episode II licensed products will see retail sell-throughs in excess of $1 billion for year-end 2003. While 2002 was less of a theatrical powerhouse than 2001, studios were busy pitching the movies of 2003, 2004, and 2005, including Hulk (2003), which garnered some 300 licensees worldwide.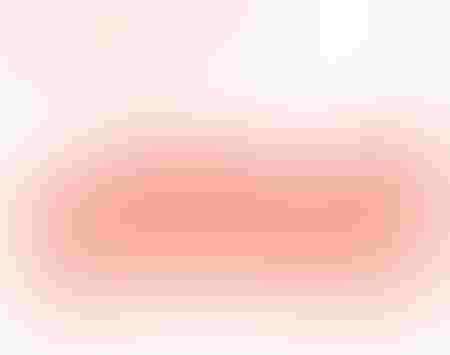 TV appeal: Comedy Central's Crank Yankers TV show expanded beyond its exclusive run at Hot Topic Stores. HBO's The Sopranos got into the food aisles with a line of frozen pizzas and bruschetta-following in the footsteps of successful celebrity programs such as Paul Newman dressings and mixes and Iron Chef sauces. Discovery Communications' Trading Spaces extended beyond licensing in publishing, board games, and calendars, recently announcing a comprehensive home decor launch planned for 2004 including bedding, lighting, wall decorations, and accessories. Spike TV's new Ren & Stimpy Adult Party Cartoon saw a Hot Topic exclusive in September; new licensees include Balzout (T-shirts), Briefly Stated (boxers and loungewear), Baby Boom (cuddle pillows), and Palisades Toys (collectible figures). A line of merchandise from 20th Century Fox series 24 is set to debut at retail later this year. Pamela Anderson of Stripperella, V.I.P., and Baywatch fame launched Pamela Anderson International Licensing LLC and looks to license products ranging from casual apparel to eveningwear, intimates, home decor, and childrenswear. Jakks Pacific's Flying Colors signed a license with FreMantle Media to develop American Idol-branded fashion and beauty accessories targeting 'tweens and teens.
Forecasts
Watch for sequels to the movies that had punch in 2002/2003. Among them: The Matrix Revolutions (holiday 2003), Lord of the Rings 3: The Return of the King (December 2003), Scooby-Doo 2: Monsters Unleashed (March 2004), Shrek 2 (June 2004), Spider-Man 2 (July 2004), Star Wars Episode III (spring 2005). The key will be to create meaningful licensing programs that do not merely duplicate previous product lines.
Studios will remain focused on the tried-and-true-whether a successful book-based property, nostalgic film/TV series, or current TV hit. 2004-2005 also will see the likes of Marvel superheroes The Punisher (summer 2004) and Daredevil (part 2, 2005), and classic drama/adventure in Thunderbirds
(summer 2004), Underdog (summer 2004), and Lone Ranger (fall 2004). From book-based properties, watch for Warner Bros. Pictures' The Polar Express (holiday 2004, anticipated) based on the Chris Van Allburg children's book and including such stars as Tom Hanks and Robert Zemekis, and Paramount Pictures' A Series of Unfortunate Events (holiday 2004), based on the Lemony Snicket novel and starring Jim Carrey as Count Olaf. As for the monster/horror fetish, keep an eye out for movies such as Van Helsing (2004), which features the wealth of Universal's monster archive-including Dracula and Frankenstein.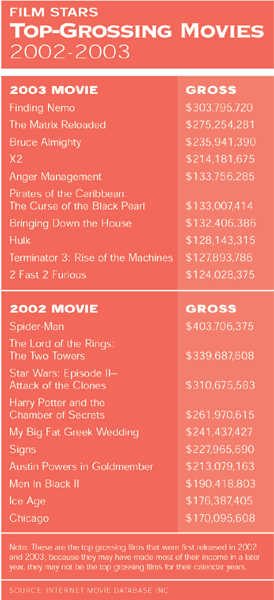 Support for long-term franchises will include sustained presence via new media-whether a television series; interstitials, as seen in the upcoming Star Wars: Clone Wars programs premiering on Cartoon Network this fall; or big-screen firsts, such as Nickelodeon's upcoming SpongeBob SquarePants movie (November 2004)-based on the television series and supported by new product lines for children, 'tweens, and teens-and Warner Bros. Pictures' Looney Tunes: Back in Action (November 2003) in a combined live-action animation format. Finding Nemo, a Disney/Pixar release, topped the box office in 2003-demonstrating that animation can appeal to multiple demographics.
QSRs and promotional partners tied to movie releases will help feed the initiative to keep consumers thinking about a movie after the box office visit. Expect to see more movie-related licensing in nontraditional areas, such as the automotive aftermarket, as seen in licensing efforts for Universal Studios' The Fast and the Furious-which captured the furor of fast cars and racing.
Fashion
Fashion exclusives: Federated Stores took on the Shady Collection by Eminem as an exclusive. Bisou Bisou entered into an exclusive agreement with JCPenney. The brand was traditionally sold in better department and specialty stores in the contemporary women's sportswear areas. The deal calls upon JCPenney to source and manufacture the merchandise, while Bisou Bisou owners and designers Michele and Marc Bohbot continue to design the line. The line was planned to be extended by the retailer into maternity, swimwear, and lingerie. JCPenney also negotiated with Oscar de la Renta for a mid-tier priced collection by the designer. Levi's opened new doors of distribution, negotiating for Levi's Signature exclusive to Wal-Mart. Kmart launched a clothing line from Latin entertainer Thalia. The collection includes apparel for women and girls, accessories, footwear, and lingerie. Limited Too signed an exclusive footwear deal with Reebok. The line features 11 styles and exclusive colors.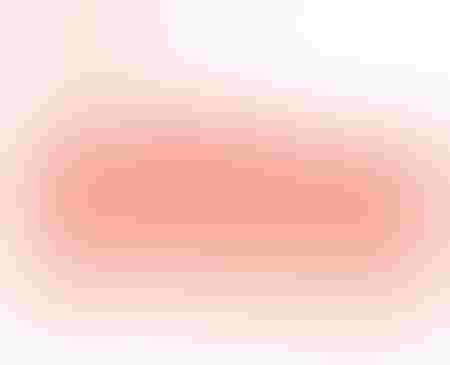 Right fit: Phillips-Van Heusen Corp. purchased Calvin Klein Inc. for approximately $550 million. Perry Ellis International Inc. acquired Salant Corp., the menswear company's biggest licensee for $91 million. Phat Farm made a deal with Kellwood Corp.
Real estate: Skechers USA further planted its feet in the licensing business, signing watches early in 2002 (its second license behind socks) and outerwear this summer. The company also announced plans for a retail store in New York's Times Square. Quiksilver opened its 3,300-square-foot Boardriders Club store in New York's Times Square.
New entry: Rapper and musician-turned-actor ICE-T launched ICEWEAR, a young men's urban apparel collection, with AmeriCo Group. P. Miller Shorties (whose origin is from Master P. and L'il Romeo) added girls' and junior apparel, and footwear (for boys, men, girls, and women) to its existing boys' and men's collection. Denim brand Zana-di began taking steps in licensing, signing for handbags (Worldwide Dreams) and infant/toddler apparel (Baby Togs). Johnston & Murphy, the men's footwear line made of the finest Italian leather and stitching, named London- and New York-based The Licensing Company as agent. There are plans to expand to small leather goods, cloth outerwear, golf accessories, eyewear, watches, and maybe formalwear.

Hot deals: Co-branding was the order of business for big men's apparel firm Big Daddy as it partnered with interactive player Xbox and entertainment studio MGM. The deals called for the use of Big Daddy apparel in video games, and in MGM properties Barbershop 2, Soul Plane, Colors Straight Up, and Cody Banks 2. Similar deals apply for jeans- wear company OTB as it continued its partnership with Universal's The Fast and the Furious, endorsing the second 2 Fast 2 Furious; also in video games.
Forecasts
Although top fashion designers such as Ralph Lauren have long been licensing home decor, others are taking their penchant for design to the home market. Menswear designers Joseph Abboud and Ron Chereskin, and Woolrich Inc. all entered the market. Other areas of interest in licensing: cosmetics and fragrance.
Co-branding within the interactive/video game and entertainment (TV/movies) categories will continue with up-and-coming fashion brands.
Music (think hip-hop, rap) will continue to make its mark in the fashion community. Sean John has managed to create a lifestyle collection that continues to expand beyond apparel. On that note, streetwear persists in the fashion arena as a main category.
Further retail consolidation and the uncertainty of some independents will upset the current retail/real estate environment. In addition, the merger/ acquisition of large designer fashion firms continues to change the fashion landscape, as some houses opt to grab market share at a host of distribution channels. Retail exclusives in the fashion market continue to further separate mass from class.
'Tween and teen consumers continue as the most viable consumer demographic.
Home
Fashion flair: In apparel-inspired home collections, manufacturers offered fashionable takes on bedding ensembles through use of silk, jersey knit, and ultra-suede materials, and fabrics such as denim or the nylon associated with outerwear. Menswear designer Ron Chereskin moved into home with moderately priced bedding ensembles (Brittanica Home Fashions), coordinating shower curtains (Maytex), and bath accessories (Tobin Home Fashions). Carpet One rolled out the exclusive Liz Claiborne flooring line. Century Furniture and Oscar de la Renta's home decor line brought together the lifestyles associated with the designer's country estate in Connecticut, his island home in the Dominican Republic, and his New York City apartment. Designer Karen Neuburger signed a license with Simmons Co. for mattresses featuring customized head and leg configurations and massage capability. She also forayed into juvenile bedding at Crown Crafts Infant Products.
Celebrity style: Actress and model Jaclyn Smith's coordinated bedroom, dining, and occasional pieces at Largo Furniture now are offered in three collections: Georgian Meadows (Southern-influenced design); Le Domaine d' Elegance (modern approach to historical designs); and Manhattan Silhouette (casual, urban looks). The designs of Herculean actor Kevin Sorbo's 30-sku collection at Boyd Furniture were inspired by the actor's love of southern France. Thomasville's Humphrey Bogart collection saw strong buy-in with major retailers.
Historic home: The Court of Versailles Foundation revamped its home strategy, signing Springs as its cornerstone home partner for bedding and bath. The Museum of New Mexico launched its Traditions Made Modern Collection with licensees including RomWeber Co., case goods; Sam Moore, upholstery; and Shaw Rugs, wool rugs. Madison Square Furniture captured the diversity of the home furnishings in Thomas Jefferson's Monticello home via inspiration, reproduction, and adaptation pieces. "Antique-inspired" looks also embellished home products. Pulaski Furniture's Antique Furniture collection was inspired by photographed pieces from the Antiques Roadshow archives. Lane Home Furnishings' Eddie Bauer collection presented a modern approach to antique carvings, finishes, and furniture assembly.
Art movements: Pop art king Andy Warhol's home products will be introduced to the U.S. market (the brand already has a presence in Europe) in better and specialty stores next year, due to deals brokered by The Beanstalk Group on behalf of The Andy Warhol Foundation. Artist and wildlife conservationist Lynn Chase translated three designs into complete bath solutions at CHF Industries, including shower curtains, towels, rugs, and wastepaper baskets. Ceramicist Jonathan Adler launched a moderately priced collection called Adler Happy Home through Ripe Ideas. At Springs, artist and instructor Donna Dewberry forayed into infant bedding. Artist Leslie Beck and The Wildflower Group LLC signed on Dan River for bedding and room decor accessories, and Jay Franco & Sons for kitchen, bath textiles, and bathroom accessories. The collections are dubbed Leslie Beck American Casual. Dinner-ware licensee Certified International introduced a line of products at Bed Bath & Beyond that featured artist Jennifer Brinley's (represented by Ruth Levison) happy chef and rooster designs.
Character focus: After scaling back their character licenses for the last three years, manufacturers began to test the waters again with character-branded furniture. But they were careful to select licenses with a strong unisex or girl appeal, or that have demonstrated their ability to move at retail. Delta Enterprise Corp. debuted a line of Nickelodeon-branded children's furniture featuring SpongeBob SquarePants, Dora the Explorer, and Blue's Clues. At KidKraft, Strawberry Shortcake (DIC Entertainment/American Greetings) introduced a line of wood furniture that included a kid-sized kitchen. Comfortage Industries debuted Hello Kitty-branded children's upholstered companion chairs. Jay Franco & Sons developed a collection of Jim Henson's Muppet Babies bedding and bath towels. Baby Boom Consumer Products expanded with 10 new licenses for room decor, including Sesame Street and Cat in the Hat.
Brand extensions: Creative Chef is a first-time licensee for Pillsbury cookware. Imperial Schrade is on board for Betty Crocker assorted kitchen knives, while Formula Brands is a first-time licensee for Betty Crocker cookware. Kitchen Aid partnered with Lifetime Hoan to manufacture cutlery, bakeware, and kitchen gadgets. Housewares brand Sunbeam expanded into personal-care products, from foot spas to hair care at Helen of Troy.
Forecasts
Look for manufacturers and brand owners to develop detailed strategies to move product through multiple tiers of distribution, including exclusivity on design, material, and product packaging.
More fashion designers/brands will infiltrate the home furnishings category. Celebrity and historic brands will continue to attempt to create meaningful home programs.
Expect more home improvement/home help brands originating in publishing and television to create home decor programs that tap into their audiences nationwide. Among the ones to watch: National Geographic's home decor program, Good Housekeeping carpeting at Carpet One, Country Living furniture at Lane Home Furnishings, Better Homes and Gardens in partnership with Chief Architect on a home improvement software series, and This Old House and Trading Spaces television programs. Meanwhile, uncertainty remains regarding effects of the criminal charges brought against Martha Stewart, former CEO of Martha Stewart Living Omnimedia-which includes her home empire at Kmart stores and her "signature" line of paint, flooring, and carpet. Keep an eye on Kathy Ireland and actress Jaclyn Smith, both of Kmart fame, and their products targeted to working moms and middle-income families.
Supermarkets and hardware stores will become destinations for tabletop merchandise, including licensed lines. Among those to watch, Hearst Magazines' latest partnership with Tienshan to manufacture a line of Good Housekeeping dinnerware mainly for the supermarket retail channel.
Juvenile/'tween home decor will expand beyond bedding to accessories ranging from wall hangings to decorative pillows. Brands to watch: Crayola (Alco will add Crayola children's furniture and room decor).
Interactive
Sales status: Total U.S. retail sales of video game hardware, software, and accessories surged nearly 10 percent in 2002 over 2001, according to The NPD Group. The video game industry generated $10.3 billion in 2002, surpassing 2001's record high of $9.4 billion. But for first quarter 2003, total dollar sales dipped 2.4 percent, while unit sales rose 7.4 percent over 2002. Video game software (both console and portable software) saw sales gains of 21 percent in dollar volume and sold 15 percent more units in 2002 than the year before. The increase was driven by the success of franchises such as Grand Theft Auto: Vice City, Madden NFL 2003, Super Mario Sunshine, Spider-Man: The Movie, Halo, and Tom Clancy's Splinter Cell, NPD reports. For first quarter 2003, sales increased 6.5 percent in dollar volume and 1.5 percent in unit volume. Unit PC software sales fell 4.2 percent in 2002, and PC games declined 5 percent in dollars and 3.5 percent in units for the same period during first quarter 2003. 2002 hardware sales decreased by 4 percent, down to $3.5 billion in 2002, but unit volume climbed 10 percent-all a result of a reduction to nearly one-third of their original price of hardware systems including Game Boy Advance, GameCube, Sony PlayStation 2, and Xbox, according to NPD. This opened the door to the mass market. For first quarter 2003, dollar sales fell 12.6 percent, while unit sales increased 16 percent.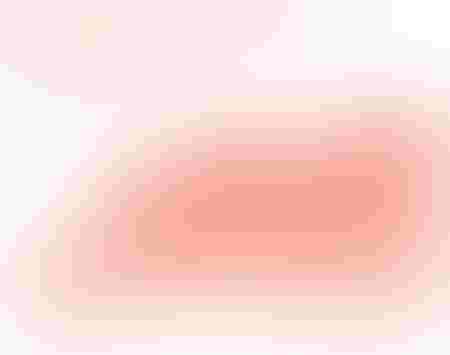 Platform news: The handheld market heated up with Sony Computer Entertainment Inc.'s 2003 announcement of its new all-in-one portable entertainment platform called PSP. The platform is set to launch in fourth quarter 2004. The PSP's price (undetermined as of press time), features, and library of available games will determine its effect on competitor Nintendo. In 2003, Nintendo expanded partnerships with independent publishers for exclusive games; introduced new forms of connected play between its console and handheld systems; and enabled players to race the F-Zero circuit, co-developed by Sega, in parallel at home or in commercial arcades. Microsoft expanded its Xbox Live gaming service (players can keep in contact via any Web-enabled device), Xbox Music Maker (users transfer MP3s and digital photos from the PC, create their own music mixes, and sing along with the songs), and XSN Sports software (Xbox Live players participate in virtual gaming leagues, check their stats, and are notified via cell phone when a new match is starting) in 2003.
Corporate moves: Take-Two Interactive purchased TDK Mediactive, Inc., a publisher of video game franchises based on licensed properties such as Shrek, Pirates of the Caribbean, The Muppets, and Masters of the Universe. An old video game brand returned, as publisher Infogrames, Inc., officially changed its name to Atari after publishing several games under that moniker. 3DO filed for bankruptcy in May; its Street Racing Syndicate franchise was bought by Namco, the rights to the High Heat baseball series went to Microsoft, and the assets of Might and Magic and Heroes of Might and Magic were sold to Ubi Soft.
Movie madness: Film-based video games continued to draw consumers, including those released in 2002 based on movie franchises such as Star Wars, James Bond, Lord of the Rings, and Spider-Man. For 2003, Atari's Enter the Matrix and T3: Rise of the Machines and Vivendi Universal Games' The Hulk have been big hits, while Electronic Arts' Lord of the Rings: The Return of the King is one of the most anticipated movie-based video games expected later this year, according to Richard Ow, senior account manager, The NPD Group, Inc./NPD Funworld/ Video Games.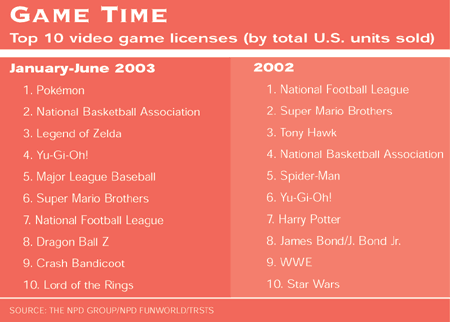 Kid focus: More and more video game developers and publishers targeted kids ages 10 and under in the hopes they will become lifelong gamers. Some 30-plus games in the Early Childhood and Everyone categories were introduced at 2003's E3 Expo, many of them based on well-known licenses such as SpongeBob SquarePants, Barbie, Power Rangers, and Disney Princesses, plus new licenses such as Finding Nemo.
New strategies: Sony's The Getaway, a "cinematic video game" complete with actors and a script, was developed with the aim of turning it into a movie or licensing out the property into other categories. Atari's' Enter the Matrix was intertwined with Warner Bros.' movie sequel, The Matrix Reloaded, and included footage written by the film directors exclusively for the game. Nickelodeon and THQ's joint project, Tak and the Power of JuJu, was created with the idea of turning it into a TV series rather than taking a successful program and licensing it for a video game.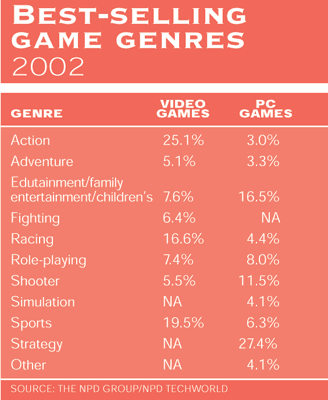 Cool concepts: Radica will manufacture EA-branded Play TV games (peripherals with games built in that plug into a TV). Nintendo's Game Boy Advance attachment, the e-Reader, gives users access to some video games by scanning bar codes on Nintendo-licensed paper trading cards instead of buying the actual games. Sony Computer Entertainment America introduces this month the EyeToy, a USB camera that uses motion-tracking technology to project video game player images on-screen. Terra Forge, Inc.'s technology, Asgard Gaming Community, creates online games players can access using any platform and then resume game play on another platform in a different location. Mobile greeting cards will liven up cell phones, the result of an agreement between Moviso LLC and Americangreetings.com.
Forecasts
The majority of growth in the interactive market will come primarily from software sales, according to NPD's Ow. The software category is growing 14 percent in terms of units. Software will continue to fall steadily in price, but as the consoles become more mass-market-oriented, there will be a lot more purchasing of software at all price points, Ow believes.
Consolidation in the video game software market will continue. The smaller companies have talent, but they often don't have sufficient R&D and resources to support a license and fuel great product, Ow says. It makes sense for them to be taken over by stronger, larger companies.
Licensed sports video games will continue to be best-sellers, particularly football.
The handheld market will continue to be dominated by Nintendo, because that's where most kids start with video games and also because of the price point advantage ($99 versus $199 for a console system). That said, Nokia's N-Gage and the upcoming Sony PSP will grab some share. And in this portable society, the competitive situation can change quickly.
Online gaming will continue to be part of the video game evolution, creating a social environment with multiple players in different locations, Ow says. Connectivity is the key as it propels rapid expansion.
Expect PC games to continue to expand, although they won't reach the same demographic as console games-role-playing and strategy games will continue to dominate for the PC, attracting older users rather than kids, Ow says.
Publishing
Sales status: Book sales were on the rise in 2002, increasing 5.5 percent to an estimated $26.87 billion by the Association of American Publishers (final numbers will be released in a few months). Leading the way were strong sales in the college segment to nearly $3.9 billion and an 11.7 percent rise in sales of mass-market paperbacks to $1.73 billion. The trade segment also had an 8.8 percent sales increase to $6.93 billion. The adult trade segment outpaced the children's segment, with adult hardcover sales up 11.8 percent and trade paperback sales 12.1 percent. Children's hardcover sales bounced back from a 22.7 percent dip in 2001 to post a 3.1 percent sales increase, while children's paperback sales declined 1.3 percent.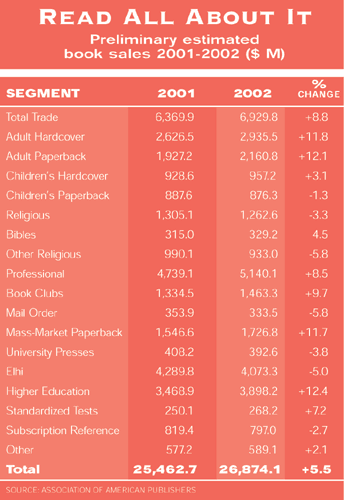 Retail exclusives: Retailers are diversifying store shelves with exclusive licensing deals and the addition of higher margin items such as videos, DVDs, and games. Barnes & Noble took the lead on "Miffy and Friends" and "Olivia" with books, plush, toys, and other gift items nestled in its children's area. The retailer is also a big supporter of Don't Quote Me, a new adult board game based on the most memorable lines of our times. Similarly, Borders broadened its horizons signing a non-binding deal with FAO Inc. to help select, manage, and provide the inventory for the books, music, and video departments of its FAO Schwarz, Zany Brainy, and Right Start stores. Borders began testing toys and educational products this fall from FAO in nearly 25 superstores and 12 Waldenbooks.
Magazine extensions: Hearst Magazines created programs for House Beautiful with May Department Stores and Country Living with Lane Furniture and other partners. National Geographic secured 50 licensees and shows off its new home program this month at High Point. Primedia Enterprises/International is executing licensing programs for Hot Rod, Super Street, Low Rider and Hot Bikes/Street Chopper, and Motor Trend.
Celebrity penmanship: Madonna wrote the first of five books for The Penguin Group/Callaway Productions. The first, "The English Roses," hit shelves in mid-September. Julie Andrews and her daughter, Emma Walton Hamilton, collaborated on a new HarperCollins imprint called the "Julie Andrews Collection." The first four titles will be on shelves this fall. HarperCollins Children's Books also signed a two-book deal with Billy Crystal with "I Already Know I Love You," a picture book about the birth of Crystal's first grandchild due next April; the second will be another illustrated book. The Duchess of York Sarah Ferguson released "Little Red" with Simon & Schuster accompanied by a licensing program from master gift and plush licensee Applause LLC. Jay Leno teams with Simon & Schuster Books for Young Readers on a picture book, "If Roast Beef Could Fly," scheduled for summer 2004 and based on a true story from Leno's childhood.
Japanese manga: Retail sales from manga (Japanese comics) amount to approximately $40 million per year. Launched this year in the U.S., comic-based magazine Shonen Jump fueled America's growing appetite for original Japanese manga based on the success of characters such as Yu-Gi-Oh! and Dragon Ball Z in television, video, video games, and trading cards. Shonen Jump U.S. is a partnership between Viz communications and Japan-based Shueisha's Shonen Jump, the nation's largest circulated youth manga magazine. Tokyopop extended its manga business in the UK by partnering with Red Route Distribution Ltd. into more than 2,000 bookstores. Tokyopop also acquired the worldwide license (excluding Asia) to Rave Master, created as a Shonen Jump comic in 1998 with 18 volumes published by Japan's Kodansha. Rave Master will debut as a strip on Cartoon Network's Toonami block in 2004. Tokyopop is looking to license all categories in addition to expanding the publishing program. The company also is collaborating with Courtney Love on "Princess Ai," a shojo fantasy manga series.
Forecasts
Expect publishing to continue as a vibrant piece of strong licensing programs with numerous opportunities to translate book-based properties into viable programs. Keep an eye out for "Guess How Much I Love You," from Candlewick Press-which has a growing list of licensees-as well as "Miffy and Friends" and "Olivia" with the backing of Barnes & Noble. Similarly, books based on popular TV shows, movies, and video games will be a hot button with consumers with newcomers such as The Fairly OddParents (from Nickelodeon) due from Simon & Schuster in spring 2004.
Look for magazines to continue their licensing expansion, with Latina Magazine, upscale publication The Robb Report (from Curtco Media), and National Lampoon all busy laying the groundwork for comprehensive licensing programs in all relevant categories.
Sports
Female lines: All the major men's sports leagues set their sights on women consumers in 2002-2003, producing licensed female-specific lines with a fashion focus, including tapered tops, halters, and lace-up jersey dresses. MLB has seven women's apparel licensees, with hundreds of skus available for all teams. The NBA launched its nba4her women's line. Joy Athletic's upgraded NFL womenswear line hit 1,300 retail doors this year. The NHL has nine women's licensees. A women's MLS line from Joy Athletic launched last year; one from Cutter and Buck debuted this year. The PGA Tour has more than a half dozen licensees that produce womenswear, belts, outerwear, and headgear. The NASCAR women's line from Jerry Leigh launched in spring 2003.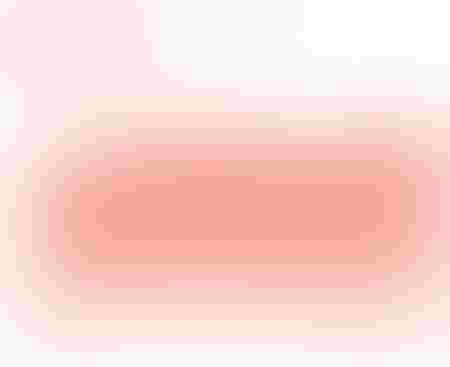 Women's sports: Reebok launched new tapered WNBA uniforms. Including all licensed product categories, the WNBA business exceeded $20 million in sales last year, according to Sal LaRocca, senior vice president, global merchandising group, NBA. The LPGA aims to bring its successful international licensing program to the U.S., naming Summit Properties International its exclusive worldwide licensing agency. The WTA inked a global five-year deal with Italian sportswear company Lotto for tennis performance and sport-inspired apparel, footwear, and accessories, and a tennis ball deal with Tretorn. Prior to the plug being pulled last month on the Women's United Soccer Association because of lack of corporate sponsorship, the WUSA had 12 licensees and was finalizing a deal with a major department store chain.
Category expansion: The NFL Equipment line extended to personal care in a deal with boom!, with product debuting at the kickoff of the 2003 football season. This year, Everlast branched into newborn, infant, and toddler apparel, signing licensee Tawil Associates Inc., and kids' active and sports apparel, swimwear, and outerwear with licensee Success Apparel Group LLC. Everlast also entered a licensing agreement with PAC Paris for a line of beauty care products that launched this month. Ironman Properties inked a multiyear deal with Degree for a line of co-branded antiperspirants, which rolled out in August 2003. The Hockey Company netted a 10-year exclusive licensing and marketing partnership with the NHL that covers fan apparel in addition to Center Ice authentic apparel and replica product. A 2003 agreement with Callaway Golf Company put NHL and NHL team logos on Callaway products and putters bearing the company's putter brand, Odyssey Golf. Huffy Corp. extended its Tommy Armour, Teardrop, and Zebra brands into Japan with a 2003 licensing agreement with CACOS Sports Equipment. Huffy also signed a deal with Rilora Knitting Inc. for Tommy Armour Golf, RAM Golf, and Hespeler Hockey-branded sports socks in the U.S., Canada, and Mexico. Major League Baseball expanded its relationship with Majestic Athletic, naming the licensee the exclusive MLB Authentic Collection provider of on-field game uniforms, batting jerseys, outerwear, T-shirts, fleece, and turtlenecks, with retail distribution rights for replica game, batting, and Cooperstown Collection jerseys beginning with the 2005 season. Sports equipment manufacturer Riddell, Inc., selected Banyan International to develop and launch a line of Riddell-branded apparel this fall. The NBA debuted this fall NBA Bigman, apparel and accessories for big and tall fans of the league. Vaughan Furniture Company came on board to produce the NASCAR Officially Licensed Home Series of furniture.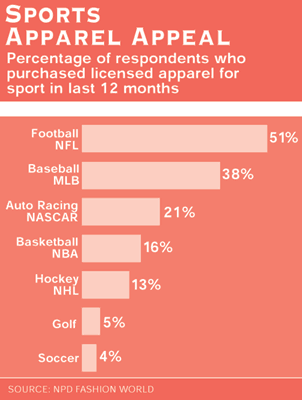 Retro fever: "Throwback" jerseys priced between $250 and $500 and branded with the logos of professional league sports teams and legends of yesterday were big in urban markets. Product from new vintage brand Black Fives (which represents a collection of amateur and semi-pro all-black basketball teams that predated the NBA, playing from the 1910s through late 1940s) hit retail shelves this fall.
Forecasts
Expect to see even greater investments in and expansion of women's lines for men's major league sports. MLB is in talks to add a women's fragrance line, with an anticipated 2004 launch. In the next three to five years, the NFL's women's lines have the potential for being 15 percent of the league's overall licensed business, according to Susan Rothman, senior director,consumer products. The NFL seeks to add women's apparel licensees, and is considering women's swimwear, accessories, and personal care. The NHL's women's line is expected to be 5 percent of the league's business by the end of 2004, with the potential to ultimately be between 7 and 10 percent, says Brian Jennings, group vice president, consumer products, NHL. Women's skin care and cosmetics are potential categories for expansion. For fall 2004, the NBA plans to expand its women's line into handbags and hair accessories. A 50 percent increase in the NBA's women's business is anticipated over the next three to five years, according to the NBA's LaRocca. The PGA Tour is exploring a partnership for a line of women's lifestyle wear and accessories. In addition to pushing its women's line into the upstairs/department store channel and achieving better representation in sporting goods stores, NASCAR is interested in the health and beauty category.
Look for burgeoning licensing programs in women's sports. The WNBA is exploring video games. The LPGA primarily is looking for U.S. apparel licensees, although other potential categories include home furnishings, lifestyle, jewelry, footwear, and publishing. The WTA's licensing program rolls out in January 2004. Dave Larson, WTA vice president, marketing and communications, predicts retail sales will be in the "single million digits in the next three to five years."
The NFL foresees a pickup in the popularity of alternate colored product, according to Rothman. The retro influence will continue in all channels of distribution. Accessories such as knitted headwear, sunglasses, scarves, and gloves will continue to gain a presence as retailers extend the reach and depth of NFL product.
Players Inc expects retail sales of licensed products to climb by 5 percent next year, putting it in the $725 million-plus range, according to Clay Walker, senior vice president, Players Inc. The Players Inc licensed fantasy football game will continue to be its fastest growing category, with revenues increasing by more than 20 percent annually. Licensed collectibles and memorabilia also will continue to grow rapidly.
2004 should be a strong year for MLB apparel, now that the league has fine-tuned its business model and streamlined its suppliers. In 2005, MLB will take supplier exclusivity to another level in headwear, fleece, T-shirts, and jerseys, according to Howard Smith, senior vice president, licensing, MLB. "At retail, we'll continue to be strong with Modell's and the newly merged Gart's/Sports Authority." Smith hopes the debut of basketball phenom LeBron James in the NBA will have a big impact on NBA trading cards and thus jumpstart MLB card sales.
NBA merchandise sales are expected to increase by more than 60 percent versus last year, with overall sales exceeding $3 billion by the end of the 2002-2003 fiscal year (September 2003). The league projects an additional 20 percent increase in retail sales during 2003-2004. The NBA Footwear Collection by Reebok will unveil another 15 styles this season following last year's launch. The league will team with its three trading card partners on a national trading card promotion.
The NHL is projecting its licensing business to increase to approximately $1.5 billion for the 2004 fiscal year. The NHL's Vintage Hockey Program will be a huge focus for the league this year. G-III will introduce a retro fashion line for both men and women. The youth category also will be a priority in apparel, video games, toys, and games. At retail, the NHL will roll out exclusive labeling programs with Wal-Mart and Target.
Coming in 2004 for Major League Soccer, according to Stuart Crystal, vice president, marketing and consumer products: home video titles on DVD; re-introduction of MLS trading card sets; MLS fashion leather accessories; a soccer-inspired fashion sportswear collection for mid-tier distribution; MLS authentic soccer jerseys expanding their presence at better athletic chains (new distribution for the league).
The PGA Tour plans to expand its licensee base within each category, moving from exclusive relationships to non-exclusive deals. The Tour also decided to outsource the day-to-day licensing function to five agencies around the world. It is exploring direct-to-retail relationships and retail channel strategies that will showcase the brand in multiple market tiers.
With Nextel on board in 2004 as the title sponsor of NASCAR's premier national series (formerly the NASCAR Winston Cup, now the NASCAR Nextel Cup), NASCAR will pursue kids-oriented licensed categories such as video games, toys, and phones for the race series. There are significant growth opportunities in the electronic retail channels on the Internet with NASCAR.com and further development of televised shopping shows in 2004.
The Collegiate Licensing Company has high hopes for its HBCU apparel lines; NCAA co-branded product from VF and Zephyr; throwback jerseys by Nike, 29/34 Vintage, Russell, adidas/Valley Apparel, and Majestic; and EA's March Madness 2004 basketball video game (November 2003 launch). Home Depot and Lowe's will bring in collegiate rugs from Burlington and Miliken. Bed Bath & Beyond will bring in collegiate domestic licensees such as Biederlack and Northwest.
Retail
New formats: To compete with big-box retailers, Sears opened late last month in West Jordan, UT, the first Sears Grand, a 210,000-square-foot store (more than double the size of its average mall store) with traditional offerings, plus groceries, greeting cards, music, movies, and books. Sears also sold off its credit and financial products business to Citigroup. Target rolled out a new single-entrance prototype in two markets this month. Additional plans: trimming back men's apparel, home improvement, automotive and sporting goods this fall in all new Target Stores to make room for more snacks, beverages, dairy, and frozen foods, plus a revamp of the Marshall Field's store in Chicago. JCPenney reached out to young consumers with three new private-label brands: Bisou-Bisou; Emme for plus sizes; and Habernera, a Latino line that will be launched later this fall in roughly half of Penney's 1,100 stores. The retailer will test three 78,000-square-foot freestanding stores in Dallas, Minneapolis, and Indianapolis this fall. A new merchandising strategy is also on tap for the company's Eckerd division. Federated Department Stores will diversify assortments with an eye toward exclusives in home furnishings and apparel. The retailer also will expand its private-label business.
Retail exclusives: Toys "R" Us and DIC Entertainment for Liberty's Kids; Limited Too and United Media for Peanuts 'tween apparel; RadioShack and Ragdoll for Brum radio-controlled cars; FAO Inc. and Fantasma Toys for magic props and toys; Hot Topic and Sesame Workshop for Sesame Street junior apparel; Limited Too and Reebok for 'tween footwear and Mattel Brands for My Scene (one-year exclusive); Petco and Discovery Consumer Products for Animal Planet products; Toys "R" Us and 4Kids Entertainment's technology subsidiary for Tech Toys; K•B Toys and Sears for My First Craftsman toy tools; Lowe's and National Geographic for birdhouses and birdfeeders; Home Depot and Discovery Communications for sponsorship of TV shows Trading Spaces and While You Were Out; Wal-Mart and Levi Strauss for Levi Strauss Signature apparel; Hot Topic and Cartoon Network for Adult Swim merchandise; K•B Toys and 3 Muses for Zodiac Girlz toys; Wal-Mart and Disney for Kim Possible apparel and accessories, toys, stationery, room decor, publishing, and a DVD/video (six-month exclusive); Suncoast and Fox L&M for Simpsons BBQ accessories; Mervyn's and Mary Engelbreit for a line of baby apparel and bedding called Mary Engelbreit Baby; Wilsons Leather and Dale Earnhardt Inc. and NASCAR for a line of leather jackets and accessories; Parrots of the World and Martha Stewart Living Omnimedia Inc. for educational products and other goods for pet owners.
Home decor: May Department Stores announced plans to test small store strategies in an effort to emphasize lifestyle product and target younger shoppers and signed a deal with Hearst for a line of House Beautiful merchandise to launch in 2005 with products ranging from soft home to cookware to crystal-all mirroring the content of the magazine. The line will be the retailer's primary proprietary label at its 362 stores, except Lord & Taylor. At Federated Department stores, seven home stores are due this year, and the retailer will test expanded home departments in many of its full-line stores, as well as diversify assortments with an eye on exclusives in home furnishings and apparel. JCPenney doubled the space of its home department and partnered with home design guru Chris Madden, known for her Interiors by Design show on HGTV and her "home as a haven" philosophy. Bloomingdale's opened its first Chicago store to focus exclusively on home accessories and furnishings. Pottery Barn's new catalog, Pbteen., features home decor for teens. The retailer also signed Oxmoor House as the exclusive publisher of three decorating books released in September. Michaels Stores opened two scrapbooking test stores called Recollections in the Dallas-Fort Worth area this summer. On the home improvement side, Home Depot outlined efforts to target female shoppers, including a focus on appliances and home accessories such as lighting. Lowe's Home Improvement Warehouse began a new home decorating initiative featuring licenses such as Alexander Julian; Laura Ashley; Waverly; Earth Elements; Eddie Bauer; and Nickelodeon's Blue's Clues, Dora the Explorer, Rugrats, Jimmy Neutron, Oswald, and SpongeBob SquarePants.
Kids: Mother's Work, designer and owner of retailers Motherhood Maternity, A Pea in The Pod, and Mimi Maternity, hired The Joester Loria Group to manage the licensing initiatives for the 750-unit Motherhood Maternity. A new licensed sub-brand, Motherhood Baby, is also in the works. First Motherhood Baby products will be available in mid- to late 2004. The Polo Ralph Lauren Corp. opened a Ralph Lauren baby store near its other two Ralph stores on New York's Madison Avenue. The 900-square-foot store is the company's first freestanding U.S. baby retail location and showcases new and exclusive apparel and accessories from birth to size 4, in addition to signature Ralph Lauren classics. Target signed on designer Amy Coe for a limited-edition line of merchandise, which launched with "le cirque des enfants," based on circus-themed fabric. Saks Inc. added toy departments-carrying FAO Inc.-branded educational products, toys, games, books, multimedia products, and candy-in most of its 245 stores. Starbucks signed a license with The Jim Henson Co. for The Muppets, selling finger puppets from Bensussen, Deutsch & Associates and cookies from Monaco Baking.
Mass market: Despite financial woes, Kmart continued to embark on new initiatives, including Tea Leaf, a lifestyle and entertainment publication with editorial and product offers tailored to its
Asian-American customers; Urban Direct, a weekly entertainment and lifestyle supplement targeted at urban and African-American consumers; and its exclusive Thalia Sodi Collection, a bid by the retailer to reach out to its Hispanic customers and regionalize its mix under a plan called "the store of the neighborhood." Kmart also tapped Grey Global Group as its primary ad agency to help launch its new third-quarter advertising and marketing campaign.
With NASCAR On Tour at Wal-Mart, the retailer utilized its 10,000-square-foot parking lots to showcase NASCAR show cars, simulators, and interactive exhibits. Wal-Mart plans to open its first store in Chicago by spring 2005 and perhaps one in New York eventually. The retailer will use more than $11 billion in fiscal 2004 to build new stores and make acquisitions, Chairman Rob Walton said at the company's annual meeting. Between 280 and 305 new stores are planned, (200 to 210 supercenters, 45 to 55 discount stores, 15 Sam's Clubs, and 20 to 25 Neighborhood Market stores). Wal-Mart sold its McLane Co. wholesale distribution business to Berkshire Hathaway, and will phase out its Kathie Lee Gifford apparel line by year-end.
Target announced plans for 80 new stores-23 in the SuperTarget format. Overall the chain will spend $3.2 billion to $3.4 billion on capital projects for the fiscal year ending January 31, according to company reports.
Dollar General announced plans to open 650 new stores by the end of the third quarter.
Closings: World Wrestling Entertainment shuttered the doors of its ailing wrestling-themed restaurant and retail store in New York's Times Square. Best Buy shuttered 110 Sam Goody and Suncoast music stores. May Department Stores closed 32 ailing Lord & Taylor locations. Walt Disney Co. hired Bear Stearns and Goldman
Sachs to help find a buyer that would pay Disney royalties for its ailing retail division.
Bankruptcies: Westpoint Stevens, Clothestime, and Fleming Cos. all filed for Chapter 11. FAO Schwarz and Kmart emerged from Chapter 11 in 2003.
Mergers & acquisitions
Retail:
May Department Stores acquired Modern Tuxedo, complementing its David's Bridal, After Hours Formalwear, and Priscilla of Boston operations.

Sports Authority and Gart Sports merged. The 389-store chain now is called The Sports Authority with locations in 45 states and combined revenues of $2.5 billion.

Bed Bath & Beyond acquired Christmas Tree Shops.

Wright Holdings purchased home furnishings retailer Elder-Beerman.

Dollar Tree Stores, Inc., acquired Greenbacks, a 96-unit dollar store.

Starbucks acquired chief competitor Seattle Coffee Co. from AFC Enterprises.

An affiliate of private investment firm Sun Capital Partners Inc. acquired The Musicland Group (which operates approximately 1,100 U.S. stores under the Media Play, Sam Goody, and Suncoast names) from Best Buy Co., Inc.
Entertainment:
An investor group led by Gordon Brothers Group LLC and Palladin Capital Group acquired Spencer Gifts from Vivendi Universal Entertainment. Vivendi Universal also sold its U.S. publishing division, Houghton Mifflin, to a consortium comprising Thomas H. Lee and Bain Capital. General Electric-owned NBC secured exclusive rights to finalize a deal for Vivendi Universal's movie studio and cable networks. Under the terms of the deal, GE would own 80 percent of the newly formed NBC-Universal, while Vivendi would keep 20 percent.

Viacom completed the acquisition of AOL Time Warner's 50 percent interest in Comedy Central.

Cablevision Systems Corp. sold the assets of Nobody Beats The Wiz, a 17-store consumer electronics chain, to liquidation firm Gordon Brothers Group. P.C. Richard & Son then purchased the Wiz's names, logo, intellectual property, and customer lists.

The Henson family acquired The Jim Henson Co. from EM.TV & Merchandising.
Fashion:
Perry Ellis International Inc. purchased Salant Corp., the menswear company's biggest licensee.

Phillips-Van Heusen Corp. bought Calvin Klein Inc.

Nike Inc. bought Converse Inc.

VF Corp., known for its Lee and Wrangler jeans, purchased Nautica Enterprises.
Interactive:
Take-Two Interactive purchased video game publisher TDK Mediactive, Inc.
Kids:
Racing Champions Ertl Corp. purchased Learning Curve International, Inc.; the company now is called RC2 Corp.

The Topps Co. acquired WizKids, a designer and marketer of collectible strategy games.
Publishing:
Meredith Corporation acquired American Baby Magazine and its related properties, and Hearst Corporation purchased Seventeen from Primedia Inc.
Subscribe and receive the latest news from the industry Article
Join 62,000+ members. Yes, it's completely free.
You May Also Like
---