Globetrotting: Canada
Globetrotting: Canada
]> Back-to-school is ranked second only to the holiday season in importance in Canadian retailing. "Canada," observes Mark Northwood, vic

]>Back-to-school is ranked second only to the holiday season in importance in Canadian retailing. "Canada," observes Mark Northwood, vice president, licensing, the Americas, Nelvana, "has one of the most consolidated retail industries in the world, with the top three retailers capturing more than two-thirds of total market share. With significantly lower population density than the U.S., Canadian retailers look to consolidation to remain profitable and competitive against global behemoths such as Wal-Mart and Sears."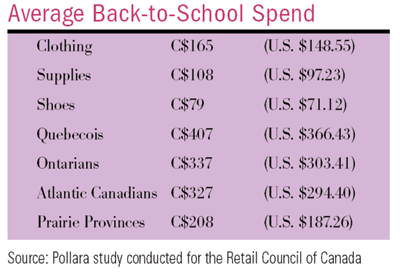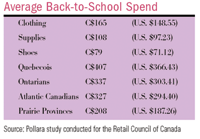 Some of this consolidation is very recent, or even current. American businessman Jerry Zucker recently took over The Hudson's Bay Company, and Northwood says, "it will be interesting to see which new direction this part of Canada's retail heritage will take under American ownership." Additionally, Sears is looking to fully acquire Sears Canada, although Northwood points out that "it already owns 54 percent, and so there is speculation as to the precise impact of this move." Retailers also increasingly are concentrating on their own brand labels, which deliver better margins. One result of this, according to Northwood, "is that licensed brands frequently start as exclusives with a single retailer and very limited sku breadth, expanding as exposure increases." As examples of this, Northwood cites Max and Ruby, which initially was exclusive to Wal-Mart and The Backyardigans (repped by Nelvana), which initially launched exclusively with Toys "R" Us. He also notes that the traditional dominance of toys in the Canadian licensed business is waning, as demand switches to electronic devices. This is born out by an "informal survey" of Canadian retailers conducted by the Retail Council of Canada (RCC), as to the top-selling categories in the back-to-school period, with the top-selling "toys" being "CD-based learning systems with game consoles, virtual pets, and pen-top computer systems." Back-to-school is ranked second only to the holiday season in importance in Canadian retailing, with a Pollara study conducted for the Retail Council, published August 15, showing 42 percent of Canadians planned to shop for back-to-school, with 29 percent planning to spend C$400 (U.S. $360.13) or more. Diane J. Brisebois, president and CEO of the Retail Council, notes, "This survey demonstrates that solid employment numbers (estimated unemployment in 2005 was 6.8 percent) and consumer confidence have combined to generate a year-on-year increase in retail sales of 6 percent," adding, "traditional back-to-school items remain a mainstay." This is underscored by the Pollara study, which found that during the back-to-school period Canadians intend to spend, on average, C$165 (U.S. $148.55) on clothing, C$108 (U.S. $97.23) on school supplies, and C$79 (U.S. $71.12) on new shoes. The RCC informal survey of Canadian retailers found that military-style jackets, embroidery, and plaid and rugby shirts topped boys' clothing lists, while girls were buying leggings and skinny jeans. In footwear, girls favored ankle boots and wedges and boys retro sneakers and garden clogs. Canadian households with at least one child ages 10 to 17 planned to spend C$383 (U.S. $344.82) on back-to-school compared to C$315 (U.S. $283.60) for households with at least one child under age 10.
Subscribe and receive the latest news from the industry Article
Join 62,000+ members. Yes, it's completely free.
You May Also Like
---