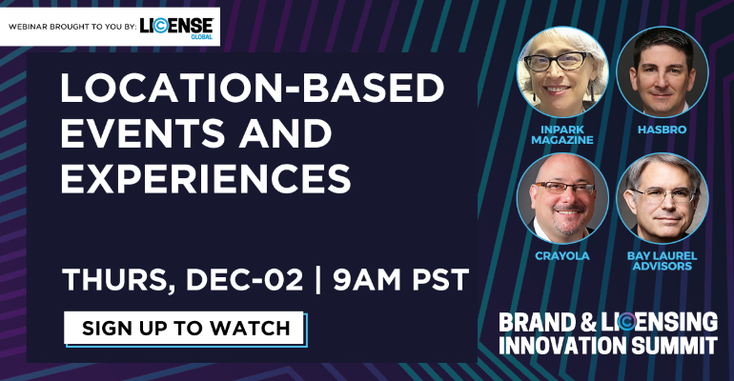 License Global Live's recent webinar focused on the future of location-based events and experiences. Speakers included Matt Proulx, vice president, location-based entertainment, Hasbro; Warren Schorr, vice president, business development and global licensing, Crayola and George Wade, founder, president, Bay Laurel Advisors. Judith Rubin, editor, InPark Magazine, was the moderator.   
Rubin spoke about the International Association of Amusement Parks live event held last month, which signaled a change in the industry that companies are brimming with ideas for the LBE space.  
"The attractions industry is primed and ready to go," says Proulx, while Schorr noted, "There was excitement and interest in what people created during the pandemic."  
When Rubin asked the panel why LBE is essential to a brand's licensing strategy, all agreed it has to do with customer engagement.  
"It starts with the brand mission," says Schorr. "Crayola's mission is to raise creatively alive children. How will it manifest
itself? We have standards and practices that our partners adhere to." 
Proulx referenced Hasbro's introduction to the space with the Harry Potter Experience at Universal Orlando in 2014. "It's important to deliver the essence of the brand, but also to delight and surprise. Fans were transported into this new world." 
Wade noted that consumers now have "perceived expectations of a brand, which can no longer get away with the bare minimum. What are the perceived expectations of the consumer? Over the past 20 years, the expectations have increased … consumers want something more enriching." 
Rubin noted that LBE projects tend to be long-term, unlike some licensing programs. Rubin asked the panel how they see the benefits of the program.  
 "You're in this for the long haul," says Proulx. "You have to do extreme vetting … you have to be extremely patient."  
"I like to refer to these projects as the gift that keeps on giving," says Wade. "Whereas your T-shirt license has a very short, expired-by date, in many cases, [LBEs] are five, 10, even 15-year licenses. Once you've gone through the development and project-opening process, it becomes an ongoing revenue source, an ongoing brand source that helps to build the brand."  
What steps do brands take to minimize risk without compromising creativity and authenticity? The panel agreed that it all comes down to the licensing agreement. 
"The license agreement serves as the cornerstone for your risk mitigation program during the design process, but also during the operating process," says Wade. "Get those expectations laid out. Discuss the processes the brand is going to employ for following up. Make sure the licensee is properly adhering to the brand standards that give you the mechanisms then to be able to maintain high quality." 
"You also need to have a very strong foundation of help," Proulx added.   
When Rubin asked the speakers if there were other markers of success in the LBE industry, customer feedback ranked high.  
Schorr asks, "What's your repeat attendance? What is your rating on TripAdvisor? Or other travel advisor sites? These are things that truly matter in this space as much as revenue because they are triggers to your revenue and how your brand is perceived. There's a huge risk to brand perception, not only in the local experience but globally. People will read these reviews, and they will determine whether or not your brand is worth visiting."  
"In operations, it's to drive ticket sales, drive incremental merchandise, which increases merchandise sales," says Wade. "The ratings on Google and Facebook are the best measurement we have today. It takes a village to manage the location-based experience."  
To watch License Global Live on-demand, click 
. 
Subscribe and receive the latest news from the industry.
Join 62,000+ members. Yes, it's completely free.
You May Also Like
Loading..