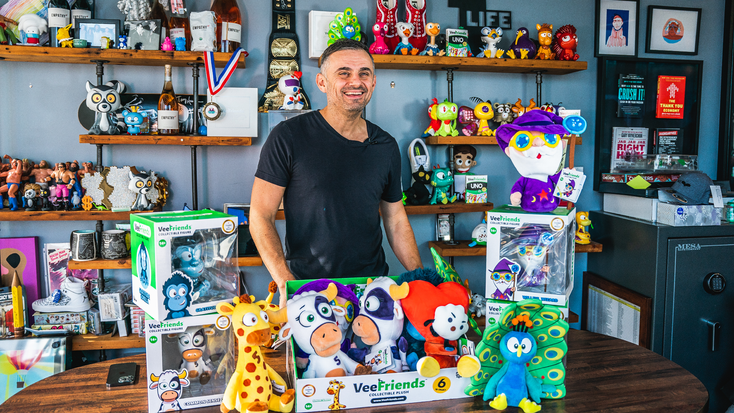 Vaynerchuk with the VeeFriends collectables.
VeeFriends
At A Glance
VeeFriends, a digital collectables brand, started on the blockchain.

The brand's expansion into fashion, toys and more.

The importance of community for the VeeFriends brand.
In 2022, entrepreneur, Gary Vaynerchuk,
gave the keynote at Licensing Expo
, "The Power of Possibilities," helmed by Pam Kaufman, chief executive officer and president, international markets, global consumer products and experiences, Paramount. Known as a serial entrepreneur, Vaynerchuk predicted that the new licensing category would disrupt the licensing industry: "NFTs will change this show in 10 years," he said. 
It looks like Vaynerchuk is closer to making that happen with VeeFriends, his contemporary entertainment company. 
Vaynerchuk wanted to create an intellectual property and entertainment brand that could help inspire positivity, kindness and accountability, values that he feels are the foundation of happiness and success. Vaynerchuk was very hands-on with the creation of VeeFriends; he designed 283 characters to convey the goal and purpose of the IP.
First launched as digital collectibles, more than 10,000 VeeFriends tokens were available. The collectibles utilized blockchain technology
to create an unprecedented level of community access to different initiatives, including VeeCon [a multi-day tech and culture event created by Vaynerchuk]. VeeCon was established as the first NFT-ticketed super-conference, with all VeeFriends Series 1 digital token holders being automatically airdropped VeeCon tickets to their digital wallets. Tickets also were available on secondary marketplaces such as Opensea, which allowed a broader audience access. 
"Gary set the mandate that he wanted to push forward a physical product to prove out the point that NFTs are a lot more than just an image you can write, click and save, which was, in jest, what a lot of the naysayers or the doubters were saying about Web3," says Andy Krainak, president, VeeFriends. "You want to prove that you can birth and create an IP on the blockchain and have it become a product."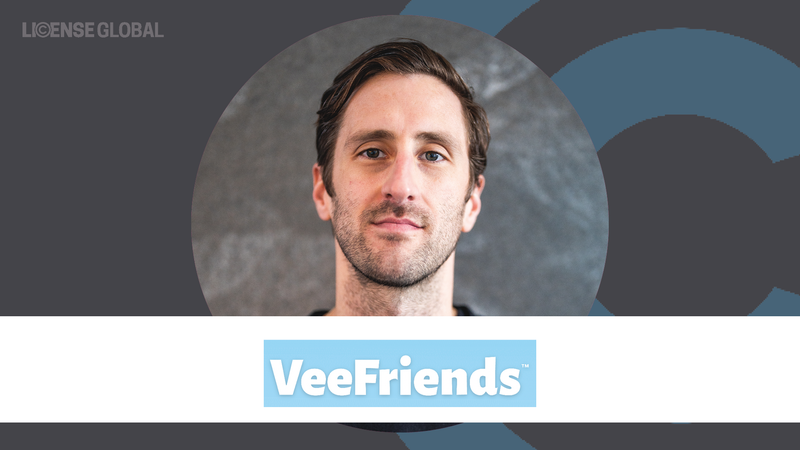 Given Vaynerchuk's passion and connections, the journey from an IP to a product line was relatively short. The first development and issuance of the IP was in May 2021, but the first physical product came through a collaboration with Mattel Creations later that year with VeeFriends UNO. VeeFriends UNO Decks feature 17 VeeFriends characters and a collectible insert foil card. In March 2022, Fanatics Collectibles, a subsidiary of Fanatics, launched Zerocool, the first trading card brand for IP and brands across pop culture, art and entertainment. The brand's first release was a limited-edition, collectible VeeFriends Series 1 Trading Cards Box. Sold as a blind Dutch auction, the market sets the price and most buyers pay less than they were willing to pay.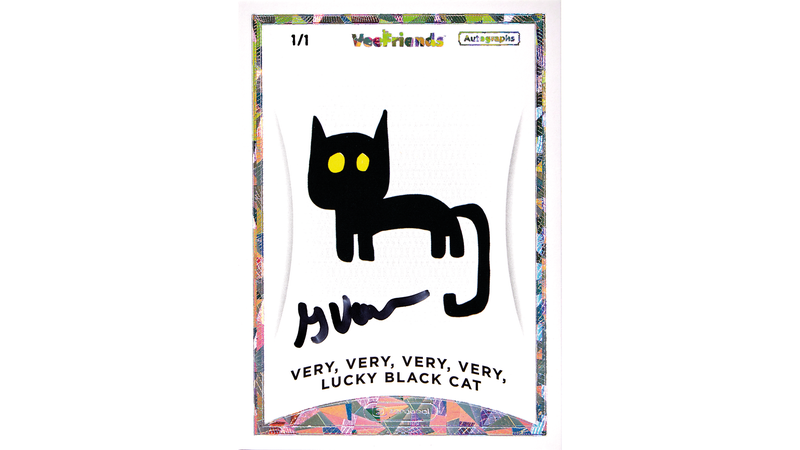 VeeFriends trading card featuring the "Very, Very, Very, Very Lucky Black Cat."
"The cards are natural and authentic to us," says Krainak. "Gary grew up as a baseball card seller himself. That was one of his first business endeavors as a teenager, so we really understand the space, and it leans to our strengths and our audiences and interests and collecting the characters they most resonate with." 
While the cards are popular in the VeeCon Community, Vaynerchuk took his VeeFriends IP and expanded it into a more tangible product. In October 2022, Vaynerchuk launched VeeFriends from digital to physical with the debut of 10 VeeFriends characters as
exclusive to Macy's and Toys"R"Us. Each product had a printed QR code to access 3D animated short films and character songs.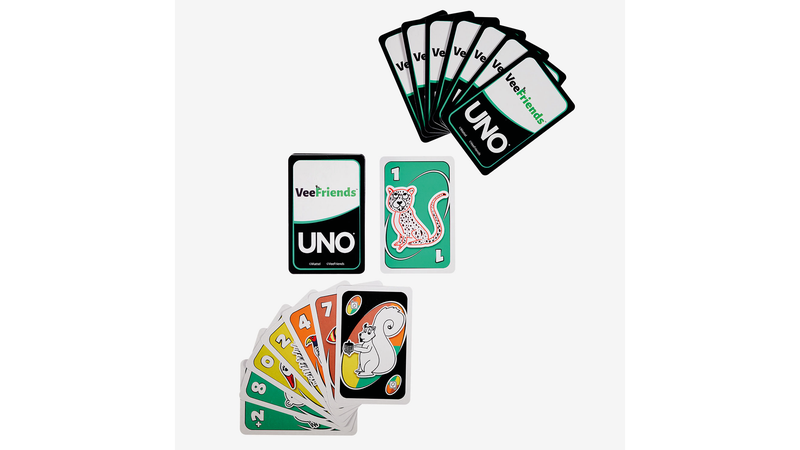 More recently, VeeFriends partnered with Jazwares for the launch of
. Adventurous Astronaut, Humble Hedgehog, Intuitive Iguana and Karma Kiwi will appear as 12-inch Squishmallow plushes, joining other popular IPs like Disney and Sanrio.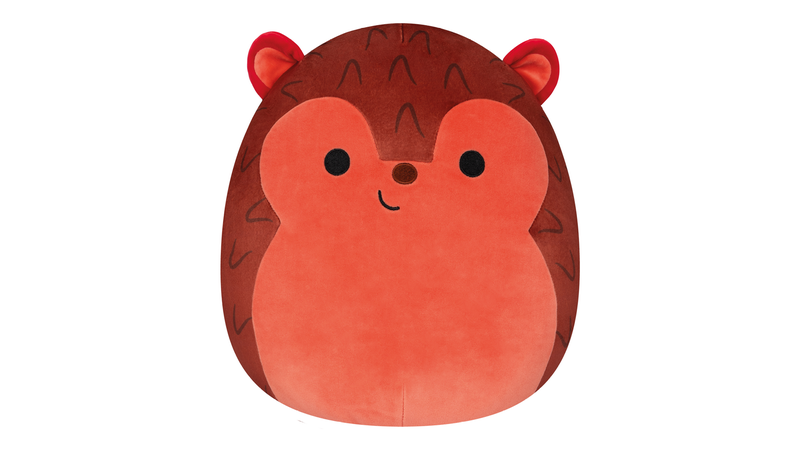 Humble Hedgehog Squishmallow.
"Every VeeFriends Community member in the world identifies with an attribute or trait because it's something that they've seen themselves or something that they saw in someone they admire and love," says Krainak. "And inherently through that, people are inclined to collect VeeFriends. I think that's a huge business strength we will continue to lean on." 
While VeeFriends is looking to further develop the characters' personalities through projects, like animated content and children's books, the next collaboration for the brand is
. Later this month, the VeeFriends Aspiring Alpaca will grace pairs of Reebok Classic nylon sneakers.
fostered the partnerships.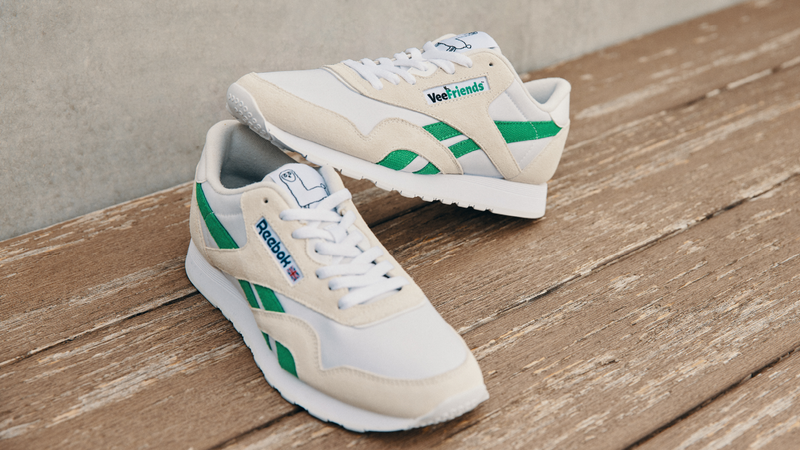 VeeFriends Reebok sneakers.
As part of its creative campaign, three members of the VeeFriends collectors' community – Shahreen "Katz" Ahmed, Christian Robles and Esma Shmeit – are featured in the creative due to their embodiment of the ethos of Aspiring Alpaca. 
For the VeeFriends team, whether it's a plush line, sneakers or, in 2022, a line of vitamins with Mary Ruth's Accountable Anteater multivitamin gummies, the licensed product must embody its core values. 
"All of the collaborations that VeeFriends do and will do are rooted in some organic or authentic connection to the brand," says Krainak. "It seemed like a great opportunity to do a limited supply of the select VeeFriends character. We're ecstatic to make that happen. I can't wait to wear them personally, but I know many of the VeeFriends Community will wear them." 
Like so many licensing properties, community is critical to VeeFriends. 
"The best way to experience it is at VeeCon," says Krainak. "VeeFriends is the most passionate, kind, welcoming, energetic, enthusiastic community I've ever seen. Everyone believes in trying to better themselves and better the people around them, being kind and empathetic while also rooting for cheering the growth and expansion of this brand we've created."
Read more about:
Subscribe and receive the latest news from the industry.
Join 62,000+ members. Yes, it's completely free.
You May Also Like
Loading..