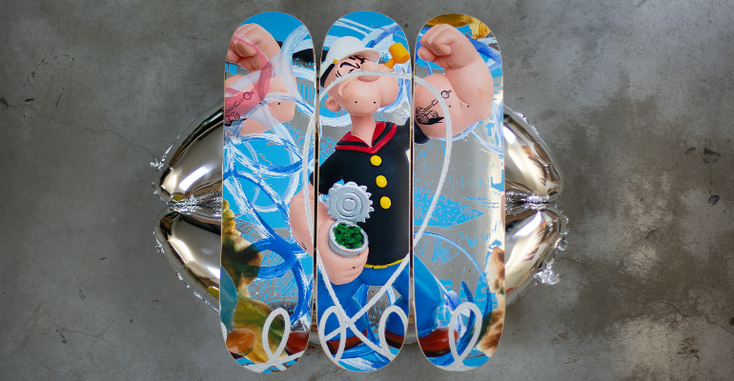 King Features Syndicate, a unit of Hearst, has announced that it is growing its global licensing programs for Popeye and
with a slate of new partnerships. The expansion extends across promotions, food and beverage categories and includes new territories, partners and product lines that feature characters from the extensive Popeye universe, including Olive Oyl and Wimpy.
Building on the success of these previous launches, King Features has shifted its licensing program to focus on the expansion of the promotions and food categories to grow the brands globally and build upon its business in Asia and North America.
In Asia, Popeye and Olive Oyl have starring roles in several promotions, such as a renewal of their deal with Manga Coordinate Co. and JOYL to produce an advertising campaign starring the pair to promote Ajinomoto Olive Oil in the Japanese market for the second year in a row.
Japanese video producer AOI Pro and its AI technology client Laboro.AI are tapping into the classic
tale of Popeye and Olive's love story to emphasize the innovation of AI technology by creating state-of-the-art clips for a Valentine's Day commercial, set to run through summer 2022. Additionally, Japanese soft drink manufacturer Ito En is featuring Popeye in a promotional campaign for its Aojiru vegetable drinks, while Runival Sdn Bhd is reaching audiences in Malaysia, Singapore and Indonesia via a promotional Popeye Virtual Run campaign.
In China, the sailor will take part in a promotional campaign featuring glass cups, recycling bags, brooches, face masks, T-shirts and stickers, which will be sold across the territory by Guangzhou Circleplus Culture. South Korea-based Sunwoo & Company began a worldwide launch of limited-edition Popeye theme packs for Android, version 9.0 and higher, via the Samsung Galaxy store in 2021. Additional theme packs will be released in 2022.
The new partnerships in Japan were brokered by King Features' agent in the territory, Copyrights Asia, while Medialink Animation brokered the deals in China, Singapore and Indonesia.
Popeye continues to be a favorite in Japan, with multiple new deals debuting throughout the year, including Shogakukan Shueisha Productions for various Popeye-inspired housewares, apparel, accessories, spinach from Rainbowworks Co. and custom Popeye desserts and houseware products from Baobab.
"The characters from the Popeye universe deeply resonate with fans around the world, and it's thrilling to see one of our fan favorites experiencing continued growth," says Carla Silva, vice president and general manager, global head of licensing, King Features. "And fans should stay tuned because we're kicking off the new year with even more exciting promotions and products."
In North America, Popeye is also making his mark in promotions by starring in Accenture's global ad campaign advertising its intelligent ops services, and his friend Wimpy was featured in an advertisement for Google Pay. Most recently, artist Jeff Koons released "Popeye Skateboard," a reinterpretation of his 2008 oil painting "Triple Popeye" as part of The Skateroom collection.
In the food category, Popeye has expanded his long-term partnership with Taylor Farms by introducing new product lines, and in a deal negotiated by King Features' Canadian agent, Segal Licensing, Jade City Foods has launched an online Popeye Foods shop offering a variety of new consumables including coffee, hot cocoa, hot sauces and more inspired by Popeye, Olive Oyl, Bluto, Wimpy and Swee'Pea.
Read more about:
Subscribe and receive the latest news from the industry.
Join 62,000+ members. Yes, it's completely free.
You May Also Like
Loading..