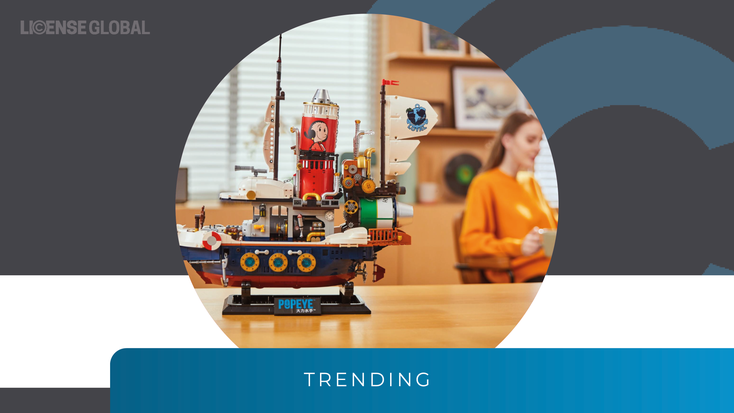 Popeye consumer products
King Features
License Global: How does nostalgia play a vital role in consumer product engagement, and how do you see that grow with the rise of kidult culture?
Carla Silva:
People invest in brands they connect with, and nostalgia is one of the most powerful forms of connection. Brand nostalgia provides consumers with a way to recapture some of what they've lost to time by reconnecting them to their past – such as using the same brand of laundry detergent their own moms used as kids because, to them, the scent represents comfort and security. Character brand nostalgia is even more powerful. For most, not only are they reconnecting with the period when they first discovered the brand, but they are also reliving their first experience of identifying with a character and expressing themselves through that fandom. Fandom has always been a lifelong experience, but it's only in recent years that it's become more socially acceptable. Today it is celebrated worldwide, and our industry has full lines of business dedicated to the demands of these superfans.
How does fashion play a role in kidult culture, and how can brands like Popeye and Olive Oyl find a resurgence of audience engagement through fashion collaborations? 
Fashion is a primary outlet for fan expression, from apparel to accessories and beyond. Brands like
and
are associated with timeless attributes like strength of character and self-confidence, which never go out of style. We target partners that understand, align and elevate our characters' values through fashion items fit for the fandom.
You also represent Cuphead, which began as a gaming phenomenon, but how has that brand changed and shifted to grow its fanbase across different platforms?  
The Cuphead fan base is intense and insatiable in the most exciting and motivating ways, and the audience has only grown with the introduction of publishing and "The Cuphead Show!" series on Netflix. These fans are passionate brand experts, so there is no room for error regarding product or marketing execution. Our team works closely with the brand owner, Studio MDHR, to be sure everything delivered to consumers is on point and will meet fans' high expectations.
What are the most exciting brand licensing campaigns for King Features this year, and where are you hoping to take the business in 2024/25? 
We drive our business through vision, innovation, creativity and partnership as a team. Our collectibles business has grown exponentially across the globe within the last few years! We've recently launched several new global toy lines to address the rise of kidult culture and superfans, having most recently partnered with IAm8Bit, Mishka, YouTooz, Boss Fight Studio, Funko, Linkgo Toys, Guangdong Pinqi, Vice Press and Iron Studios to name a few!
We've also secured listings with Europe's leading retailers, including ZARA, H&M and Lefties, and in the U.S., Popeye is available at Target while our e-commerce business continues to grow. In the gaming space, we're launching a new Popeye online slot game with Lady Luck Games on April 20, and we will be announcing a major partnership later this spring … can't share the name yet, but this partnership is directly aligned with our focus to keep our oceans clean and is sure to delight our fans.
We have several new apparel collaborations, games and co-branding partnerships for 2024/25! This approach ensures our brands stay relevant and accessible to our fans through as many touchpoints as possible. Our brand extension programs will play a crucial part in future-proofing Popeye as we find new ways of taking its iconic ethos to the next level. Our goal continues to be evolving Popeye through innovation, creating high-quality products that tap into the brand's rich heritage and encourage adults to live a sustainable, healthy lifestyle.
Publishing is also a key category in the kidult space, and we're expecting continued growth across the market from the new Flash Gordon 40th Anniversary from Takeshobo in Japan to the 50th Anniversary Hagar the Horrible calendar from Lappan in Germany to the new The Phantombookazine from Wick Comics in Germany and two Cuphead-inspired art books in development with Dark Horse. We're also excited to announce that Moomin fans can finally find the books on Barnes & Noble bookshelves in select markets across the U.S. and online.
Where are the key categories for investment when approaching brand licensing campaigns across the coming years? Where do you see the most extensive opportunities?
We will see an increased focus on taking video game franchises into film, interactive exhibitions/immersive attractions, location-based experiences (LBE) and a bigger expansion into the world of metaverse/gaming. Entertainment will become more about digital social lives and further customization of experiences for the fans. In the long run, heritage and nostalgia brands will continue strengthening since consumers turn to trusted brands. How we target consumers will continue to evolve, and co-branding partnerships will remain strong … Popeye Strong! 
We took an in-depth look at the world of the kidult in the
June 2023 issue of License Global
. Stay tuned for more uncut interviews with the experts driving the market forward.
Read more about:
Subscribe and receive the latest news from the industry.
Join 62,000+ members. Yes, it's completely free.
You May Also Like
Loading..