Entertainment Licensing Roundtable
Entertainment Licensing Roundtable
]> License! invited key entertainment licensing studio executives to sit together in the same room to discuss a variety of issues surrounding today's business of li

]>

License! invited key entertainment licensing studio executives to sit together in the same room to discuss a variety of issues surrounding today's business of licensing. One of the hottest topics was that of windows: as the window of opportunity has decreased due to the truncated run of a theatrical release at the box office coupled with the short-term life of product on shelves. Not to mention theatrical releases are hitting internationally almost day and date with that of national. Many of the studio executives who participated in this First-Ever Entertainment Licensing Roundtable revealed their increased focus on franchise properties that already have built-in fan recognition, or one with all the elements of becoming "franchisable."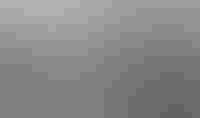 To execute the right programs at the right time, entertainment licensing studio executives need the right retail partners...and the right licensees. Often, these executives find themselves in a catch-22 situation, as Travis Rutherford of MGM Consumer Products so aptly put it: "It's no longer just signing the license, and the licensee drives the retail sell-in. Nowadays, the first question from a licensee is, 'What retailer do you have on board?' And the retailer asks, 'What licensees do you have on board?'" That hot spot shows no signs of changing, as the retail environment and the number of licensees in key categories continues to shrink. What you'll discover from this roundtable discussion is the gap between the studio/filmmakers/marketers and the licensed consumer product division somewhat has closed over the years. Studio executives and studio marketing teams have come to understand the overall value of licensed consumer products at the retail level, as an additional aid in consumer awareness of a theatrical event. Being armed with more information and chunkier chunks of footage helps entertainment licensing executives with their sell-in process at major retailers around the country and the world, as international remains a key business component (upward of 50 percent for some studios) in the overall entertainment picture. But that doesn't mean consumer product executives are sitting at a potential film's greenlight table. Moderated by License! Publisher Steven Ekstract and Editor-in-Chief Joyceann Cooney in W. Hollywood, CA, here are excerpts of the morning's discussion. License!: In your opinion, how does feature film licensing help retailers drive sales?
Tim Rothwell: The entertainment industry creates excitement for retailers. Retailers need to sell to consumers on a daily, weekly, monthly basis, and they need to constantly bring something fresh and new to those consumers. In regard to entertainment and licensing, when we come out with an event, if executed properly, it can add that level of excitement and additional sales.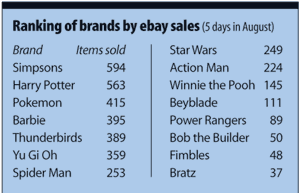 Travis Rutherford: The caveat is the right program, the right categories, and the right timing. The biggest challenge, especially on the feature film side, is getting enough of our assets and materials from the [studio] internal divisions 12-plus months out so we can go out to retailers and show what it is we are selling and how we intend to produce a product line and support for that program.
Brad Globe: We have focused on creating retail events around our films and around a property. The enormous size of most mass-market stores and the busy lifestyles of consumers make it difficult to present a property in an impactful manner. Movies can be a very effective vehicle for creating excitement and differentiation in store, which will lead to better product placement and sell-throughs.
Dan Romanelli: Retailers are a lot more selective about the entertainment category today. We, too, have to be more careful about what we get behind and what we support because while the licensing part of it is easier, it's the retail program-its continuity and sell-through-that's key.
Andy Mooney: For me, film licensing is a continuum of opportunity that goes from a pure retail entertainment event with little or no merchandising and product opportunities-that's good for the retailer and the studio-to a full-blown program where there's a chance to drive traffic to the store and there's a chance for a significant amount of product. Retailers are looking for opportunities 365 days a year and film offers that. Increasingly we must be more intelligent about volume controls and strategic options for different retailers at different times. There's a vast difference, for example, in opportunity or programs that you might build around a theatrical event that's a first-run intellectual property vis-ýis a sequel or development of a property that already has a following in publishing, interactive gaming, or TV. That separation alone is significant in building a program for a retailer.
L!: What retailer(s) is capitalizing on the value of entertainment licensing?
Mooney: The fact that Wal-Mart has appointed someone to focus full time on sifting through the range of entertainment opportunities is symbolic of how important it is to the retailer and also how competitive the landscape is and how many opportunities there are to build programs.
Al Ovadia: From our experience, Wal-Mart has committed to doing one retailtainment event per month. Its Saturday morning events or early afternoon events allow kids to participate in the excitement of a particular property and bring the property to life in its stores. To our knowledge, no one else has made that sort of commitment.
Rothwell: Wal-Mart and Toys "R" Us have identified the need and are both doing a good job within their doors. Universal has put together solid programs with each retailer where theatrical events are highlighted with promotions, in-store visuals, media, and merchandise.
Rutherford: With the specialty retailers, we've had good experience with Musicland. It seems to have identified a niche in its marketplace, and it offers marketing incentives to the licensor, whether it's video monitors, signage in front of the store, sales staff incentives, and/or promotions. Musicland seems to take a broader approach with some of those niche properties-particularly in the sci-fi and action adventure genres-than some of the mass-market accounts.
Ovadia: I'd also imagine it's a matter of cost: Who will bear the cost for some of this? While we're trying to provide enough funding on our end to entice the retailer to move a program forward, the question of how big it becomes is really a matter of dollars, cents, and return on investment. There will be certain limitations because of store structure. We try to balance what kind of outlay we will deliver in exchange for incremental sales. As we come in to new programs with a better understanding that a given retailer will support it at a certain level, then we will be prepared to add a bit more sizzle to ratchet up what might be of value to the consumer.
Globe: Successful programs generate confidence with retailers and lead them to try more innovative and creative approaches. We need to realize that although a film may not have huge licensing/merchandising potential, it still may be a very effective promotional vehicle for a retailer even with fewer product offerings. It's understandable that buyers are less inclined to take great risks on product offerings on unknown film properties. They tend to put most of their support behind properties that have a proven track record or prior awareness by the consumer. It's incumbent on us to take more creative approaches as to how retailers and other partners can use feature films in ways that can be beneficial to their businesses.
Ovadia: There is a change going on in the studio in the marketing group, at least at our studio, where they are beginning to understand the value of the retail experience and the retail exposure as an awareness-building mechanism and reinforcement of their marketing effort for a given film. One of the things we were excited about in respect to Spider-Man is we were able to get all our retail partners to put the film's release date on all retail signage. We now are starting to get support and, in some cases, funding from the marketing group to assist us.
Globe: It's important to take a marketing approach to the property that will benefit the entire enterprise. A successful merchandising and promotional campaign not only generates additional revenues for the studio but is important to the marketing of the film and helps to set up opportunities for the marketing of home video in some cases. Particularly with our animated films, the home video revenue stream is crucial to the film's overall profitability. Given the shorter window between the releases of films, home video collaboration can be very important.
L!: With a shrinking retail environment, what has your company done to maintain and drive new business?
Rutherford: From a merchandising standpoint, it's crucial to know your audience and the natural fit of categories. There does exist resistance from retailers with theatrical releases, unless they are long-standing franchises. Some of these franchises may not need 30 or more licensees, but half a dozen or so. When you can sell several hundred thousand to half a million units in a given sku, it drives an opportunity, especially in a smaller specialty franchise where the cost is less, and you don't have to build a style guide. Specialty retailers, in particular, support these initiatives as it gives them something that differentiates them from the mass-market players.
We are looking for other ways to differentiate ourselves, as well. Licensing gaming, casino slots, and video poker games generates a lot of dollars. It's taken a while to conclude those deals, but they are big six- to seven-figure deals and allow for brand extensions in an area of the marketplace we never penetrated before.
Mooney: The mix of our businesses has significantly changed, and the growth is coming from the library properties with the retro trend. We've been actively moving into the pure brand area outside of character merchandise. It was an interesting exercise to have a dialogue with buyers to convince them that you are a brand separate from the characters. TV properties are getting a lot of momentum, and the growth of cable television in children's programming creates awareness for these properties. I describe movies as an adrenaline rush, and TV as a drip feed. Like any communication, reaching frequency is pivotal to awareness and potential.
The relationship between studios and the licensees has been passive: We've partnered to drive awareness of the theatrical releases, but we haven't partnered in the act of product innovation. At least at our organization, in the last few years, we didn't have the skill set to innovate product, so we have changed the whole skill set to "active licensing." Now, we're designing toys, clothing, home furnishings. In terms of the organizational component of the licensing royalty, we are trying to re-express it back in a fundamental value-add that's over and above the marketing that comes from the studio, the channel, and other entities. Designed by us and executed by the licensee-that's worked for us.
Globe: Dreamworks' strategy has been to enter into multi-property arrangements with companies. We try to avoid having to sell individual films to different licensees. These types of arrangements create more of a partnership spirit and put much more emphasis on creative execution of a property and on developing retail programs.
Romanelli: Many of our licensees asked us to make an investment in Looney Tunes, and we have made a huge investment we believe will bear fruit. We have a new film in November '03, a new series that starts on Cartoon Network Monday through Friday, we have theatrical shorts that will hit adult demographics in movie theaters, and we will produce 20 of those over the next two to three years. In a sense, we responded to our licensee needs, but more than that, we also think we can put a compelling program for reach frequency continuity to the retail community, as well. Also, we have to reinvent our products...we have to reinvent our business all the time to stay ahead.
Mooney: The historical approach of mailing the style guide, independent of whether it's a film, TV, or library property, those days should be long gone. Our counsel to licensees on a first-run intellectual property is that they need more promotionally oriented products, that the life expectancy of those products in the store will be short term. So you are building valuable programs for licensees and retailers, but you are in and out quickly. If that property is a success in the theater and you come back with a sequel or TV support, then the program will be entirely different in both product and price point. It's a much more sophisticated business than it was five years ago. We need to be much more honest about whether or not this is a one-time event when you are putting together a promotional program or reinvestment in a franchise or the beginning of a property that we see as franchisable. All of these require fundamentally different programs, price points, levels of innovation, processes to create product, and possibly even royalty rates.
Rothwell: Clearly, as the market shrinks, it forces us to become better marketers, getting more involved in product development and innovation, particularly as major retailers go out of business and there are fewer doors to sell. We're all friends, but we're also competitors, and we're all fighting for the same shelf space. Over the next five years, the environment will be increasingly challenging, and there will be more shake-ups on the retail horizon. We can go to specialty stores all day long, but the business is done in a few big box operations, and we all know who they are; it's important they survive.
Mooney: That's why we've put a lot of energy into having a portfolio, some of which is short term and some of which is 365 days a year and bankable, and start the lineup with content, so the tail starts to wag the dog a bit. In our house, Princess has gone from being an almost insignificant business to a huge business, and now we're seeing a cross-pollination of the studio creating content to sustain and grow that business. That's the 365-day-a-year business, based on fundamental role play and dress-up for girls. But it's difficult to convince buyers that Princess is a brand, a sustainable property, and should be on the shelf and have a dedicated display.
Romanelli: When you talk about the success of Spider-Man, it had a huge positive impact on our Batman business, which suddenly doubled. Frankly, the whole superhero genre has been strong; our Superman business in apparel has been particularly strong and increased more so. It's a clear example of riding the wave.
Rutherford: It also can have the opposite effect if that genre does not have success.
Ovadia: It's fewer retailers, fewer licensees, it's private brands at the retail level, and all of this is going on simultaneously. I would imagine in the not-too-distant future some of our more visible properties may find their way to exclusive opportunities with an individual retailer rather than a more broad-based situation. If this compression continues, it's conceivable to find an exclusive arrangement just to get the shelf space.
Globe: It is possible and desirable to do product exclusives with retailers, but in most cases with feature films, it's probably not wise to grant a single retailer total merchandising exclusivity to a film. Even if it makes sense from a merchandising perspective, you have to consider the potential impact on home video sales in terms of the reaction of other retailers.
L!: How are your individual retail development departments educating retailers on the importance of entertainment licensing to their overall business?
Ovadia: To compete, it's incumbent upon us to have retail development groups to go out and fight the fight and then deliver. But, how much money do you have to support these kinds of functions? And how do you convince management this is a necessary expense? My group reports to the head of home entertainment. We make presentations together, we go out on the road together, we try to create a unique environment with home entertainment. Because home entertainment is a large part of a retailer's business, we're often taking a second bite off the apple when it comes to opportunity.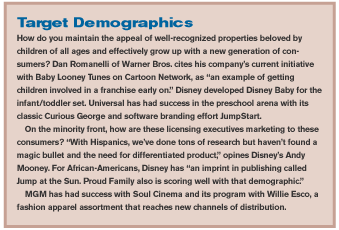 Globe: When you look at the commitments that are made to properties such as Shrek, Harry Potter, and Monsters, you have tens of millions of dollars being spent at the retail level in terms of promotions and merchandise. A more synergistic marketing approach among companies would provide a much more impactful presentation of the property at retail. This is an area where the studios can do a much more effective job.
Ovadia: Brad [Globe] is absolutely right. As an example with Spider-Man, with the promotional group, we were able to put together a unique display in all Wal-Mart stores, which was an interactive, four-sided unit that all the promotional partners paid for, but it was managed through us. What was amazing was that there was no product attached to it. In bringing all promotional partners together with all of the licensees, there exists a tremendous amount of crossover opportunities.
Mooney: For first-run intellectual properties, we all have a tougher sell today than five years ago. The flip side of that coin, and where I think the bigger opportunity lies, is the landscape of media has changed. TV properties are where the theatrical business has moved. There we have a chance to partner very early in the conceptual stage, in terms of developing properties that fit into the child's makeup. That's different from a theatrical release where content creators basically create it and then give it to you to do what you can. There's not a lot of interaction between content creators and merchandising.
Rutherford: The exception to that might be interactive games, where publishers and developers now are working closely with the movie screenwriters to co-develop cohesive story lines for first-run theatrical game properties.
Ovadia: One of the challenges we face, and we have a family entertainment division that develops properties, is the economics of that business [TV] has become miserable, to be truthful: There's a glut of broadcasters, an increasing cost per episode, the deficits are bigger, the license fees are shrinking. What we are doing is bringing people in to help develop those properties at an early stage, rather than simply being handed something. I have to attach my name to bring in a certain amount of revenue to offset some of this deficit. For a 13-episode commitment, I'm not going to sign my name to almost anything. By the time you see the elements of the show, you're looking at the second year before doing anything.
Romanelli: Today, the animation folks are coming to us, which is a change in this business, asking what kind of subsidy can we provide. Not that we want to play that role, but we're being honest and saying if you have 26 episodes, because 13 episodes aren't enough, we can deliver X, Y, and Z, providing it has the role playing, all the elements we think are toyetic.
Globe: Having worked with Steven Spielberg for 20 years and now at Dreamworks since its inception, I can say definitively that we have never green lit a film because of its merchandising potential. It's great when a film can generate additional revenue from licensing, but it really can't be a primary reason for making a motion picture.
Mooney: We're not at the greenlight table, and I'm not sure we ever should be. The very nature of making successful television programming-the kind of research you have to go through about how kids interact in the character set-it's a whole other creative process.
L!: In a down economy, in wartime America, how important is your international business?
Mooney: It's approaching half of our total business. Our business history is that it was developed in a decentralized manner with a local manager selecting local licensees. What we're trying to balance now is decentralization and centralization. So if you're bringing in a partner such as Coca-Cola or Kellogg's, it has better control of product and a program. It requires you to scale back infrastructure and coordinate on the local level. Our business catapulted because of decentralization: too many licensees and no collaboration at the regional level. So we're trying to get back in balance. Softlines is a local business, packaged goods is generally a global business. You have to balance between global, regional, and local.
I have mixed emotions about going day and date with films nationally and internationally. If you have a successful movie in the U.S., you can capitalize on that internationally and you have time to react. The bad news is if it doesn't work, you have less product in the marketplace, as opposed to globally.
Romanelli: Our business also is approaching half from international; it's been a huge growth business
for us. We're seeing some unique product integration that comes from throughout the world, and we have opened many more offices and find it beneficial to the overall marketing strategy for a film release or a TV series.
Rothwell: Our business is probably in the 65/35 range. We are seeing a tremendous upside internationally. Our group is becoming more global with centralized strategies to prevent business from spinning out of control. At the same time, we are trying to drive more out of the Los Angeles offices, as Wal-Mart and Toys "R" Us have become global players.
Ovadia: It's an important piece of our business, but I don't know if it will become 50 percent of our business. We operate through agencies; we don't have enough of a baseline business to justify opening offices. We're at the mercy of agents, and finding a good one has been the quest for all of us for many years.
Globe: For the most part, we utilize agents in the foreign territories. To achieve success, it's critical you provide sales materials and information to your representative about the release of the film. Coordination and support by the home office is very important. You also have to be somewhat flexible in that you are dealing with many different cultures with different tastes and approaches to licensing.
Mooney: We've carved out 10 countries-Europe, Mexico, Japan, Canada, Brazil-that we visit for two weeks every 90 days. And you must go there with a suite of initiatives in hand.
Ovadia: Because of the cultural differences, you're often pleasantly surprised at what may not work here will work there. In Japan, in particular, I Dream of Jeannie and Bewitched just fit that culture, and it's a seven-figure business. We're beginning to see some interest in those properties in the U.S., but they seem to have found a home in Japan.
Rutherford: We work with a handful of key licensing agents in major international territories and have streamlined our Pan European representation with one agent. These licensing agents not only have to respond to short-term theatrical opportunities, but also support our classic brands such as Pink Panther and the extensive MGM library. One of the emerging markets I see as a huge opportunity is China. Approximately 30 percent of our merchandising revenue comes from international territories, however, a greater percentage of that is promotionally focused versus long-term merchandising campaigns.
Globe: With release dates moving up, there is a simultaneous burden to execute an international program, and coordinate activities with international distributors.
Ovadia: The issues with distribution and agents have been around for a number of years. Offices need to open pictures; licensing agents want to drive revenue, get interest from the media. We instituted a contractual requirement for agents to meet with the offices twice a month, including video and TV.
Rothwell: I'm spending far more time seeing international retailers. I find a receptive audience internationally, wanting to emulate similar retail initiatives that are taking place in North America.
Subscribe and receive the latest news from the industry Article
Join 62,000+ members. Yes, it's completely free.
You May Also Like
---