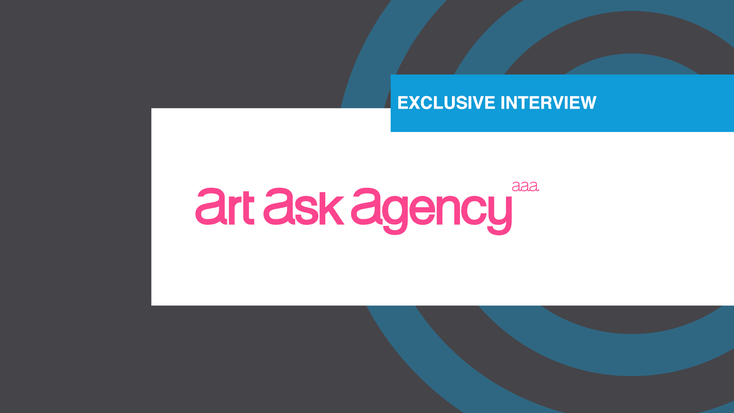 Art Ask Agency logo.
Art Ask Agency
As
approaches, License Global interviews some of the biggest exhibitors from the event. Today, we chatted with Art Ask Agency to learn about all things art licensing.
License Global: What inspired you to set up Art Ask Agency and how has the licensing industry changed during your career? 
Maria Strid: I have been involved in licensing since 1990. I spent 11 years at a Swedish multinational as publishing director, licensing in the hottest brands at the time. I believe my last big hit was the "Titanic"
movie poster that we sold millions of, or maybe the first launch of Pokémon. Hard to remember. 
Once this adventure was over, I knew I wanted to stay in licensing but nowhere near entertainment or character licensing any longer. I was very attracted to fine art licensing and started
in 2002. Fine art licensing is a tough one so I quickly moved on to brand licensing and this is where we are today, focusing on lifestyle brands. 
2022 coincides with the celebration of our 20th anniversary as an independent brand licensing agency and each year had been
very exciting in its own way. The licensing industry is a lot of things, but it's never boring.
Can you talk about some of the brands that you work with and some of unique concepts you have created with them? 
Our represented brands have not changed much over the years. We pride ourselves on maintaining long-term relationships, both with brand owners and licensees, and to be unique in our approach to lifestyle licensing, in order to help our customers to stand out and be distinctive.
"We stay focused on our partnerships with the
, Anne Stokes Collection, Brandalised, Pets Rock and some others for different territories. A newcomer for Art Ask Agency, and for the licensing arena this year, is
the Spanish fashion designer Custo Barcelona
. We will present Custo for the first time at Brand Licensing Europe in September.
With over 40 years of presence at international catwalks and with a very distinct design style, we believe the Custo brand can reach well beyond apparel, into home decor, gifting, jewelry, fragrance and many other categories. Our uniqueness is our longevity, I believe. We have placed the Anne Stokes brand with licensees that have been with us since 2010 and they keep renewing terms and developing new products.  
Some long-term key partners for Anne Stokes are Zippo USA, Pyramid international, Nemesis Now, Something Different Wholesale, Heraclio Fournier, Educa and many others. A newcomer for this brand is EMP, one of Europe's largest alternative online companies, which for the last couple of years has partnered with a direct license for apparel and accessories in parallel with their distribution of other licensed products by the hand of Anne Stokes.
We have been the European agent for the Frida Kahlo Corporation since 2013, so it will soon be our 10th anniversary. I believe that there are not many licensees today that don't know the iconic persona and brand
. Some years ago, we were constantly hearing, 'never heard of her', and then, 'ah, the lady with the eyebrows!' I feel we have made people aware of this historical artist and empowering personality across all of Europe and beyond with a presence on the market in all levels of retail and with a huge following. She is the most popular artist on Instagram today. Not all thanks to us, obviously, but we have hopefully contributed in some small part to this.
What are the three key things a brand owner should have in mind when searching for a licensing partner? 
Brand licensing and lifestyle licensing is a lot about personal relations and trust. You deposit your brand and assets in the hands of someone that you need to trust to make a good job and respect your philosophy and wishes for your brand. Never mind the financials, you don't want anyone to place your brand where it does not belong and make sense, but you also most likely want to make some money. Not only today, but long term. The days of heavy advances, 'grab the money and run' are over I believe. Brand building is key today, unless you are in the fast-moving entertainment sector and focus on that side."
As an agency, why do you exhibit at trade shows and who will you be hoping to meet at Brand Licensing Europe in London this year? 
Licensing shows are key for us and we have been exhibiting both at BLE and at Licensing Expo since the very beginning. After a gap of three years, for well-known reasons, we are very excited to finally go back to London to meet and great all our partners in person and to increase our network of contacts with new brand owners, licensees and retailers.  
Matchmaking and virtual meetings have been great and we have all learned a lot, they have saved us for some years, but now we are fully ready to physically travel and to meet in real life.
What advice would you give someone attending BLE for the first time? 
Spend many hours on Matchmaking prior to the show. This is a great tool to make the best out of your visit. Make sure you book to see the people that are relevant to your business. The show will be busy and with many closed agendas. Keep a day, or an afternoon, open for spontaneous meetings. There will be many to be discovered on the show floor and in the various bars and nearby pubs. Wear trainers and leave your coats in the cloak room. Drink lots of water!
What can we expect from Art Ask Agency for the remainder of 2022 and into 2023? 
New and exciting DTR's to be announced at BLE for this Q4 and for 2023. Hopefully a couple of great new brands will be represented that we have been working on for some time now. We will potentially have some sub agency agreements for territories where we are not as strong and will look to continue the adventure of
. We will be working hard to beat the figures of 2021, which was our best year ever, and will maybe expand our team with new additions. We are a tight and international team, but some new blood will hopefully inspire us to think further out of the box.
Otherwise, business as usual which is a big thing to say these days of uncertainty.
returns to London's ExCeL from September 20-22, with exhibitors spanning a range of categories, a new fashion theme highlighting exciting lines from leading brands, exciting seminar content and more! 
Read more about:
Subscribe and receive the latest news from the industry.
Join 62,000+ members. Yes, it's completely free.
You May Also Like
Loading..