ISPO Munich 2020: Sports Just Keep Getting Bigger
ISPO Munich 2020: Sports Just Keep Getting Bigger
License Global goes to Munich to track the latest trends in sports.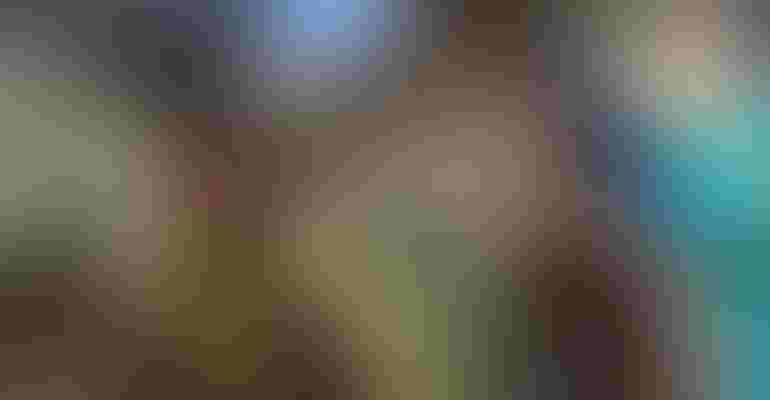 ISPO is where the sports community showcases innovations, retailers test new products firsthand and fitness, outdoor, snow and skate brands launch new apparel drops. Taking place in the Messe München exhibit halls, the 20,000-square-foot space brought some key sports licensing trends to the surface. License Global was in Munich to track the latest trends in the sports world.
Sustainability Through Innovation
The connection with snow or outdoor sports depends on the environment, and with a dedicated sustainability theater – which hosted guest speakers such as Adidas ­– and a specialist jury voting for the best ethical product ranges at the show, the importance of sustainability was hard to miss. Adidas even partnered with Parley to bring consumers onto stands and share their own commitments for 2020, while other brands were proud to showcase their dedication to recyclable fashion. Products such as the Norden x Blacksun Anjia Parka, which uses circular design and eco-friendly materials to produce a jacket with a dedicated bottle, or the Knister, a reusable small barbecue for inner city parks, gained wide acclaim and heralded the establishment of a circular economy, not just in sport.
Sports as an Everyday Solution
According to ISPO's own trend insight, the sports world may combine tribes, fans, communities and adventurers, but it responds, like any other business, to human trends – or "Megatrends." With each generation getting older, technology making us lonelier – even when sharing a house – or climate change influencing decisions, the shift in sports, as a whole, to a societal connection instead of a product range, may be the solution. Anchoring sport as an "attitude to life," according to the show's keynote by researcher Oona Horx-Strathern, can give the industry a genuine connection with its market and becomes an emotional, everyday life solution. These aren't just sports products anymore, but a way of life, or a connection to the environment.
Collaborative Alpine Couture
Showcasing ski jackets created in partnership with Swarovski and luxurious, adrenaline-inspired alpine ranges from F1 Champion Jenson Button, Dare2B was one of the many brands at the show launching a higher concept of design and lifestyle in the sporting world. While this may be more of a demographic trend, or a comment on the rising demand for adventure in high-net-worth-markets, the collaboration opportunities in this space are endless. One key example on display is the Emporio Armani EA7 ski range, offering both style and substance on the slopes and treated more like a fashion drop on the show floor.
Sports With a Capital 'E'
Whether or not you categorize it as entertainment, gaming or sports, esports has gathered such a monumental following that even the world's biggest sports exhibition offers the community a platform. With the Formula Austria eF1 Championship visiting the show for the first live event on German soil, the bank of tables bringing gamers to other esports favorites such as "Counter Strike" and "Rocket League" was just the beginning, as these small but dedicated spaces will undoubtedly grow into an entire hall as teams, licensees and brands grow, and an entire industry of its own making grows with it.
Tokyo 2020 Olympic Games Draws Visibly Closer
Official partners, sponsors and licensed brands with global Olympic teams graced the floor at ISPO and hinted at the rapidly approaching craze that is the 2020 Olympics. Soon, the iconic games will be everywhere, and brands like Alpine Pro and Spyder were already showcasing their officially endorsed, tested and licensed water and winter sport lines ahead of the launch.
Sports Licensing, Collaboration Still a Consumer Favorite
One of the best examples on the show floor of how licensing gives sports brands an edge is the Musto x Land Rover deal. This partnership surrounded a specialist branded Land Rover Defender with a whole range of high-end exploration jackets that fit the famous automotive brand perfectly. Elsewhere on the show floor, we saw Superdry's latest collaborations with Gilson and Cebe for bold and branded snowboards and safety equipment respectively, encapsulating the spirit of trend that spurs creativity and allows brands to enter entirely new markets.
The 33 percent rise in worth year-on-year easily places the global sports market, as a whole, on trajectory to reach the estimated value of $626.8 billion by 2023, according to The NPD Group. So, with sports making up 10 percent of the licensing products sold at retail (precisely $27.3 billion of the global $280.3 billion total) according to Licensing International's 2019 Annual Global survey, the category seemingly remains an undeniable success factor in brand licensing.
Subscribe and receive the latest news from the industry Article
Join 62,000+ members. Yes, it's completely free.
You May Also Like
---