Jammin'
Jammin'
]> The continued convergence of the video game and music industries spells merchandising and promotional opportunities. DropBox and Atari collaborated on mus

]>The continued convergence of the video game and music industries spells merchandising and promotional opportunities.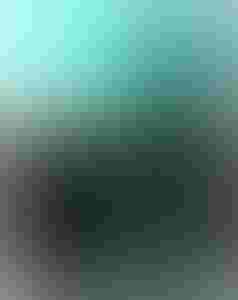 DropBox and Atari collaborated on music for the Transformers game.Given the immense promotional power of song placement in video games, I see us as the next MTV," proclaims Doug Scott, music manager, Electronic Arts.Music has always been an integral part of video games. But in the past, video game publishers solicited record labels, paying royalties for big-name artists' licensed music or original songs. But the roles have since reversed, partially due to lackluster music sales resulting from consumers downloading songs and CD piracy. Today, well-known and unknown artists alike are knocking on publishers' doors, in many cases offering their musical talents for free as they recognize the benefits of exposure to a large fan base for hours on end and numerous promotional/merchandising opportunities.For the 2004 version of football game Madden, released in August, Electronic Arts was offered more than 2,000 songs for the 23 slots available on the game. After its inclusion on Madden NFL 2003, alternative rock band Good Charlotte went from selling 300,000 albums to 3.5 million, according to published reports."The video game industry and the music industry are on a collision course," Alex Rigopulos, co-founder and CEO, video game developer Harmonix, said in published reports. "The video game industry is the fastest growing segment of the entertainment industry, whereas the traditional music business is in decline. The market's appetite for music certainly isn't diminishing, however, and music video games, therefore, offer great promise for the music business.""We're seeing convergence in three places: the industry itself, retail channels, and product," says Richard Ow, senior account manager, The NPD Group/NPD Funworld/Video Games. "NPD research found in 2003 that 45 percent of video gamers also buy music. The core demographics for video games and music are the same. Hip-hop is often a common denominator. There's a convergence of channels, too-you now can walk into a mass merchant, Best Buy, or any entertainment store and buy CDs, DVDs, and games all in one place. On MTV, some videos were themed on video games. It's just a matter of time before the products are packaged together. Or we'll see cases where you buy the game and download the music. Ultimately, video game systems will be capable of downloading new music and game content."Street SmartsOn EA's NFL Street game released January 15, 2004, for PS2, GC, and Xbox, the sound track features an all-original score from the X-ecutioners, as well as licensed tracks from other Sony Music Entertainment artists including Korn featuring NAS, Killer Mike, and Baby D. Several of the tracks were pre-album releases. Two tracks from the in-game sound track were made into music videos featuring gameplay footage of NFL Street. These tracks also were released as singles for radio airplay. Sony Music serviced the songs and videos to radio and video outlets throughout North America.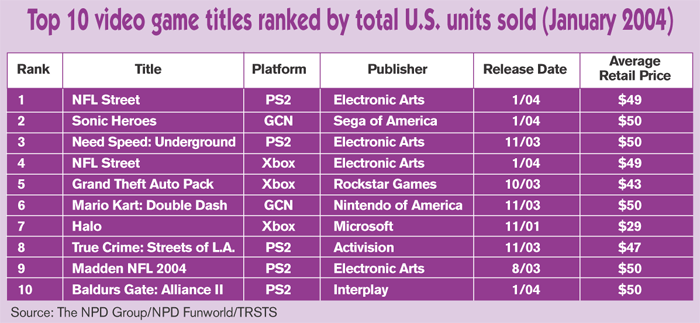 EA and Sony Music Entertainment worked together on a variety of cross-promotional efforts for NFL Street, with Sony Music artists performing at NFL Street events such as the NFL Street After Party following the EA Sports Madden Bowl at this year's Super Bowl. TV programming included access to and interviews with Sony artists as part of a "Making of the Game: NFL Street" program that aired on MTV and MTV2 in early January. Retail promotions included consumers receiving a bonus disc containing a playable demo of NFL Street when they purchased releases from participating Sony Music artists at select retail outlets.
"NFL Street has been an extraordinary success for us, with sales well in excess of twice our already aggressive forecast," says EA's Scott. In fact, NFL Street for PS2 was No. 1 and NFL Street for Xbox was No. 4 in terms of units sold in January 2004, according to The NPD Group/NPD Funworld. "Our label and publishing partners have indicated that they saw an immediate and unexpected spike, both in new music, as well as catalog, right after the game launched," adds Scott.
Typically, at the end of a co-promotion, EA evaluates each of the components based on equivalent media value and/or CPM value generated to get a ballpark figure of value created. "Our co-promotion with NFL Street with Sony Music was one of our most successful because of Sony's dedication to the title and its positioning of one fully empowered individual as the point person on the relationship (as a counterpart to our lead contact from EA)," Scott says. "This streamlined communication, allowing us to successfully execute on more promotional elements."
Electronic Arts also recently partnered again with urban artist Def Jam on hip-hop-fueled fighting game Def Jam Vendetta II (working title) for PS2, Xbox, and GC. Currently in development under the EA Games brand and featured on the cover of Plugged In, Def Jam Vendetta II features more than 70 characters, including 35-plus hip-hop artists and personalities, including Busta Rhymes, Carmen Electra, Lil' Kim, Ludacris, Method Man, Redman, Sean Paul, Slick Rick, and Snoop Dogg. The game is being developed by EA Canada in conjunction with Japan-based AKI Corporation for a scheduled ship in fall 2004.
Artist Involvement
"We're in the early stages of how our relationship with record studios evolve," says Chuck Doud, music director, Sony Computer Entertainment America Inc. (SCEA), who works with both major and independent labels to get music on all first and second priority titles. "There will be more exclusive content, and artists will get more involved in games."
Recording artists P.O.D. approached SCEA and Atlantic Records about how they could bundle a PS2 disk with its CD. The result was the entertainment industry's first combined music CD/PS2 video game release priced at $20. The first 1 million copies of P.O.D.'s new album, "Payable on Death," included an exclusive bonus PS2 DVD containing a custom video game track from PS2 music game title Amplitude (from Harmonix), featuring a newly recorded, non-album P.O.D. track, "Space." Playable only on the PS2 system, this disc also featured a 50-minute behind-the-scenes documentary, "Inside P.O.D. Culture," and a special feature on Daniel Martin Diaz, the artist who created the paintings and sketches for the "Payable on Death" package.
All major record labels and publishers are pitching SCEA new music and bands, according to Doud, who, himself, played guitar in a band that once opened for Dave Matthews. "We won't hire someone to do a track unless we have final approval. For all our games, we identify the overall sound we want (i.e., guitar rock, hip-hop, electronic, alternative, etc.). Then we look for the artists who fit and see what new music is coming out. We love to find emerging artists so we look like we are in the know. The days of getting huge platinum artists aren't really the future anymore. For original sound tracks, we listen to scratches as the artist goes along. And we won't talk to a band about recording a track if it's out on the road touring. The perfect time is when the band is in the studio already working on a new album."
In terms of releasing video game sound tracks as separate CDs, "a lot of games out there have respectable sound tracks, but they don't stand on their own," Doud says. "If you're parked in front of Gran Turismo for five hours, will you really listen to the sound track in the car, too? More and more publishers are moving toward original music content for games, but I'm not sure there is a viable market for video game sound tracks, particularly since you can listen to it in jukebox format without playing the game. I do believe we will see more sound track bundling with the game. And in the end, we may offer consumers the chance to choose their own sound track. Or we may enable gamers to choose new sound tracks for games they already have."
Motorin' with Music
Activision, Inc., inked a deal with Roadrunner Records' multi-platinum-selling artist, Slipknot, for the MTX: Mototrax video game released March 3, 2004, for PS2 and Xbox. In the game developed by Left Field Productions, the band unveiled brand-new track "Don't Get Close" from its album due out this month. Also included in the game is an unreleased instrumental version of "The Heretic Anthem" and hit "Wait And Bleed" from the band's first self-titled album. The initial conversations between Roadrunner and Activision regarding MTX: Mototrax began around October 2003, according to Tim Riley, worldwide executive of music, Activision. "We were looking for some aggressive hard rock tracks for the game, and we contacted Roadrunner Records," he says. "They told us about the new Slipknot record Rick Ruben was recording, and we thought it was a great fit with the motocross world. Originally, the record was supposed to be released right around the same time as the game, but unfortunately, it was pushed back a couple of months, which resulted in our having the track 'Don't Get Close' exclusively for several months."
A three-minute Slipknot video was included in MTX: Mototrax, as well as a secret character and bike designed by the band. A special cheat code to unlock the secret character was placed on the band's new album, and the band's logo was included on print ads and box art.
"Activision licenses music for most its games and has agreements with almost every publisher and record label," says Riley, who has 11 years' experience in the music industry and was hired by Activision in September 2003; he previously founded Westies Music (which supervised the infusion of music into games and action-sports films) and independent record label Go Big! Entertainment. For True Crime: Streets of L.A for PS2, Xbox, and GC (released in fall 2003), Activision licensed more than 75 tracks. True Crime: Streets of L.A. featured an original song from Snoop Dogg, plus 50 original songs performed by West Coast rappers including Westside Connection (Ice Cube, Mac 10, WC), E40, KAM, Caviar, Easy-E Jr., Sly Boogy, KoKain, and Jay-O-Felony. Activision partnered with Vybe Squad, LLC, to develop a True Crime: Streets of L.A. double CD sound track that showcased many of the original songs from the game. Released in fall 2003, the sound track was distributed by Universal (UMVD). Activision expanded the game sound track for the PC version of the game (due out this spring), adding 32 tracks from artists such as Alice In Chains, Queensryche, and 2004 Grammy Award Nominees Spineshank and Stone Sour.
"When looking for music that will be featured in a game, the main requirement is making sure the music complements the game style," Riley says. "In some cases, we have direct communication with the artists themselves, which allows us to create something unique. It all depends on the individual label and group. We negotiate deals on a case-by-case basis. But all agreements have to provide for the rights needed for the specific game and allow us time to exploit the game throughout its active life. Timing and cost are the two challenges that every publisher faces. However, if the proper deal is made and time allows, using original/exclusive tracks is well worth the effort."
Drive Time
Atari, Inc., utilizes three different strategies when it comes to music in video games. An example of a standard arrangement would be that for the Enter the Matrix video game, in which Atari worked in close collaboration with Maverick Records (owned by Warner Bros.), WB, and writers/directors Larry and Andy Wachowski. "We borrowed from the movie sound track, but we also had original songs and artists in the game," says Wim Stocks, executive vice president, Atari. "The Wachowskis were very involved in selecting the songs for both the movie sound track and the game."
For Driv3r, Atari hired a company called Nimrod in the UK to clear and license a number of cuts. Together with the company making the game, Revolutions, Atari was very involved in selecting the music, which includes songs from breaking bands Mellowdrone, Los Halos, Slo-Mo, Narco, and The Bellrays, Stocks says. "We didn't have to pay for the music-getting music in video games has become more promotional than licensing today. We're working with Sony to release a separate video game sound track, planning to release it day and date with the game." Because artists are using the Driv3r name on the sound track, Atari actually will get a royalty from Sony. The Driv3r game for Xbox and PS2 launches June 1.
"As we're getting involved in incorporating music, we want the broadest rights possible-integration, sound track, and download rights," Stocks says. "A word of advice if you're thinking of hiring a company to handle the rights aspects: Look for someone who understands the music publishing business, has relationships with music labels, has an understanding of the video game industry and how music is integrated, and can negotiate well."
The third strategy is purely promotional. Atari is doing an ongoing cross-promotional collaboration with Universal Motown Records Group, which ties in ReAlign/Universal's band, DropBox, with Atari's new Transformers video game for PS2, based on Hasbro, Inc.'s Transformers brand. The band's album released April 13 and the game May 11. The campaign includes the utilization of DropBox performance footage and Transformers game footage in the band's new video, Atari's radio and TV advertising, and live performances. DropBox's debut single, "Wishbone," as well as the band's recording of its version of the Transformers theme song-the band is a huge fan of Transformers, Stocks says-are available in the game as unlockable bonus tracks. A Transformers brochure was included in 1 million Universal Records music CDs. Atari's in-store Transformers videos feature the "Wishbone" single and DropBox's version of the Transformers theme song. A fully integrated on-air and online promotion with the FUSE music video network will include: a live appearance by DropBox on live daily show IMX; an online campaign including the IMX Daily Download and a promotional contest; and Atari will include DropBox content on its Transformers Website (www.atari.com/transformers).
"Next year, we'll have a project involving prominent artists in which songs will be available only in the game for the first 90 to 120 days," Stocks says. "Then we'll launch the singles. Looking ahead, we're investigating giving video gamers the ability to customize the music in their games-letting them pull down the songs they want for their games from the Internet in an authorized way. A portion of the technology exists, but we're probably at least a year away because of the challenges of clearance, rights, and transactions."
Subscribe and receive the latest news from the industry Article
Join 62,000+ members. Yes, it's completely free.
You May Also Like
---