A Bronx Tale
A Bronx Tale
]> Expanding both its cultural horizons and physical space, The Bronx Museum of the Arts has an ambitious exhibit program and promotion strategy. Olivia Georg

]>Expanding both its cultural horizons and physical space, The Bronx Museum of the Arts has an ambitious exhibit program and promotion strategy. Olivia Georgia, executive director of The Bronx Museum of the Arts, views the groundbreaking ceremony last February for the new North Wing as symbolic of the renaissance of growth in the South Bronx. Long characterized as a quintessential crime- and drug-ridden neighborhood in what is still the poorest of New York City's five boroughs (where 20 years ago real estate owners regularly torched their buildings to collect the insurance), much of the Bronx now is the scene of revival thanks to judicious reinvestment. The new $14 million crown-like structure devised by design firm Arquitectonia and targeted for completion in early 2006 is located four blocks away from Yankee Stadium at 165th Street and The Grand Concourse, just north of the existing museum, which will be demolished as soon as the North Wing is complete. A residential tower with expanded educational and gallery facilities will rise on the existing site.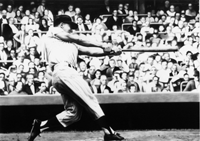 License!: What is The Bronx Museum's mission? Olivia Georgia: Our mission is broad...we support contemporary art with an emphasis on the art of fusion cultures, that is Asian, Latin, and African-American artists. As a result, we are unusual in the museum world because we work consistently and successfully with emerging artists. And this work is the basis for my own philosophy on museum marketing.
I feel that marketing a museum should involve its constituents and its neighborhood.
We work through grass roots, as well as conventional media and advertising. And I believe that by resonating with our local community, we will achieve a global pertinence.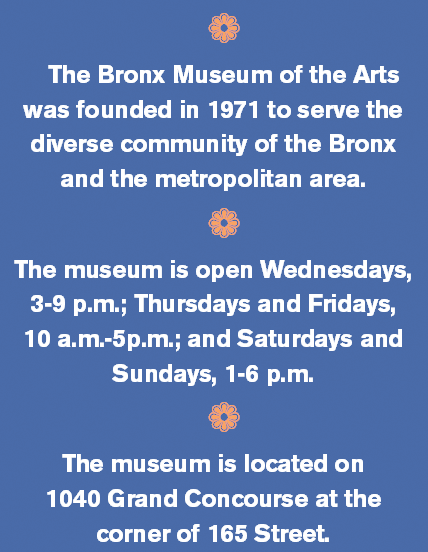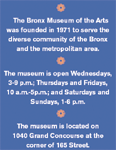 L!:

To what do you attribute the museum's expansion fundraising success?

Georgia: I credit innovative marketing (unusual and creative exhibitions combining popular culture with fine art for a broad-based appeal) for much of the institution's ability to fundraise for its expansion. One example was the 2001-2002 "Hip Hop" show famous for bringing more than 20,000 viewers from all over the city to this often-avoided neighborhood and attracting more than 500,000 on its worldwide tour. Another was the "Subway Series" exhibition (through December 2004) developed in collaboration with the Queens Museum and including such iconic memorabilia as Babe Ruth's cap, Robert Longo's portrait of Roger Maris, all of the bats swung by the players of Murderer's Row (Earle Combs, Mark Koenig, Babe Ruth, Lou Gehrig, Bob Meusel, Tony Lazzeri, and Jumpin' Joe Dugan), together with baseball cards of Derek Jeter and Hideki Matsui embroidered by prison inmate Ray Materson with wool from his unraveled socks.
L!:

What are some of the museum shop's best-sellers?

Georgia: Our shop's best-sellers range from $2 to $15 and include Yankee Stadium tin pails, baseball bat key chains, Subway T-shirts, books such as "New York Yankees The First 25 Years" by Vincent Luisi, as well as "Something to Write Home About, Great Baseball Memories" by songwriter Seth Swirsky, and (no surprise) baseball cards.
L!:

What are some of the shows where you see promise?

Georgia: The show I am really looking forward to is "Tropicali, A Parallel Modernity in Brazil." It is opening in May 2005 and supported by Brazilian Ambassador Julio Cesar Gomes dos Santos. The show will mix the music of popular composers Tom Zè, Arto Lindsey, Caetano Veloso, and Gilberto Gil (currently Brazil's minister of culture) with Cinema Nova by creators such as Joachim Pedro de Andrade and Glauber Rocha, who are known for their iconoclastic perspectives on politics and violence, as well as sexual personae and visual arts. We will be showing Xica da Silva, a film about a slave girl whose sexual allure enthralls a Portuguese aristocrat, and She Killed Her Family and Went to the Movies, which reflects the upper class' obsession with flirtation and marginality. Visual arts included in the exhibition will be equally compelling and original, particularly the large-scale maze-like installations by Hèlio Oiticica made of vegetation combined with everyday objects and designed to create moments of surprise and the experience of the unexpected, and also Oiticica's conceptual samba attire. Merchandise for sale will include the classic "Tropicali" CD, a collaboration between Gil and Veloso pioneering the use of pop idioms for more subversive political ends (both artists were imprisoned by the military government in 1968 for making it, and it was their subsequent exile to Europe that catapulted them to international stardom). We also will debut our own collection of exclusive artist-designed flip-flops, and we plan to be the only venue in North America to sell conceptualist Lygia Clark's mass-produced, user-friendly, wearable art, including her jelly-surfaced notebooks; color-blocked umbrellas; and shirts featuring her bold, abstract designs.
L!:

How would you characterize your promotions?

Georgia: Not all of our promotion is in or even around the form of "shows" designed for a far-flung audience. A major portion of our outreach is to the families and youth in the Bronx proper. We conduct interactive school tours and hands-on workshops for children in our neighborhood supervised by famous contemporary artists. We also have developed a student docent program for teens: an in-depth immersion into art, its possibilities, and, by extension, the importance of developing self-confidence, as well as language skills. And last summer we debuted subsidized programs for 'tweens and teens including a studio lab, a portfolio building class, a media lab teaching digital media, a design lab centered on graphic design, and a lab whose major project is the publication of a youth magazine for ages 13 through 17 called The Grand Concourse, to be distributed by the students throughout the Bronx.

Underwriting for our projects has come from a wide variety of corporate sources including (although not limited to) Altria, Credit Suisse, Bobbi Brown Cosmetics, Immigrant Savings Bank, JPMorganChase, and last but not least, the Yankees.
Subscribe and receive the latest news from the industry Article
Join 62,000+ members. Yes, it's completely free.
You May Also Like
---