Art of Communicating
Art of Communicating
]> "IN A WORLD where you can be anything, be yourself" and "Dream big" are expressions artist Sandra Magsamen uses to inspire others t

]>
"IN A WORLD where you can be anything, be yourself" and "Dream big" are expressions artist Sandra Magsamen uses to inspire others to achieve their dreams. But the artist, who built a multimillion-dollar gift company, certainly practices what she preaches. Since launching the company nearly 18 years ago, Magsamen has touched millions of people through her bold, graphic imagery and heartfelt messages. To date, she has sold more than 300,000 copies of her inspirational gift books.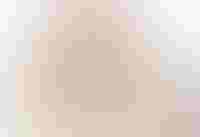 Beyond artistic vision and creativity, Magsamen is blessed with a talent for communication. She enjoys documenting stories, sharing ideas, and connecting with others. Prior to establishing the business, she was an art therapist who worked with patients who lost their ability to speak. Magsamen's thriving company—which currently has 12 licensed partners signed on—began at the artist's kitchen table. While pregnant with her daughter, Hannah, she created inspirational message plaques to decorate the nursery. "Back then, words were not incorporated into pottery designs, so I started writing and carving my messages into clay," says Magsamen, whose hand-created products began sparking demand. Soon she was participating in local craft shows, where her work often sold out. As the business evolved, it shifted from handmade to licensed products. "At one time, I had 15 employees and I still couldn't keep up with the demand, so I began to license my work," reveals Magsamen, whose first license was signed in 1998 with Stewart, Tabori & Chang (Harry N. Abrams), which introduced the "Gestures of Kindness" gift book. Later, the brand expanded further into publishing (Rizzoli International Publications), home fashions (Peking Handicrafts), greeting cards (Sunrise Greetings), and scrapbooking (Creative Imaginations). "Nearly all of our revenue is generated from licensing," reveals Magsamen. Only a handful of retail shops still sell her handmade work, but licensed product is available at thousands of retail doors, including department and specialty gift stores and scrapbooking retailers, as well as Barnes & Noble and Borders. Described as a "virtual company" Magsamen's business currently consists of an art studio and design center in Maryland, as well as a licensing arm (Mixed Media Group), public relations team (Hilsinger-Mendelson East), legal advisor (Frankfurt Kurnit Klein & Seltz), and literary agent (Ink Well Management). Throughout the year, the teams meet in New York City to set goals. "Everyone implements their part of the plan and the brand grows," says Magsamen. "This way, I'm free to develop ideas." Relationship Building
"Gift is our strongest license and has been key for us for many years," notes Magsamen, who refers to her license with Department 56 as "the cornerstone of her business." The line, which launched two years ago, includes her signature "Messages from the Heart" plaques, as well as an assortment of winking Christmas trees, candles, message pillows, and seasonal items. Baby frames, photo albums, dish sets, framed art, and plaques are expected this month.
Several key areas, which celebrate significant milestones such as weddings or the birth of a baby, offer opportunity, and Magsamen anticipates 35 to 40 percent growth within the next few years. Her team has been busy aligning with other "like-hearted" companies that share its vision. Recent launches include an exclusive baby program that debuted nationally last month at Macy's via a partnership with Topsville. Onesies, coveralls, sweaters, dresses, fashion sets, booties, bibs, and blankets are part of the "attire that inspires." Each garment has an inspirational message stitched inside. Suggested retails range from $4 to $36.
In addition, a collection of wedding-themed tabletop will launch next month through a partnership with Lenox. Vases, candles, frames, bowls, and dishes will be part of the mix. Suggested retails will range from $25 to $100. Another exclusive launch is scheduled to debut in February '07 via an agreement with Hallmark. "I'm currently reviewing proposals for extensions within the nursery such as bedding, plush, and strollers," says Magsamen, who mentions home décor as another area of expansion.
Publishing, a category Magsamen credits for the early development of her brand, also continues to play a vital role. Next month, she will launch "Living Artfully: Create the Life You Imagine" (Simon & Schuster's Free Press) at bookstores nationwide.
Staying In Touch
Friends often ask how Magsamen's business manages to thrive in such a challenging marketplace. "I keep listening," answers Magsamen. "I'm always having a conversation with the retailer." In addition, the artist personally calls retailers to thank them for ordering the collection, and often writes a "Hot Flash" e-mail blast in which she shares an image, news, and a recent story about one of her customers or collectors. Magsamen also created a reorder system for busy retailers. "We send the retailer stickers to place behind each plaque, so when one sells out, the stickers serve as a reminder to reorder."
Frequent visits to retail shops and trade shows are imperative for Magsamen, who prefers to shop at retailers that represent an idea or lifestyle. Small independently owned boutiques, antique stores, and Anthropologie are among her favorite shopping destinations, as well as Williams-Sonoma and Barnes & Noble.
Launches are supported by ongoing public relations and marketing efforts, which include advertising and gift giving for celebrities. In addition, Magsamen hosts personal appearances and signings. A lot of press is expected to surround her cloth book series from LB Kids, an imprint of Little, Brown Books for Young Readers. "Baby Love" and "My Blanket" recently received the Platinum Book Award. A 21-city book tour is planned for "Living Artfully" this fall, as well as a national radio campaign and billboard advertising in New York City's Times Square.
Other recent accomplishments include a three-year contract with PBS for Living Artfully with Sandra Magsamen, an hour-long television program filled with ideas about creating, communicating, and connecting that is scheduled to air in December. Looking ahead, Maryland's YPR radio asked the author to write a few segments, which may be developed into an ongoing program. Her revamped Website, which is launching this month, will host a new Living Artfully section, an online store, and a blog section.
Magsamen also works with several nonprofit companies. She and Department 56 waived their royalty rates on a program to benefit the Give Kids The World Foundation for kids with cancer. Says Magsamen, "Giving of ourselves is the only way we can change the world, and in doing so, we change ourselves forever."
Subscribe and receive the latest news from the industry Article
Join 62,000+ members. Yes, it's completely free.
You May Also Like
---