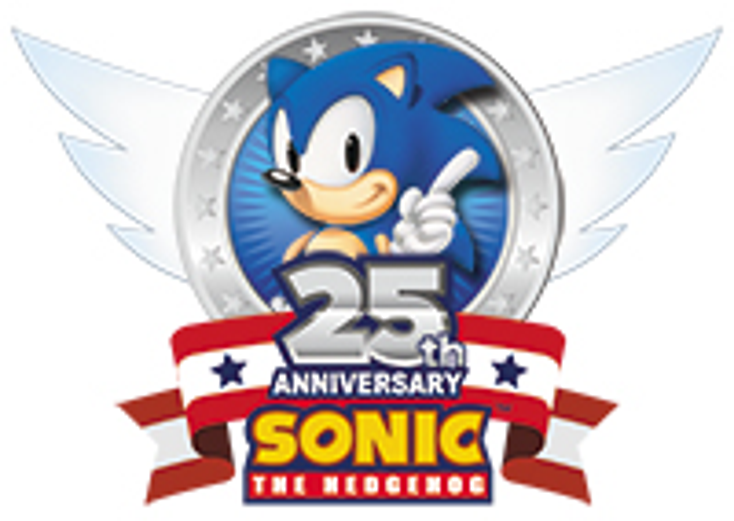 This year, SEGA is marking a milestone anniversary for its Sonic the Hedgehog franchise.
The Sonic brand, made famous first by a series of console games and later evolved into entertainment, is celebrating a 25th anniversary milestone, and SEGA has big plans for the hedgehog this coming year.
"Sonic is a multi-generational evergreen brand that has wide appeal," says Ivo Gerscovich, chief brand officer, Sonic the Hedgehog, and senior vice president, SEGA of America. "The character's speed, attitude and irreverence are key attributes we've built on to energize the character in a whole new way."
The Sonic video game debuted on SEGA's Mega Drive/Genesis, Game Gear and Master System gaming platforms in 1991. Yuji Naka and Sonic team's designers worked to create a game that would be a formidable competitor to Nintendo, which was dominating the gaming landscape with its "Super Mario Bros." franchise at the time. Noting the difference between Japanese and American audiences, the designers aimed to create a game that would have appeal in both countries, not only among hardcore gamers
but also casual users.
Striking level design, in-game art, a soundtrack by the famous Japanese band Dreams Come True and a spunky character contributed to Sonic's breakout success. SEGA quickly followed up in 1992 with "Sonic the Hedgehog 2," a side-scrolling platform game built on the same foundations as its predecessor, but with the addition of a new character–the fabulous fox with two tails, Miles "Tails" Prower.
With his bold looks and strong personality, Sonic quickly became SEGA's flagship character and licensing agreements across the world quickly followed.
"We believe Sonic is an entertainment icon with appeal across all platforms and media, and we are aiming to surprise and delight audiences around the world with initiatives all year long," says Gerscovich.
Now in 2016, as the franchise celebrates its milestone anniversary, SEGA plans to increase touchpoints and expand the character's appeal through social media engagement, new television and movie initiatives, fashion and brand collaborations, promotions, retail and licensing support, events and more.
SEGA has a lineup of events planned for the Beloved Blur Blur's anniversary that started with a Twitch panel at SXSW and will be followed by events at PAX, E3, San Diego Comic-Con, New York Comic-Con and a 25th anniversary party at the House of Blues in San Diego.
"We expect 1,500 people [at the party] with celebrity appearances and surprise announcements," says Gerscovich. "This is the fastest ticket sales of any Sonic event to-date."
Social media is also playing a key role in Sonic's 25th anniversary celebrations, as well.
"Social media is a huge part of what we are about," says Aaron Webber, head of social media, SEGA of America. "Sonic has always been an icon that embodies edginess, and we've taken that tone to revitalize the property by posting jokes, Internet memes and other content that has resonated with fans across generations and grabbed the attention of e-celebrities."
Sonic has 5.5 million Faceboook followers and has doubled its Twitter fan base to 300,000 in under a year. The official Sonic YouTube channel recently re-launched with the creation of short-form content, animated shorts and brand influencer integration. The space will become a big intitiaive for SEGA moving forward. An upcoming Twitch channel will create regular gaming-specific uses and live streaming of events.
On the TV side, the Sonic character appears in the "Sonic Boom" animated original series. The show premiered in 2014, and season one is rolling out to 100 markets worldwide this year.
A Sonic the Hedgehog CGI-animated/live action film is currently in development with Marza Animation Planet, Sony Columbia Pictures and with Neil Moritz producing (producer of the
Fast & Furious
films).
Gaming is also a significant and continuing space for the brand. Since Sonic's introduction in 1991, more than 350 million games featuring the iconic character have been downloaded or purchased. The "Sonic Dash" app, introduced in 2013, has been downloaded 180 million times. The franchise continues with the spring launch of "Mario and Sonic at the Rio 2016 Olympic Games" for Nintendo's 3DS, and a WiiU game will debut in June. SEGA will follow with the debut of "Sonic Boom Fire and Ice" for Nintendo 3DS this fall.
SEGA's licensing team is gearing up for a busy celebratory year with current and new partner activity. Sonic, which has more than 100 licensing partners worldwide including across categories such as publishing, apparel, toys, novelty and food, is expanding the brand by generating buzz and establishing it as a part of the fashionable game culture.
"Each of our partners have strong placement across all retail channels, from mass to specialty to mid-tier," says Kristen B. Zimmer, retail licensing manager, SEGA of America.
SEGA recently signed Han Cholo and Love & Madness for jewelry, Mishka for street style fashion, Concept One for headwear and cold weather products and Vandor for accessories.
"We continue to explore different categories and partner relationships," says Zimmer. "We're looking at back-to-school, stationery, games and puzzles, housewares, sporting goods, food and health and beauty aids. We have a strong foundation that we believe can be extended."
"This is an incredibly busy year for the Sonic franchise in EMEA across TV, mobile, console and of course licensed merchandise," says Jason Rice, director, brand licensing, SEGA Europe. "We wanted to celebrate Sonic's 25th anniversary with a number of carefully selected partnerships, enabling fans to engage with the brand across a range of touchpoints from mass market toys to high-end art prints."
New licensees on board to mark the anniversary include Drop Dead for adult apparel, Iron Gut for a range of limited edition prints and a direct-to-retail deal with Forbidden Planet. Meanwhile, as the "Sonic Boom" TV show continues to roll out across EMEA, several new licensees have been appointed including OTL for electronics, PMS for gifts and accessories and Smith and Brooks for apparel in Sports Direct stores for the U.K.
In the U.S., SEGA plans to partner with Journeys Kidz for an in-store takeover program and additional retail drivers, online brand pages and promotions with partners including Amazon and Toys 'R' Us.
"We are exploring programs with other retailers to support our ongoing entertainment and marketing initiatives," says Gerscovich.
Sonic's extensive archives offer many opportunities for retailers to create exclusive programs that fit their individual needs.
"One of the things that makes the brand so successful is that we are always looking at ways we can connect with our consumers," he continues.
This year, SEGA is also exploring theme park attractions, a new area for the brand.
"The brand is a perfect fit for theme park partnerships," says Gerscovich. "It's all part of an exciting year ahead."
Read more about:
Subscribe and receive the latest news from the industry.
Join 62,000+ members. Yes, it's completely free.
You May Also Like
Loading..