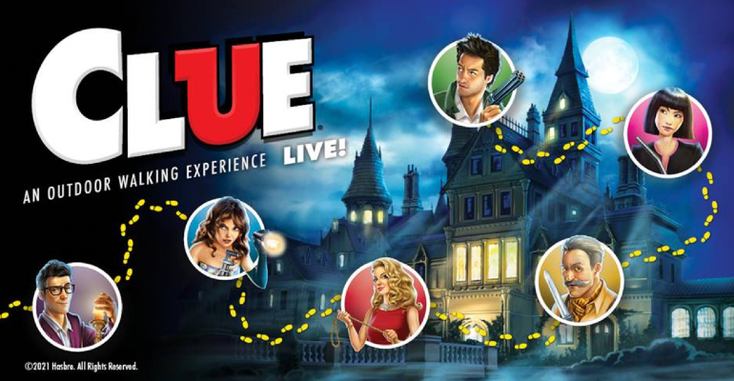 Global play and entertainment company, Hasbro and live theatrical, digital and concert producers, Right Angle Entertainment have announced that they will team up to adapt the board game "Clue" into an interactive immersive experience, "Clue Live! - An Outdoor Walking Experience."
"This collaboration with Hasbro is a wonderful opportunity for Right Angle and for all of live entertainment to show our resilience as an industry," says Justin Sudds, co-founder, Right Angle Entertainment. "We are honored to work with such a renowned title like CLUE to continue our mission of bringing brands to life."
In this all-new experience, guests become detectives to solve the mystery of who murdered Mr. Boddy. Detectives will be led by Mr. Butler through "Clue" locations such as the Hall, the Billiard Room, the Dining Room, the Library, the Kitchen, the Study and the Conservatory, slipping through secret passageways and locations. Patrons will have a chance to interrogate the suspects Professor Plum, Miss
Scarlet, Colonel Mustard, Mrs. Peacock, Mr. Green and Dr. Orchid. "Clue Live! - An Outdoor Walking Experience" is written and directed by TJ Dawe.
"Hasbro is excited to work with Right Angle Entertainment to create a unique experience based on the 'Clue' brand in a fun, fully immersive way," says Matt Proulx, vice president, location based experiences, Hasbro. "This experience will blend all the twists and turns of the game that fans love into an interactive theatrical performance that allows fans, friends and families to spend some quality time together as they work to solve the case in a safe environment."
"Clue Live! - An Outdoor Walking Experience" is performed entirely outdoors for audience members who walk through a city in small, socially distanced groups. All guests must wear face coverings and adhere to local COVID-19 safety guidelines. All actors and staff are in compliance with current local safety protocols as well.
"Live entertainment has encountered incredible adversity due to the COVID-19 pandemic, leading producers to find new ways to reach people," says Alison Spiriti, co-founder, Right Angle Entertainment. "This immersive walking experience puts every guest right into a game of 'Clue' - bringing fun and mystery to your town in a safe and creative way."
"Clue Live! - An Outdoor Walking Experience" will be launching in June 2021 in secret locations in Los Angeles. Waitlists are now open for runs this summer in Los Angeles, New York and Chicago with fall 2021 residencies in Washington DC and Atlanta at CLUEWalkingExperience.com. Ticketing and waitlists are powered by Fever Media.
Subscribe and receive the latest news from the industry.
Join 62,000+ members. Yes, it's completely free.
You May Also Like
Loading..