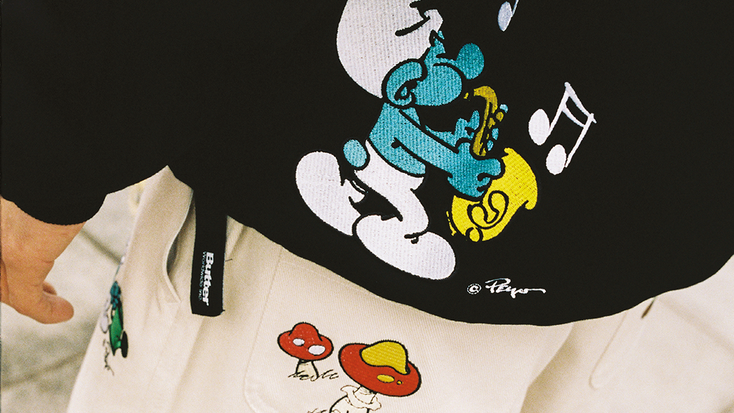 Smurfs x Butter Goods sweatshirt and pants
Smurfs, Butter Goods
At A Glance
Sustainable clothing: caring for the people and environment

Nostalgic clothing lines

Promoting stewardship, generosity, positive thinking and joy through clothes
It is no secret that forms of media can have a profound impact on a person and culture.
– first created by Belgium cartoonist, Peyo, in the late 1950s – have used television and comic books to spread generosity, stewardship, optimism and joy. The small blue creatures always convey positive thinking and the importance of caring for the people and environment around them throughout their smurfy adventures. And now, as the Smurfs have become an evergreen fashion icon, the brand is using its platform to spread these values even further through eco-friendly clothing collaborations and nostalgic apparel partnerships.
Through design and sustainable materials, the green collaborations are meant to bring the topic of environmental responsibility into day-to-day conversations through eye-catching outfits. One of the Smurfs' newest ecofriendly collaborations is with Emporio Armani, a luxury Italian fashion house; it features T-shirts, soft jerseys, sunglasses, tracksuits and caps.
The kids'
clothing line designs are exclusive drawings created directly by Smurf studio artists, Alain Peral and Miguel Diaz.
"The clothing is also made with material that has a low environmental impact," says Marie Van Buggenhout, licensing manager, softlines and business development, IMPS/LAFIG.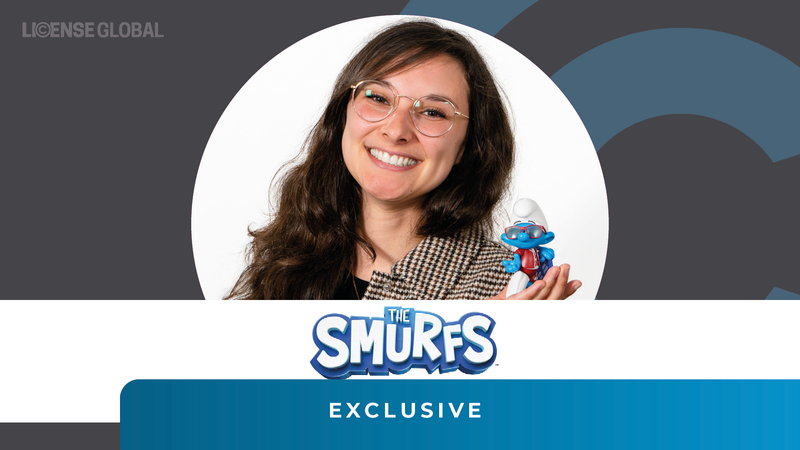 Marie Van Buggenhout, IMPS/LAFIG
The Emporio Armani collection also includes sustainable eyewear so kids can pair their clothing with Smurfy sunglasses.
"The sunglasses are partially made from bio-based nylon fiber with 59% bio-based carbon content and rubber with at least 28% bio-based content," says Van Buggenhout. "The entire collection is also presented in a specific packaging design made from organic fabrics and FSC-certified paper and cardboard. We have been extremely honored and proud to work with Emporio Armani. It's been great working with a fashion house that shares the same values and appreciation for the environment."
Sustainable clothing became popular issue in the 2000s, in part due to Gen Z's concern for the planet's well-being. This generations' continued advocacy, along with changes in shopping behaviors across the board, is driving calls for business practices that reflect shifting values. In fact, consumers are now prepared to spend more on sustainable products than they were two years ago. And when consumers do so, they reduce carbon emissions and water sent to landfills. To keep the trend of passing environmental responsibility to other generations, the Smurfs are using their magical abilities to connect with kids to bring awareness to sustainable clothing alternatives and be more mindful of their clothing.
In addition to the Smurfs' sustainable collections, the brand has also created nostalgic clothing lines to encourage joyful, optimistic and positive thinking.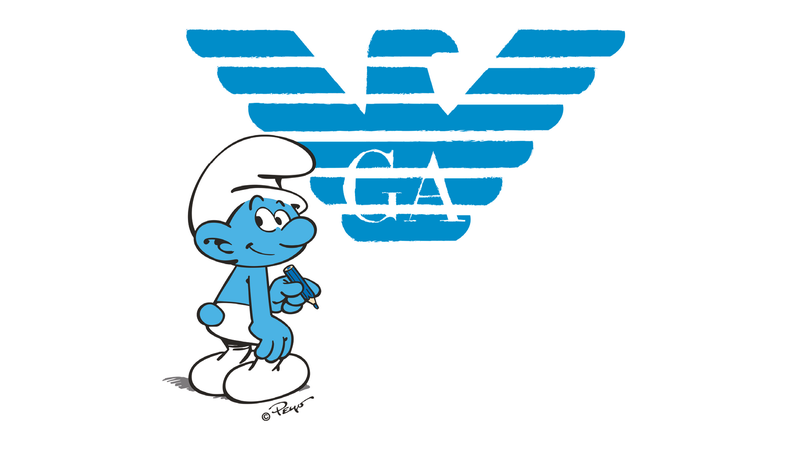 Smurfs x Emporio Armani artwork.
This past March, Smurfs released a fashion line with Butter Goods – an Australian streetwear brand – specifically designed for young men. The light-hearted designs feature mushrooms and iconic scenes from the television series, such as a Smurf playing the trumpet, on T-shirts, fleece vests, sweaters, sweatpants, denim jeans, caps, puffer jackets, hats, rugs and pillow. The apparel is meant to bring out a person's inner child. It can be found in a variety of toptier skating stores and boutiques in the U.S., U.K., Australia, Germany, Scandinavia, Spain, Italy, Thailand, Japan, Korea, Israel and Dubai.
"We had a lot of fun developing this collection as they are fans of The Smurfs," says Van Buggenhout. "It was great storytelling, and we can't wait to do a second collaboration one day with them."
Another nostalgic clothing line the Smurfs did was with AAPE (by A Bathing Ape) for men, women and kids. In this fashion line, components of the classic Smurf mushroom house and Smurf characters were combined with AAPE's Moonface logo to echo the warm smiles and happiness that are found in the Smurfs' village. The design concept also portrays the classic blue and white color scheme that symbolizes the Smurfs and is combined with the slogan, "AAPE UNVS."
By the Smurfs promoting stewardship, generosity, positive thinking and joy through their clothes, consumers can express how these values are important to themselves and spread them to other people, the clothes further working as an agent to transform cultural principles and identities for the better. The Smurfs have plans to continue partnering with high-end fashion designers and houses to come up with more collaborations and designs that are outside of the box, unexpected and have hopes to spread the Smurf values with a louder voice on a catwalk in Milan, New York and/or Paris one day.
Watch:
Sébastien Dumont, marketing, communications and graphic studio manager, Imps, creator of The Smurfs chats with License Global about what's new in the world of the little blue creatures.
Read more about:
Subscribe and receive the latest news from the industry.
Join 62,000+ members. Yes, it's completely free.
You May Also Like
Loading..