Fashion Dollars and Sense
Fashion Dollars and Sense
Even in a down economy, fashion accessories are still within the reach of many consumers and are the answer for women looking to update their look without putting a big strain on their wallets. Licensed accessories lines add an

Even in a down economy, fashion accessories are still within the reach of many consumers and are the answer for women looking to update their look without putting a big strain on their wallets.
Licensed accessories lines add an extra layer of trendiness and can provide retailers with a point of differentiation from their competitors.
At Target, Disney's D-Signed for Target offers accessories for tween girls with styles based on television series such as "Sonny with a Chance" and "Witches of Waverly Place." Macy's is readying a number of licensed lines for the back-to-school season, including handbags from Material Girl by Madonna and her daughter. Kohl's has a limited-edition back-to-school collection for Candie's, designed by Britney Spears, that includes handbags and jewelry. The line will retail from $14 to $78. Patricia Field, well-known fashion designer for the Sex and the City franchise, and agent Artestar are developing a program that features bags and accessories.
According to The NPD Group's Consumer Tracking Service, the fashion accessories market was down 10 percent from January through December 2009, but a strong first quarter in 2010 hints at a recovery. January through March fashion accessories sales were up 17 percent, and as a result, the market was down just 6 percent for the 12 months ending March 31, 2010.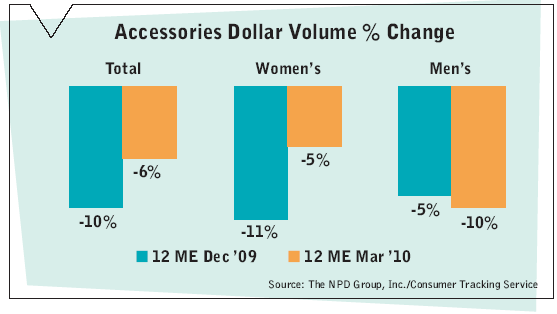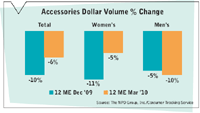 "Overall, accessories still have a way to go to show that they are firmly in recovery mode," says Marshal Cohen, chief industry analyst, The NPD Group. "However there are some significant indications that consumers are selectively reaching back into the fashion accessories business to begin their return to spending."
It was sales of women's accessories that led the way for first quarter 2010. Total women's fashion accessories were up 20 percent, driven by a solid performance in women's handbags. Dollar volume sales of total women's handbags were up 31 percent versus the same period last year.
A closer look at the results shows that some of the drivers behind the growth can be found in the sales of handbags with an average price of $100. Sales of those bags comprised 46 percent of the total dollar sales in the handbag market. That translates to an increase of nine share points in handbags with that price point, and suggests that women are beginning to spend on handbags again.
"As we exit the great recession and we see women begin their return to spending on fashion accessories, I think that will become a leading indicator of the fashion business' return to a sense of normalcy," says Cohen.
The small leather goods category for both men's and women's had been a bright spot for all of 2009 and continues to post positive results for first quarter 2010. Dollar volume sales of small leather goods for both men and women were up 9 percent for first quarter 2010 and for the most recently reported 12-month period ending March 31, 2010, sales were up 3 percent. Purchases of wallets, mobile phone cases and wristlets were the key drivers of this growth.
"It sure looks like the recession took a big bite out of big accessories. Statement pieces have given way to more affordable, practical small leather goods like wallets and phone cases," observes Cohen. "I'd say this is a clear sign of the shift consumers are making from 'conspicuous consumption' to 'calculated consumption.'"
Subscribe and receive the latest news from the industry Article
Join 62,000+ members. Yes, it's completely free.
You May Also Like
---