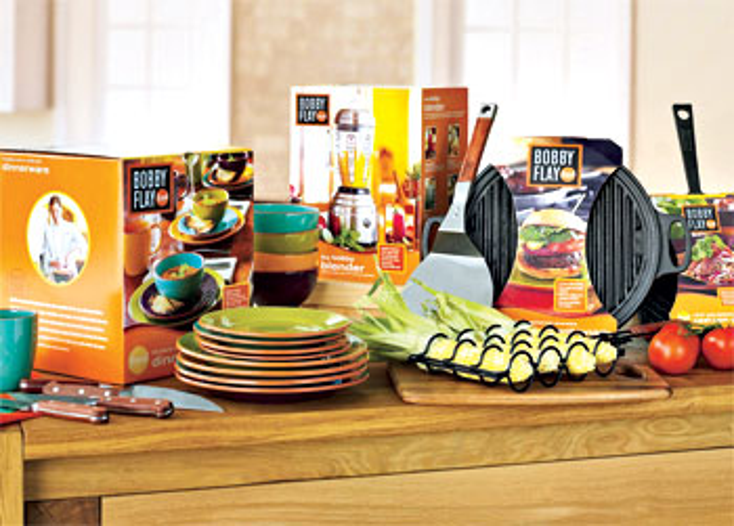 If quality ingredients are the mantra for a perfect meal, then the Food Network has the recipe for success not only for its highly rated television shows and newly launched network, but also for its burgeoning brand licensing business.
While the Food Network, a division of Scripps Networks Interactive, has always dabbled in limited assortments of merchandise, DVDs and books since it was launched in 1993, it really started its foray into a bona fide consumer products and services business about three years ago. In that short period of time, Food Network has cooked up an appetizing and diversified brand licensing portfolio that features an exclusive merchandising partnership with Kohl's, a travel deal with Signature Travel, a restaurant partnership with Legends Hospitality Group and Delaware North Companies, a consumer magazine, food and wine festivals, a video game and mobile phone apps. Its product expansion has catapulted Food Network into the License! Global Top 125 Global Licensors, the annual exclusive ranking of the world's largest licensors, with $100 million in sales of licensed merchandise at retail.
This
represents, in Italian culinary terms, only the primi piatta, as the Food Network has ambitious growth plans, according to Sergei Kuharsky, general manager of new enterprises, that will expand the Food Network brand into multiple product categories, including food and beverage, and significantly increase its sales at retail.
"Food Network is now a power brand that resonates with consumers in the way that a Disney or Apple does and for a food enthusiast it is the No. 1 brand," Kuharsky says. "Food is entertainment and it has become a lifestyle and passion for people."
The Food Network is characterized by its pursuit of excellence, fun and meticulous execution and it's those characteristics, along with a penchant for researching and understanding the consumer, that give the brand such a strong and enviable position in the marketplace today. The Food Network has evolved and matured over the past several years transitioning from a more conservative instructional approach to a more entertaining and relevant style, and soon to be edgier lineup, with its new Cooking Channel.
From the early days, Kuharsky recalls, Food Network serviced the more intense foodie with celebrities such as Julia Child, or as some refer to as "chefy chefs" that were focused on cooking instruction. As the network got broader in its distribution, it also got broader in appeal, says Kuharsky. "For example, a Mario Batali recipe is going to have ingredients in it that are not going to be available in the Kroger store in Omaha. So as the market became more about the Midwestern housewife and her daily challenge to feed four people, Food Network had to get a little more populist."
And the mass strategy obviously is working as 2009 was the highest-rated year in the network's history and every show's ratings were up. The first quarter of 2010 was the Food Network's second-highest-rated quarter in its history among the 25 to 54 age group. As of April 2010, the network says it reaches more than 99 million households, up 1.5 million versus the prior year, according to Nielsen Media Research. In addition, Food Network had more than 9 million unique visitors to its website in March with 172 million page views. And Food Network Magazine now has a circulation of more than 1.2 million. All of its content combine to give the network a tremendous, powerful and loyal audience.
The popularity of the Food Network brand across all its platforms and the key message delivered to consumers regularly is based on one critical factor, according to Susie Fogelson, senior vice president of marketing, creative and brand strategy for Food Network and Cooking Channel.
"Trust," she says. "Food plays such a personal role in people's lives and that makes our relationship with consumers more intimate than other entertainment brands. It's a responsibility and an opportunity. At our core we look to inspire, inform and entertain, but we do it with integrity and conviction."
The Food Network programming schedule, which now includes almost 100 programs, is organized around quarterly tent-pole shows that are segmented according to season and time of day. For example, during the day programming is more instructional, according to Kuharsky, with various new talent, including last year's winner of Next Food Network Star Melissa d'Arabian ("Ten Dollar Dinners"), Claire Robinson ("5 Ingredient Fix") and Pat and Gina Neely ("Down Home with the Neelys") being developed at the same time mainstays, such as Giada De Laurentis, Paula Deen and Bobby Flay, are as popular as ever.
The nighttime schedule is more focused on entertaining with such highly rated programs as "Diners, Drive-ins and Dives" with Guy Fieri, "Throwdown!" with Bobby Flay, "Ace of Cakes" with Chef Duff Goldman, "Next Food Network Star," "Ultimate Recipe Showdown" and "Next Iron Chef."
The Food Network prides itself in quality control, which is centered on the sixth floor of its New York headquarters and studio at Chelsea Market. It's there that almost 30 culinary professionals, ranging from photographers, food stylists, recipe developers, researchers and food producers review and analyze every product, ingredient and recipe. Kuharsky calls this culinary team "the secret sauce and the voice behind every program and chef."
"On screen there's always been different talent," Kuharsky explains, "but viewers have always felt the consistency of thought."
Adds Fogelson: "Our voice is consistent in everything we do. We strive to connect people to the power and joy of food and do so on every level we engage on. Whether it's producing great TV shows, finding the category's best talent, developing winning content for our magazine and digital brands or creating products and experiences: the brand's voice, tone, manner and promise are ever-present."
"The Food Network brand is equally as strong as the talent and why we have been able to extend the brand without the talent," says Kuharsky. "That's why the Kohl's relationship has been so important and the first big business step done with a brand focus."
It's this hands-on philosophy that focuses on presenting ideas and suggestions that any viewer can duplicate cooking at home or visiting one of the many places featured on its various programs that has enabled the brand to extend into typical offerings, as well as nontraditional initiatives.
The Food Network's most successful brand licensing effort to date, which really launched its consumer products program, is its exclusive partnership with Kohl's. The collection, which debuted in fall 2007, has now grown to almost 1,000 SKUs across dozens of home and housewares categories. In addition to the original Food Network-branded products, a separate co-branded Bobby Flay Food Network line was added in spring 2008 influenced by the Southwestern style of the celebrity chef. Kuharsky says the Kohl's products are professionally inspired and aimed at the higher end of better in the "Good, Better Best" retail equation.
Other recent brand extensions include:
Restaurants/foodservice:

In March, Food Network partnered with Delaware North Companies, a foodservice provider to sports arenas, parks, resorts and airports, to develop new menu, restaurant and retail concepts. The initial phase featured Food Network-branded products at Cleveland Indians' Progressive Field, Milwaukee Brewers' Miller Park, St. Louis Cardinals' Busch Stadium, Cincinnati Reds' Great American Ballpark and Texas Rangers' Ballpark. Last year, Food Network partnered with Legends Hospitality to extend its brand into foodservice at Yankee Stadium providing upscale dining featuring its celebrity chefs and menu items at concession stands.

Travel.

Food Network and Signature Travel Network, a retail travel cooperative, recently announced a partnership to develop Food Network-branded travel programs in 2010, including cruises with the network's stars and based on specific shows, trips tied into specific Food Network culinary trends or topics and weekend getaways to locations such as Napa Valley, Calif.

Food and wine festivals.

The Food Network already brands several festivals in New York and South Beach and others are being planned.

Gaming.

Food Network extended its brand to gaming last year in partnership with Namco Bandai Games America for the Food Network: Cook or Be Cooked game for Wii. The game tests food skills and knowledge of how to become a star chef. According to Kuharsky, the game was created to get kids involved with Food Network brand and cooking.

Magazine:

Launched in 2008 in partnership with Hearst, Food Network Magazine has become one of the most successful and fastest-growing titles. Frequency was expanded to six issues in 2009 and to 10 issues this year with a circulation rate base of 1.25 million.

Book publishing.

Food Network, which has a robust book business and relationships with various publishers, produced several books last year that were on the New York Times best-seller list, including "More Diners, Drive-ins and Dives," "Burgers, Fries and Shakes," "Down Home with the Neelys," "Good Eats" and "Ace of Cakes."
A key factor in the development of new brand licensing opportunities has been the influence of Brandgenuity, Food Network's exclusive marketing and licensing agency. "They have been invaluable and key catalysts to some very important deals and we could not have done it without them," says Kuharsky.
"It has been great to partner with Food Network to build a successful licensing program from the ground up," says Adina Avery-Grossman, managing director, Brandgenuity, which has managed the program since it was launched in 2006. We are focused on the behind-the-scenes to ensure that licensees are leveraging the brand to its fullest and that they are delivering high-quality, brand-aligned extensions.
"Food Network is the ultimate authority when it comes to food and cooking and the network inspires, entertains and informs its viewers every day. The licensing program has taken these same values into products and services," she adds.
It seems that the licensing efforts of Food Network and Brandgenuity are working as the brand is nominated for two LIMA awards this year—Best Corporate Brand License of the Year and the Best Overall Licensing Program. Both awards will be announced during the Licensing International Expo next month in Las Vegas.
Kuharsky is bullish on the future with dozens of extensions being researched and developed. Opportunities over the next few years will likely include branded food products, wine, travel/tourism experiences, software, cooking schools, foodservice and restaurants, a radio program and mobile apps.
The future for brand extensions is extremely delectable for the Food Network offering unlimited opportunities in traditional and nontraditional products and services that will offer diverse options for its fans and drive significant growth in retail sales.
Subscribe and receive the latest news from the industry.
Join 62,000+ members. Yes, it's completely free.
You May Also Like
Loading..