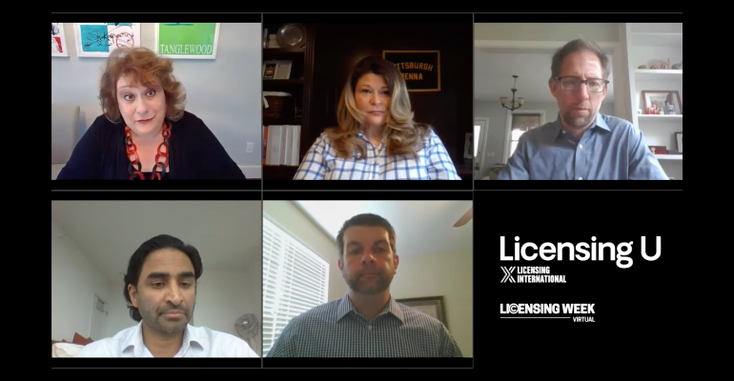 On day four of Licensing Week Virtual, Adina Avery Grossman, founding partner, Brandgenuity, moderated a deep-dive panel discussion on the importance and power of consumer research.
Panelists included Tammy Talerico, director, licensing, Church & Dwight; Scott Harmon, director, laundry innovation, Church & Dwight; Kyle Whitacre, vice president, sales, CR Brands; and Neelam S. Modi, Upstream Brand Management, CR Brands.
The group dissected an array of topics that highlighted the importance of quality consumer research. Using Arm & Hammer cleaning wipes as a case study, panelists illustrated techniques, strategies and best-practices for gathering insight that will deliver success. Grossman asked panelists about the importance of packaging, shelf research, research costs and how best to gather research in a post-COVID-19 climate.
Giving Consumers a Voice
A significant aspect of the discussion was how consumer research affords the consumer a voice. The panelist highlighted how by starting research early, brands can better
understand what consumers want and what they expect before a product hits the shelf.
"It's really important that we listen to the voice of the consumer... without the consumer's vote, we can't be successful," says Talerico.
Packaging: An Introduction to A Brand
When a consumer sees a packaged good at the store it can be the first introduction to a brand. With that first impression in mind, Talerico imparted key insights on weighing the old and new in regard to packaging. She reported that it is important to look at how any changes might change how consumers look at a brand.
"'If it's not broke, don't fix it' sometimes is the way to go, but when you change your packaging, it's highly critical to do a packaging study against the existing package versus what's new to really understand if any of those elements change the consumer perception of the packaging."
The Emotional Side of Shopping
Harmon explained the psychology of consumers' brains and being able to study the emotional side of consumers' buying decisions. He also stressed the importance of competitive analysis and shelf research, pointing to Package Insights as a valuable tool.
"You can think of the role of research as a little bit like an NFL rookie contract or buying a paint swatch before you paint the whole room," Harmon said. "It's a way of paying a little bit early on in the process to avoid making large mistakes later in the process." 
Understanding Your Competition
Whitacre shared insights into the importance of knowing how big the category is, what the subcategories are and identifying any underserved niches, while Modi thoroughly explained the pivotal role in building out an informed consumer profile and identifying a consumer's wants using various research tools.
To learn more and watch the entire panel discussion, register for
.
Read more about:
Subscribe and receive the latest news from the industry.
Join 62,000+ members. Yes, it's completely free.
You May Also Like
Loading..