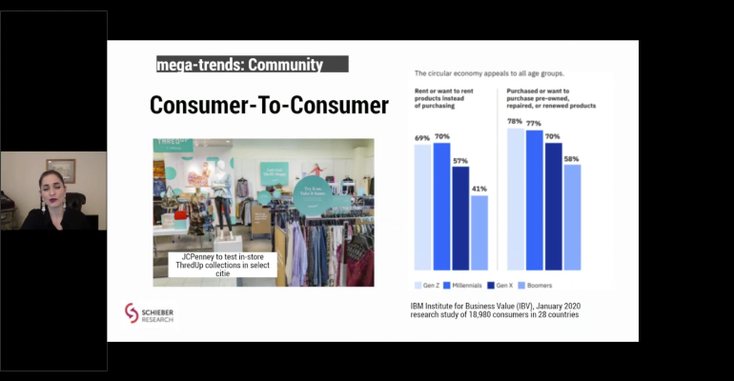 On the fourth day of Licensing Week Virtual, Licensing International launched Licensing University to share tips and tricks for both industry experts and those just starting out.
This year, Licensing University went digital to coincide with Licensing Week Virtual. The online-only event included sessions ranging from how to plan for a post-pandemic world to learning the basics of licensing.
"We were able to really think about some of the issues related to the pandemic and how it's affecting how you plan a marketing plan for the rest of this year and into next year when you're really uncertain as to what the consumer landscape is going to be like," says Marty Brochstein, senior vice president, Licensing International.
With speakers including Hamutal Schieber, founder and chief executive officer, Schieber Research, and Scott Harmon, director of laundry innovation, Church & Dwight, the series brought some of thought leaders at the forefront of the licensing industry together to chat about where
the industry is as well as where its headed.
The Day After COVID-19: Consumer and Marketing Trends
Hamutal Schieber, founder and chief executive officer, Schieber Research, shared some of the trends and consumer preferences emerging from the market now as we begin to see what life might look like after COVID-19. Her session highlighted how categories such as at-home fitness and ecommerce looks to continue to play a key role in the future even as the world starts to get back to work.
"We do think that there will be, at least on the medium-term, a huge change [with personal fitness], people will likely go less to gyms and we'll look for more curated experiences such as ClassPlass and smaller surrounding smaller events," says Schieber, during the session.
Marketing in the New Normal
Melissa Menta, senior vice president and communications, Peanuts Worldwide and Alaina Caldwell, partner and creative director, Styleworks hosted a session on the new marketing demands caused by COVID-19. During the presentation, moderated by Brochstein, Menta and Caldwell highlighted how factors such as working from home and new consumer needs are affecting how brands approach marketing.
"Everybody is in this together, we're trying to juggle our personal lives and our professional lives as they're intertwining as one, which can be really difficult for a lot of people especially right now in a time of need," says Caldwell. "Bringing this virtual licensing event together is a major accomplishment. And I'm really proud to be a part of it."
What the Market Realities of COVID Mean for Negotiating License Agreements
Licensing agreements are expected to go through a slate of new challenges due to the novel coronavirus. From taking a look at current contract terms to implementing new practices moving forward, contracts are now being looked at under a new lens. Kim Boyle, Senior Counsel, Richard Law Group, spoke about these new challenges and opportunities during her presentation as part of Licensing University.
"There's so much going on with COVID-19 that we need to kind of stop and pause to take a look at how all these things might go into the way we work together going forward," says Boyle.
Why Consumer Research Matters – Especially Now
Consumer research has always been a key part of product development, but now more than ever its role seems even more heightened. As COVID-19 has rocked the world at large, the ability to leverage research to more effectively utilize resources seems vital today. During a panel on the topic, experts shared how consumer research can be used to help businesses navigate the 'new normal.'
Speakers for the event included Tammy Talerico, director of licensing, Church & Dwight; Scott Harmon, director of laundry innovation, Church & Dwight; Kyle Whitacre, vice president, sales, CR Brands, Inc.; Neelam S. Modi, upstream brand management, CR Brands, Inc.; Adina Avery Grossman, founding partner, Brandgenuity.
To learn more about the session, check out License Global's coverage of the "
Why Consumer Research Matters – Especially Now
."
Should You Consider Using Talent as Part of Your Social Commerce?
Charlotte Clisby, Managing Director and Partner, Attachment London
Social media has opened up a whole new playing field for brands looking to work with influencers and talent. During her Licensing University session, Charlotte Clisby, managing director and partner, Attachment London, highlighted how leveraging talent and social media is an effective way to level up a brand.
"92% of consumers trust talent more than brands, and that's not to say that we're doing anything wrong," says Clisby. But, if you're a consumer, and you're a fan of a particular celebrity, you build up a trusted relationship with them over months, or sometimes years.
Esports and Licensing: The State of Play
Esports has become just as ubiquitous as any major sport in the world. The mixture of beloved video game titles and competitive gameplay has turned the industry into a category ripe for licensing opportunities. During the session, Daniel Amos, head of esports, Difuzed, highlighted why the industry is so valuable to licensing and shared how the space is expected to grow in years to come.
"You can pick up a mobile phone and be connected to a tournament that is happening in another country," says Amos. "You don't necessarily need the big rigs [anymore]. It's becoming more and more accessible each time."
What You Need to Know About Royalty Rates
Royalty rates are a crucial piece of licensing agreements and the a part of what makes the industry tick. Learning how they work and why they are so important is vital to anyone looking to get into licensing. Teri Niadna, managing director, Brandgenuity Europe; Carolann Dunn, vice president, Discovery Inc.; Steve Scebelo, intermin president, licensing and business development, NFL Players Inc., highlight how to approach the issue of licensing if your new to the space.
"There really is no standard rate or cookie cutter approach to royalty rates, but you should always do your homework," says Dunn.
Basics of Licensing
Stu Seltzer, president, Seltzer Licensing Group and a professor at NYU; 
Joni Camacho, vice president, NBC Universal TV Licensing and Franchise Strategy; Julie McCleave, director of global licensing, Unilever and Rob Striar, president, M Style Marketing, highlighted the basics to get anyone up-to-speed on the licensing space. For those new to the industry or looking for a refresher, this session provides a great session to get moving in licensing.
Learn More
Read more about:
Subscribe and receive the latest news from the industry.
Join 62,000+ members. Yes, it's completely free.
You May Also Like
Loading..