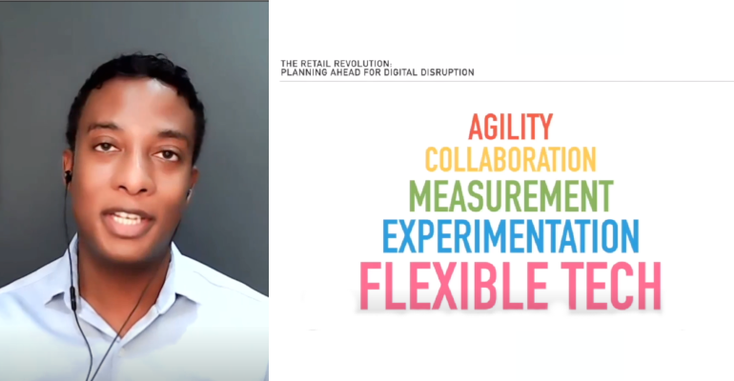 This year saw significant global upheaval. Drastic changes in our everyday lives even led to the common use of the term "new normal" to make sense of the massive deviations from our daily lives.
These changes have been dramatic in all walks of life, including the business world. New consumer and work trends are affecting every company on the planet. 2020's upheaval has led many businesses to consider how they can better manage change today and in the future. From pivoting to new retail challenges to understanding how to leverage technology to find stable footing, players, both large and small, are reexamining how they do business.
Marcus East, technical director, office of the chief technical officer, Google, delivered a keynote at
 to illuminate how companies can more effectively manage digital disruptions today and in years to come. East's presentation, 
The Retail Revolution: Planning Ahead for Digital Disruption
, highlighted the core functions that must be examined
to keep up with the change of pace due to technology. 
Key points from his live engagement included flexibility and looking at customers as a guiding star. According to East, one of the core challenges companies face is their inability to adapt to technologies' rapid evolution. East finds that companies that have become too attached to legacy systems are the first to falter during digital disruptions.
"It is not about architecting the best solution or creating a highly complex platform," says East. "It is about making sure that your technology is flexible enough to support the changes that you're going to experience in the marketplace. This is where most digital transformations die."
Another critical aspect of the presentation focused on the vital importance of the consumer. East reported that in his view, the companies that put customers first could adapt to the changing tides of business the best.
"The companies that have been most successful at handling and dealing with digital disruption are those companies that have understood that their customers are their kings and queens –that everything that they do is geared around creating incredibly compelling experiences for their customers," adds East. "That for me is when you get to this pinnacle of creating a culture that is digital and innovative."
East finds that companies' goal shouldn't be to foresee the future, but, instead, be adaptable enough to manage change. He says that change will happen, so it's most important to adjust to those evolutions by staying flexible.
"The best way to prepare is not to try to predict the future, but to create the capabilities so that as the change comes, you can handle it," continues East. "Changes are coming whether we like to or not."
See East's full keynote to understand the practical steps needed to manage digital disruption. Registered Licensing Leadership Summit attendees can watch the 
. Those interested in attending the Summit can also still register for the event 
.
Read more about:
Subscribe and receive the latest news from the industry.
Join 62,000+ members. Yes, it's completely free.
You May Also Like
Loading..