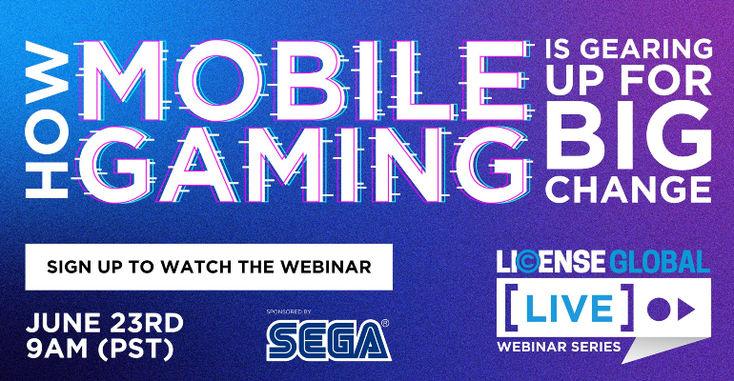 Whether it's the invention of 5G or the increase of brand-driven collaborations, mobile gaming has met growing user demand with increasingly creative campaigns. License Global joined forces with Sega to chart the modern mobile gaming market in our latest License Global Live webinar.
The panel – led by Dave Tovey, director, brand development and head of Tinderbox, Beanstalk – brought together Ville Heijari, business development head, Rovio; Luka Okorn licensing head, Outfit7 and Issei Shimizu, director, digital media, Sega of America to discuss how change is coming to the rapidly evolving mobile market.
Topics ranged from a focus on cross-platform multiplayer games and running XBOX on your phone through 5G to regulation for family entertainment, data-driven consumer products and bringing digital to life through experiences. First, understanding how a mobile gaming brand comes to life was the context that built the discussion of the future for the platform.
"We can't afford lots of flops, if
you want to do this like it should be, and if you don't keep the users, don't keep them entertained or don't give them a reason to stay," says Luka Okorn, licensing head, Outfit7. "In 2010, we built up to 10 million downloads. Now, we have 16 million downloads. So, we're following the same model for 10 years, it's all about the quality."
"It's like building a promise with the consumer and with the user," says Issei Shimizu, director, digital media, Sega of America. "Then, over time, you create a relationship, and then you get feedback from the user. Then you start to get advocacy. Advocacy is what leads to longevity of the brand. When we look at marketing and what makes people loyal to the brand, the number one driver is always word of mouth, so I think it's very important that we connect with the user and then build a long-term relationship. You can build the brand to get that back and forth from the user, and then you're able to communicate with the user."
There are 2.7 billion mobile gamers worldwide; building a brand can take time and dedication, not just a smash-hit IP launch. For brands looking to work with gaming apps, the trick is careful consideration and timing.
"First, what is the model?" says Okorn. "Remove the IP, right, are you going to go for freemium, are you going to go for the premium? Are you going for in-app purchases? I think in-app purchases are more inclined to succeed in consumer product licensing in shorter periods. The freemium, this of course costs much, much more money, and of course success is coming, much, much later, it's not going to be overnight. Of course, you know if you throw lots of money into marketing, but still, it's not guaranteed. You must decide what you want. What is your point and then I would wait, at least I'm not just jumping for the launch. I would jump in where the success shows."
The speed and demand of the mobile gaming market is tricky to synchronize with the traditional consumer product process, bringing another point of consideration for the licensing process. 
"We really tried back in the day to launch new games, new features and physical product lines day to date, and I must warn everyone that it is a painful road to go down," says Ville Heijari, business development head, Rovio. "Also, one of the first things any prospective licensees ask us is when there is a new game coming out. I think that this is one of the biggest misunderstandings we have at this moment. New games are risky to develop. It's a rare occurrence that there's a new game just taking the market in a matter of weeks, or even a couple of months. So basically, these games are like services, and they're really built out. The audience connects with it over a longer period. That said, there is a sustained, continuous player base at the earliest phase, and you should look at these games as opposed to a product launch to synchronize with."
This, however, didn't deter the potential and promise of the mobile gaming market. One of the most rapidly growing gaming sectors within the medium, mobile gaming, is forecast to be worth $272 billion, according to GlobalData. 
"Coming back to the previous question of why mobile games are the perfect platform for brands and licensing," says Heijari. "These games are live services, they're very adaptable and very customizable and so forth, but these are the most connected gaming audiences out there. A mobile game can be a second screen experience for whatever screen time or media consumption; so, you're watching Netflix and you're also playing a mobile game."
Watch the full License Global Live Webinar – sponsored by Sega – for the full insight into the world of mobile gaming and the future potential for brand licensing partnerships.
Subscribe and receive the latest news from the industry.
Join 62,000+ members. Yes, it's completely free.
You May Also Like
Loading..