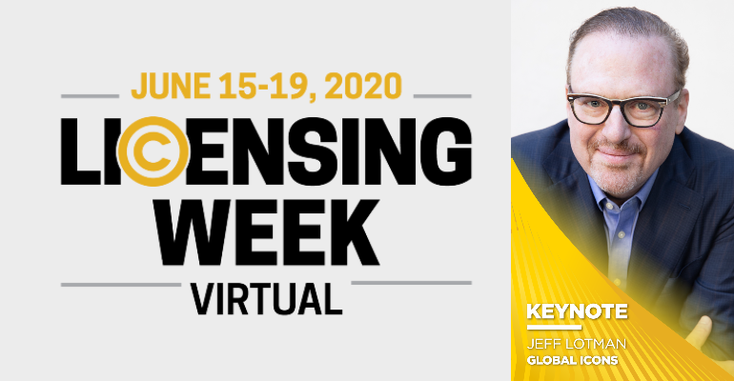 During the presentation, Lotman highlighted the inherent brand marketing potential that licensed goods provide. He showcased how licensing compares to other more traditional marketing initiatives, as well as explained the role licensing can play in breaking down 'the third wall.'
"Everyone is out there trying to sell," says Lotman, "Sell to you through PR or TV, or radio, social or different events, and they're spending millions and millions of dollars on advertising every year. The reality is, it's hard to break through that third wall to get people to see you or get your product into their mind. The wonderful thing about what we do is, we're the only way to break through that third wall, because
we create products."
The licensing industry has been listed as generating $292.8 billion in global retail revenue in 2019,
according to Licensing International
, a 4.5 percent rise on 2018. The core of that industry revenue is licensing's subtle ability to seamlessly connect brands and consumers with innovative products. Behind those innovative products, are brands that actively drive to answer the needs of their consumers by working in tandem with the right partners. 
"For example, all Caterpillar consumers want to succeed at their job," adds Lotman. "They specifically look for products that then do that, that really help people succeed, which is really smart. [Caterpillar] know who their customers are and who they're not. So, of course they've done work boots, which has been an enormous success. [But also] phones, denim and toolboxes, which is smart. If you think to yourself, 'why would Caterpillar make a phone?' What do you think about people that work on those job sites? It really matters to them, they want to make sure these products are a champion of success." 
Consumer insights power successful licensing solutions, and create products that drive brand engagement, loyalty and exposure. Offering another example to the crowds of Licensing Week Virtual,  Lotman shined a light on the success story behind Mustang's expanding women's products market.  
 "Mustang sells a lot of cars, and close to 40 percent are sold to women," says Lotman. "They've did some research to look at how to enhance and how to extend in the market, and research showed that women who buy Mustangs also really like to get mani pedis. We thought about seeing if we could do a nail polish, which of course would align very much with that. [Mustang] just did a great line and launched nail care that actually tied in with the 50th birthday of Mustang, and then also tied in with the colors of the cars. So, it was actually really cool. It turned into a huge media success."
For more information on Lotman's book and
insight into the creation of his licensing business, Global Icons, 
register for Licensing Week Virtual
to gain full access to on-demand content, network with the industry and gain more insights into the power of licensing. 
Read more about:
Subscribe and receive the latest news from the industry.
Join 62,000+ members. Yes, it's completely free.
You May Also Like
Loading..