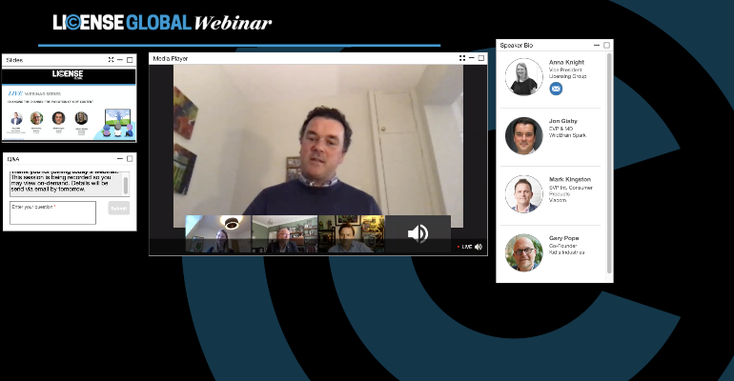 Gary Pope, co-founder, chief executive officer, Kids Industries; Jon Gisby, executive vice president, managing director, WildBrain Spark, and Mark Kingston, senior vice president, international consumer products, ViacomCBS Consumer Products, joined Anna Knight, vice president, licensing, Informa Markets, to discuss how kids' content is evolving, why great IP should always be at its heart, and how it impacts kids today.  
"Much of what was starting to bubble up before all of this nonsense has accelerated," says Gary Pope, co-founder, chief executive officer, Kids Industries. "Attitudes, media consumption, socialization, and health issues are all having an impact on how children see themselves, but to try and box this off, I would say children are now more empowered than they've ever been and see the world for what it is. That chocolate box-image of childhood has evaporated over the last 12 months, and that visage has started to re-emerge. Parents and kids want to get back to proper childhood, and I'm expecting a rebalancing of what is and is not childhood. Technology has overtaken everything. Using it, understanding how it impacts their lives, everything seems to have gotten so much quicker, grabbing hold of devices, making their voices heard, and brands interestingly responding to this. Now, childhood is rebalancing in a certain way which makes me very happy. What children need now more than ever is the opportunity to play and to socialize."  
Covering
Twitch's 3.9 million subscribers, the success of "Roblox" and "Minecraft," the new technology kids can interact with, such as "Hellosaurus," which is driving participation and the brands making magic for kid's media consumption, the content landscape looks to be changing over the next 18 months.
"I'm a big believer that kids are the leading indicators in media consumption; the first thing is, we've grown up in a world where we link a device to a particular sort of content," says Gisby. "Kids don't make that distinction. If you're a fan of a particular character you watch on TV, you don't watch them on TV all the time. If they pop up on YouTube, you're going to watch it there too. Increasingly that will be the case. I think the content industry is working out how the 360 view of the brand works. The other piece that works is interaction and games, the social piece – depending on the child's age – is later, but the gaming piece is consistent much earlier. So, working out what that means as the audience ages and what that means for the content. Creating videos to put on a streaming website or "Roblox," and to put it in Gary's point of view, it'll make the world more colorful, and it'll be interesting watching these kids grow up."  
The modern child's world is built around digital stories, whether it's streaming content, participation in educational apps, online schooling, or big family moments based around tentpole releases on-demand. But how will kids' content evolve post-pandemic?
"At the heart of everything, there's always going to be content," says Kingston. "We're talking about delivery and consumption and great content, storytelling. People have been talking about the death of cinema for 80 years from cable tv onward. I believe what Gary and Jon have said, we're a social species, there's much pent-up demand, but we want those social experiences. It's still going to be great content, and there's never been a better time to be a content creator. But I think the traditional experiences will be there, but there will be bigger and bolder, a mutually shared experience for the family. The heart of it all is powerful storytelling where consumers can build an emotional connection who can then take it off-screen and then to consumer products."  
Consumer products give fans and kids more opportunities to connect with the stories they love, as long as quality storytelling is the key priority.  
The webinar garnered more than 900 registrants and nearly 500 live attendees.
Check back to watch the entire 
License Global
 webinar "Changing the Channel: The Evolution of Kids' Content." The webinar will be available on-demand soon.
Subscribe and receive the latest news from the industry.
Join 62,000+ members. Yes, it's completely free.
You May Also Like
Loading..