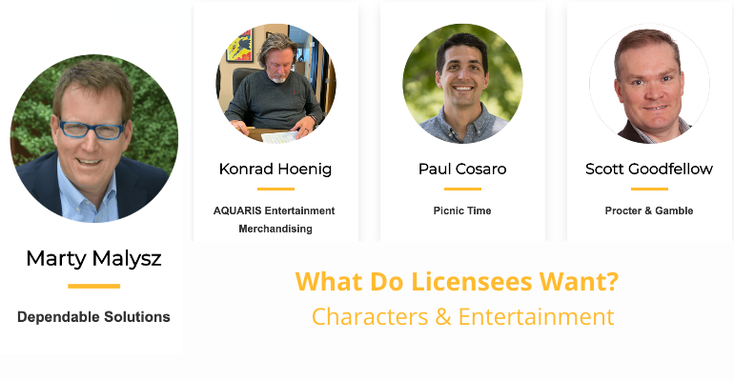 The challenges presented to licensees, and just about every business, have evolved with the COVID-19 pandemic. As retailers have shut down and people have been stuck at home, many licensees have been examining ways that they can redirect their resources to ensure their business can handle these sudden and radical changes.
On day two of the "What Do Licensees Want?" panel at Licensing Week Virtual, licensees from across the spectrum sat down with Marty Malysz, president and founder, Dependable Solutions, to share the new challenges facing them in 2020. Leaders from Picnic Time, P&G and AQUARIUS Entertainment Merchandising joined the discussion to highlight what licensees are looking for during this "new normal."
As many organizations adjust to the outcomes of the pandemic, panelists were clear that they are using this time to drive new initiatives and implement creative thinking. Scott Goodfellow, global business development, P&G, spoke about the partners he works with and how they have used
this time to reassess how they do business.
"A recurring theme throughout the conversation was a call for more simplicity in contracts," says Goodfellow. "Working with large organizations and many moving parts, the licensees at the discussion asked for more simplified documentation, which they believe would help all parties involved."
A particular trend for creative strategies looks to be e-commerce. During the panel, the speakers highlighted how important online shopping has been to their business during the stay-at-home orders. As consumers have shifted to shopping on the web, the role of e-commerce proved vital to licensees' business.
"[E-commerce] really helped us get through this last couple of months," said Konrad Hoenig, president, AQUARIUS Entertainment Merchandising. "When we first started, we told all our employees that we weren't going to let anyone go. We're going to figure out a way somehow, some way, to get through this. And fortunately, we were able to do it. I think we were more lucky than smart just because some of how some the stuff took off, but it worked that way."
Partnerships will continue to play a vital role in bridging the gap during these challenging times. Panelists noted how flexibility and openness are vital as the industry as a whole comes together during the fallout of the COVID-19 pandemic.
"We need everybody to be open to creating that partnership to allow us all to serve the consumer, and not force all the burden on them, which eventually will hurt sales," said Paul Cosaro, chief executive officer, Picnic Time.
To hear the full panel discussion, register for
.
Read more about:
Subscribe and receive the latest news from the industry.
Join 62,000+ members. Yes, it's completely free.
You May Also Like
Loading..