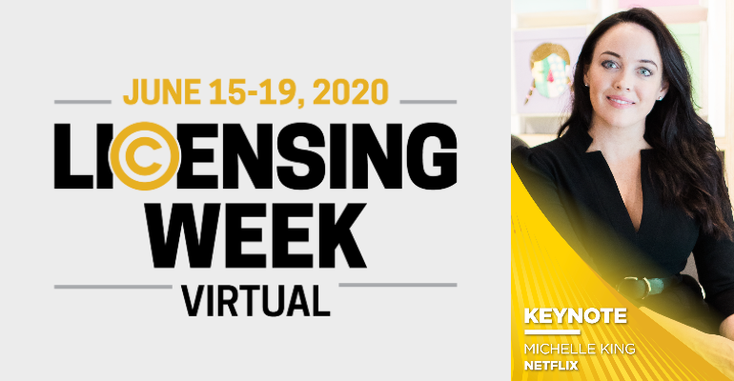 Creating a culture of equality isn't just a brand necessity but a proven way to outperform as a brand, according to Michelle King, director, inclusion, Netflix.
King highlighted exactly how to make equality a competitive advantage during Wednesday's Licensing Week Virtual keynote.
"Very few companies have been able to make equality a competitive advantage because they're not actually clear on what the problem is," says King. "If we're not clear on the problem we're trying to solve it's very difficult to put solutions in place that are going to meet it. So today, a lot of our diversity and inclusion strategies [are] kind of like throwing mud at a wall."
During the discussion, King highlighted how many of the initiatives being rolled out today are not getting to the core of the harmful elements at play in society. She spoke about the prevalence of unconscious bias and the damage hardwired underlying success prototypes can have to organizations.
"Research finds on average around 70 percent of
all organizations - irrespective of geographies or locations or context - have what we call an underlying success prototype hardwired," adds King. "A prototype is when you think of what the ideal world would look like in organizations today. Whether you're a man or a woman, you're most likely going to think of what I call the 'Don Draper-prototype' right – if you've seen 'Mad Men' you'll understand that reference – but it's the 1950s manager of ideal; a white middle class heterosexual able-bodied male. But importantly it's not just the visual image in terms of demographics, it's the kind of behaviors that a leadership ideal engages in. Someone who is dominant, assertive, aggressive, competitive, exclusionary, willing to make work the number one priority, that is the standard in most organizations for what good looks like."
By embracing the image of a 'Don Draper Prototype' – the pre-conceived perception of what a successful leader looks like or behaves – an organization will set in motion a wide range of psychological, behavioral and cultural obstacles throughout the business. However, by creating a culture that represents the values of a brand, training a leader that can tackle social challenges and nurture a workplace that rewards different behavioral approaches, as well as encouraging values outside of classic prototypes, brands can bolster the entire foundations of its organization.
"A recent McKinsey diversity study shows that, when we look at diverse teams or more gender diversity, they are 25 percent more likely to outperform their peers in terms of profitability, and if you take that and relate it back to race in terms of racial and ethnic minority groups, teams that are more diverse are 36 percent more likely to outperform their peers in terms of profitability," adds King. "When it comes to productivity, when you have generally more racial, ethnic and gender diverse teams you're looking at a 46 percent higher productivity. But then, when we look at innovation, creativity, the ability to problem solve, collaborate and work together, when people feel like they belong, they feel valued and companies find that employees are six times more likely to have an innovation mindset."
So, what can brands do internally to address equality openly? From managing moments of inequality to unpacking issues on a company-wide scale, an open culture of equality must be reflected from the foundations of the business right through to the brand.
"It's not just the awareness piece and disrupting denial, but you must have a deep understanding as to how these barriers are showing up in your workplace," says King. "That means treating inequality like a business problem. It's important for leaders to get teams together to sit down to talk about the issues and to treat it like a business problem, [so they can] put a plan in place that makes sense for some of these issues."
Read more about:
Subscribe and receive the latest news from the industry.
Join 62,000+ members. Yes, it's completely free.
You May Also Like
Loading..