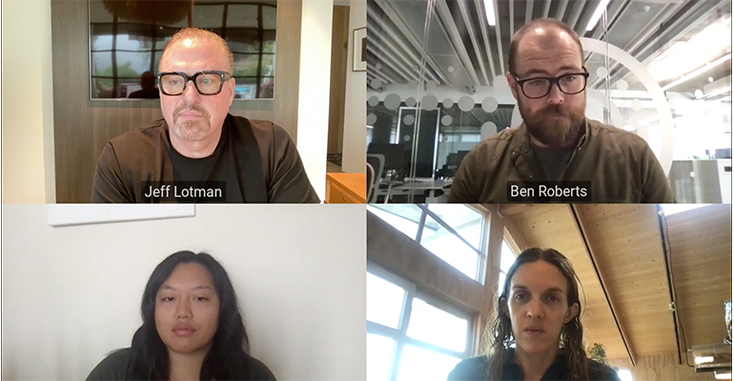 At yesterday's webinar, "How to Collaborate with the Consumer in Mind," 
brought Global Icons and Fred Segal together to discuss how to navigate modern consumer needs and how brands can use intellectual property to make an impact. 
The panel included Jeff Lotman, chief executive officer, Global Icons and owner, Fred Segal; Lizz Wasserman, executive vice president, creative, Fred Segal and Dana Dang, head, social, Fred Segal, moderated by Ben Roberts, senior content editor (EMEA), License Global.  
For Lotman, working with Fred Segal was a natural fit for Global Brands, which pursued the retailer for several years.  
"Fred Segal has been true to what it is and what it represents," says Lotman. "It's always been this very cool Los Angeles retailer, and it's very much about this discovery of fashion and pop culture and trying to do the coolest things."  
Launched initially as a camping store in the '60s, Fred Segal became a destination for up-and-coming luxury brands from the
'70s through today (labels like Kate Spade and Juicy launched here). Establishing a licensing program at an existing store with high visibility was an advantage for Global Icons. 
"We have our own retail space, so it gives us the ability to launch brands in this world of premium," says Lotman. "We showcase [product] from $50 to $5,000 items in our store and sell them. It shows the intersection of licensing and retail, and how working with a great retail partner you can do these kinds of things, and it gives the ability to get the credibility."  
Wasserman talked about the recent relaunch of the Camp Beverly Hills at Fred Segal and how the two brands played to each other's strengths.  
"Both of our brands stand for optimism and the L.A. lifestyle," says Wasserman. "These themes are forever for both Fred Segal and Camp Beverly Hills, but they're even more in the zeitgeist right now. Customers are looking for comfort, nostalgia and positivity in these somewhat uncertain times. Fred Segal can exist in that nostalgia and heritage space. This is our 60th year – we have always had what's cool and what's cutting edge. And that allows us to play in a bunch of different spaces and be agnostic and all things other than in our curation."  
Dang shared Fred Segal's social strategy to promote Camp Beverly Hills to fans of the brand from the '80s while appealing to a younger generation and bridging the gap through promotion. 
"We drove the original brand fans from Facebook and Instagram to [a] text-the-number [app]," says Dang. "This way, we now have them. Remembering Camp Beverly Hills and having us be top-of-mind to fans. They do remember that we're coming back."  
Another social strategy was promoting Camp Beverly Hills through social media influencers with hosting events at Fred Segal and gifting branded products to them, which helped drive brand visibility and, ultimately, sales. 
"Original fans of the brand and the new fans see the different price points and how people interacted with the story," says Wasserman. "We had a 70% sell-through within 72 hours of launch, and 70% of that was an 18- to 34-year-old customer."  
Now that Camp Beverly Hills is an in-demand brand, Lotman wants to bring more licensed products to market.  
"We're now talking different partners that want to take the brand beyond Fred Segal and into various categories," says Lotman. "We're discussing apparel and headwear, fragrance, footwear and bags." 
To stream the rest of the webinar on-demand, watch it 
.  
Read more about:
Subscribe and receive the latest news from the industry.
Join 62,000+ members. Yes, it's completely free.
You May Also Like
Loading..