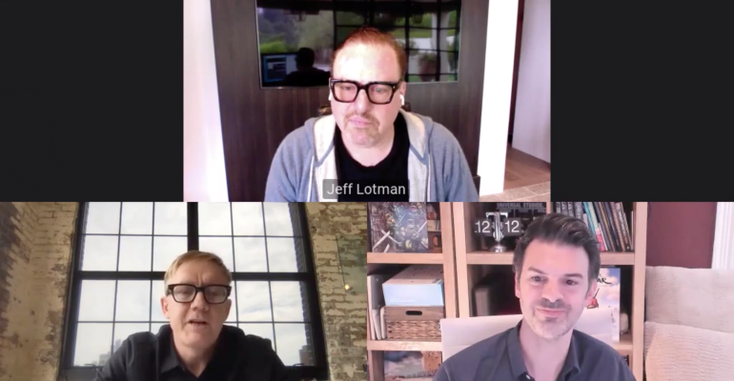 During a presentation at Licensing Week Virtual, industry leaders discussed the growing role e-commerce will play in brand retail strategies and shared tips for how the licensing community can best leverage online shopping plans.
The temporary closures of brick-and-mortar stores due to the COVID-19 pandemic has acerbated trends in a retail landscape that was already experiencing widespread changes. As consumers were asked to stay home, more and more people headed online to shop. Many brands were already pushing toward e-commerce as part of their overall strategy, but the pandemic accelerated those plans. 
During the "Stop Living in a Silo: Why Everyone Needs an E-Comm Strategy" session, moderated by Jeff Lotman, chief executive officer, Global Icons, the panel highlighted just how much has changed due to COVID-19.
"We all knew e-commerce was accelerating, but with everything that is happening, that has been accelerated by about five years," said Michael Carlisle, principal, The Wildflower
Group. 
The panelists highlighted the value of a robust e-commerce strategy and discussed ways to get things started quickly if a brand is late to the online shopping landscape.
Building Brand Awareness Through E-Commerce 
Matt Bonaccorso, director of global video games and robotics, Discovery, spoke about the importance of e-commerce, not just for sales, but also for ensuring your brand reaches its audience. He shared how even if a consumer doesn't buy from a brand directly, the online shop can play a crucial role as the first touchpoint for a customer.  
"Regardless of where a customer purchases a product, you can bet that they are going to first research for those products online," said Bonaccorso. "They are going to research them, and online is going to be the first potential touchpoint with your brand."
Understanding Your Fans Through Data
Having a strong online retail presence can also help brands better understand the types of things fans want to buy. Bonaccorso and the panel discussed how analytics and data collected from the online shopping experience on a brand's digital retail shop could show businesses how to provide a seamless experience.
"Now, more than ever, we can look at all the analytics of what fans are doing on their website," adds Bonaccorso. "For us, as a brand owner trying to ensure we provide that best experience and with e-commerce, we are able to have one of the few direct touchpoints with our fans."
Amazon Still Plays a Crucial Role in Online Shopping
Amazon continues to play a significant role in e-commerce strategy as well. The panelists discussed how the e-commerce giant has to be a part of any brand's online strategy. As such a ubiquitous platform, Amazon is a crucial component to get more eyes on a company's products. However, Carlisle pointed out that Amazon can't be the only touchpoint for a successful e-commerce strategy. 
"Fifty-one cents of every e-commerce dollar are made on Amazon, so you want to be there, but you also want to make up that other 49 cents," continued Carlisle.
The panel provided a deep dive into strategies needed to lead a successful e-commerce plan. To hear the full discussion, be sure to 
Virtual to access the recorded panel, "Stop Living in a Silo: Why Everyone Needs an E-Comm Strategy."
Subscribe and receive the latest news from the industry.
Join 62,000+ members. Yes, it's completely free.
You May Also Like
Loading..