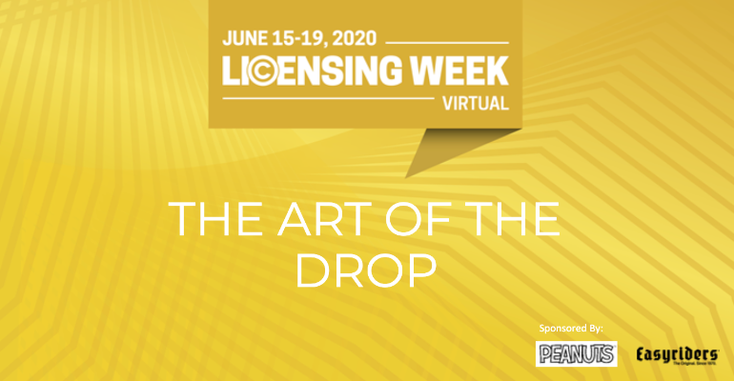 During the "Art of Drop" presentation at this year's Licensing Week Virtual event, leading thought leaders from Artestar, Peanuts, and the art world came together to highlight the marketing power of product drops and collaborations. 
Hosted by event sponsor, Easyrider, the panel discussion showcased how platforms like social media and a consistently competitive marketplace have made product drops and brand collabs a vital aspect of modern brand building. The speakers shared how to establish successful initiatives in the space and effectively work with other brands to amplify your message. 
Limited-edition product drops have become a trending option for brands looking to reach modern consumers who have a wealth of options in the marketplace. Drops take the basic concepts of supply-and-demand and level them up to reach a massive fanbase. As David Stark, founder and president, Artestar explains it, drops take the product culture of high-end electronics and shifts it to
the world fashion. 
"Remember the long lines outside stores when a new iPhone is being released, now transplant them in front of a high-end fashion boutique and you've got dropped culture," says Stark. 
Stark has built a career working with beloved artists such as Keith Haring and Jean-Michel Basquiat. His work in the art world has led to the widespread sharing of art that may have never reached the masses. Stark says working with artists such as Haring showcased how artists can use licensing and merchandising to bring their craft to more people.  
"Haring made inexpensive commercial products, which was a radical move for a fine artist," reports Stark. "He had a retail store the pop shop because he wanted to distribute his art and message on products to reach a wide audience and engage directly with popular culture," says Stark. 
Collaborating with Artists the Right Way
Brands need to understand their partners to work with artists effectively. Like any collaboration, both parties must understand each other and have common goals for the project. During the panel at Licensing Week Virtual, Artist Andre Saraiva shared how he has worked with brands to bring his work to the masses. He said that it is vital for brands and artists to be on the same page to ensure a successful partnership can exist. 
"Often, the idea of collaborating, isn't always very accepted by the art world," says Saraiva. "So, as a studio, we like to collaborate with companies and brands we understand but also who understand us. That's very important as an artist to have a really the same value." 
For brands, the partnerships take careful consideration as well. Companies like Peanuts Worldwide have built strong relationships with the art and fashion world. The brand has teamed up with companies such as Levi and artists such as Saraiva. Roz Nowicki, executive vice president, Peanuts Worldwide, shared during the panel that if you're able to get a partnership right the first time, it can be sustainable for future projects. 
"Collaboration partners that we've worked with for first time have come back for a second time and frequently for a third, because we've been so successful together," says Nowicki. 
To learn more about 
 listen into the full presentation on-demand by registering for 
. 
Read more about:
Subscribe and receive the latest news from the industry.
Join 62,000+ members. Yes, it's completely free.
You May Also Like
Loading..