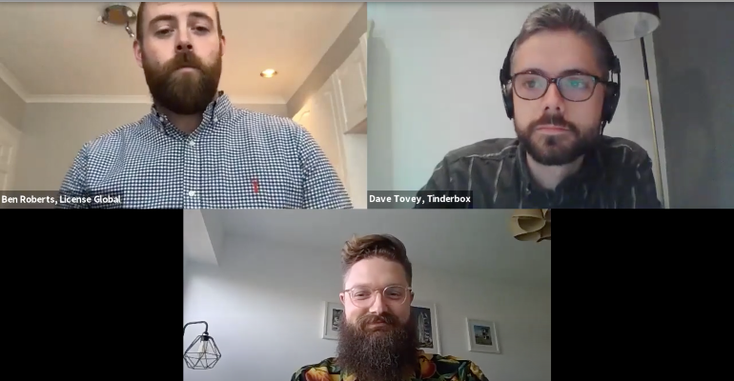 According to a recent 
, there will be 2.7 billion video game players worldwide by the end of 2020. Gamers play across mobile games, consoles and PCs. Many of them are also deeply connected to the games they play with Limelight Networks reporting that consumers spent over six hours a week playing video games in 2019. 
Now, as we all stick closer to home due to COVID-19, that number is bound only to rise higher. During the recent 
 at this year's Festival of Licensing, industry experts weighed in on how the video game industry is evolving rapidly with new technology, titles and gamers with more time on their hands. 
"It's safe to say that over the last few months in lockdown, gaming has got a whole new momentum," says Dave Tovey, video game licensing representation, Beanstalk, during the on-demand panel. "If you look at the major publishers – the major manufacturers
in this space – they're all seeing record players record downloads. Because of that, people are finding more and more games to play, so it's not just that they're playing their favorite titles, they're also having the time to pay five or six titles and discovering whole new genres and games." 
It's critical for licensing professionals to ensure that video game merchandise is authentic to brands as the industry sees such growth. According to Daniel Amos, head of esports, Difuzed/H3, gamers are genuinely passionate about the titles they play, and licensing has moved past 'label slapping' to ensure the products that hit retail shelves speak to fandom. 
"If you're going to create a product, you need to create something that is credible and shows the passion that someone has for a game," says Amos. "Long gone are the days – thank goodness – of having a t-shirt that has the key art on it and that's it. It's the cover of the box or art, and the t-shirt is a job done. Now though, that really isn't enough. It does a disservice to people that play games. [It assumes] that they don't like fashion, or they don't want anything that is credible." 
Another critical aspect of the growing industry is the rapid ascension of esports. Tovey reports during the session that esports competitions have indeed hit the mainstream during 2019 and into 2020. He says that tournament broadcasts from the likes of the BBC speak to the massive appeal of gaming's competitive side. 
"I think the excitement has exponentially grown over the last few months," adds Tovey. I think you're now seeing esports tournaments – you know it was on the BBC iPlayer over the summer. So, people are starting to kind of understand what it is all about. I think it's always been mainstream, but there were some questions about what it is and that's definitely changed over the last 12 months." 
For Amos, the rise of esports speaks to the aspirational qualities of seeing pros become the best at what they do. He finds that aspirational quality to reach the pinnacle of your craft is an attribute that can transcend into licensing through smart collaborations with partners. 
"You know, very broadly, when you look at esports, it is aspirational. At its very core, it's about, 'am I aspiring to be the best at this game?' adds Amos. "The people that are the best at these games are seen as athletes; they are pros. I've got a 13-year-old son who likes to watch pro players. And you know, he aspires to be a pro player, so aspiration is a huge part of consumer products when it comes to eSports." 
Our recap scratches just the surface of what was highlighted during the 
. Check out the on-demand panel now. All Festival of Licensing content will be available online to registered attendees until Nov. 6. 
Subscribe and receive the latest news from the industry.
Join 62,000+ members. Yes, it's completely free.
You May Also Like
Loading..