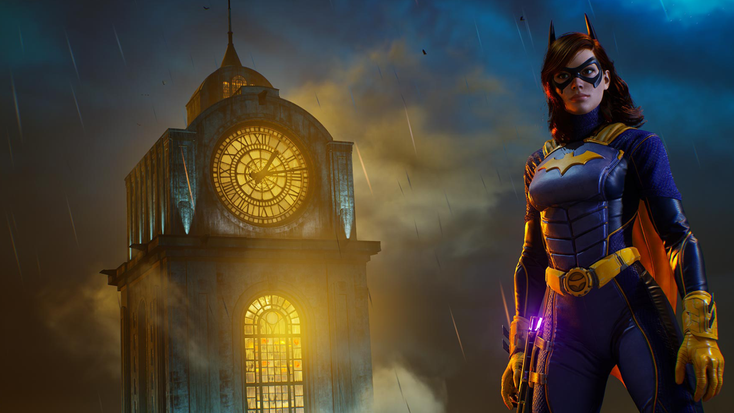 Scene from "Gotham Knights."
Warner Bros. Games
Warner Bros
. Games and
have announced "Gotham Knights," the new open-world, third-person action role-playing game (RPG), is now available for
5 (PS5), Xbox Series X|S and PC and is playable either solo or as a two-player online cooperative (co-op) experience. 
Developed by Warner Bros. Games Montréal, "Gotham Knights" features Batman Family characters – Batgirl, Nightwing, Red Hood and Robin – a new guard of DC Super Heroes who must rise up as the protectors of an increasingly vulnerable Gotham City in the wake of Batman's death. Introducing an original story set in DC's Batman Universe, players must solve mysteries that connect the darkest chapters in the city's history, while engaging in epic confrontations with notorious DC Super-Villains, such as the cold-blooded Mr. Freeze, mastermind criminal influencer, Harley Quinn, shape-shifting colossus, Clayface and the mysterious Court of Owls, a secret society. 
"We are thrilled to launch 'Gotham Knights' and return players
to Gotham City to play as the iconic DC Super Heroes Batgirl, Nightwing, Red Hood and Robin," says David Haddad, president, Warner Bros. Games. "Our development team at Warner Bros. Games Montréal has created a rich, multi-layered story, coupled with compelling gameplay and iconic villains for fans to engage with." 
"We're honored to be able to tell a new story centered around our four heroes," says Patrick Redding, creative director, Warner Bros. Games Montréal. "'Gotham Knights' is the culmination of the hard work by the entire Warner Bros. Games Montréal team to deliver a unique gameplay experience that transports players into the roles of these characters, whether playing solo or with a friend in online co-op and bring to life some of the most infamous DC Super-Villains in new ways. We're thrilled to finally share Gotham Knights with fans around the world." 
The four playable heroes in "Gotham Knights" include: 
Batgirl, also known as Barbara Gordon, is a highly trained fighter and expert computer coder and hacker who wields a tonfa along with a combination of kickboxing, capoeira and jiu-jitsu.

Dick Grayson is Nightwing, whose unique combat style combines agility and strength. Nightwing uses escrima sticks, wrist darts and his traversal abilities which include parkour, grappling and his glider, the Flying Trapeze.

Red Hood, Jason Todd, is an expert marksman and hard-hitting, hand-to-hand fighter who has gained the ability to harness mystical powers that aid him in battle and allow him to propel his body through the air to traverse the city.
Robin is Tim Drake, a master with his collapsible quarterstaff and a specialist in stealth techniques and deductive reasoning. Using technology from the Justice League satellite, Robin has the ability to teleport across the battlefield.
"Gotham Knights" is available in standard, deluxe and collector's editions. 
Read more about:
Subscribe and receive the latest news from the industry.
Join 62,000+ members. Yes, it's completely free.
You May Also Like
Loading..