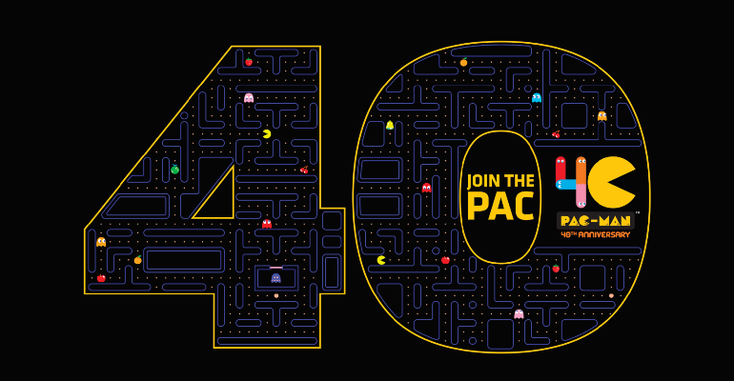 Even if you're not a gamer, you can probably recognize a PAC-MAN sprite in seconds. The round yellow avatar ranks up there with any icon of video games – let alone entertainment. The simple, yet, effective gameplay of the original arcade staple and its timeless character designs have propelled the brand forward for 40 years.
Debuting in 1980, PAC-MAN has become a crucial part of international culture. The
pizza-shaped character who chases – or gets chased – by ghosts through a maze has lived on well past its introduction. It has become a beloved staple of entertainment that is now shared across mediums. PAC-MAN has expanded beyond the arcade confines to find a home on TVs, toy aisles and even cereal boxes.
Speaking with
License Global
, Kyoko Acheson, licensing manager, BANDAI NAMCO Entertainment America Inc., highlighted how the video game character has grown over the last 40 years.
"PAC-MAN's career may have started in the arcades 40 years ago, but soon, he became a pop culture icon with his
own animated series, cereal, toys, etc.," says Acheson. "PAC-MAN has evolved in the video game space through games offered on a variety of platforms that have taken him out of the maze, enabled multiple players to compete against each other on the same maze, and he has even entered the world of 'Minecraft!'
And we've got more experiences coming soon. In the last 40 years, PAC-MAN has also become a pop culture icon and lifestyle brand that continues to delight fans around the world."
One of the reason's the character has been able to find new success away from the joystick
is because it was designed to reach a broad demographic of consumers from the beginning. PAC-MAN was made to serve as an alternative to the more male-focused titles such as "Space
Invaders" and "Breakout," which dominated Japanese arcades at the time. The game's creator, Toru Iwatani, set out to create a family-friendly property that could appeal to families and across demographics. Even now, when the 18-30 male demographic is often considered the core gaming audience, the fact is, gamers come from all walks of life. PAC-MAN is an excellent example of that dichotomy of fans. Since 1980, the brand was fundamentally built to appeal to anyone and everyone. Today, PAC-MAN's widespread appeal has been a forerunner for the gaming industry as a whole.
"PAC-MAN helped build and grow video games into a global business," adds Acheson. "He also proved that video games could appeal to everyone, regardless of gender or age. PAC-MAN's core gameplay mechanics have also survived the test of time, proving that good game design
never goes out of style."
With its strong foundation, licensed brand extensions have become crucial for expanding PAC-MAN over the last 40 years. While iconic in its own right, the ability to leverage the brand to create products has let the character grow outside of just the arcade. It provided a
pathway to bring PAC-MAN to new and old fans in a way that keeps the brand relevant.
"Our lineup of licensed PAC-MAN products have provided us a way to promote the brand and character to new audiences who did not grow up playing PAC-MAN in arcades, as well as to audiences who used to play PAC-MAN but have left the gaming space as they've aged," continues Acheson. "In the end, licensed products help us expand the reach of the brand beyond the video game category and to keep the brand fresh and relevant to audiences of all ages."
This year marks the 40th birthday of the PAC-MAN brand, and to honor the classic character, BANDAI NAMCO has partnered with a slate of topflight companies on several collaborations. From apparel to games and everything in between, PAC-MAN has teamed with partners across the spectrum. Each anniversary collaboration highlighted below showcases the vast demographic and ageless appeal of the classic arcade ghost eater.
Read more about:
Subscribe and receive the latest news from the industry.
Join 62,000+ members. Yes, it's completely free.
You May Also Like
Loading..